When doing research on a hearing aid provider, there are many potential sources of information—and one of the most prominent is the Better Business Bureau (BBB). Eighty-two percent of U.S. consumers are familiar with the BBB, and 88% of these people are more likely to buy from a business with a positive BBB rating.
Founded in 1912, the BBB states its goal as "advancing marketplace trust." Although many people are under the mistaken belief that the BBB is an impartial government agency, it's actually a private nonprofit organization. The BBB maintains profiles for a wide range of companies and charities, from massive firms to local businesses.
While it's convenient to have a quick snapshot of a business in the form of a BBB rating, this doesn't tell the whole story—and many businesses complain that the BBB operates on a "pay to play" basis. So what are the issues with using BBB as a source of information? What is MDHearing's BBB rating, and how can you critically evaluate BBB profiles? We go over all of these questions and more in this article.
What Is the BBB? Is the BBB a Government Agency?
The Better Business Bureau operates 112 "chapters" across the United States and Canada, each one governed by its own board of directors. Each BBB chapter must meet international BBB standards and is funded by the fees of companies that pay to receive BBB accreditation.
It's important to emphasize that the BBB is not a government agency. As such, it cannot take legal action or impose penalties against companies with problematic business practices.
To achieve its objective of "advancing marketplace trust," the BBB focuses on two functions: providing business ratings and helping resolve complaints between businesses and consumers.
Businesses that want to raise their customer profile can apply for BBB accreditation, which requires paying a membership fee to the organization. According to the BBB, accreditation indicates that a business is committed to certain marketplace standards, such as transparency, preserving customer privacy, and responding to customer complaints.
BBB accreditation fees are charged annually, and are based on the size of your business: companies with just 1 to 4 employees are charged $535 per year, while the largest companies are charged $1560, plus $1 for every additional person over 500 employees. These accreditation fees are the main source of funding for the BBB, helping pay the organization's salaries and other overhead. This has led to criticism that the BBB uses a "pay to play" model, as we'll discuss in the next section.
Is the BBB Reliable?
Even though the BBB is not a government institution, many consumers still view it as a reliable source for information on businesses. This means that a BBB listing is often one of the first places that consumers look when evaluating a company's trustworthiness. But are BBB ratings and reviews themselves actually trustworthy and reliable?
Grayson Bell, founder of the personal finance blog Debt Roundup, has called the BBB "the modern-day mafia," based on what he perceives as the organization's unethical business practices. Bell accuses the BBB of operating with a "pay to play" mentality, in which companies can increase their rating simply by paying the BBB more money.
According to Bell, he was once contacted by a BBB representative when he was the owner of a small e-commerce business. Bell says that the representative offered to make him an accredited BBB member if he paid the organization's membership fees. After paying this fee, Bell was surprised to see that his business immediately received an A+ BBB rating, despite having no customer ratings, reviews, or complaints. Bell also says that the BBB changed his company's rating to an F after he canceled his BBB membership, despite having a four-year history with no customer complaints against it.
Stories like Bell's are not uncommon when it comes to the BBB. For example, in order to prove a point, the creator of the website BBBRoundup once registered the terrorist group Hamas with the Los Angeles BBB, paying $425 for BBB accreditation and receiving an A- BBB rating in return. According to BBBRoundup:
What's clear as day is that the BBB does absolutely zero due diligence on the companies they grade. They mislead the consumer into believing some businesses are great when they in fact might not even exist, and that other businesses are frauds when they in fact are excellent businesses with a great track record of outstanding products, services and customer relationships."
Interviewed by ABC News, then-Connecticut attorney general Richard Blumenthal (now a U.S. senator) said that the BBB's rating system "is really unworthy of consumer trust or confidence." Blumenthal sent an official demand letter to the BBB calling their rating system "potentially harmful and misleading" for consumers, and urging them to stop using it.
The Hamas controversy is far from the only such story that calls into question BBB's impartiality and objectivity. The BBB also gave positive ratings to a nonexistent sushi restaurant called "Moores Sushi," as well as a neo-Nazi website—in both cases, only after receiving the $425 listing fee.
An undercover operation by the investigative journalism TV program "20/20" also revealed more questionable BBB activity. According to ABC News, an antique store owner was told she could only improve her company's C rating, which was based on a single resolved complaint, by making a payment to the BBB. After giving the BBB her credit card information, her company's BBB rating was upgraded to A+ the next business day. In a similar case, the owner of a party entertainment company was able to change her C- rating, which was based on a single two-year-old complaint, to an A+ after making a $395 payment.
In another investigation by CNNMoney, journalists found more than 100 businesses that had BBB ratings of A- or higher, despite having serious government action against them in the past year—from being shut down to paying multimillion-dollar fines. This included a nursing home operator charged with defrauding Medicare by providing unnecessary therapies and a credit financing company that pursued illegal debt collection lawsuits.
MDHearing and the BBB
Unfortunately, like the businesses above, MDHearing has had its own negative experience with the BBB.
MDHearing's primary mission is to get affordable hearing aids into the hands of our customers. We were founded by a Chicago ENT (ear, nose, and throat) doctor, and all of our hearing aids are registered with the U.S. Food and Drug Administration (FDA)—unlike some other hearing aid "providers." We use consumer-friendly practices like free shipping, a no-risk 45-day return policy, convenient online ordering, and excellent U.S.-based phone and email support. Our secret weapon is our stellar team of certified medical professionals and audiology experts, who are passionate about helping improve the quality of life for people with hearing loss.
For a long time, MDHearing's BBB rating reflected our "customer-first" mentality. We had an A+ BBB rating for more than 11 years, and we dutifully responded to every user complaint for over a decade.
However, MDHearing recently had a difficult encounter with a BBB representative who took issue with some of the phrasing in our advertising. We tried to be as cooperative and conciliatory as possible, making fixes to the ads that had already been deemed permissible by other BBB employees the year prior.
Nevertheless, this representative was not satisfied by the changes we made, and the BBB essentially requested approval rights on all of our advertising. Because we found this request unreasonable, the BBB decided to suspend our profile.
Due to this single dispute, MDHearing currently no longer has BBB accreditation, and our BBB rating has been downgraded from an A+ to a B, and then to an F. MDHearing has provided more than 50 emails with evidence and provided reams of data and supporting facts to the BBB, but like in the examples above they are acting in a very opaque and unfair manner. A quick read of recent reviews shows how well we treat our customers, a fact lost on BBB's "ratings".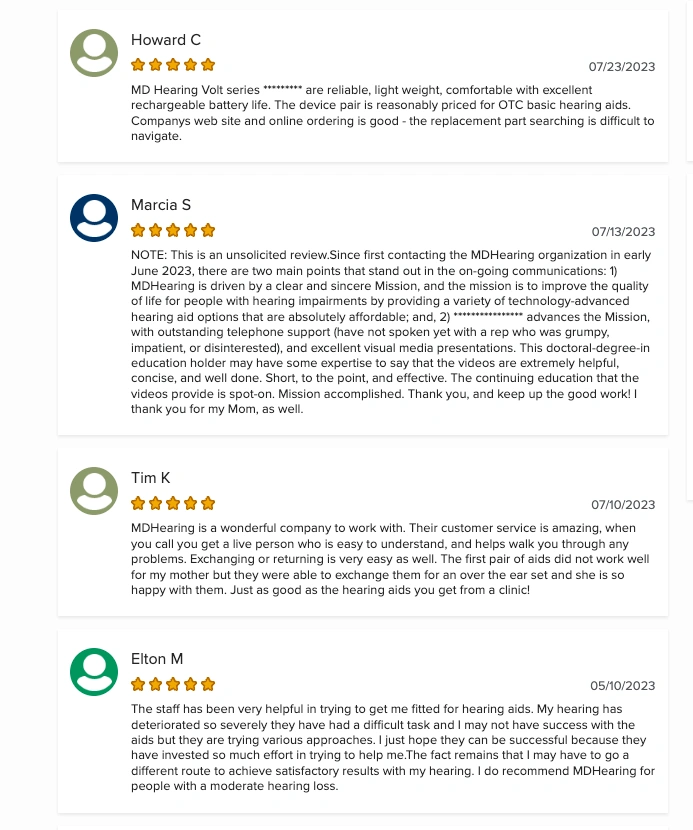 But instead of obsessing over this single metric, we've decided to focus on what really matters: empowering our readers with the information they need to find high-quality, affordable hearing aids.
How to Evaluate BBB Ratings
Although MDHearing no longer has BBB accreditation, we still have a profile on the BBB website, where we continue to address and resolve customer issues. So how can you evaluate the BBB rating of companies like MDHearing and other top hearing aid brands, especially when comparing multiple competitors?
In this section, we'll offer a few tips for how to critically evaluate a company's BBB rating, using it as a proxy to gauge the quality of a hearing aid provider.
1. Consider the company's popularity
When reading BBB reviews, you might be tempted to just look at the sheer number of complaints as a metric for the company's trustworthiness. However, this idea fails to account for a crucial fact: companies that are more popular, and sell more products, also tend to have more complaints (since it's impossible to please every customer).
Instead, you should consider the ratio of the company's sales figures to the number of customer complaints. For example, a company with $1,000,000 annual sales and 50 complaints should be viewed more cautiously than a company with $10,000,000 annual sales and 80 complaints. (We'll look more closely at the case of hearing aid providers' BBB ratings in the next section.)
2. Look at the company's complaint history
After weighing the number of complaints against the company's popularity, the next step is to dig a little deeper into the BBB complaint history. The BBB separates complaints into two categories: those filed in the past three years, and those filed in the last 12 months. (The idea is that more recent complaints are more likely to be relevant for potential customers, while the company may have taken action to correct older complaints.)
Look at the content of some of the BBB complaints. Are they relatively minor issues (such as customer support delays), or are they more serious (such as severe problems with the product's quality)? Also note how the business responds to each complaint. Are the answers respectful and professional, and do they attempt to address the content of the customer's problem? Have customers indicated that they are satisfied by the company's response?

3. Check the company's rating
Next, examine the company's BBB rating. There are actually two metrics to look at here:
The review score, which is based on an average of users' ratings (out of five stars).

The BBB letter grade, which is assigned by the BBB itself, with A+ the highest grade and F the lowest.
A company's review score can be a useful piece of information, especially when comparing multiple businesses with each other. However, keep in mind that this score will likely be lower on a company's BBB profile than on other websites, since many customers come to the BBB specifically to make a complaint against the business.
The BBB's letter grading system is based on a "proprietary formula" that takes many different factors into account, including:
Whether the business has paid the fees for BBB accreditation.

How long the business has been in operation.

How many complaints the business has.

How promptly the business responds to complaints.

Any government actions against the business.
The contents of this formula are opaque to consumers, which can make it difficult to understand exactly how the BBB assigns a grade to each business. The BBB does list the various factors that went into the rating, which you can view by clicking on the link "Reasons for BBB Rating." However, the BBB does not explain the weight that it assigns to each of these factors.
4. Read the company's reviews
The final step in evaluating a company's BBB profile is to read its user reviews. These are accessible by clicking on "Read Reviews" under the "Customer Reviews" section.
When reading BBB user reviews, be cautious and keep an open mind. The BBB cannot promise that every review a business receives is genuine. According to the BBB: "While we'd like to be able to promise that every review comes from a real consumer every time, experience shows us that is nearly impossible to guarantee… BBB cannot guarantee the accuracy or truthfulness of a review."
The BBB only requires users to verify their email address or phone number, but not the details of the review itself. Beware of reviews that are vague, overly positive, or overly negative—they may be paid testimonials or smears from a competitor. In particular, look for reviews that are by a "BBB Verified Reviewer." In this case, the business itself has confirmed that the user actually had an interaction with the business.
BBB Reviews for Hearing Aid Providers
We've discussed the issues with the BBB, as well as how to critically evaluate a company's BBB profile. So what do the BBB reviews for different hearing aid providers look like? Below, we'll go over various BBB hearing aid provider ratings so you can make a more informed decision.
MDHearing
As of this writing, MDHearing has an average review score of 3.94 out of 5 stars, which is relatively high for a company's BBB profile. (In a previous section, we've already discussed our struggles with the BBB letter grade.)
MDHearing has had 50 BBB complaints closed in the past three years, all of which have been addressed by a company representative. Most of these stem from issues such as customer support delays or miscommunications.
Nano Hearing Aids
Nano Hearing Aids has had a whopping 1,139 BBB complaints closed in the past three years. (This is despite the fact that Nano sells roughly half the amount of hearing aids as MDHearing does.)

What's behind the extremely high number of Nano Hearing Aids BBB complaints? In a previous blog post, we've written about some of the problems with Nano products. Many customers experience difficulties with Nano product quality and returns, and audiologist Dr. Cliff Olsen has called Nano "one of the most deceptive online hearing aid companies."
Eargo
Eargo currently has an average BBB review score of 1.49 out of 5 stars, with 75 complaints closed in the past three years. Many of the negative reviews focus on issues such as poor product quality and strange noises, as well as difficulties with customer support. (We've previously published our ownEargo hearing aids review.)
Hearing Assist
Hearing Assist has an average BBB review score of 1.82 out of 5 stars, with 16 complaints closed in the past three years. While this lower number might seem like a positive indicator, recall our caveat above that it should be weighed in the context of the company's total sales numbers. In this case, Hearing Assist sells roughly one-third the number of hearing aids that MDHearing does. (Check out ourHearing Assist hearing aids review on the blog.)
TruHearing
Last but not least, TruHearing has an average BBB review score of only 1 out of 5 stars, with seven complaints closed in the past three years. OurTruHearing hearing aids review goes over everything you need to know about the company, including its product lineup, cost, pros and cons, and more.
Conclusion
A company's BBB rating can help you make a more informed decision about your hearing aid provider, but you also need to be careful in how you use this information. Be wary of unverified BBB complaints and reviews that could have been left by unscrupulous individuals—either competitors or people paid for their positive feedback.
In addition, pay little attention to whether a business has received BBB accreditation. This often says more about a company's ability to pay membership fees than a true commitment to ethical business practices.
Are you looking for a quality hearing aid provider with low prices, cutting-edge features, and excellent customer support? MDHearing can help. MDHearing has received a rating of 4.6 out of 5 stars from Consumers Advocate. Reviewer Homer S. writes:
I bought a pair of these about 4 years ago. After about a year of successful wearing, I found I was qualified to receive a pair of custom hearing aids from the VA. After 3 years of the VA hearing aids, they broke down and were sent off to be repaired. I merely went back to my MD Pro hearing aids! … They are excellent for what they cost!"
Users on the online review platform Sitejabber have given MDHearing an average rating of 4.2 out of 5 stars, based on 36 reviews. Bill B. writes:
The MDHearing AIR hearing aids work great. I have reduced the volume on the TV by 40 percent… These hearing aids are close to invisible. A very good value for the money."
Want to see if MDHearing hearing aids will work for you? Take our quick and easy online hearing test and get your results instantly. You can also visit a nearby hearing clinic to take a hearing test. Just send us the results and our audiologists will review your results and recommend the best hearing aid for your needs.
Check your hearing for free with this 5-minute test and see how we can help.
TAKE ONLINE HEARING TEST