Going to a hearing clinic and paying $4,000 to $8,000 for a new set of hearing aids isn't possible for most Americans. But even if you can afford the high price of custom hearing aids, do they really have to cost more than an all-expenses-paid trip to Hawaii?
Some would argue that no price is too high when it comes to improving the quality of your hearing. But that doesn't mean the price has to be unaffordable for most of the population.
The good news is, you can bypass these overpriced clinics and purchase top-quality hearing aids for less—thousands of dollars less! Direct-to-consumer (DTC) hearing aid manufacturers—such as MDHearing—offer medical-grade, FDA-registered hearing aids that are shipped directly to your door without the need for an office visit. In fact, more than half a million satisfied customers across the country have discovered the hearing aid industry's best-kept secret: MDHearing offers the best hearing aid value in America.
If you've ever been inside a hearing aid clinic, you already know the drill: You're approached by a high-pressure salesperson who's trying to foist on you their biggest mark-up product of the month. In reality, there's nothing special about these "specials," except in how much more you're paying than you should be.
The truth is, you may not need custom hearing aids from a hearing clinic. MDHearing can assist 94% of Americans with hearing loss and provide exceptional telehealth hearing care—all while saving you thousands of dollars.
Why Are Clinic Hearing Aids So Expensive?
When it comes to traditional hearing aids, higher prices don't necessarily mean higher quality. Here are four reasons why clinic hearing aids cost several times more than a Hawaiian vacation:
1. Industry markups: The cost of manufacturing a hearing aid is relatively cheap: about a couple hundred dollars in labor and materials. Manufacturers mark up the price by $1,000 to $2,000 before selling them to a hearing clinic. The clinic then passes that markup on to you—and adds their own markup of another $1,000 to $2,000. That's why it costs an average of $4,600 a pair just to have the opportunity to buy hearing aids in a clinic, regardless of quality.
2. Market dominance: The hearing aid industry is dominated by a small number of massive international manufacturers, and most hearing clinics only sell hearing aids made by these companies. Even generic brands, such as Costco's Kirkland hearing aids, are made by these manufacturers. By cornering the market, these manufacturers can sell their hearing aids at exorbitant prices.
3. Over-hyped technology: Have you ever noticed the constant barrage of new "premium" hearing aid technology? All too often, these are marketing come-ons that are either ineffective or don't offer a noticeable improvement to the user experience. When you read online reviews for any of the most advanced hearing aids, you'll be amazed at all the dissatisfied customers who paid top dollar, only to feel like they were scammed by the hype. As these new "premium" models replace the previous year's "premium" models, the price of hearing aids creeps up more and more every year.
4. High-pressure sales tactics: Hearing clinics show you their "best-selling" custom hearing aids and use high-pressure sales tactics to convince you to pay an arm and a leg for them. If you ask about cheaper alternatives, they may tell you that direct-to-consumer hearing aids are low quality, don't have customized features, and can't provide the support you need. This is absolutely not true.
While there are many inexpensive "sound amplifiers" on the market, there is also a variety of legitimate, high-quality, FDA-registered hearing aids backed by telehealth support—with no middleman or clinic markups.
Why Are Direct-to-Consumer Hearing Aids So Affordable?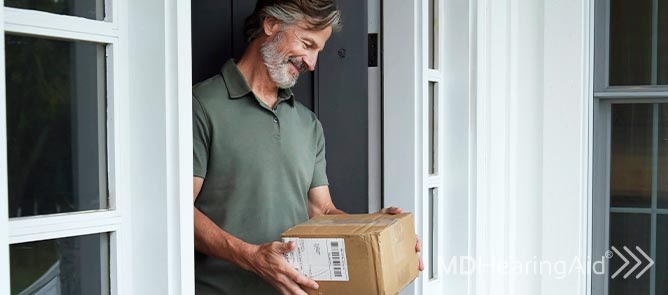 Essentially, it's all about different business goals. MDHearing was created with the specific goal of designing and selling effective, medical-grade hearing aids, at affordable prices. Let's look at the techniques that direct-to-consumer hearing aid manufacturers use to dramatically lower the price of effective hearing loss treatment:
Bypassing the hearing clinic markups: By selling and delivering directly to consumers, MDHearing eliminates the manufacturer markups and hearing clinic markups, passing thousands of dollars in savings on to you.
Focusing on the features you need: Most people don't need all the premium bells and whistles that drive up the price of hearing aids. MDHearing models are programmed to focus on the best background noise reduction for clear speech and to meet the needs of 94% of people with hearing loss.
Hearing care through a mobile app: In this day and age, you no longer need to visit a hearing clinic in order to take a hearing test or customize your hearing aids. For patients that want a more personalized hearing solution, the MDHearing VOLT MAX

includes an app to check your hearing and personalize hearing aids for your specific needs. For more affordable options, take advantage of pre-programmed models that fit the vast majority of hearing loss profiles.

No hearing clinic appointments: Because you don't have to visit a hearing clinic or make in-person appointments with an audiologist (these are often built into the price of hearing aids at a clinic), you'll save the cost of office visits, hearing tests, and storefront markups.
Are Direct-to-Consumer Companies as Good?
Hearing clinics do an excellent job of testing your hearing and fitting your hearing aids to your exact loss. However, with the use of telemedicine on the rise, it's never been easier for patients to receive this type of care remotely. With MDHearing, you can test your hearing online, speak with an audiologist over the phone or video chat, and adjust your hearing aids from a smartphone.
Instead of asking whether hearing aids from a clinic are better, hearing loss patients should ask themselves:
Can I effectively treat my hearing loss with a more affordable solution?
At the end of the day, hearing clinics are trying to sell you a Lamborghini instead of a reliable truck. Most hearing loss patients don't need a premium "Lamborghini", but rather a practical solution that will improve their hearing (and quality of life)—without breaking the bank.
The Advantages of Direct-to-Consumer Hearing Aids
MDHearing removes the red tape from buying hearing aids and empowers customers to make more affordable healthcare decisions. By getting rid of the hearing clinic intermediary, MDHearing is able to offer medical-grade, FDA-registered hearing aids starting at prices as low as $299—and that's per pair, not per device.
Even better, MDHearing's high-quality hearing aids are shipped quickly and directly to your door, without any extra fees or the need for an in-person office visit.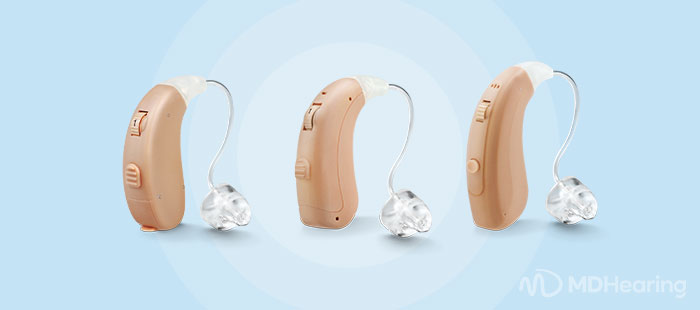 Some benefits of buying online from MDHearing include:
Strong reputation:

MDHearing was founded more than a decade ago by a Chicago ENT (ear, nose, throat) doctor who was fed up with the high price of hearing aids. Since then, MDHearing has helped more than 500,000 people with hearing loss improve the quality of their life.

Great customer support: Our friendly team of U.S.-based audiologists and licensed hearing specialists are

there to walk you through every step of the process and answer any questions you may have. You can speak with the customer support team over the

phone, email, or even video chat.
Free, at-home hearing test: Test your hearing from the comfort of home with MDHearing's free hearing test—online, over the phone, or through the MDHearing app.
Fits 94% of hearing loss patients: Designed by doctors and tested by audiologists, MDHearing products can assist mild to moderately-severe hearing loss (94 percent of hearing loss cases) right out of the box

.

Customized for your specific hearing loss: The MDHearing VOLT MAX ha

s advanced fine-tuning and customization features. The companion mobile app

will check your hearing and automatically customize the amplification settings

to fit your specific hearing loss needs.

100% money-back guarantee:

MDHearing offers a 45-day risk-free trial for customers to make sure their new device is the right fit. With a 100% money-back satisfaction guarantee, you have nothing to lose by giving them a try.
MDHearing: Quality, Affordable, FDA-Registered Hearing Aids
Whether you're on a fixed income, have a limited budget, or you (rightfully) just don't want to pay exorbitantly marked-up prices, we suggest you give MDHearing a try. With our 100% money-back guarantee, you have nothing to lose and everything to gain.
Find out if MDHearing will fit your hearing loss with our quick and easy online hearing test.
TAKE ONLINE HEARING TEST
MDHearing offers a variety of hearing aid options with prices starting at $299 per pair.
BROWSE HEARING AIDS