ReSound is a global hearing aid manufacturer with a longstanding history dating back to 1943. Originally founded by Dr. Rodney Perkins—a surgery professor from Stanford University—ReSound was based out of the United States until 1999, when the Danish hearing aid conglomerate, GN Store Nord, took over the brand.
On its website, ReSound claims to have been "a pioneer in building innovative hearing solutions" and says its products make it "easier and more comfortable than ever before to access personalized sound that suits your lifestyle."
But purchasing a pair of ReSound hearing aids is a significant investment. With prices ranging from $2,301 to $7,500 a pair, are ReSound hearing aids really worth the price? And, how do they compare to affordable alternatives?
This guide to ReSound will help you answer those questions with clear explanations of ReSound technology, ReSound models, ReSound pricing, and ReSound customer experiences. It will also discuss how the affordable hearing aid models from MDHearing compare to ReSound products.
Please use the following links to navigate this guide:
ReSound Technology
ReSound hearing aids offer a variety of technology depending on the model and configuration. This technology ranges from entry-level features to the most advanced technology in the industry.
We can divide this section into three categories: (1) hearing aid technology, (2) auxiliary device technology, and (3) smartphone app connectivity technology.
1. ReSound Hearing Aid Technology
Here are the advanced technology features available in select ReSound hearing aids:
Digital Hearing Aid Technology:

All ReSound hearing aids are digital hearing aids with digital processors. This means they can reduce background noise, reduce whistling noises, and improve the clarity of sound in a variety of listening scenarios.

iOS, Android, and Bluetooth Connectivity:

This technology allows you to connect to various Bluetooth-enabled devices—such as a smart TV, computer, smartphone, or tablet—to stream high-quality sound and music directly to your ears. ReSound hearing aids are compatible with both Android and Apple devices.

Rechargeable Hearing Aids:

The longest-lasting rechargeable ReSound hearing aids offer 24 hours of listening after a single charge. Rechargeable hearing aids are excellent for anyone who does not want to fiddle with changing tiny batteries every few days. They are particularly helpful for anyone with challenges related to finger dexterity or arthritic joints.

Unique M&RIE design:

The M&RIE (Microphone and Receiver in Ear) design is a style of hearing aid unique to the ONE and OMNIA lines from ReSound. These hearing aids look like the receiver-in-canal (RIC) style, where the body of the hearing aid rests behind the ear, and the speaker (receiver) inserts in the ear canal. The difference is that both the microphone and receiver go in the ear. ReSound claims that this novel design provides a more natural listening experience.

Surround Sound:

According to ReSound, the Surround Sound technology in their hearing aids creates a 360-degree listening experience. This technology also highlights voices in complex listening environments.

Organic Hearing technology:

ReSound describes its

Organic Hearing technology as a "unique approach to creating hearing solutions that sound natural, feel natural and connect you naturally to the world."

Spatial Sense:

This feature helps hearing loss patients sense the direction that sounds are coming from.

Cochlear™ Implant connectivity:

ReSound wireless technology can interface with Cochlear implants, offering direct sound and music streaming from Android, iOS, tablets, and other smart devices.
2. ReSound Auxiliary Devices
ReSound sells a selection of auxiliary devices to enhance the overall experience and performance of their hearing aids. These gadgets include:
ReSound Remote Control2:

This remote control makes it easy to adjust your hearing aid volume and other settings from the palm of your hand without needing to press tiny buttons on your hearing aids.

ReSound Multi Mic:

This auxiliary microphone sits on the table during group conversations, meetings, and meals. The microphone clarifies voice sounds making it easier for hearing loss patients to follow the discussion and participate. You can also give the Multi Mic to a friend and stay in direct voice contact with them up to 80 feet away.

ReSound Phone Clip+:

This little device clips onto your clothing and allows your ReSound hearing aids to connect to any Bluetooth-enabled device for wireless music and smartphone call streaming. The stereo sounds stream directly from your device to your ears.

ReSound TV Streamer 2:

This device beams your TV sounds directly into your hearing aids for a clear television sound experience.
3. ReSound Smartphone Apps
ReSound smartphone apps connect your smartphone to your hearing aids for additional functionality and control. ReSound currently offers the following apps:
ReSound Smart 3D App and ReSound Assist Live:

The

Smart 3D App is compatible with the following Resound models:

OMNIA, ONE, Key, Quattro, ENZO Q, LiNX 3D, and ENZO 3D. The app enables detailed control of your hearing aids from your smartphone while you are wearing and using them. Set up, save, and cycle through preset and custom sound profiles—so you can optimize your listening for different conditions. Another great feature of this app is ReSound Assist Live, which allows you to connect with live ReSound support staff for face-to-face video assistance. Support can also use this app to remotely adjust and fine-tune the settings on your hearing aid. The app also provides low battery alerts when your hearing aid batteries need to be charged or changed.

ReSound Smart App:

The Smart App is compatible with the following ReSound models: LiNX, LiNX², ENZO, ENZO², and UpSmart. This app allows you to control your hearing aids remotely from your smartphone and receive low-battery alerts. However, it does

not

include the ReSound Assist Live feature that comes with the ReSound Smart 3D App.

ReSound Relief App:

This app is all about stress relief, tinnitus relief, and well-being. In addition to tinnitus masking sound therapies, which the app pumps through your hearing aids, the app also provides a wide variety of soundscapes, relaxation exercises, meditation sessions, and tips for managing the symptoms of tinnitus.

ReSound Control App:

The ReSound Control app is compatible with the following models: Enya, Verso, and Alera. This app establishes a connection between your hearing aids and different Bluetooth devices for sound and music streaming. It also lets you change your hearing aid sound settings for different listening conditions.
ReSound Models and Pricing
ReSound offers many different hearing aid lines—with so many different models, tech levels, styles, and prices that it is hard to understand all of your options without being a trained audiologist. To keep things simple for the average patient, this section focuses on the most prominent features that characterize each ReSound line.
In this section, we will review the following ReSound lines: (1) OMNIA, (2) ONE, (3) LiNX Quattro, (4) LiNX 3D, and (5) Enzo Q.
1. ReSound OMNIA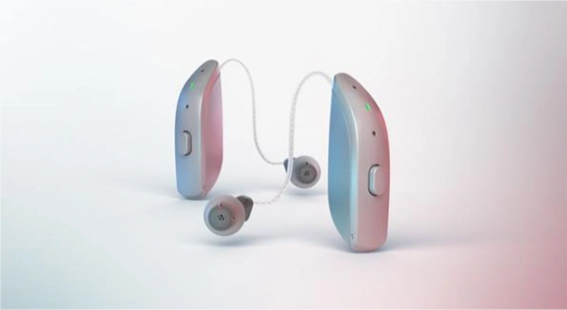 Released in August 2022, OMNIA is the newest line of ReSound hearing aids. According to ReSound, the technology inside OMNIA hearing aids provides a better understanding of speech in noise compared to previous ReSound models. Similar in appearance to previous ReSound generations, OMNIA hearing aids come with the following features:
Ultra Focus technology improvements:

When activated, Ultra Focus allows the hearing aid wearer to hear the voice sounds of someone in front of them with extra clarity in noisy environments. According to ReSound, the OMNIA has improved Ultra Focus mode by 150%.

Own voice processing technology improvements:

New algorithms lower the volume of the hearing aid wearer's own voice—which allows for a more natural listening and speaking experience during conversations. This feature helps to alleviate a common complaint from hearing aid wearers—who often say that the amplification of their own voice sounds is distracting.

Optional M&RIE design:

According to ReSound, the M&RIE design offers a more natural listening experience. By placing a microphone within the ear canal next to the speaker, the hearing aid may offer benefits like reducing the sound of wind noise in outdoor conditions.

Price:

ReSound OMNIA hearing aids are particularly expensive. According to Soundly, the OMNIA 5 costs

$3,198 a pair

, the OMNIA 7 costs

$3,798 a pair,

and the OMNIA 9 costs

$4,598 a pair

.
OMNIA hearing aids can also include iPhone and Android connectivity for sound streaming and hands-free calls, the Smart 3D App for remote hearing care and remote hearing aid adjustments, Relief App compatibility, TV connectivity, and ReSound Organic Hearing technology. ReSound OMNIA hearing aids fit individuals with mild to severe hearing loss.
The user reviews of ReSound OMNIA are mostly favorable:
Sorry I waited! My new hearing aids have given me a new lease on life. The quality improvement in my hearing is fabulous. They even help drown out my tinnitus. Now my grandkids' voices are clear as a bell." – Deane, Oct. 11, 2022
I'm upgrading from ReSound LiNX. These are a huge upgrade. I really shouldn't have waited so long, but I was hoping to get a device with reliable Android Bluetooth connectivity... Finally ditched my streamer." – Anonymous, Sept. 2022
More sensitive microphone than the Resound Quattro." – Shareef A., Oct. 2, 2022
2. ReSound ONE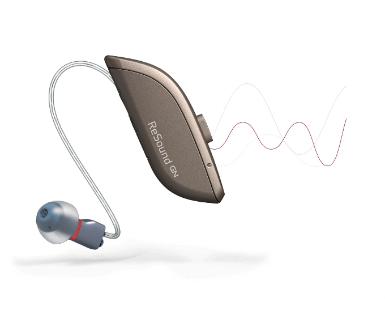 ReSound ONE is the second-newest hearing aid line from ReSound. Released in 2020, the ReSound ONE was the first hearing aid to include the optional M&RIE (Microphone and Receiver in Ear) design. The ONE line also includes BTE (behind the ear) styles.
The following features set ReSound ONE apart:
Eight color options:

ReSound ONE wearers can choose a hearing aid from eight color varieties.

ReSound Relief app:

For those who suffer from ringing in their ears due to tinnitus, the ReSound Relief app provides tinnitus masking sounds, like ocean noises, as well as meditation routines for stress reduction.

Optional M&RIE design:

ReSound claims that the M&RIE design provides a more natural listening experience. The microphone is found in the earpiece next to the speaker (receiver) which may offer the benefit of reducing wind noises and eliminating other sound distortions.

Rechargeable batteries:

After an overnight charge in their portable charging case, ReSound ONE rechargeable hearing aids offer a full day of hearing.

Price:

According to HearSoundly.com, hearing loss patients "can expect to pay

$5,000-$7,500 for a pair

" of ReSound ONE Hearing aids.
ReSound ONE hearing aids can also connect to iPhone and Android smartphones for sound and music streaming and hands-free calling. They feature compatibility with the Smart 3D App for remote hearing care and remote adjustments by a ReSound hearing professional, TV sound streaming, and other advanced features. ReSound ONE hearing aids fit individuals with mild to severe hearing loss.
One user says the following about his ReSound ONE experience:
Using the ReSound One over the last couple of weeks has been excellent, they offer everything I am used to with excellent sound quality and even better localization of sound. More than that, because of the shape and placement of the hearing aids they make it easier to take a mask off without flipping them across a car park … Unfortunately, the M&RIE receiver is only graded for people with up to a 65dB high-frequency hearing loss. With that in mind, it isn't for everyone, that is why there are two types of receivers. ReSound has introduced a new type of closed dome, which basically sits between its open dome and its power domes. In the wild, as it were, some professionals have been pushing that 65dB suitability to 75dB with these closed domes and with the use of custom tips." – Geoffrey Cooling, Oct. 3, 2022.
3. ReSound LiNX Quattro

The LiNX Quattro is the third-newest hearing aid in the ReSound lineup. It is currently available in a variety of colors and styles. LiNX Quattro styles include RIE (Receiver-in-Ear), BTE (Behind-the-Ear), and CIC (Completely-in-Canal). The LiNX Quattro comes in three different technology levels—5, 7, and 9—with varying prices.
Depending on the tech level, LiNX Quattro hearing aids may include the following features:
Rechargeable batteries:

The Quattro has an option for rechargeable batteries that last up to 30 hours on a single 3-hour charge.

"More layers of sound":

This feature boosts low- and high-pitched sounds for a fuller and more natural hearing experience.

Smartphone streaming and connectivity:

Like the hearing aids in the previous sections, the Quattro can connect to smartphones and other devices to stream voice calls and music directly into your ears.

Full Spectrum Microphone Technology:

The LiNX Quattro microphones pick up a fuller range of frequencies for clearer sounds with fewer distortions.

Price:

According to

MeritHearing.com

, LiNX Quattro models are currently selling for as low as

$2,825 a pair

for the LiNX Quattro 5 to as high as

$3,865 a pair

for the LiNX Quattro 9.
LiNX Quattro hearing aids also feature compatibility with the ReSound Smart 3D App for controlling your hearing aids from your smartphone and receiving remote tuning adjustments from a hearing care specialist without leaving your home. The LiNX Quattro fits patients with mild to profound hearing loss.
LiNX Quattro users are saying both good and bad things about their experience:
I've had the LiNX Quattro for two years and for the most they work well. However, if I am watching tv and need to use my phone for anything, the tv sound becomes intermittent and in some cases shuts down. It seems the hearing aid app for iPhones is not a good fit. The TV streamer, the hearing aid app, and the hearing aids do not work well together. The hearing aids by themselves only provide an acceptable but not great hearing. A cost-benefit analysis indicates they're overpriced." – Albert G. of FL, July 15, 2022
I have had my Resound LiNX Quattro hearing aids for 2 years with very few problems. However, I have had to purchase 2 replacement charging Cases at $200.00 each. The case insert plug gets a very "loose" fitting and the cord charging plug fits too loosely... I've sent notes/emails to Resound over the past 2 years and they have NEVER RESPONDED." – Mike W. of California, Sept. 7, 2021
I recently got new hearing aids (ReSound LiNX Quattro) Right away, the right earpiece had to be sent back to be fixed because it would not take a charge. Now, the left one is turning off in the afternoons. I take it off, turn it off, then on again. This sometimes works. When it doesn't, I put it back on the charger and leave it for a bit. When it comes back on it fluctuates on and off for the rest of the day. Feedback is also an issue, walking through doorways and coming close to a wall causes loud squealing. I have used the ReSound app and have had no help. I can't say I would recommend them." – Joel Eastman
My ReSound Linx Quatro hearing aids are disconnecting from my iPhone XR four or five times a day since IOS 13 came out (actually since the maintenance upgrade the week before). Only get rationalizing from ReSound and my audiologist. When you have fluctuating hearing due to bilateral Meniere's, this is very inconvenient and makes my $4k hearing aids virtually worthless! ReSound says it will be "a few weeks" before the firmware update comes out. Why so, when the IOS 13 beta was available in late 2018? I am not impressed at all so far with ReSound who should have been much, much better prepared for the IOS update and has no excuse whatsoever for doing as such." – Steve File, Sept. 27, 2019
4. ReSound LiNX 3D

The LiNX 3D came before the Quattro, which means that the technology is a little older. Nevertheless, the LiNX 3D is still an effective hearing aid, and a reasonable option for ReSound customers who want to save a little bit of money compared to the higher expense of other ReSound models.
Depending on the technology level you select, the LiNX 3D comes with a range of tech features, such as:
iPhone and Android sound and music streaming:

Connect to virtually any device to stream sounds into your hearing aids as if they were wireless headphones.

Advanced sound filtering:

This feature clarifies voices and other sounds in complex listening environments.

360-Degree Sound technology:

This technology offers improved spatial awareness and better sensing of sound directionality.

Rechargeable batteries:

The LiNX 3D offers rechargeable models with long-lasting battery life and easy recharging in just three hours.

"More layers of sound":

The LiNX microphones capture a wide range of frequencies for a better understanding of conversations and a more natural listening experience.

Multiple styles:

LiNX 3D also comes in seven different styles: Receiver-in-the-Ear (RIE); Behind-the-Ear (BTE); Mic-in-Helix (MIH); In-the-Ear (ITE); In-the-Canal (ITC); Completely-in-the-Canal (CIC); and Invisible-in Canal (IIC).

Price:

According to

HearingTracker

, the different levels of this model are priced as follows:

$2,301 a pair

for the LiNX 3D 5;

$2,900 a pair

for the LiNX 3D 7; and

$3,287 a pair

for the

LiNX 3D 9

.
The LiNX 3D also includes compatibility with the ReSound Smart 3D App, TV connectivity, and works with ReSound auxiliary devices for added features and functionality. The LiNX 3D is appropriate for patients with mild to profound hearing loss.
Here's what ReSound customers are saying about the LiNX 3D experience:
The ReSound LiNX 3D hearing aids have been fantastic and with them, I've been able to rejoin society. Earlier this year (2022), I discovered that I started having some issues with the hearing aids. They were dropping connections and not charging properly. I contacted a couple of local hearing aid distributors (my audiologist's office, Costco, etc.) and it was suggested that I replace the batteries." – Nicholas Calderone, April 3, 2022
The ReSound LiNX 3Ds are delivering a great quality of sound across the board. Speech sounds natural to me but also clearer, sharper and easier to understand. Hearing in very noisy environments is still a challenge for me due to my severe hearing loss but they are definitely the best performing hearing aids I have had." – Steve Claridge, May 12, 2017
I have an issue with Resound 3D in the first place and getting horrible answers. I have a newer Moto Z4 that worked perfectly and after App Update, and then the phone Update to Android 10 it no longer works and the answer we get is, Motorola phones are not listed as compatible. What a crock of ... (I won't say it). It worked fine, it's Android and there is no reason a newer Motorola phone cant work. I can't afford another phone, and this will be my last from this company. Getting ahold of the place I got these from now. Terrible support. Works, then doesn't work, and you are saying it's because I have a Motorola phone." – Brian Baldwin, March 28, 2020
5. ReSound Enzo Q

ReSound claims that its Enzo Q model hearing aid provides "exceptional sound quality" for individuals with profound and severe hearing loss. Launched in 2020, the Enzo Q offers additional amplification power to those who suffer from more significant hearing loss.
The Enzo Q boasts the following technology:
60% Sound Clarity Improvement:

According to ReSound, Enzo Q hearing aids offer a 60% improvement in voices and sound clarity in noisy and complex listening conditions.

Small size despite additional amplification:

Even though Enzo Q is made for patients with severe to profound hearing loss, the hearing aid still manages to come in a compact size.

Digital sound streaming:

Enzo Q devices stream high-quality sound from smartphones, tablets, and other digital devices or clear music listening and voice calls.

Two style options and multiple colors:

Enzo Q hearing aids come in two styles—the smaller "High Power HP BTE 88" and the larger "Super Power SP BTE 98." It also comes in different colors and shades.

Price:

According to

hearingtracker.com

, Enzo Q hearing aids cost approximately

$2,470 a pair

for the Enzo Q 5;

$3,397 a pair

for the Enzo Q 7; and

$3,984 a pair

for the Enzo Q 9.
This hearing aid is also compatible with the Smart 3D App, which offers patients the benefit of live, face-to-face assistance and remote fine-tuning from a hearing aid specialist. The ReSound Enzo Q was made for individuals with profound and severe hearing loss.
Here's what customers are saying about the ReSound Enzo Q:
I just got the Resound Enzo Q BTE hearing aid, and it works great! I love it!" – Nancy Rushing, Nov. 13, 2021
Tried this hearing aid as a demo. Speech was distorted and muffled. Voices sounded like someone talking into a fan. The more ambient noise the worse it got. The hearing aid only amplified sounds that were already loud. My audiologist tried really hard to make adjustments but still the same issues. I would not recommend this hearing aid." – Msanniefan, YouTube Comment, May 2022
An Affordable Alternative to ReSound: MDHearing
Before making the decision to spend thousands of dollars on a pair of ReSound hearing aids, we'd like to encourage you to browse the high-quality, FDA-registered hearing aids from MDHearing. With prices ranging from $299.98 to $699.98 a pair, our hearing aids offer superb quality and high performance for thousands of dollars less than a conventional set of aids.
At MDHearing, we keep our costs down by designing and manufacturing our own hearing aids. This allows us to remove thousands of dollars in hearing manufacturer markups. Then, we sell our hearing aids directly to consumers over the internet—which allows us to cut even more brick-and-mortar costs and overhead off the final price tag.
Everything we do is focused on achieving the best balance between price and performance while maintaining the highest standards of quality in both our products and our remote hearing care services. Our licensed hearing care professionals and audiology team can provide detailed advice, recommendations, and support along every step of your hearing loss journey—and we're just a phone call or email away.
How MDHearing Compares to ReSound: Differences and Similarities
If you've been considering a hearing aid from ReSound, you may want to look at the MDHearing VOLT MAX hearing aid. This device includes several of the most exciting technologies and features found in the ReSound devices above—but it costs only $699.98 a pair!
Here are the most relevant differences between the VOLT MAX and ReSound hearing aids:
No wireless sound and music streaming:

The most visible difference between the MDHearing VOLT MAX and ReSound devices is that the VOLT MAX can't stream music or offer hands-free voice calls from smartphones and other digital devices.

Fewer bells and whistles:

The VOLT MAX does not include the same branded technology features that ReSound offers. Every year, ReSound comes out with newly branded technology such as "Spatial Sense," "Organic Hearing," and "360-Degree Sound." As shown in ReSound customer reviews, these flashy new technologies do not always have as profound of an effect on performance as the ReSound marketing team would like you to believe. At MDHearing, we focus less on the "expensive and flashy bells and whistles" and more on the core hearing aid technologies that consistently get the job done.

Mild to moderately-severe treatment only:

At this time, MDHearing only offers hearing aids that fit individuals with mild to moderately-severe hearing loss (which represents approximately 94% of people with hearing loss). On the other hand, ReSound does offer hearing aid models for those with severe to profound hearing loss.

Customized sound profile and automatic adjustments from the MDHearing App:

The MDHearing App included with the VOLT MAX can perform a hearing check, measuring your response to a series of tones. Based on your responses, it creates a unique sound profile and automatically adjusts the VOLT MAX's settings for your hearing needs. ReSound hearing aids do not come with this feature. ReSound customers need a professional to customize their hearing aid settings.
Here are the similarities between the VOLT MAX and ReSound hearing aids:
Smartphone app features:

Just like customers receive with the ReSound Smart 3D App, VOLT MAX customers have access to the MDHearing App which allows you to control your hearing aids from a smartphone.

Remote hearing care and fine-tuning adjustments:

If you'd like to tweak your sound, the MDHearing team can remotely connect to your VOLT MAX hearing aids and adjust the settings according to the same tuning standards that hearing clinics use.

Remote adjustments based on a professional audiogram:

VOLT MAX customers who have a professional hearing test (audiogram) can send their audiogram to the MDHearing team and receive adjustments based on those results. This allows you to receive hearing clinic-level care and hearing aid adjustments—without ever leaving your house!

Rechargeable batteries:

Just like many ReSound hearing aids, MDHearing's devices are rechargeable. Just insert your hearing aids into the portable charging station when you go to sleep, and you'll wake up to a full day of crystal-clear hearing—no more need to change batteries every few days!
All hearing aids from MDHearing are FDA-registered and come with unlimited phone and video call support from our licensed team of hearing professionals. Best of all, our hearing aids come with a 100% money-back satisfaction guarantee. You have nothing to lose by giving MDHearing a try!
Final Thoughts on ReSound Hearing Aids
With prices ranging from $2,301 a pair to $7,500 a pair, ReSound hearing aid prices are on par with other expensive hearing aid brands sold at traditional in-person hearing clinics. At these prices, we're confident that you will receive a luxury hearing aid—with numerous bells and whistles—that can treat most hearing loss conditions. Nevertheless, not all user reviews of ReSound hearing aids are favorable, especially when browsing ReSound reviews on Facebook. This demonstrates that there is no guarantee you'll be happy with your ReSound devices—even with all of their fancy technology descriptions!
Because ReSound hearing aids are so expensive—and especially because there is a chance you will not be happy with the quality and performance of ReSound—we recommend that you only purchase ReSound hearing aids if they are covered by a 100% money-back satisfaction guarantee. This way, you can return them and get your money back if there is a problem.
At the end of the day, we approve of ReSound hearing aids and believe they are on par with the best in the business (if you can afford them). For those who want quality and affordable hearing loss treatment, try one of the FDA-registered hearing aids from MDHearing.
Browse MDHearing's line of affordable hearing aids.
COMPARE HEARING AIDS