For nearly a decade and a half, MDHearing has developed and sold highly effective, medical-grade hearing aids priced to fit anyone's budget. Today, we are thrilled to introduce the smart, rechargeable VOLT MAX. We designed the VOLT MAX to achieve the ideal balance of advanced technology, quality, and affordability.
Adding to the state-of-the-art features of the MDHearing VOLT and CORE models, the VOLT MAX combines the most exciting tech of both these hearing aids—into a single sleek design.
Instead of choosing between a rechargeable hearing aid (VOLT) or a smartphone-compatible hearing aid (CORE), the VOLT MAX gives you both. As a fully rechargeable, smart hearing aid, the VOLT MAX is the most advanced hearing aid from MDHearing to date.
Let's explore the most exciting features this hearing aid has to offer.
Rechargeable Batteries
The VOLT MAX is a rechargeable hearing aid that takes only 90 minutes to charge. Most VOLT MAX users recharge their hearing aids overnight. After a restful sleep, your VOLT MAX wakes up with you—ready for a full day of easy, reliable power and crystal-clear hearing with family and friends.
By eliminating the need to constantly change your hearing aid batteries, the VOLT MAX offers the following benefits:
Save money:

There's no need to buy replacement batteries. This can add over

$100

in savings per year.

Preserve your fingers:

The VOLT MAX eliminates the need to fumble around with tiny batteries. This is helpful for those with unsteady, arthritic, or extra-large fingers. If it's difficult for you to change hearing batteries, rechargeable aids are the solution.

Never get caught without a battery:

There's nothing worse than losing hearing aid power mid-conversation and not having a backup battery on hand. With the VOLT MAX, you'll never have to worry about bringing spare batteries again.
A Sleek Portable Charging/Carrying Case
The VOLT MAX comes with a sleek, portable charging/carrying case that allows you to charge your hearing aids on the go. Even if you don't have an electrical outlet, the VOLT MAX carrying case holds its own charge. This means you can charge your hearing aids up to three times before you need to find an electrical outlet.
The charging case is simple and easy for anyone to use. After sliding your hearing aids into the slots, a blue light shows they're charging. When the light turns green, you're ready for a full day of crystal-clear conversation and gatherings with family and friends.
Bluetooth Connectivity
The VOLT MAX features the same Bluetooth technology found in the MDHearing CORE. These hearing aids use a Bluetooth signal to connect with your smartphone or tablet. This lets you customize your hearing aids and adjust the sound settings through the MDHearing mobile app.
Once connected, the MDHearing app offers the following benefits:
App-based hearing profile and automatic programming:

The MDHearing app checks your hearing to create a profile for your specific hearing needs. The app plays a series of tones and then programs your hearing aids automatically to reflect your "Personal Profile." You can repeat the process at any time to accommodate for natural changes in your hearing ability. This eliminates the need for regular adjustments at a hearing clinic.

Remote fine-tuning assistance:

VOLT MAX users

can contact a hearing professional at MDHearing for

remote fine-tuning assistance

. Just submit a request through the MDHearing app. Then, a VOLT MAX specialist will adjust your hearing aids over the internet according to your needs.

"Remote control" your hearing aids from a smartphone:

The MDHearing app turns your smartphone (or tablet) into a remote control. This allows you to adjust the volume and program settings on your hearing aids from your mobile device.

No smartphone necessary to make on-the-fly adjustments:

Unlike many Bluetooth hearing aids, VOLT MAX users do not need a smartphone to adjust the hearing aid volume and settings. The buttons on the hearing aid itself let you control essential settings. This feature is helpful if your smartphone battery dies. It's also great for non-tech-savvy individuals who are uncomfortable using smartphones.
Enjoy a "Virtual Hearing Clinic" Experience
The Bluetooth connectivity in the VOLT MAX makes the "Virtual Hearing Clinic" experience possible. MDHearing's Virtual Hearing Clinic experience offers a number of telemedicine options. These options allow you to receive clinic-level care from the privacy of your home.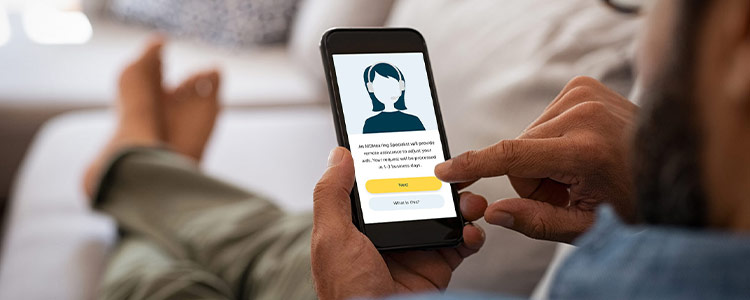 Here are some of the telemedicine options available to VOLT MAX customers:
Take MDHearing's free, online hearing test:

Evaluate your hearing for free to determine which hearing aid from MDHearing is a good match for your needs. Each hearing test receives a free, follow-up phone or video consultation from an MDHearing professional.

Download the MDHearing app to automatically customize your hearing aids:

For VOLT MAX customers, the personalization feature evaluates your hearing needs. After listening to a series of tones, the MDHearing app creates a unique "Personal Profile" that reflects the nature of your hearing loss. Then, the app automatically customizes your hearing aid settings to reflect your "Personal Profile."

Have a hearing professional custom-tune your hearing aids:

Once you've created a "Personal Profile" in the app, an MDHearing professional can remotely fine-tune your VOLT MAX hearing aids via the internet. You can request changes through the app or send us your hearing test (or "

audiogram

") results. At MDHearing, we tune your hearing aids using the same technology that hearing clinics use.

Unlimited U.S.-based support:

Any time you need help using or adjusting your hearing aids, just contact the support team at MDHearing for immediate phone or email assistance.
These and all of the other features of VOLT MAX hearing aids allow MDHearing to offer an unprecedented telemedicine experience for hearing aid customers. Now, virtually anyone can afford a custom hearing aid that is tailored to their unique hearing loss.
More Perks and Features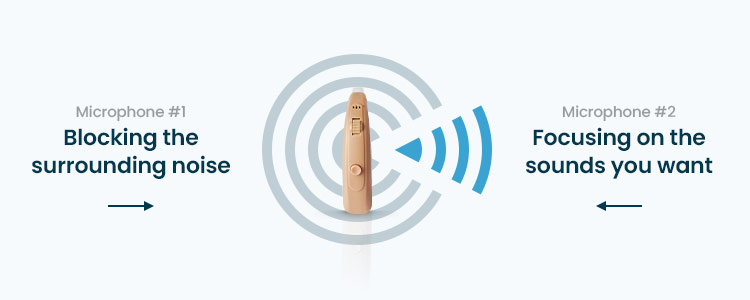 The VOLT MAX includes the following additional perks and features:
Digital hearing aid technology:

The VOLT MAX is a digital hearing aid that offers crystal-clear hearing in a wide variety of listening conditions. Digital hearing aid tech improves speech signals while optimizing the clarity of sound settings.

4 sound environment settings:

The VOLT MAX includes four listening environment programs: (1) adaptive, (2) quiet, (3) social, and (4) restaurant. Are you talking to a friend at a noisy party? Listening to a church sermon? Or watching TV at home? When the "adaptive" program is selected, the hearing aid monitors sound conditions and auto-adapts itself for the clearest listening experience. You can also change listening programs manually with the touch of a button.

Adaptive directional microphones:

The VOLT MAX feat

ures

adaptive

directional microphones. This is an improvement over the

automatic

directional microphones in the CORE model. Adaptive directional microphones adapt their focus so you can hear the most important sources of sound. This clarifies voices when distracting background noise is present.

Feedback reduction:

The VOLT MAX uses advanced feedback reduction technology to cancel out high-pitched whistling noises.

FDA-registered:

All hearing aids from MDHearing are medical-grade, FDA-registered devices.
Affordable Pricing and a Risk-Free Satisfaction Guarantee
The MDHearing VOLT MAX is currently available for the limited-time price of just $699.98 a pair. VOLT MAX users also receive a "VIP Care" package. This includes virtual appointments and a VIP priority support phone line. VIP also includes remote fine-tuning of your hearing aids and an extended 1-year warranty.
Best of all, the VOLT MAX comes with a 45-day, 100% money-back guarantee. If you're not completely satisfied with your hearing aids, send them back for a complete refund!
MDHearing: High-Quality, Medical-Grade Hearing Aids at Prices You Can Afford
At MDHearing, we're passionate about designing and selling the highest quality hearing aids at the most affordable prices. The VOLT MAX is a medical-grade, rechargeable, smartphone-compatible hearing aid that arrives at your door in just a few days. Best of all, MDHearing will adjust your VOLT MAX with the same technology that hearing clinics use.
For thousands of dollars less, the VOLT MAX offers the same cutting-edge technology you'll find at a traditional hearing clinic. But you won't have to break your piggy bank to get them!
Start a 45-day risk-free trial on the brand-new MDHearing VOLT MAX today!
LEARN MORE