Not everyone is a morning person. When you have trouble waking up for work, appointments, or other activities, you know how much that delay can affect your day. Rushing around could result in stress or important items being left behind.
These problems often lead you to an alarm clock that beeps and buzzes away on your nightstand. If you have partial or full hearing loss, though, you might not hear the traditional sounds of an alarm.
Hearing loss is more common than you might think. According to the Hearing Loss Association of America, about 48 million people in the United States have some type of hearing loss. Some people don't know how much hearing loss they have until they take an online hearing test.
Hearing loss presents several challenges when you're trying to rouse yourself from sleep. When you can't hear the alarm and are still in deeper stages of sleep, you can't begin the normal wake-up process. Besides, you might not realize that your alarm has become disruptive to a partner or a roommate.
If you are one of the millions of Americans with hearing loss, it may be time to toss the standard alarm clock and buy a vibrating version instead. Here's everything you need to know about vibrating alarm clocks so you too can have a more restful night and more enjoyable morning.
What are Vibrating Alarm Clocks and How Do They Work
Rather than the standard alarm with its ringing bell or a digital beep, vibrating alarm clocks work with other senses, using some type of motion to wake up the user.
In most cases, the clock itself doesn't vibrate. These clocks actually send a vibration to a shaker unit, either over Wi-Fi signal, Bluetooth, or a wired connection. This shaker unit is a circular receiver that looks much like the pagers you're handed at a restaurant while waiting for a table. The shakers don't light up, but they give a strong vibration that wakes you from deep sleep if you have reduced hearing ability.
Many of these alarm clocks do more than vibrate, too. They often feature extra wake-up sensors, such as flashing lights and changing colors that move you from deep sleep to awake.
Some have smart technology and connect to your iPhone or Android device to let you play music after you're awake. Others have clock radios or alerts for incoming phone calls.
Vibrating alarm clocks sometimes have super-loud beeping alarms that can reach 100 to 110 decibels (dB). This loudness, which exceeds the standard safe level of 70 dB, works for those with existing hearing loss to help them with important sounds.
No two vibrating alarm clocks are the same, but they have many similarities that make them unique from other products.
Why Do You Need a Vibrating Alarm Clock?
While alarm clocks are meant to help you get the day started, they don't always have enough power or force to wake you up. Hearing loss also causes problems when you try to use standard alarm clocks that work by sound alone.
A vibrating alarm clock can suit your needs much better, since it offers features designed for senses other than hearing. Whether you have hearing loss or are a deep sleeper, a vibrating alarm clock may be the right solution for you.
Another benefit of a vibrating alarm clock is that it isn't your phone. While smartphones come with built-in vibration and alarms, the feature isn't strong enough on its own to wake up many sleepers.
Additionally, smartphones give off blue light that can affect your sleep by not letting your brain release melatonin. Melatonin helps with your body's circadian rhythm, and when you don't get enough of this natural hormone, you can't get the deep sleep you need.
Vibrating Alarm Clock Pros and Cons
There are pros and cons of vibrating alarm clocks, so it's important to look at both sides when deciding if these clocks are right for you. What are the pros and cons of vibrating alarm clocks?
Pros
Alternative alert system: Vibrating alarm clocks are good for those with hearing loss because they're a type of wake-up method that doesn't rely on your sense of hearing.
Option for many senses alerted: Vibrating alarm clocks can vibrate, flash, light up, and make extra-loud noises.
Avoid disrupting others: By relying on vibration rather than noise, you are less likely to disrupt a sleep partner or anyone else in your home.
Strong bed shaker: The accompanying shaker device uses powerful force to wake you up. Some devices use 12 volts, while others use about 9 volts.
Regular wake-up schedule: Hearing challenges make it difficult to wake up to the sound of a traditional alarm. Vibrating clocks help to keep you on a regular wake-up schedule because you won't sleep through the sound of an alarm.
Cons
Shaker location can be disruptive: Not everyone can sleep with a rounded device under their pillow. While you can put the device under your mattress, it's possible that you might be unable to feel the vibrations. This distance can be too far for some sleepers to detect.
Device options can become bothersome: Most vibrating alarm clocks come with extra features to give you options. But, you might need a combination of lights and sensations to wake you up, and these lights may bother your eyes.
Vibrating Alarm Clocks: Which One Should You Buy?
Vibrating alarm clocks have various styles and features depending on the manufacturer and intended use. Remember, the best one for your needs may not be the first one you see. You should consider different things when making your choice, from the style of the clock to its price, function, and ease of use.
Here are six of the best vibrating alarm clocks on the market, current as of this writing.
Cost: $52.95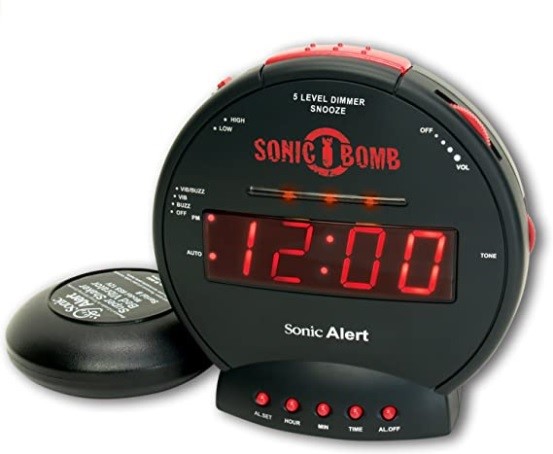 The Sonic Bomb is a sleek circular clock with an extra loud alarm of 113 dB and a powerful 12-volt bed shaker. The shaker is strong enough that you can feel the vibrations even when it's placed under the mattress.
The Sonic Bomb comes in seven color combinations to appeal to different styles, while the corded bed shaker comes in standard black. This handy clock lets you set two separate alarm times and choose whether you want it to vibrate, buzz, or do both at the same time.
While the bed shaker doesn't offer different strengths, it is among the strongest on the market and works for both deep sleepers and those hard of hearing.
The Sonic Bomb also has built-in flashing lights that start up before the alarm or vibration begins. You can't turn these flashing lights off and on, but a full-range dimmer allows you to control display brightness so it won't hurt sensitive eyes early in the morning.
Cost: $26.99
The ANJANK alarm clock features an oval design and a 5.5-inch LED curved screen, giving good viewing from all angles. A wireless bed shaker eliminates the hassle of wires and distance restrictions, and it receives the signal from up to 32 feet away.
If you need to set two alarms for different wake up times, you'll like the two loud alarms and three sound levels. This clock also has three alarm types: vibration, beeping, and both.
Plus, the ANJANK suits those with reduced vision because of the 2-inch digital numbers and large round buttons. You can change the shaker intensity as well—it offers low, medium, and high-intensity vibration options.
Cost: $60.99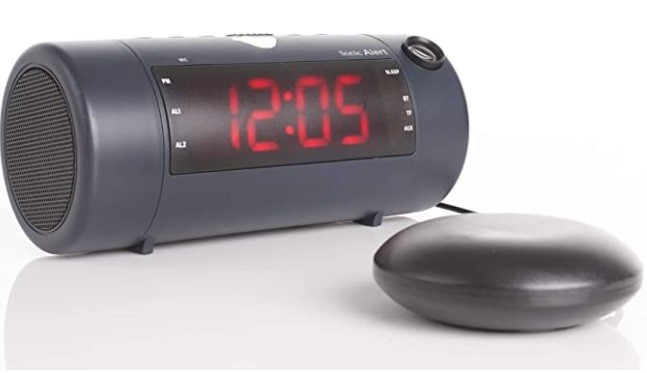 The Sonic Blast comes from the same manufacturer as the Sonic Bomb and also has a 113 dB alarm. This model, though, has a 5-volt shaker that Sonic Alert states is 95 percent the strength of the 12-volt shaker.
The Sonic Blast also differs in its extra features. You can charge a phone using the USB port, record your own alarm message, and turn the flashing lights off and on.
A unique feature of the Sonic Blast is the projector that puts the current time on the wall or ceiling. You won't have to hurt your neck checking the time anymore. This feature has an on/off switch and projects the time non-stop, not only during alarm or shaker activation.
Cost: $23.99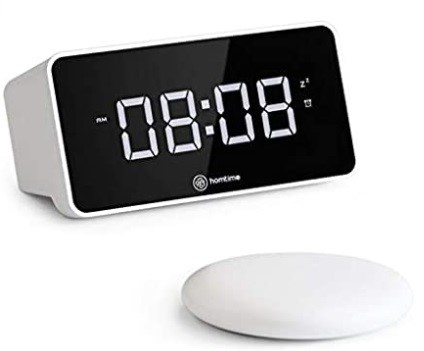 The Homtime alarm clock has a simple design with minimal buttons. It has 1-inch digital numbers in large, clear font and a simple background that measures 4.6 inches wide.
The buttons are another unique feature on the Homtime alarm clock because they use icons. While the icons are easy to understand, they can blend in because they're the same color as the clock.
The Homtime has a powerful bed shaker, and it comes in three intensity levels that display on the LED screen. You'll also enjoy a larger range of use, since the wireless shaker can extend out to 50 feet from the clock. Like other vibrating clocks, it lets you choose from three settings: vibration, alarm, and both.
Cost: $54.99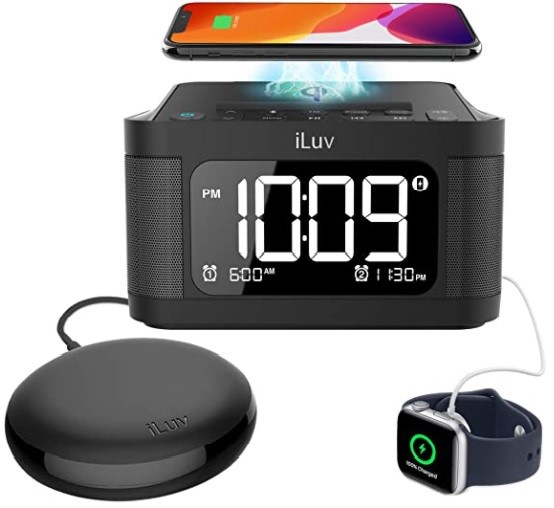 The iLuv Time Shaker is a large alarm clock with a simple design that lets you adjust settings. This vibrating alarm clock has the user in mind thanks to 1.2-inch LCD display numbers and large color-contrasted buttons on top of the unit.
You'll also like the 10-level dimmer that lets you change how well you can see the time display. Choose from full brightness visible from across the room to full darkness for cozy sleep.
While the wired bed shaker only comes in one intensity level and is not adjustable, it has extra-strong vibrations perfect for those who can't hear the standard alarm sound.
The iLuv also comes with extras like a Bluetooth speaker, FM radio, two alarm settings, a USB port, and a wireless charger platform. For those with qi-enabled devices, the wireless charger offers a great way to avoid corded charging.
Cost: $19.95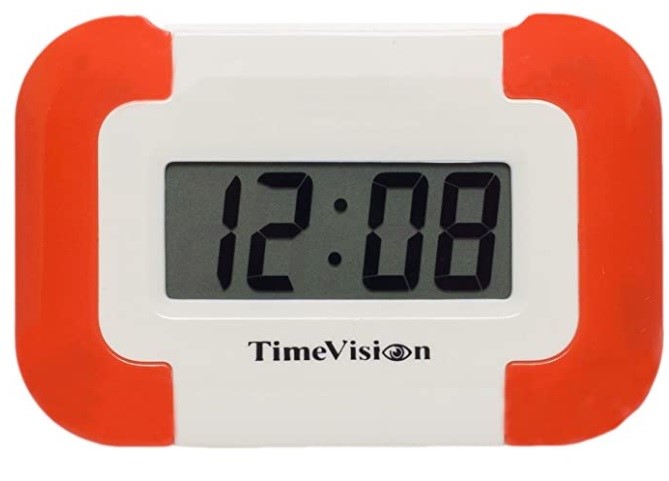 The ShakeAwake from Time Vision is a pocket-size and portable alarm clock that runs on battery power. It is ideal for travel or whenever you're not near a wall outlet. This vibrating alarm clock is unlike other brands in this list because it doesn't have a bed shaker unit. For the ShakeAwake, the clock itself does the vibrating.
While this clock doesn't have the features of high-end clocks, it offers the two you use the most: beeping alarm and vibration. One of its best features is how portable it is. Since this alarm clock uses batteries, you can place it under or beside your pillow. You can also clip it to your pajamas for direct contact.
The small buttons on the back may not work if you have vision troubles, but their simple layout makes them user friendly.
With this vibrating alarm clock, you can have a clock and bed shaker in one small package without the worry of cords or wireless ranges.
Vibrating Alarm Clock User Reviews
What do users think of vibrating alarm clocks? Overall, people like these products and enjoy the force of the bed shaker device and how loud the alarm gets.
Most people only turn to these clocks if they are deep sleepers, have trouble getting out of bed in the morning, or have hearing loss that makes a regular alarm clock insufficient.
For these groups, vibrating alarm clocks offer many benefits. As with everything, though, there are times that these clocks help one person but don't quite do the trick for someone else.
Here are a few user reviews for the Sonic Alert Sonic Blast and the Homtime Alarm Clock. Each clock has a positive and a negative review to show how each product can work, or not work, for the individual.
The Sonic Blast
It perfectly balances the "wake up" process by not doing all the bells and whistles at 100% immediately. First the light flashes, then the tone (which increases), and last you feel the shaker."
The bed shaker has no adjustability. It will shake the entire bed at max power and it wakes up my partner too. I had gotten this mainly for the bed shaker to not wake up my partner. Unfortunate."
The Homtime
The bed shaker is awesome. The light dimmer is awesome. Love that it is a USB connection and battery connection so you don't risk an alarm not going off in case the power goes out at night."
The buttons make no sense. I don't hear the alarm. I need it to shake me awake and I can hardly feel it."
Conclusion
Vibrating alarm clocks can give you the boost you need to get out of bed and jump-start your day. You can combine the bed shaker with the loud alarm or flashing lights, or you can stick with one feature only. Whichever route you take, know that there are plenty of products on the market to help you wake up on time.
If you have one of the many types of hearing loss, you might like to use a vibrating alarm clock at night and hearing aids during the day. At MDHearing, we offer high-quality and affordable hearing aids you'll love. Each of our hearing aids ships direct to you—no third-party to delay shipments or increase your costs.
You can enjoy FDA-approved hearing aids that enhance your hearing for better mornings and more rewarding days. We have models as low as $299 per pair, which is much more affordable than the $4,600 average. Our hearing aids even beat out those at Costco at $1,400 per pair and Eargo at $1,850 per pair.
Let us help you find your perfect, and perfectly affordable, new hearing aid from MDHearing.
BROWSE HEARING AIDS