Hearing loss is a common complaint of seniors 65 and older. In fact, one in three seniors between 65 and 74 has hearing loss and half of all seniors age 75 and older struggle with hearing. This condition is more than an annoyance. People with moderate to severe hearing loss may have difficulty caring for themselves. They may not hear the doorbell or directions from their medical professionals. It leaves them more vulnerable in a world that is not always friendly to seniors and their unique needs.
Since hearing loss is so common as you age, you may assume that Medicare would pay for hearing aids. Sadly, original Medicare does not cover any hearing aid costs.
None.
Hearing aids can cost a lot—the average cost of hearing aids comes in at $4,600 a pair. When choosing your Medicare policies, consider a Medicare Advantage plan. Some of these plans cover "extras" such as vision and hearing costs. However, a recent study from HealthAffairs.org found that Medicare Advantage plans only covered 21% of hearing costs, so consumers should verify exact coverages before signing up.
Interested in a better solution? MDHearing hearing aids start at $399 per pair, and come with lifetime support from a US-based team of Audiologists, Hearing Aid Specialists, and support professionals.
Interested in starting a completely risk-free trial with MDHearing? Check out our different models for yourself.
Medicare Basics
Medicare is the national health insurance plan that covers:
people 65 or older

those under age 65 who have qualifying disabilities

those with End-Stage Renal Disease
The Social Security Administration funds Medicare through taxpayer contributions. You pay 1.45% of your wages into FICA (Federal Insurance Contributions Act). Your employers also pay 1.45%, bringing the total contribution to 2.9%.
Upon turning 65, you become entitled to Medicare Part A; however, if you want more coverage, you'll need to invest in other Medicare plans. You can sign up for Part A and/or Part B during a 7-month period. This period:
starts three months before the month you turn 65

includes the month you turn 65

includes the three months after you turn 65
You can sign up for coverage on the CMS website. The response to the question "Does Medicare cover hearing aids?" is not a simple "No," so the following sections dive into more detail.
Medicare Hearing Aid Coverage at a Glance
| Plan | Covers Hearing Aids? | Important Notes |
| --- | --- | --- |
| Medicare Part A | No | |
| Medicare Part B | No | It may cover the cost of hearing tests. |
| Medicare Part C (Medicare Advantage) | Depends on the plan and provider | Private insurers offer these plans. Some plans offer hearing aid coverage. |
| Medicare Part D | No | |
| Medigap Plans | No | |
Medicare Part A
When you turn 65, you gain eligibility for free Medicare Part A benefits if you or your spouse worked and paid taxes for ten years or more. Although it does not cover the cost of hearing aids, Medicare Part A offers significant benefits in certain areas, including inpatient hospital care, skilled nursing facility care, hospice care, lab tests, surgery and home health care. This coverage is not enough to pay for all your health care costs, however. That's why most seniors opt to buy Medicare Part B benefits.
Does Medicare Part A cover hearing aids? No, it does not.
Medicare Part B
Medicare Part B costs money—at minimum $144.60 per month. If you receive benefits from Social Security, the Railroad Retirement Board, or the Office of Personnel Management, your monthly premium will be automatically deducted from your monthly check, otherwise the government will send you a bill.
Medicare Part B benefits include the following: doctor visits and services from other medical professionals, and other outpatient care. Part B also covers home health care, some preventative services, and durable medical equipment. It may even cover physician-ordered hearing tests or treatment for a hearing-related medical condition, but it will not pay for hearing aids or appointments to fit them.
Does Medicare Part B cover hearing aids? No, it does not. Medicare Part B may cover hearing test costs or treatments for other hearing-related medical conditions.
Medicare Part D
For seniors, monthly medication costs can be crushing unless they have good insurance coverage. Many people over 65 choose to buy Medicare Part D to cover these expenses, but this coverage does not apply to hearing aids. The costs for these plans vary according to the plan you choose.
Your Part D coverage will take more from your Social Security check each month or increase your monthly bill. Going without Part D coverage is risky considering the cost of many prescriptions. AARP reports that a single prescription for a chronic condition can cost as much as $5,800 per year. The average senior is taking five prescription medications.
Does Medicare Part D cover hearing aids? No, it does not.
Medicare Supplement Plans
Also known as "Medigap" plans, private insurers offer these plans to supplement original Medicare policies. These policies can pay for copayments, coinsurance, and deductibles for your other Medicare policies, especially Parts A and B. Often, they reduce covered expenses to zero for policyholders, but these expenses do not include hearing aid or hearing exam copays.
Do Medicare (Medigap) Supplement Plans cover hearing aids? No, they do not.
Medicare Advantage Plans
Medicare Advantage Plans (Medicare Part C) combine the benefits offered by Medicare Parts A and B, and most include drug coverage (Part D). These bundles include coverage for services not covered by Original Medicare.
Some of these plans do offer vision, hearing, and dental coverage, but because these plans are offered by private insurers, the benefits vary. You need to study Medicare Advantage plans to learn exactly what they cover and what the coverage limits are. They may pay only a set amount toward your annual vision, dental, and hearing expenses. Or they may allow these benefits only once every two to three years. This study from HealthAffairs.org found that Medicare Advantage plans only covered 21% of hearing spending.
These plans all must have the federal government stamp of approval, however they vary in price and coverage. Not all of these plans will cover hearing aids, for instance.
If hearing loss is a major concern, shop for a plan that offers you benefits in that area. Coverage and plans will differ depending on your geographical location. A plan like Aetna Medicare Eagle (PPO), does cover hearing aids, but is not available to everyone. Even with this Aetna plan, though, you would pay a small copay for hearing exams or out-of-network evaluations and fittings.
Do Medicare Advantage Plans cover hearing aids? It depends on the plan. Each plan carries different hearing aid benefits. Contact each plan to understand the plan's exact hearing aid coverage and copays.
Medicare Advantage Hearing Coverage
When you find a plan that covers hearing exams and hearing aids, remember that it may cap coverage at a certain amount. For example, some plans cover $1,000 worth of services/devices every three years.
Hearing clinics charge an average of $4,600 per pair of hearing aids, so $1,000 may only cover a fraction of buying hearing aids through traditional channels. Even Costco and Eargo cost $1,400 and up per pair. Fortunately, MDHearing offers high quality, affordable hearing aids for $399–$999 per pair. The combination of Medicare Part C coverage and the right hearing aid company can ensure affordable hearing treatment.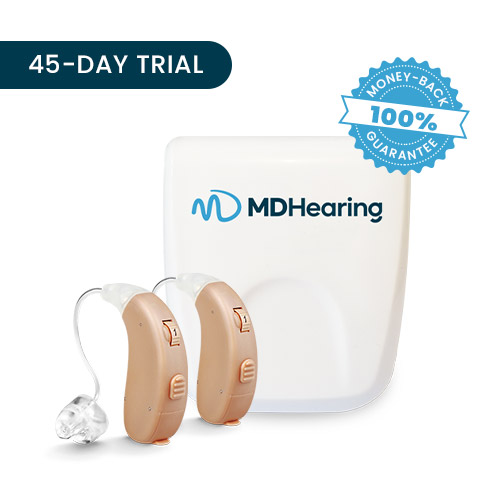 Why Should You Consider Hearing Aids?
There are real dangers to hearing loss, and it can most definitely impact your overall health. Your body uses sound clues to help you balance, so poor hearing can affect your mobility. When you have hearing difficulties, you may become isolated since participating in conversations becomes challenging. Also, your speech comprehension ability may decline. Often, seniors feel embarrassed when others have to repeat their comments multiple times.
Poor hearing can affect your mental health. Isolation and loneliness can lead to depression, a condition that already affects too many seniors. Those who do not engage with others on a regular basis are also in more danger of experiencing cognitive decline and developing conditions such as dementia.
Steps to Improve Your Hearing
For many, hearing aids are the best solution to hearing loss, but these devices only address part of the issue. Your brain controls hearing, and you can work to improve that function by using several simple methods. You can download apps such as Lace Listening, which can improve your hearing comprehension. You can listen to people reading aloud and, when it's safe once more, practice having conversations in noisy environments. In addition, some more holistic methods can help with how to improve hearing.
Medicare Hearing Coverage: Final Thoughts
Original Medicare does not cover devices that could help millions of seniors live better lives. Fortunately, you can purchase hearing coverage through certain Medicare Advantage plans. Before buying a policy, verify that hearing is part of its coverage and how much coverage the plan provides.
Not all Medicare Advantage plans offer this benefit. Medicare Advantage will cost you more, but if you are like many seniors, going without hearing benefits will be far more expensive.
Remember, you buy these policies from private insurers, so you need to compare offerings from several companies. In that way, you'll get the most benefit from your hard-earned dollars.
The MDHearing Solution
If you believe you need hearing aids, the first step should be a hearing test. MDHearing provides a free, online hearing test that can then be analyzed and discussed with one of our audiologist-trained consultants at no cost to you. To date, we have helped over 500,000 clients improve their hearing with dedicated, responsive customer support and an incredible assortment of FDA-registered, high-quality, affordable hearing aids backed by a 45-day risk-free trial.
Interested in starting a completely risk-free trial with MDHearing? Check out our different models for yourself.
CHOOSE YOUR HEARING AID
Not sure if you have hearing loss? Start by taking our free, online hearing test.
TAKE ONLINE HEARING TEST