New technology is changing the way we hear, from ear buds to hearing aids. But hearing aid companies aren't just updating their hearing aids to keep up with the modern world. They're also developing phone and tablet apps to accompany their hearing aids. As you're researching hearing aids in this day and age, you should be looking at whether they have an app and exactly what it does. So what is the smartest hearing aid app for Android? And why is a hearing aid app so important, anyway?
How do hearing aid apps work?
Hearing aid apps (short for applications) are possible thanks to Bluetooth technology. What is Bluetooth technology? Simply put, Bluetooth is the new standard for wirelessly connecting devices to one another.
Many everyday devices use Bluetooth or apps to make life easier. For example, newer cars can connect to your smartphone for hands-free calls, printers can wirelessly connect to a computer, and home security systems can connect to your phone for wireless control.
Now, hearing aid companies are using Bluetooth to connect their hearing aids to phone apps, giving users much more control and customization. Most are hearing aid apps for Android and iPhone users alike.
What makes the MDHearing App special?
Thanks to its innovative hearing aid app for Android, the MDHearing CORE hearing aid is like an audiologist in your pocket. It's been called the easiest Bluetooth hearing aid to use, thanks to programs and settings that can be quickly and easily customized by any user from the comfort of home.
An application should be designed for the people using it, and for hearing aid users, that tends to be older folks. So we specifically design our hearing aid app for Android to be easy to use for the elderly. This means:
Larger text
Easy-to-follow instructions
Large, easy-to-press buttons for shaky hands
Simple and thoughtful explanations of everything in the app
Even better, the app helps even first time hearing aid users get accustomed to their new hearing device through a variety of features.
Hearing Aid Personalization in the App
There is value in getting your hearing checked by an audiologist, but we understand getting a personalized hearing aid from a clinic is (a) expensive, (b) a long process that requires multiple appointments, and (c) a challenge to schedule. After all, people who live far away from their audiologist can't easily schedule numerous expensive appointments to get their hearing aid fitted.
That's why our app developers made it possible for you to personalize the CORE hearing aid in the app, so you don't have to leave your home.
When you put on the hearing aid and start up the MDHearing app on your phone or tablet, you'll be asked to create your personal profile. By measuring your response to a series of tones, the app will automatically calculate and program the hearing aid. And you can repeat this process whenever you want, so when your hearing changes over time, you won't need to schedule appointments with an audiologist and go back for adjustments.
Turn Your Phone into a Hearing Aid Remote
The MDHearing app also acts as a remote for your hearing aid, allowing you to discreetly change the volume or listening program. Take it one step further and fine-tune each listening program by changing the amount of noise reduction, the sound direction and the high/low frequency settings with just a few taps.
Nervous about messing with the hearing aid settings yourself? No worries. Our hearing specialists can remotely fine-tune the settings for you. This personal support is offered through the app at no charge for the entire life of your hearing aid.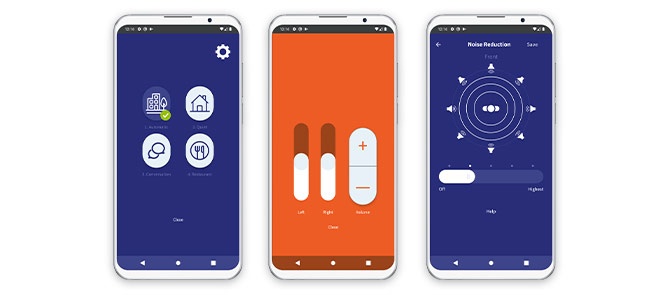 In-App Hearing Aid Lessons
We want every customer to be completely happy with their CORE hearing aids, and our number one goal with the app is to make these hearing aids as simple to use as possible.
The app can assist you at any time of the day or night when an audiologist wouldn't be available, and we are committed to being an all-in-one solution for those in need. The 'Tutorials' section of the app gives you the tools you need to feel completely comfortable wearing your new hearing aids.
One of those tools, the 'First Weeks' tool, helps you set goals and record your wearing time while you adapt to your new CORE. It's crucial to practice with your hearing aid and build up to wearing it all day, as medical studies show that it takes about three weeks for a person's brain to get accustomed to using hearing aids.
Another tool, the 'Hear Coach', takes you on a guided tour of the CORE and MDHearing app. Hear Coach lessons include topics like properly placing the hearing aid in your ear and how to clean. Plus, you can view your overall progress at the top of the screen as you complete each lesson.
But does it work for iPhones?
Yes. Along with being a hearing aid app for Android, the MDHearing app also works for the iPhone and Apple tablets. You'll just need to download it from the Apple store.
How do I get the MDHearing Hearing Aid App for Android?
It's easier than you think to set up your hearing aid app for Android phones. After you've received your MDHearing CORE in the mail,
1. Open the box and follow the instructions for setting up the hearing aid itself.
2. Go to the Play Store on your phone and search for "MDHearing" (our app will have a bright orange icon).
3. Choose "Install".
4.Once the App has finished installing, choose "Open".
100% Satisfaction Guarantee
If you want to experience the MDHearing app for yourself, you're in luck. We offer a 45-day risk-free trial for the CORE. The idea is for you to be able to try it out and see how it works. And if you have any questions, the phone and in-app hearing aid specialists are here for you every step of the way.
Get the MDHearing CORE today to personalize your hearing from the comfort of home.
START YOUR 45-DAY TRIAL