If you've been searching for affordable hearing aids online, you might have discovered HearUSA, which touts itself as "the leading hearing health company in the U.S." But does this claim stand up to scrutiny? What is HearUSA and how much does HearUSA cost—and what do HearUSA reviews have to say about it?
According to the Hearing Loss Association of America, 48 million people in the U.S. experience some form of hearing loss. What's more, although 29 million Americans could benefit from a hearing aid, just 1 in 5 of them actually use one.
Unfortunately, despite the very real dangers of hearing loss, far too many people go without hearing aids—whether due to the cost of hearing aids or challenges finding the right hearing aid provider. With so many companies to choose from, it can be difficult to know where to turn for reliable hearing aid reviews and comparisons.
The good news: we're here to help. In this all-in-one HearUSA guide, we'll go over HearUSA products, reviews, prices, and more, so you can make the decision that's right for you.
What is HearUSA?
Founded in 1987 and headquartered in Palm Beach Gardens, Florida, HearUSA is a national hearing care network that operates more than 250 "HearUSA Centers" across the United States. According to the company's website, HearUSA has over 850 employees and partners with nearly 4,000 independent audiologists and hearing care professionals.
In 2011, HearUSA filed for Chapter 11 bankruptcy, after which it was acquired by Siemens Hearing Instruments, Inc. HearUSA is now part of the Sivantos Group, a hearing aid manufacturer that was spun off from Siemens Audiology Solutions. Since 2008, HearUSA has been the exclusive provider for the AARP's Hearing Care Program, which offers deals and reduced prices for hearing aids to AARP members.
How Does HearUSA Work?
With those facts in mind, how does HearUSA actually provide customers with hearing aids? Notably, HearUSA sells hearing aids directly to the consumer, without needing to go through a doctor or other medical professional.
Potential customers of HearUSA first need to schedule a screening with one of the company's associates at a HearUSA center. Although HearUSA offers an "instant hearing evaluation" online, this assessment only consists of a few simple questions about your quality of life, without actually testing your hearing. This is in contrast to other hearing aid providers such as MDHearing, which offers a free online hearing test that anyone can take in 8 minutes.
At the HearUSA screening appointment, which lasts roughly one hour, a hearing aid professional will walk through the following steps:
Reviewing your current medical history

A physical exam of your ears, including the ear canal and eardrum

A pure tone hearing test (using headphones) and a speech test

Reviewing the test results

Discussing the potential next steps and appropriate hearing loss solutions
Finally, the results of the HearUSA screening appointment are shared with the patient's physician.
HearUSA Products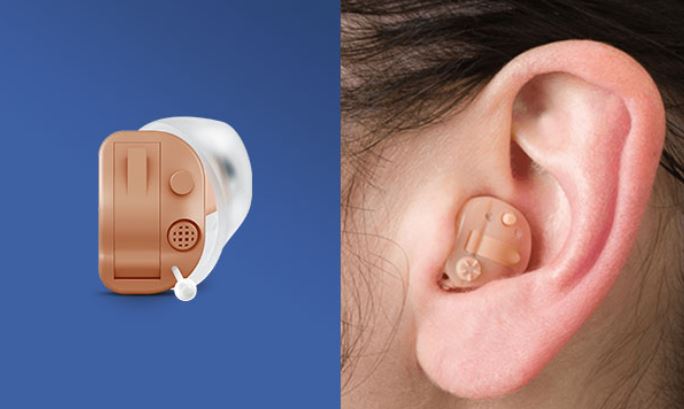 HearUSA offers surprisingly little information about the hearing aid devices that it sells to customers. The company's homepage claims it offers "more than 250 high-quality innovative hearing aid models." However, the company's hearing aid page mainly offers an overview of the different hearing aid styles, including:
Completely in the canal (CIC)

In the canal (ITC)

In the ear (ITE)

Behind the ear (BTE)
Given these descriptions, it would be reasonable to assume that HearUSA offers hearing aids that fall into most or all of these categories.
Another clue about HearUSA products is available on the HearUSA support page. Under the "Product Support" header, there are two options: "Help with Signia hearing aids" and "Help with Widex hearing aids." It's not difficult to assume, then, that HearUSA sells hearing aids under the Signia and Widex brands. This supposition makes sense: as mentioned above, HearUSA is part of the Sivantos Group, which owns the Signia brand and which also merged with Widex in 2019.
Clicking on "Help with Signia hearing aids" takes users to a Signia-specific support page. This page offers tips on general care and maintenance, as well as a dedicated section on Signia Nx, which has Bluetooth hearing aid technology.
Likewise, clicking on "Help with Widex hearing aids" takes users to a Widex-specific support page. As well as tips on care and maintenance, the page mentions two Widex hearing aid models and features: Widex Evoke and Widex SoundSense Learn.
Widex Evoke is a "smart" hearing aid that automatically adapts to the user's listening environment, with an accompanying mobile app that lets users adjust the device's settings.

Widex SoundSense Learn is a hearing aid feature that uses a machine learning algorithm to select the most appropriate hearing aid settings.
Given the contents of the HearUSA support page, it's a natural conclusion that HearUSA sells Signia- and Widex-branded hearing aids, including Bluetooth and smart hearing aids. However, without a clear statement from HearUSA itself, this is ultimately just speculation. Potential HearUSA customers will have to schedule an appointment if they want to find out the company's product range for themselves.
Finally, HearUSA also operates an online hearing store that sells "a large variety of the latest hearing enhancement products." These products include "tele-caption devices, pocket talkers, telephone and television (TV) amplifiers, special alarm clocks, doorbells, fire alarms, and more."
HearUSA Prices
Like many hearing aid providers, HearUSA can be somewhat tight-lipped about the price of HearUSA hearing aids. As discussed above, trying to figure out the HearUSA product offerings can be challenging enough!
However, the HearUSA website does offer some clues as to the price of HearUSA devices. On the page describing the company's "Best Benefits" plan, HearUSA offers some rough estimates of the costs that HearUSA customers will pay:
Basic Digital Hearing Aid:

$995

Value Digital Hearing Aid:

$1300

Mid Level Digital Hearing Aid:

$1600

Advanced Digital Hearing Aid:

$1995

Premium Digital Hearing Aid:

$2500
Note that these prices are per hearing aid, not per pair. According to a 2019 survey by Consumer Reports, hearing aid users spend an average of $2,691 per pair, or $1,346 per device. Comparing this figure with HearUSA's "mid-level digital hearing aid" at $1,600, HearUSA's prices seem to be slightly more expensive than average.
As we'll discuss in the next section, HearUSA reviews online largely agree with this perception: multiple HearUSA reviews claim the devices were somewhat costly.
The good news is that HearUSA has several options to reduce the cost of HearUSA hearing aids:
AARP members enjoy a 20 percent discount and other advantages through the

AARP Hearing Care Program

.

HearUSA offers a

special program for veterans

.

According to the HearUSA website

, the company "contracts with a variety of third-party payers (insurance companies, etc), benefit sponsors, employer groups, managed care programs, health plans and unions to provide hearing care benefits to its members and/or employees." However, whether you can pay some or all of the HearUSA costs with your health insurance depends on the specifics of your insurance plan.
HearUSA Reviews
Thus far, we've discussed HearUSA products and pricing—but what do real users have to say about the company in HearUSA reviews?
As of writing, HearUSA has two profiles with the Better Business Bureau, one with a B- rating and another with an A+ rating; the company is not BBB-accredited. Complaints about HearUSA in the BBB database include problems with billing and customer service, as well as issues with product quality. HearUSA customer Joan H. gives the company a 1-star review, writing:
The quality is not great. They cost $2,000 each, and if you want better quality for watching TV or in a crowded area, it's another $1,000. I was told if I lost one of them it would be replaced free, but it happened and they wanted $250 to replace it. I would not buy from them again."
Other HearUSA reviews take issue with the company's product quality and cost. For example, as of writing, HearUSA currently has a rating of 2.3 out of 5 stars on the company's Facebook page, based on 63 reviews. In a negative HearUSA review, customer Kimberly Irvan calls HearUSA "a company that preys on the elderly," adding:
My husband purchased the top-of-the-line hearing aids 3 years ago in your Ocala, FL store. The price was over $8,000, but with the AARP discount, they were half-price at over $4,000. This is a crazy price, yes, but when you are buying the top of the line…well, OK. 3 years later, we have had to go to the store for repairs over 10 times...The rep there tells us they are out of warranty, and it will cost around $350 to $400 to send them off to have them examined. Also, we were told that we needed to upgrade his hearing aids, that the ones he has now really aren't good enough for his hearing loss...Really, an $8,000 pair of hearing aids doesn't even last for 3 years and now he needs to upgrade?"
On the other hand, customer Edna Meisels gives HearUSA a glowing review for its customer service, writing:
Amazing place to send an elderly parent for hearing aids. Best experience for my dad. The receptionist Christine was so welcoming and professional. Dr. Freed was very warm, friendly, attentive, and professional. He treated my father as if he was his own father."
Reviews of HearUSA stores offer further insight into the company's practices. For example, one HearUSA hearing center in Los Angeles has an average rating of 3 out of 5 stars on Yelp, based on 10 user reviews. HearUSA customer Keith H. calls the company a "total rip-off," writing:
They were expensive! Around $4,000. My insurance covered all but $800 out of my pocket…I tried them for a few weeks and they were like I was in a tin can. I went in for an adjustment and smaller earpieces, as the ones they fitted me for made my ears itch. Anyways, they never sounded good to me, so I returned them. You have 30 days, I think, so I got my $800 back. Then I get a statement from insurance for $4,000. I owed $0, but I returned the damn things and they still got their money. What a scam!"
The Pros and Cons of HearUSA
Like any hearing aid provider, HearUSA has both advantages and disadvantages. The pros of HearUSA include:
AARP discount:

AARP members are able to save 20 percent on the price of HearUSA hearing aids through the organization's Hearing Care Program. The program offers

additional benefits

such as a 90-day trial, 1-year extended follow-up care, a 3-year manufacturer warranty, and a 3-year supply of batteries.

Customer service:

In 2019,

Newsweek

gave HearUSA the award of "Best Customer Service" under the category of "hearing care." Meanwhile, Consumer Reports ranks HearUSA as the

third-best hearing aid center

, after Costco and Connect Hearing.
The cons of HearUSA include:
In-person only:

In order to purchase HearUSA hearing aids or get help with your existing devices, you need to make an in-person visit to one of the company's 250 hearing centers in the U.S. However, this requirement can be challenging for people who don't live near a HearUSA store (for comparison, there are over 13,000 McDonald's restaurants in the country). What's more, people looking to buy hearing aids online might not want to go through the hassle of an in-person visit, especially potential customers who may lack reliable access to transportation.

Opaque pricing model:

The company doesn't make it easy to find out how much HearUSA hearing aids cost. The price you pay will depend on factors such as your level of hearing loss, the product you choose, and the discounts available to you. However, multiple HearUSA reviews mention that the price of HearUSA hearing aids is fairly steep, even after factoring in the available deals and discounts.

Opaque product offerings:

Not only is the price of HearUSA products difficult to uncover, it's not easy to find information on the products themselves. As discussed above, HearUSA likely sells Signia- and Widex-branded hearing aids, including Bluetooth and "smart" hearing aids—but the company doesn't have any publicly available information on specific brands or features.

Negative reviews:

As discussed in the previous section, some HearUSA customers have had a negative experience with the company—and they aren't afraid to speak their minds in their HearUSA user reviews. Potential issues include the product quality, high costs, and problems with customer service.
MDHearing: An Affordable Alternative to HearUSA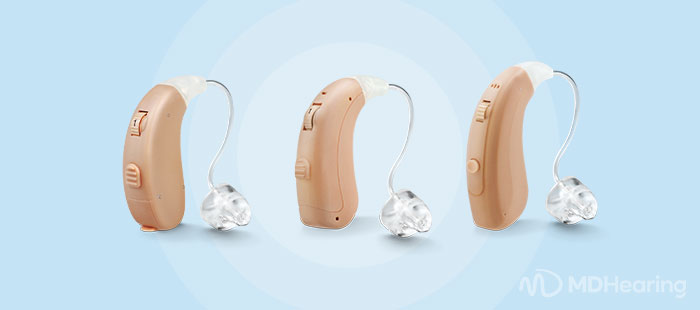 Given the possible disadvantages of HearUSA, including lack of information on HearUSA products and pricing, it's understandable that many customers would look for HearUSA alternatives. The good news is that there are high-quality, affordable HearUSA alternatives available: companies such as MDHearing with excellent reviews and transparent pricing that make it easy to buy hearing aids online.
MDHearing is an affordable hearing aid provider that has helped hundreds of thousands of customers purchase hearing aids and test their hearing online. Founded by an ENT doctor and headquartered in the Midwest, MDHearing is one of the top hearing aid brands and the largest direct-to-consumer hearing aid seller in the United States.
The advantages of MDHearing include:
Lower costs: By cutting out the middlemen and going straight to the manufacturer, MDHearing's FDA-registered hearing aids are dramatically more affordable than traditional hearing aid devices. Whereas hearing aid providers like HearUSA may cost thousands of dollars, MDHearing prices start at just $299/pair.
FDA-registered, medical-grade hearing aids:

Unlike many other online hearing aid companies, MDHearing is FDA-registered and backed by medical professionals. MDHearing customers benefit from access to audiologists, hearing aid specialists, and a U.S.-based customer service team.

Diverse product line:

MDHearing offers a wide range of affordable hearing aid products, including digital hearing aids, rechargeable hearing aids, and Bluetooth-compatible "smart" hearing aids that you can control with your phone.

Customer-friendly:

With free shipping, a 45-day free trial, easy-to-use products, and excellent U.S.-based customer support, MDHearing makes it easy to start addressing your hearing loss and improving your quality of life. Unlike HearUSA, no in-person visits are required, and you can get support by phone or email.
MDHearing user Joan P. writes:
The customer service has been outstanding, very helpful. They continue to help solve the problem and give solutions. Out of 5 stars, I would give them 6."
MDHearing reviewer Jerry G. says:
Great product. Every bit as good as, if not better than, my $4,000 hearing aids that I had been using. One of these expensive aids was damaged, and rather than have it repaired or replaced I opted to try your MDHearing. I would recommend this product to anyone struggling to hear."
Want to find out if MDHearing is right for you? Get started with our free online hearing test or sign up for a free phone hearing screening. Once you're done, MDHearing's hearing aid specialists are available to interpret your results and walk through your options with you.
Test your hearing from home in less than 8 minutes.
TAKE ONLINE HEARING TEST