For more than a decade, MDHearing has been committed to one goal: improving healthcare by giving more people access to medical-grade, affordable hearing aids. Now we're delighted to introduce the NEO: our smallest hearing aid ever and our first in-the-canal (ITC) hearing aid.
MDHearing's other models, such as the AIR and the VOLT, are behind-the-ear (BTE) hearing aids. They sit behind and on top of the user's ear. The NEO is different: the device is placed within the ear canal, offering maximum discretion.
Below are some of the reasons why we're so excited to introduce our NEO in-the-canal hearing aid to our customers.
ITC vs. BTE Hearing Aids
Wearing an in-the-canal (ITC) hearing aid is quite different from wearing behind-the-ear (BTE) hearing aids. Before you buy one or the other, it's important to understand the distinctions and how they will impact your experience.
The BTE design has two compact parts connected by a small, thin tube. The hearing aid itself sits discreetly behind your ear, allowing room for other devices such as eyeglasses and oxygen cannulas. Meanwhile, the tubing connects to an earpiece that fits comfortably inside your ear canal, with many different sizes and designs available.
ITC hearing aids are even smaller and more inconspicuous. They sit at the opening of the ear, fitting into most ear canals without adjustment. ITC devices like NEO come with multiple flexible silicone domes, letting you choose the right size to fit snugly and comfortably inside your ear.
Virtually Invisible
There are nearly 30 million people with hearing loss in the United States who could benefit from hearing aids—but the number of people who actually use them is far lower. One reason for this discrepancy: hearing aid users may feel stigmatized or self-conscious, particularly when they first start wearing the device.

That's why discreet, in-the-canal hearing aids like the MDHearing NEO are so important. The NEO is our tiniest FDA-registered device yet, with a vertical diameter of just 0.5 inches and a length of 0.875 inches. This makes the NEO practically invisible to anyone except the wearer.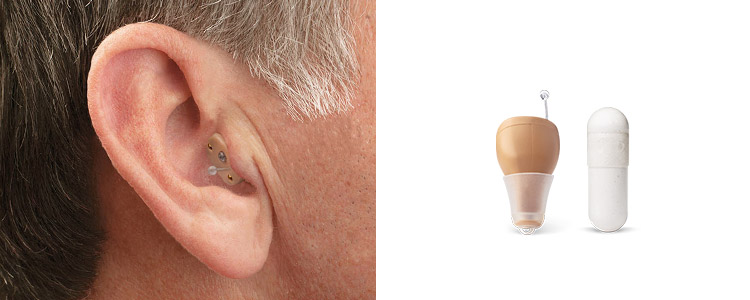 Despite their small size, NEO hearing aids are easy to remove. An attached withdrawal string helps users quickly take out the device when it needs to be charged or cleaned.
Rechargeable Batteries
Like other MDHearing products, such as the VOLT and VOLT MAX, the NEO is a rechargeable hearing aid. Traditional hearing aids with disposable batteries have a number of issues: you need to constantly purchase new batteries, swap them out yourself, and make sure you don't get caught without a replacement when your battery dies.
Many of our customers thus find that rechargeable hearing aids are the perfect solution to their needs. NEO hearing aids last an average of 17 to 18 hours, with a charge time of 3 to 4 hours. You can plug in the charger while you sleep, power your device overnight, and wake up ready to enjoy another day of crystal-clear hearing.
Easy to Use
The NEO has been designed from the ground up to be as simple and user-friendly as possible. A single push button serves as both the on/off control and the volume control:
To turn the device on or off,

press and hold the button for two seconds.

To change the device's volume, press the button and quickly release it.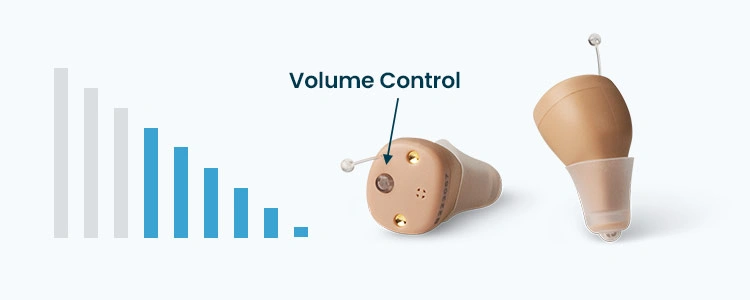 NEO hearing aids come with 9 different volume settings, increasing by 3 decibels at each step. This lets you adjust the device for a wide variety of environments, whether you're reading at home or out with friends.
High-Quality Sound
We've designed the NEO to include cutting-edge hearing aid technology, providing users with the highest-quality sound:
NEO's

background noise reduction technology

helps reduce sounds from your environment, so that you can focus on the speech of people around you.

Feedback cancellation technology

identifies and eliminates whistling and other high-pitched frequencies.

As an ITC device, NEO

uses your own pinna

(the visible part of your ear) to help funnel sounds into your ear canal, helping you hear better in the presence of background noise.
The NEO is appropriate for users with mild to moderate hearing loss. If you need hearing aids that can help with moderately-severe hearing loss, we recommend one of our affordable BTE hearing aid products, such as the VOLT rechargeable hearing aid or the VOLT MAX smart hearing aid.
Affordable In-the-Canal NEO Hearing Aids
As a special introductory offer, a pair of NEO in-the-canal hearing aids is currently available at the low price of $299.98 per pair. Your NEO order also includes a charging case, a cleaning tool, three sizes of silicone dome tips, and wax guards to keep your devices free from damage and moisture.
When this introductory offer ends, NEO will be listed at $999.98 per pair, or $499.99 for a single device. This means that you can save $700 on a pair of NEO hearing aids by purchasing now.
Like all of our affordable hearing aid products, NEO comes with free shipping, a 45-day risk-free trial, and a 100% money-back guarantee. If you aren't completely satisfied with your new hearing aids, send them back to us for a full refund.
Need help or guidance with your NEO in-the-canal hearing aids? MDHearing also offers free lifetime support with our friendly U.S.-based licensed hearing professionals. If you have any questions or concerns, you can always reach out to us via phone or email.
MDHearing: FDA-Registered Hearing Aids You Can Trust
MDHearing makes it as easy as possible for anyone to enjoy FDA-registered, medical-grade, affordable hearing aids. All of our products are available for purchase online and delivered right to your doorstep.
There's no need to spend valuable time, money, and effort visiting an in-person hearing clinic. By cutting out the middleman, MDHearing can offer the same advanced hearing aid technology at a fraction of the price.
Get started by taking our free online hearing test to learn which of our affordable hearing aids is right for you, and you'll receive your results within minutes. MDHearing's licensed hearing professionals are ready to help at every step of your hearing journey.

Start a 45-day trial on the brand-new, in-the-canal MDHearing NEO today!
LEARN MORE