Hearing loss is an all-too-common affliction for millions of Americans. According to the U.S. National Institutes of Health (NIH), 15 percent of U.S. adults (over 37 million people) have some trouble hearing, with the percentage increasing sharply by age.
Fortunately, hearing aids can help a majority of people who experience hearing loss. The NIH also estimates that 29 million Americans could see benefits from using hearing aids.
So why does only a small minority of this population (16 to 30 percent) actually wear hearing aids on a regular basis? Two reasons are cost and accessibility. The average price of hearing aids is over $2,300 per device (and $4,600 for a pair), which puts them out of budget for too many people. In addition, getting a hearing aid can be difficult or impractical for people who don't have regular access to healthcare.
The good news is that a number of hearing aid providers are seeking to change this situation. These affordable hearing aid brands offer products for a fraction of the cost of the major sellers, cutting out the middleman to get hearing aids in the hands of their customers more quickly.
If you've been inside a Walgreens store recently, you might have noticed Lexie hearing aids for sale. Lexie is one of these low-cost hearing aid brands: it claims to sell a pair of high-quality hearing aids for as little as $799.
But are Lexie hearing aids worth it? How much do Lexie hearing aids cost, and what do Lexie hearing aid reviewers have to say? Most importantly, how does Lexie stack up against the top hearing aids brands? We'll answer all of these questions and more below in this all-in-one Lexie hearing aids guide.
What are Lexie Hearing Aids?
According to the company's website, Lexie claims to offer a "low-cost, premium hearing aid." The Lexie brand is an offshoot of hearX Group, a South African digital audiology solutions company. In addition to Lexie, hearX also offers products such as hearing test mobile apps and patient data management software.
Lexie is one of the "direct-to-consumer" (DTC) hearing aid brands that have emerged in the past several years. These DTC companies sell hearing aids directly to customers, without the need to visit a local hearing clinic. Potential customers can take a hearing aid test online, get advice about the right product for their needs, and then have the device shipped to their door—all while barely lifting a finger.
Although you can order Lexie hearing aids online, many customers can also buy them in person thanks to the company's partnership with Walgreens. Shoppers at hundreds of Walgreens pharmacies in Arizona, Colorado, North Carolina, Tennessee, and Texas can now buy Lexie Lumen hearing aids in-store.
Lexie Hearing Aid Products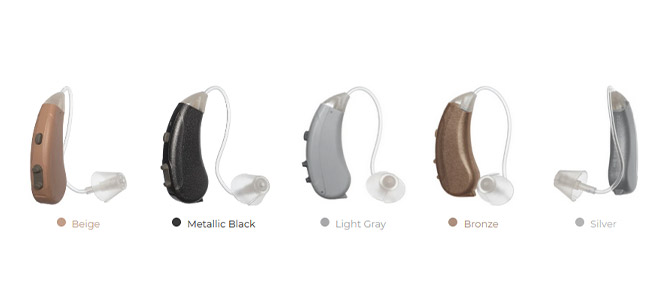 Lexie currently offers a single flagship product: the Lexie Lumen. According to the company website, the Lexie Lumen hearing aid comes with the following features:
Directional microphones to amplify the right sounds

Adaptive noise reduction

Bluetooth connectivity

6 different hearing settings, including for conversations, music, noisy indoors environments, and outdoors

Up to 36 hours of battery life

An accompanying mobile app for changing device volume and settings

Nano coating technology to protect against moisture

A lightweight behind-the-ear (BTE) device body with a comfortable ear tip

5 different colors, from beige to metallic black

Real-time customer support via phone or video call
Lexie offers a 45-day trial to all new customers, allowing you to thoroughly test the product before you make a commitment.
Lexie Hearing Aid Cost
The cost of Lexie hearing aids depends on which payment plan you go with. As of writing, Lexie offers two payment methods:
One-time:

If you buy Lexie hearing aids in a lump sum, you'll pay $799 for a pair of devices. This price also includes the 45-day trial and phone or video support.

Monthly payments:

If you prefer to buy Lexie hearing aids in monthly installments, you'll pay $49 per month for 24 months. This comes out to a total of $1176, which is $377 more than if you made a single payment. However, this option can be convenient for customers whose budget fits better with monthly payments.
The question of one-time vs. monthly payments for Lexie hearing aids isn't quite an apples-to-apples comparison, though. Lexie's monthly subscription plan also comes with additional benefits over the one-time payment, such as:
"Care Kits" with new batteries and hearing aid accessories (such as domes, slim tubes, and drying capsules), shipped to customers every 6 months.

An extended "Lexie Cover" protection plan for damaged or lost hearing aids.
The Lexie monthly subscription does not require a contract and can be canceled at any time. After canceling, customers will have to return the hearing aids and any accessories they received during the subscription.
As we mentioned above, Lexie hearing aids are also available at Walgreens. Customers who buy Lexie hearing aids through Walgreens can pay a one-time $799 fee, or pay in monthly installments of $39 for 24 months, along with a $50 "activation fee." This comes to a total of $986, which is more than the one-time $799 fee but less than Lexie's other monthly payment plan.
However, Lexie's monthly payment plan through Walgreens does not include the extra benefits listed above: hearing aid accessories and an extended protection plan. If you want to add these features to your purchase, you'll pay an additional $12 per month for hearing aid accessory replacements, and $6 per month for the protection plan. This would come to a total of $57 per month, or a total of $1368.
In other words, if you prefer a monthly payment plan and you want these additional benefits, you're better off buying Lexie hearing aids through the company's website. This will give you access to new hearing aid accessories and a device protection plan for just $49 per month, rather than $57.
Lexie Hearing Aid Reviews
Reviews of Lexie hearing aids seem to be generally positive. On the website RetirementLiving.com, user Charlene C. from Illinois compliments the company's customer service:
I have had my Lexie hearing aids for approximately 2 months and would give them an A+ rating, for both the hearing aids themselves and their support reps. Their reps are very friendly and very knowledgeable about their product, and have called me more than several times to see if I had any questions or am having any problems. Today I received a Duo Care Kit with various items, plus a large supply of batteries. I knew nothing about Lexie hearing aids before I ordered them and just took a chance, and it was the best decision I made."
However, there are also some negative reviews of Lexie hearing aids from customers who are dissatisfied with their experience. In another RetirementLiving.com review, Lexie customer Margery H. from Rhode Island complains about the devices not working, as well as the supplementary charges attached to the Walgreens subscription plan:
I thought they'd at least work a little. But I was told the batteries had to be changed, then the wires, then the earpieces. Very hard to do, and I'm not elderly. Every time I tried to use them they didn't even turn on... Plastic pieces of junk. And the price is not the only charge—$20 more for...?"
Other Lexie hearing aid reviews mention that the device's noise reduction feature may not work as well as intended. Elizabeth Sanders writes, "I can finally hear, but they pick up a lot of background noise." In another review, Lexie customer Marty Woodward writes, "I can really tell a difference with my hearing. I just wish I could cut out the other background noises."
MDHearing: The Best Alternative to Lexie Hearing Aids?
Are Lexie hearing aids right for you? It all depends on what you're looking for. The benefits of Lexie hearing aids include:
Availability:

Lexie hearing aids are currently available at Walgreens stores in select states, with a wider rollout possibly coming soon. This can be a convenient alternative to the traditional hearing aid buying process.

Features and functionality:

The Lexie Lumen hearing aid offers features such as directional hearing, noise reduction, and different hearing environments to offer a better listening experience.

Flexible payment options:

Lexie's monthly payment option is a good fit for customers who may prefer to pay off their purchase over time. However, customers should be aware that this alternative will cost more than a one-time purchase.
However, Lexie hearing aids also have certain disadvantages such as:
No options for single aids:

As of writing, it appears that customers can only buy a pair of Lexie hearing aids, and not a single device. This means that people with hearing loss in only one ear will be paying twice as much for Lexie hearing aids as they should.

Limited product selection:

Lexie currently only offers a single hearing aid product, the Lexie Lumen. In addition, the Lumen lacks customization options—the only configurable feature is the device's color. If you need features or functionality that the Lumen doesn't provide, you'll have to choose another hearing aid brand.

Limited feature selection:

The Lumen hearing aid is battery-operated; Lexie does not offer rechargeable hearing aids. This means you will have to purchase replacement batteries and switch them out frequently, which can be inconvenient and challenging for people with limited dexterity. If you want a rechargeable hearing aid, you're out of luck with Lexie, and will need to look for another hearing aid provider.
If Lexie hearing aids aren't the right choice for you, then where else can you buy hearing aids online?
MDHearing can help. Since our founding by a Chicago ENT (ear, nose, throat) doctor more than a decade ago, MDHearing has offered affordable hearing aids to more than 500,000 happy customers. We sell high-quality, FDA-registered hearing aids at a price point that's significantly lower than other brands.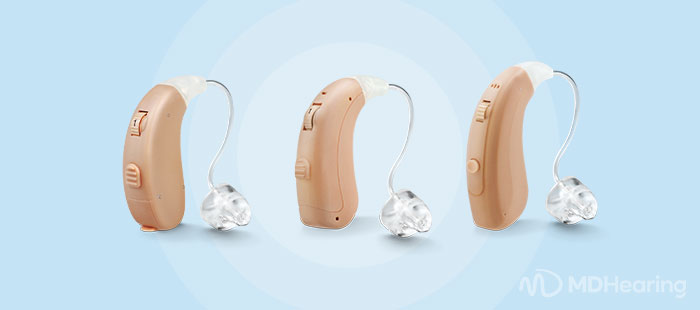 By selling directly to customers, MDHearing helps people access better healthcare with our affordable hearing aids. The benefits of MDHearing include:
Ease of purchase:

MDHearing cuts out the hearing aid middlemen and sells devices directly to the people who need them. This enables us to slash our prices to a level that's competitive with Lexie and other online hearing aid providers. Our hearing aids arrive at your doorstep already assembled and ready for you to use.

Diverse product range:

MDHearing offers affordable hearing aids to fit every budget and lifestyle, including features such as rechargeability, advanced noise reduction, smartphone compatibility, in-the-ear and behind-the-ear styles, and more. See our comparison page for our latest product offerings.

Excellent customer service:

MDHearing's U.S.-based customer support team of audiologists and hearing aid specialists can help answer your questions by phone or email. We offer a 45-day risk-free trial period for all hearing aids, so that you can make sure your device is perfect for your needs.
Want to see if MDHearing is right for you? Take our free online hearing test and get personalized results immediately.
TAKE ONLINE HEARING TEST