At MDHearing, we are deeply committed to producing affordable, high-quality hearing aids—driven by our team of audiologists and cutting-edge research. Our dedication comes from a strong belief in the scientific and medical principles that form the basis of our industry, and our commitment dates all the way back to MDHearing's founding—with Dr. Seilesh Babu's 2012 study that demonstrated MDHearing to be an effective low-cost solution to hearing loss.
What makes us stand out most amongst other companies is our team of hard-working, knowledgeable, and dedicated audiologists. Not only are they in tune with the latest technology, MDHearing's audiology team continues to work on advancing the science of hearing loss and hearing aids. As a result, we are excited to share some recent speaking engagements from our highly-respected Head of Audiology, Dr. Sandra Porps.
Dr. Porps is certified by the American Speech-Language-Hearing Association and received her Doctorate of Audiology (Au.D.) from Central Michigan University. She also has several publications on topics ranging from basic audiology to cochlear implant outcomes.
Michigan Ear Institute's Annual Spring Conference
The Michigan Ear Institute—a leading center for the diagnosis, treatment, and research of ear, hearing, and balance disorders—holds an annual spring conference for otolaryngologists and audiologists. Their goal is to "provide healthcare professionals with the knowledge and skills necessary to improve patient care and outcomes."
This year's conference, held June 2-4, featured renowned experts in the field, who presented the latest advances and techniques in a wide array of subjects, including inner ear regenerative medicine, tinnitus, cochlear implantation, and comprehensive approaches to addressing hearing loss in adults.
MDHearing's Dr. Sandra Porps presented on cochlear implant research at the Michigan Ear Institute, focusing on three key areas: cochlear implant outcomes in treating translabyrinthine resection of acoustic neuromas, cochlear implants as a solution for single-sided deafness, and employing an evidence-based approach to cochlear implant aftercare.
American Cochlear Implant Alliance's 2023 Conference
The American Cochlear Implant Alliance is a not-for-profit organization with the purpose of advancing access to hearing provided by cochlear implantation through research, advocacy, and awareness. ACI Alliance hosted their annual international conference in Dallas, TX on June 7-10.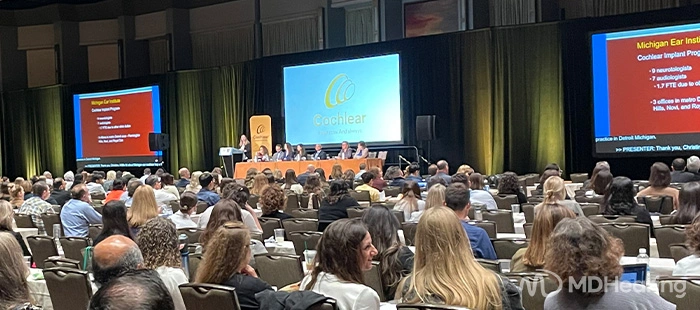 Audiologists, physicians, speech pathologists, psychologists, advocates, and others involved in cochlear implantation were able to explore current and emerging topics for CI patients across the lifespan.
MDHearing's Dr. Sandra Porps presented on utilizing an evidence-based model for cochlear implant aftercare. Additionally, she discussed the recent groundbreaking publication in Cochlear Implants International, highlighting the study's findings and illustrating how Michigan Ear Institute revolutionized their aftercare approach to optimize the patient experience. By reducing patient chair time, results show an increased efficiency for both the patients and the clinic.
Better hearing backed by professionals
These speaking engagements reinforce MDHearing's commitment to research, innovation, and providing the best possible care to individuals with hearing loss. MDHearing is fortunate to have Dr. Sandra Porps leading our audiology and customer care team. She brings a wealth of expertise in patient care, hearing aid technology, and treatment of hearing disorders.
You can trust MDHearing for affordable, high-quality hearing aids backed by a team of experts at the forefront of audiology research and advancements.
Learn more about Dr. Porps and our full team of licensed hearing professionals.
MEET THE TEAM