In our mission to offer the highest levels of hearing aid technology at the most affordable prices, the newly-released MDHearing VOLT+ is setting a new tech standard for economically-priced rechargeable hearing aids.
As one of the most popular hearing aid options available online, the MDHearing VOLT holds its own against top of the class hearing aids in terms of price, quality, and advanced capabilities. With technology that filters out unwanted background noise and focuses on the speech sounds directly in front of you, the original VOLT has already improved the lives of thousands of hearing loss patients. Now, the VOLT+ offers even more advanced features with the following upgrades:
Water, sweat, and debris resistance for greater durability

Longer battery life for more continuous listening time

Carrying/charging case for portable, on-the-go charging
Below, we'll explore these new advancements in-depth. We'll also review the original VOLT features that VOLT+ users will continue to enjoy.
The Newest VOLT+ Features and Technology
While developing the VOLT+, we paid close attention to customer feedback and the latest hearing aid developments when choosing how to upgrade the extremely-popular VOLT design. Here are the features we've added to the latest VOLT+ release:

Water Resistance
The VOLT+ features an IP57-rated water-resistant coating. Certified under the IEC standard 60529, this kind of coating withstands up to 30 minutes of underwater immersion at a depth of 1 meter. Not only does the new water resistance feature keep your hearing aid free of water, sweat, moisture, dust, and debris, but it also makes your VOLT+ aids more durable.
Here are a few situations where waterproof hearing aids are useful:
Exercise:

No more concerns about sweat and moisture getting into your hearing aids during a bike ride or power walk.

Heavy rain:

Continue to use your hearing aids even when you're caught in the rain.

Outdoor activities:

Feel comfortable while participating in nonsubmersion water activities like fishing, kayaking, boating, etc.

Bathroom:

VOLT+ hearing aids can survive an accidental dunk in the sink or toilet.
Longer Battery Life
The original VOLT was MDHearing's first rechargeable hearing aid. Since it eliminates cumbersome battery changes, the VOLT has been a boon for many hearing aid patients – especially those with large, unsteady, or arthritic fingers.
VOLT+ has maintained the VOLT's rechargeable status while improving upon those features with a much longer battery life that achieves 24- to 30-hours of listening time on a single charge. This running time is considerably longer than the original VOLT, which achieved a battery life of 18- to 22-hours on a single charge.
When it's time to recharge your VOLT+, it only takes about 2.5 hours for a full charge. From there, you're ready to enjoy 24+ hours of crystal-clear hearing!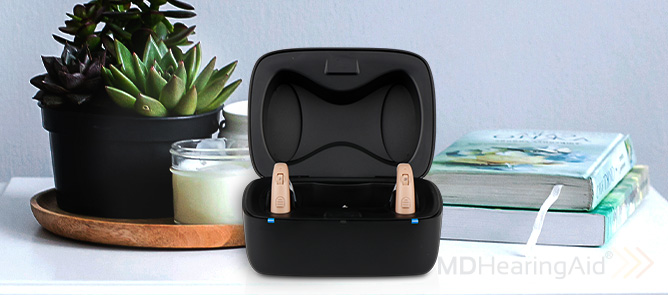 Carrying/Charging Case
The original VOLT included a stationary charging station that required an electricity source. Therefore, you couldn't charge the VOLT on-the-go unless you found a wall outlet for electricity. In contrast, the new VOLT+ includes a sleek charging case that serves as both a stationary charging solution and a portable carrying/charging case.
Since the VOLT+ carrying/charging case holds its own charge, you can use it to recharge your hearing aids up to three times before needing to plug it back into an electricity source. That means you can take a long weekend trip and never worry about plugging into an outlet for a charge. Just pop the hearing aids into the case and you're ready to go in just a few hours.
Using the carrying/charging case is simple. All you have to do is place your VOLT+ hearing aids in the receptacle slots on the charger. The hearing aids effortlessly slide into place and begin charging. LED indicator lights on the charger turn blue to tell you that the hearing aids are charging. After about 2.5 hours in the charging case, the LED light turns bright green and your hearing aids are ready to use.
VOLT+ Includes the Features You Love from the Original VOLT
Since its original release, the MDHearing VOLT has built a reputation for cutting out the "noise clutter" and providing a crystal-clear hearing experience. The new VOLT+ continues to meet and exceed the same expectations by retaining all of the technology and features that you've come to love in the original VOLT.
Here's what you'll find in the latest VOLT+ model:
Advanced digital hearing aid tech:

The VOLT+ includes the latest digital hearing aid technology to provide a clear hearing experience in the most diverse listening environments. Whether you're listening to your spouse in a noisy restaurant, talking with friends at church, or watching television at home – the VOLT+ helps you focus on the most important voices and sounds you need to hear.

Four listening environment settings:

The VOLT+ includes four listening environment settings: (1) quiet, (2) social, (3) noisy, and (4) restaurant. Cycling through the listening environments is as easy as pressing a button on the hearing aid.

Dual directional mics:

The dual directional microphones included in the VOLT+ allow you to focus on the sounds directly in front of you for clearer listening in complex sound environments. This allows you to understand what your conversation partner is saying even in the presence of distracting background noises.

Feedback reduction:

The VOLT+ offers feedback reduction technology that helps prevent the high-pitched whistling noises you may have experienced in less advanced hearing aids.

Affordable pricing:

The VOLT+ is only

$599.99

a pair.

100% money-back guarantee: Like all MDHearing products, the VOLT+ comes with a full money-back guarantee.
MDHearing: Affordable, Medical-Grade Hearing Aids You Can Trust
MDHearing designs, manufactures, and sells high-quality, medical-grade hearing aids directly to consumers all over the world. By keeping prices affordable (at $399 to $999 a pair), MDHearing has opened the door to effective hearing loss treatment to budget-constrained patients – many of whom would not otherwise be able to afford quality, medical-grade hearing care.
Costing thousands of dollars less than traditional hearing aids, MDHearing still offers high-quality performance at a level that is similar to the devices you'll find in a hearing clinic. Therefore, even if you're determined to buy a pair of hearing aids from a traditional manufacturer, you might want to consider giving the MDHearing VOLT+ a try. Not only will you be hearing better in just a few days, but with MDHearing's 100% money-back satisfaction guarantee, you don't have anything to lose!
Start a risk-free trial on the brand-new MDHearing VOLT+ today!
START MY TRIAL