More than 36 million people in the U.S. report some form of hearing impairment. These issues range from tinnitus and muffled speech to total deafness. The good news is that in a great deal of cases, hearing aids can help restore hearing levels for many environments.
Yet not all hearing aids are created equal, especially when it comes to online hearing aids. Some online hearing aid providers offer high-quality products. Others, however, are fly-by-night operations looking to make a quick buck.
If you've ever run a search for hearing aids online, you may have come across a business called Nano Hearing Aids. The company claims that it is "America's #1 selling hearing aid online".
But do these claims hold up against close scrutiny? Is Nano Hearing Aids a scam? Or is it a legitimate hearing aid company?
This article will discuss everything you need to know about Nano Hearing Aids. How much do Nano Hearing Aids cost? What do the reviews of Nano Hearing Aids say? What are the best alternatives to Nano Hearing Aids? We'll go over all of that and more below.
What Are Nano Hearing Aids?
Nano Hearing Aids is an online hearing aid company founded in 2017. Robert Carlson, the founder of Nano Hearing Aids, was inspired to launch the company after speaking with his grandmother. She had lost one of her hearing aids and couldn't afford to replace it.
On its website, Nano claims to provide "hearing aids without the middleman." Rather than speaking with an audiologist or hearing aid specialist, customers can purchase devices directly from the Nano website. As such, the company can offer affordable hearing aids that are much cheaper than those obtained from a healthcare provider in a clinic.
According to Nano Hearing Aids: "Nano's technology allows you to pick different [program] settings and volume settings so you can find the best combination of sound for your ears. You don't need an audiogram (hearing test) to purchase Nano Hearing Aids."
Nano Products
Nano Hearing Aids offers several products that claim to help people with hearing loss.
Nano CIC
One of the most popular Nano products is the Nano CIC, which stands for "completely in the canal." The Nano CIC is a small device that fits neatly into the ear canal. The company claims that the Nano CIC works for 98.7 percent of people with hearing loss.
Thanks to its small size, the Nano CIC is more discreet than behind-the-ear hearing aids. However, CIC hearing aids like the Nano CIC also come with a few disadvantages and concerns:
The Nano CIC requires customers to use a screwdriver in order to adjust the volume.

The Nano CIC's battery door is very small, which can make it difficult for users to replace the battery.

In general, CIC hearing aids have a low battery life due to the small size of the battery.

CIC hearing aids, like the Nano CIC, are inserted deep in the ear canal, so earwax builds up more quickly. Due to the increased exposure to earwax and moisture, CIC hearing aids often need repair more often than other types of hearing aids.
The Nano CIC comes in two options: digital and rechargeable. The digital Nano CICs require users to replace the device's battery themselves. Every digital Nano, or CIC order includes:
A 6-month supply of batteries

A screwdriver

Additional ear domes

A 45-day money-back guarantee

A 12-month warranty
The rechargeable Nano CICs allow users to recharge the device by using the provided charging case, charging plug, and USB cord. Rechargeable Nano CIC orders also include extra ear domes, a 45-day money-back guarantee, and a 12-month warranty. Customers can purchase the 1-year "Elite Protection Plan" that provides 100 percent coverage if the device is lost.
Nano X2
Another popular Nano product is the Nano X2, a behind-the-ear (BTE) hearing aid. The body of the X2 hearing aid rests behind the ear. The earbud sits inside the ear canal, connected to the body via a thin plastic tube.
BTE models like the Nano X2 have several advantages due to their larger size. The battery life is longer, parts are easier to replace, and controls are easier to adjust. However, this also comes at the cost of being less discreet than CIC models.
According to the company, the Nano X2 includes the following features:
Four different environment settings (one-on-one conversations, TV, restaurants, and outdoors)

Background noise-canceling technology

Two directional microphones per device

Multiple earbud sizes

Utilizes the Audion 4 amplifier designed and manufactured in Minnesota
Like the Nano CIC, the Nano X2 comes in both digital and rechargeable versions. The rechargeable Nano X2 takes 3 hours to charge and provides 12 hours of use. It also includes a free portable charging case. The digital Nano X2 comes with a free 6-month supply of batteries.
Other Nano Hearing Aid Products
In addition to the Nano CIC and X2, Nano Hearing Aids offers several other hearing aid products:
Nano RX2000:

The RX2000 is a rechargeable BTE hearing aid. The company claims that 2 hours of charging the device provides roughly 16 hours of battery life.

Nano SX2000:

The SX2000 is a BTE hearing aid that claims to offer "crystal-clear sound quality," even in noisy environments. Purchasing an SX2000 model also provides 6 months' worth of hearing aid batteries.

Nano Sigma:

The Sigma is a BTE hearing aid with noise reduction technology. It can be controlled with Bluetooth technology from the user's smartphone. This model also comes in a rechargeable version, the Nano Sigma Plus.

Nano Yearly Elite Protection Plan:

The Yearly Elite Protection Plan provides coverage for 1 year for Nano hearing aid devices. Certain limitations apply. For example, customers must purchase a new plan if they lose their device or if the manufacturer is unable to fix a problem. The plan covers:

A yearly tune-up

Loss

Theft

Accidental damage (except earwax buildup)

Manufacturer defects

Free phone support
Nano Pricing
How much do Nano products cost? The answer depends on which device you buy. As of February 2022, the prices on the company's website are:
Nano CIC Digital:

$197

Nano CIC Recharge:

$297

Nano X2:

$397

Nano X2 Recharge:

$497

Nano RX2000 Digital Recharge:

$297

Nano RX2000 Recharge:

$397

Nano Sigma:

$497

Nano Sigma Plus:

$697

Nano SX2000:

$997

Nano Yearly Elite Protection Plan: $79
Note that the Nano hearing aid prices listed above are for a pair of devices.
Is Nano Hearing Aids a Scam?
Nano Hearing Aids User Reviews
When looking up hearing aid reviews, it's always best to see what people who have direct experience are saying. Are user reviews for Nano Hearing Aids generally positive? Or do customers have issues with Nano Hearing Aids products and services?
There are a number of concerning stories online about customer issues with Nano Hearing Aids. In September 2019, for example, the WDAF-TV station in Kansas City reported on the story of Dan Conninghton. Conninghton was a Nano customer who was having serious difficulties getting a refund for the device.
According to Conninghton, his Nano device, which he purchased for $399, broke after just a month of use. He mailed the product back to Nano for repairs, then waited for weeks without hearing from the company's support team.
When Conninghton finally got in touch with a company representative, he was told that he would receive a replacement pair. However, Conninghton claims that his new device was actually refurbished and didn't work, causing him to ask for a refund. Even worse, Conninghton claims that Nano Hearing Aids wanted to charge him a restocking fee before processing his refund.
By enlisting the help of WDAF-TV's FOX4 Problem Solvers team, Conninghton was able to receive a partial refund for $317.60 after weeks of waiting. After contacting the company again, Connington finally received a second check for $79. This was enough for a full Nano Hearing Aids refund, minus postage fees.
Stories like Conninghton's are not uncommon when reading Nano reviews. In November 2020, the Better Business Bureau page for Nano Hearing Aids had 674 complaints in the previous 12 months. What's more, the company did not have BBB accreditation.
This former BBB Nano Hearing Aids page now appears to be closed. Instead, a new BBB page for Nano Hearing Aids appears to have been opened. This page has a business location in Las Vegas instead of Scottsdale, Arizona like the previous page. The new entry also lacks BBB accreditation.
The new Nano BBB page says that the company has 59 complaints closed in the past 12 months. However, none of these complaints are visible as of writing. The page also contains a note that "BBB's information on this company is being updated, and no report is available at this time."
Even stranger, Nano Hearing Aids appears to have a third BBB page, this one under the title "The Nano Ear" with a business location in Lantana, Florida. This page has received 30 complaints in the last 12 months, and has a BBB rating of "F" due to the company's failure to respond to 27 of these complaints.
In a BBB review of Nano Hearing Aids on the "Nano Ear" page, one customer reports having a poor experience with Nano customer support that echoes stories like Conninghton's:
I am writing this complaint for my father, who purchased Nano Hearing Aids. In August, he purchased Nano Hearing Aids for $297.00. Once he received them and charged them all day and night, as per instructions. The next day, they were totally dead. There was no number to call or address to contact them. He had their shipping label, carefully put everything in the package, and shipped it back to the address on the label. After receiving no response from the company, he finally found a number to call. They claimed they never received his return. He had a tracking slip and saw they in fact had been returned! He called them again. The rep said they did have the package, but tried to instead sell him another hearing aid for more money. He refused and simply asked them to refund his money. Now the company wants to charge a fee of $59.60 because he didn't return them how they wanted. He has tried unsuccessfully to contact a manager, but he has been hung up on numerous times. He was told the manager was busy and couldn't help him, and that the manager would call him back. NO ONE has ever reached out to help resolve this situation. He has tried over and over to find an address and direct line, but cannot find either. This company is nothing but a scam and is taking advantage of older people."
Evidence suggests that Nano outsources its customer service abroad to locations such as the Philippines. For example, profiles on Upwork and LinkedIn show Nano Hearing Aids employees based in the Philippines with job titles such as "Customer Service Offer" and "Call Center Representative." In addition, a posting on JobOceans (an online job board for the Philippines) says that Nano Hearing Aids is "urgently hiring" phone representatives; being familiar with the hearing aid industry is not a requirement.
Unlike Nano, MDHearing provides top-notch, U.S.-based customer service. Our team of hearing aid specialists and professionals is available via phone, email, or video telemedicine appointment if you have any concerns—from questions about your order to assistance with how to use your hearing aids. All of our customer support agents are trained by our in-house audiology team, and we offer a full staff of licensed Audiologists and Hearing Instrument Specialists ready to do a video telemedicine appointment with any customer who has audiological questions.
Nano Hearing Aids Expert Reviews
Nano users have reported a number of issues with the company. These issues include customer service problems and defective products. But what do hearing aid experts have to say about the quality of Nano Hearing Aids?
Dr. Cliff Olson is an audiologist and founder of Applied Hearing Solutions in Anthem, Arizona. He calls Nano Hearing Aids "one of the most deceptive online hearing aid companies" on his YouTube channel.
First, Dr. Olson has noticed that the Nano CIC hearing aids looked almost identical to a "hearing amplifier" product. Dr. Olson had previously seen this product on the Chinese e-commerce website Alibaba. At the time of Dr. Olson's video, the Alibaba hearing aids were available for a price of $18 to $20.
Dr. Olson performed a head-to-head Nano Hearing Aids comparison with the Alibaba hearing aids. He found that the Alibaba product and the Nano CIC have the same or similar color, build quality, volume wheel, and microphone. They even come with the same cleaning brush and volume adjustment screwdriver. The most noticeable distinction, according to Dr. Olson, was the different brand name written on the two devices.
Dr. Olson has also used an otometrics hearing instrument test box to assess the performance of the Nano CIC compared with the Alibaba device. He found that despite the presence of a volume wheel, the Nano Hearing Aids only have two actual volume settings: high volume and low volume. In addition, he discovered a "striking similarity" between the output of the Nano Hearing Aids and the Alibaba device. According to Dr. Olson, this was "almost as if I was testing the exact same device."
Finally, Dr. Olson found that neither the Nano device, nor the Alibaba device, can exactly match the prescription for a normal sloping-to-moderate sensorineural hearing loss. According to Dr. Olson's review, both the Nano CIC and the Alibaba device have an "equally horrific sound quality." Unfortunately, this makes them inappropriate for moderate hearing loss prescriptions.
Dr. Olson revisits the topic of Nano Hearing Aids in a later YouTube video called "Nano Hearing Aids New & Improved?". In the video, he says that Nano served him with a cease and desist letter, falsely claiming that he was being paid to give bad reviews of Nano hearing aids.
Next, Dr. Olson notes there is a serious discrepancy between reviews on the Nano website and third-party websites. On the Nano Hearing Aids website, the company's products have nearly 3,000 reviews, but only 5 reviews that are 1-star or 2-star. Meanwhile, third-party reviews of Nano hearing aids on websites such as BBB are much more critical.
Dr. Olson then calls Nano "one of the biggest perpetrators of taking advantage of consumers." He expresses his hopes that the Arizona attorney general will file charges against the company and try to shut it down, due to its history of customer support issues.
Nano Alternative: MDHearing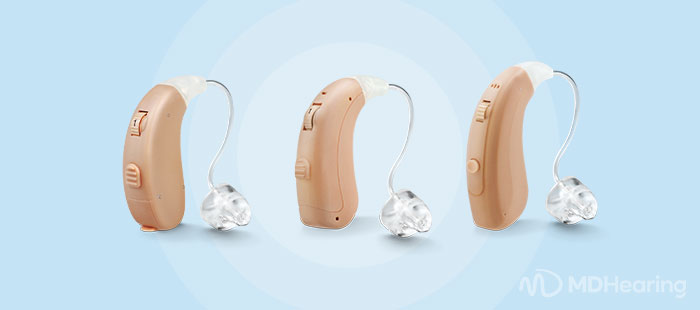 Reviews of Nano Hearing Aids allege a number of serious problems with the product. These include the difficulties with customer service and the poor sound quality claimed by Dr. Olson. Given these issues, it's understandable that hearing aid users would look for alternatives to Nano.
MDHearing is a leading provider of affordable hearing aids. We have helped more than 500,000 customers purchase hearing aids and test their hearing online. Unlike Nano Hearing Aids, MDHearing was founded by a medical professional, an ENT doctor in the Chicagoland area.
MDHearing's products are designed by doctors, tested by audiologists, and registered with the FDA. MDHearing sources its microphones and receivers from Knowles and Sonion. These are the same manufacturers that high-end hearing aid companies use. In addition, the computer chips in MDHearing products are sourced from a U.S.-based manufacturer with decades of experience.
The MDHearing website makes it easy for hearing aid users to cut out the middleman. You can directly purchase the devices that best fit your needs. All of MDHearing's products arrive at your door assembled, ready for you to begin your 45-day risk-free trial. Unlike Nano Hearing Aids, MDHearing does not require a 21-day minimum trial period before allowing users to return the device.
MDHearing also provides excellent U.S.-based customer service if you have questions or concerns. Our team of hearing aid specialists and audiologists provides telehealth and customer support via phone and email.
MDHearing user Joan P. writes:
The customer service has been outstanding, very helpful. They continue to help solve the problem and give solutions. Out of 5 stars, I would give them 6."
Reviewer Jerry G. says:
Great product. Every bit as good as, if not better than, my $4000 hearing aids that I had been using. One of these expensive aids was damaged. Rather than have it repaired or replaced, I opted to try your MDHearing. I would recommend this product to anyone struggling to hear."
MDHearing's website also offers a free hearing test so customers can test their hearing in minutes and get instant results. Customers that already have hearing test results can email them to MDHearing and their on-staff audiologists will analyze the test results and recommend the best hearing aid for the customer.
Want to see if MDHearing hearing aids will work for you? Take our quick and easy online hearing test and get your results instantly.
TAKE ONLINE HEARING TEST
Ready to get started? To find the device that best fits your needs and budget, check out MDHearing's easy hearing aid comparison chart.
COMPARE HEARING AIDS