Oticon is a Denmark-based hearing aid manufacturer that sells hearing aids in all corners of the globe. With a foundation of 1904, Oticon is not only one of the oldest hearing aid makers, but it's also the world's second-largest hearing aid manufacturer.
As a "Big Six" hearing aid manufacturer, Oticon hearing aids are sold at hearing aid clinics alongside other Big Six manufacturers like Widex, ReSound, Signia, Starkey, and Phonak. They are also expensive. Prices for a set of Oticons average between $3,300 and $8,000 a pair.
In this guide to Oticon hearing aids, we'll provide an overview of Oticon—it's hearing aid styles, tech, and pricing—so you can determine whether this brand is a good match for your needs. We'll also compare Oticon to MDHearing, an affordable, direct-to-consumer alternative.
Please use these links to navigate the guide:
Overview of Oticon Hearing Aids
Oticon falls under the ownership of Demant A/S, a company that was originally founded in 1904 under the name Oticon. Demant A/S currently owns a large portfolio of hearing loss treatment companies. These include Oticon, Oticon Medical, Bernafon, Sonic Innovations, and Neurelec.
As a leader in hearing-related research and hearing technology development, Oticon maintains a hearing and audiology research center in Denmark. One of Oticon's most recent technological developments was the Velox platform, which it released in 2017. Velox uses a powerful hearing aid chipset and innovative sound processing tech to offer hearing aid users what it calls "BrainHearing" technology.
According to the Oticon website, "All of our hearing solutions are built on BrainHearing™ and have been designed to support your brain's natural process of making sense of sound."
Oticon's range of hearing aid offerings includes behind-the-ear (BTE), receiver-in-the-canal (RIC), and in-the-ear (ITE) styles. Here's a quick sampling of the current Oticon lineup:

Oticon Hearing Aid Technology
Depending on which model, style, and tech level of Oticon you select, you may be able to benefit from the following features:
Faster sound processing:

The

Velox technology platform offers faster processing of sounds so the hearing aid can improve the clarity of individual voices in conversations and individual sounds in noisy environments.

OpenSound Navigator:

OpenSound Navigator software helps remove background noise to clarify speech sound.

"BrainHearing" sound processing:

Oticon's "BrainHearing" sound processing tech offers a more natural, clearer listening experience by supporting your brain to hear better.

OpenSound Optimizer:

OpenSound Optimizer technology reduces feedback sounds to stop the annoying "whistling" noise that many hearing aid users experience. It also automatically adjusts sound frequencies based on external listening situations.

Spacial Sound software:

The Velox platform uses Spatial Sound software to help locate important sounds and improve clarity.

Speech Rescue technology:

Speech Rescue technology changes the frequencies of amplified sounds to frequencies that are easier to hear based on the hearing aid wearer's hearing loss profile.

Speech Guard software:

Speech Guard software pays attention to ambient sounds to ensure that speech sounds remain clear in changing background sound situations.

Twinlink connectivity:

TwinLink is a wireless connectivity feature that balances sound across both ears and allows you to stream high-quality audio from your devices.

"Made for iPhone" technology:

Some Oticon hearing aids include "Made for iPhone" technology for audio streaming from your iPhone and other Apple devices. They can also stream to most Android smartphones and tablets.

Wireless Bluetooth streaming:

Oticon offers accessories that allow you to stream high-quality audio from Bluetooth compatible devices. For example, the ConnectClip attaches to your lapel and uses Bluetooth technology so you can make hands-free voice calls. Its built-in microphone picks up your voice sounds while streaming the caller's voice through your hearing aids.

Oticon TV Adapter:

The Oticon TV Adapter is another accessory that lets you stream sounds from your television directly to your hearing aids.

The Oticon ON App:

The Oticon ON App is a smartphone app you can use to control your hearing aids.

Tinnitus Sound Support: Oticon's Tinnitus Sound Support system includes features that play relaxing ocean sounds to help mask your tinnitus symptoms.
Oticon Hearing Aid Models
In this section, we'll give a brief overview of the most popular Oticon hearing aid families. We'll also include quotes from real user reviews about each of these hearing aid families, so you can get a sense for what Oticon customers are saying about the product.
When reading the user reviews below, keep in mind that these customers spent thousands of dollars—and possibly went into debt—to purchase their hearing aids. If they seem overly critical, this is probably the reason why. In fact, many customers who buy expensive hearing aids feel dejected because the "bells and whistles" don't always measure up to the way these hearing aids are marketed to consumers.
Oticon Opn S
The Oticon Opn S family of devices is designed for users with mild-to-severe hearing loss, and they include both RIC (receiver-in-canal) and BTE (behind-the-ear) styles.
Opn stands for "Open Sound Experience." Outside of the Open S class, there is also the Opn family (no S). These hearing aids come in a full line, including custom-molded devices.
As for Opn S, this line of hearing aids was first released in 2016 and upgraded in 2019. Opn S devices offer Velox S technology, which features "BrainHearing," a sound processing system for easier listening and improved speech understanding.
Opn S models include the miniRITE R, miniRITE, and miniRITE T (receiver-in-canal models), in addition to the BTE PP (behind-the-ear). Here's an image of the Opn S lineup:

Opn S devices may or may not offer the following features depending on the model and technology levels you select:
Hands-free phone calls with ConnectClip

Rechargeable options via the MiniRITE R option

iPhone and Apple device music and sound streaming

Oticon TV adapter sound streaming

Oticon ON app for smartphone hearing aid control

Speech Rescue tech to give greater clarity to speech sounds in noise

OpenSound Optimizer to automatically adjust sound amplification
Here's what one reviewer says about Oticon Opn S:
I have a mid-range hearing loss. I purchased the OPNs a couple of months ago to replace the Phonak Brio aids from Costco that I've owned for over three years. I decided to upgrade because I was having a difficult time understanding my dinner companions when sitting around the table in noisy restaurants, an important part of my life. The Oticon S aids seem better - and I accept they may be the best I can hope for with current technology. I know that I can't replicate normal hearing, and I trust my audiologist to adjust the aids to their maximum effectiveness in my situation. BTW, the rechargeable batteries are a convenience - I trust I always will be able to find a power source to recharge them." —Michael H.
Oticon Siya
Compared to the Opn S family of hearing aids, the Oticon Siya is a more affordable line of hearing aids. All Siya models are "In-the-Ear" styles that fit completely into the ear canal or sit in the bowl of the ear. The larger "full-shell" and "half-shell" styles offer more power and amplification, yet they are also larger and more visible.
Here's an image of the different Siya styles:

Siya styles include:
ITE FS (In-the-Ear Full-Shell):

A larger, more visible size that takes up more of the bowl of the ear

ITE HS (In-the-Ear Half-Shell):

Sits visibly in the bowl of the ear

ITC (In-the-Canal):

Fits into the ear canal but it is easy to see

CIC (Completely-in-the-Canal):

Fits deeper into the ear canal than the ITC, but is still visible

IIC (Invisible-in-the-Canal):

Fits completely in the ear canal and is virtually invisible
Here's what one user says about Oticon Siya:
Bluetooth sound from TV is reliable and a big improvement in understanding. The music quality is very poor. Phone conversations on an iPhone are good if it works. Nearly half of the time I can't hear the caller or my call made in the hearing aids. Often I can only hear the call on one side only. Maybe when the battery is below 40%. Batteries are very poor or poorly connected in the hearing aid. I have kept about 40 batteries that failed within 10 minutes of the fitting. A "good" battery will last no more than 3 days using for 15 hours a day. The iPhone monitor shows a battery capacity of 100% only for a few minutes then quickly drops to 60%. Below 30% the Bluetooth connection to the phone is unreliable. I have to use the iPhone loudspeaker a lot to maintain a conversation which is ok but not very private. I have reset many times but the basic unreliability of these hearing aids persists. I have had my new hearing aids for 18 months. I believe Oticon sells poorly tested models." — Murray T on HearingTracker
Oticon Xceed
The Oticon Xceed family of hearing aids were designed for patients with severe to profound hearing loss. Oticon released the Xceed line in 2019 and claims it is the most powerful hearing aid in the world. Xceed offers the latest Oticon technology, such as the Velox S platform and "BrainHearing" features. It also offers Bluetooth, device, and app connectivity features. The Xceed family is basically a larger and more powerful version of the Opn S, which allows it to treat individuals with more severe hearing loss.
There are two styles of Oticon Xceed and both are BTE (behind-the-ear) hearing aids. These include Xceed SP (slightly smaller and less powerful) and Xceed UP (slightly larger and more powerful). Here's an image of the Xceed family and its range of colors:

Some of the features you can expect from Xceed hearing aids include:
OpenSound Navigator technology for a "360-degree" hearing experience, and reduced feedback sounds

BrainHearing technology for greater speech clarity, better noise reduction, and a more natural hearing experience

Made-for-iPhone features

ConnectClip lapel microphone compatibility

TV Adaptor compatibility

Oticon ON App to control and adjust your hearing aids from your smartphone
Here's what one user says about Oticon Xceed and "BrainHearing" technology:
I upgraded from Oticon Chilis so I could try out this whole "BrainHearing" technology I kept reading about... Unfortunately, my brain is still not hearing with the new Oticons! I am still having a great deal of trouble in background noise, though I guess you could say it is a marginal improvement over the last pair. The one thing I absolutely love is being able to have hands-free calls with my hearing aids... but unfortunately, I needed to buy the ConnectClip to make that a reality. No hands-free without it, even with an iPhone!!" — Reviewer on HearingTracker
Oticon Ruby
Oticon has recently released the Ruby family of hearing aids. These hearing aids are less technologically advanced than other Oticons, but they are also more affordable and still come with Velox S technology. According to HearingTracker, Ruby hearing aids cost anywhere from about $3,300 to $3,700 a pair.
Ruby comes in both RIC (receiver-in-canal) and BTE (behind-the-ear) styles and a variety of colors. Here's an image of the Ruby family:

Some of the features you'll find in Ruby hearing aids could include the following:
Velox S BrainHearing technology for clearer speech comprehension in noise

Made-for-iPhone features and Bluetooth connectivity for non-iPhone android devices

ConnectClip lapel microphone compatible for hands-free calls

Rechargeable batteries in the miniRITE-R model

Oticon ON App to control and adjust your hearing aids from your smartphone

The SuperShield feedback management system to stop annoying whistling noises

Wind noise management to reduce interference from wind noises
An Affordable Oticon Alternative: MDHearing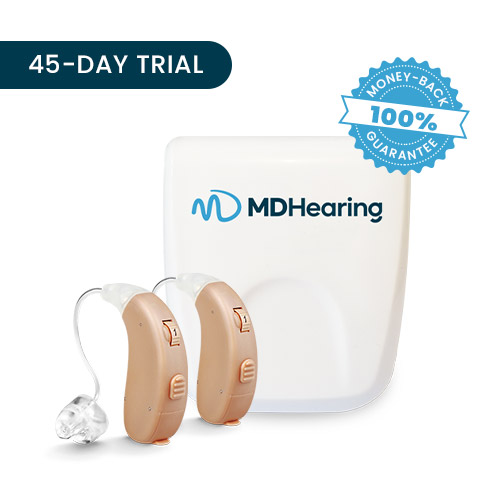 Although Oticon hearing aids come with excellent brand recognition, their tremendous cost—along with the price of visiting an audiologist for testing, fitting, and adjusting your hearing aids—makes Oticon too expensive for many hearing loss patients to afford. Moreover, many patients feel that Oticon's alleged "bells and whistles" are not worth the price.
In our opinion, Oticon builds some of the highest-quality hearing aids with the most recent technology. However, we are not convinced the advantages this technology brings is always worth paying thousands of dollars more in price.
For hearing loss patients suffering from mild to moderately-severe hearing loss, you might want to consider MDHearing as an affordable Oticon alternative. MDHearing hearing aids can effectively fit individuals with mild to moderately-severe hearing loss, and they will not break your budget. In fact, MDHearing was designed exactly for this purpose: To affordably and effectively treat your hearing loss so you can better connect with your loved ones. It's as simple as that!
Here are some of the benefits you get with MDHearing:
Save thousands of dollars:

Prices for MDHearing start at just

$299

per

pair.

FDA-registered quality:

MDHearing products are FDA-registered, medical-grade hearing aids that fit patients suffering from mild to moderately-severe hearing loss.

Order online or by phone:

Order MDHearing products online or by phone and they will ship directly to your door.

Pandemic safety:

MDHearing allows you to skip the office visit and get your hearing aids without ever leaving your home. This helps you

stay safe during COVID-19 pandemic

conditions.

At-home hearing test:

Test your hearing from home with MDHearing's free hearing test—

online

, by phone, or through the MDHearing app. And if you purchase the

MDHearing VOLT MAX

model, your hearing aid app will automatically adjust the hearing aid settings to reflect your hearing test results.

Remote tuning by MDHearing staff:

The MDHearing team is always just a phone call away to help you set up and use your hearing aids. If you have your official test results from an audiologist and you purchase the

MDHearing VOLT MAX

, MDHearing's staff can remotely fine-tune your hearing aids according to your hearing test results.

100% money-back satisfaction guarantee:

MDHearing offers a satisfaction guarantee policy that gives you a trial period where you can try the hearing aids risk-free. If MDHearing doesn't fit your needs, you can return them for a complete refund.
Final Thoughts on Oticon Hearing Aids
Before paying $3,300 to $8,000 a pair for a set of Oticon hearing aids, it's prudent to give MDHearing a try for only $299 a pair. Not only will you save thousands of dollars by selecting MDHearing, but you will also benefit from our 100% money-back satisfaction guarantee. At the very least, if you choose Oticon or another hearing aid manufacturer, make sure they offer a risk-free trial so you don't get stuck with an expensive hearing aid that isn't the right match for your needs.
Want to see if MDHearing hearing aids will work for you? Take our quick and easy online hearing test and get your results instantly.
TAKE ONLINE HEARING TEST