Phonak is a Switzerland-based hearing aid manufacturer that sells hearing aids and other communication devices in over 90 countries. With roots tracing back to 1947, Phonak is known as the largest hearing aid brand in the world. It currently falls under the ownership of the Sonova Group holding company.
As a "Big Six" hearing aid manufacturer, Phonak is one of the top six brands sold at hearing clinics around the world. This means that Phonak hearing aids are also expensive. They start at approximately $3,000 a pair and go as high as $8,000 a pair. Considering Phonak's high prices, it's important to take a close look at this popular hearing aid manufacturer before investing in the brand.
In this detailed guide, we review Phonak – its styles, technology, pricing, and user reviews – to help you decide whether this hearing aid option is right for your budget and needs. We'll also compare Phonak to an affordable, direct-to-consumer alternative: MDHearing.
Please use these links to navigate this guide:
Overview of Phonak Hearing Aids
As the largest hearing aid brand in the world, Phonak boasts a long-standing history of quality and innovation in the hearing care industry. Some of Phonak's achievements include:
An early leader in the development of electronic hearing aids dating back to 1947.

The first manufacturer to offer hearing aids with lithium rechargeable batteries for quick, long-lasting charges.

The first manufacturer to offer Bluetooth-enabled hearing aids.
Here are some of the latest additions to the Phonak line-up:

The "M" in the model names above refers to "Marvel," which is the most recent series of hearing aids from Phonak. Products in the Marvel line-up feature the "SWORD" chip, which combines 2.4 GHz sound quality with Bluetooth connectivity for high-quality sound streaming and phone calls. The Marvel line also includes lithium-ion rechargeable batteries.
The most popular Marvel versions are the Phonak Audéo, Naída, Bolero, and Virto. There is also the colorful and durable Sky series, which is intended for pediatric hearing care. Another popular Phonak product is the Lyric 3 (above right), which is a fully invisible-in-the-canal (IIC) hearing aid offered on a subscription basis. The Lyric is a one-of-a-kind hearing aid because it stays deep in your ear canal 24-hours a day for several months at a time, even while you're sleeping and showering.
Phonak Hearing Aid Technology
Phonak offers various "Features and Performance Levels" for their hearing aid models. Therefore, after you choose a model, you'll select whether the performance level should be Premium, Advanced, Standard, or Essential. Premium is the most expensive and it includes the most advanced tech features, which some patients may need depending on their hearing loss. Essential offers basic-level technology and it's the most affordable.
Depending on the hearing aid model – and whether you opt for Premium, Advanced, Standard, or Essential – you'll find that the following hearing aid technology is available from Phonak:
Digital sound technology and noise cancelation features: Phonak's latest sound features in the Marvel lineup include AutoSense OS 3.0, Binaural VoiceStream Technology, and Roger sound technology. Phonak says that this combination allows the hearing aid to identify and automatically adapt to different sound scenarios for clearer listening with less effort in quiet and noisy environments.
Bluetooth sound streaming: Some Phonak hearing aids include Bluetooth connectivity features for streaming sounds from different devices. This feature allows you to connect and stream high-quality sound, music, and voice calls from your iPhone, iPad, Android smartphone, and Bluetooth-compatible devices. Phonak also has a TV Connector that pipes the sounds from your television directly into your hearing aids.
RogerDirect technology: The Marvel lineup includes RogerDirect sound technology, which improves hearing-aid performance when listening to far-away sounds and when you need greater sound clarity for conversations in noisy environments.
"eSolutions" smartphone apps: eSolutions is a suite of smartphone applications and website features that offer the following internet-based hearing aid services:
Live remote video support

Automatic text transcripts of phone calls

Remote hearing test to evaluate your hearing loss from home
myPhonak app: The myPhonak app gives you the ability to fine-tune your settings to customize your hearing aid experience. The myPhonak app also lets you control your hearing aids remotely from your smartphone.
Phonak PartnerMic: The PartnerMic is an external device that you can clip to the lapel of a friend for clearer one-to-one voice clarity and better listening in noisy situations.
Phonak RemoteControl: The RemoteControl is a simple external device that lets you control basic hearing aid settings via easy-to-press buttons.
Roger Pen: The Roger Pen is a hand-held microphone that you can give to a speaking partner in different listening circumstances. The Roger Pen is especially useful when trying to communicate with someone at a distance. Just have them speak into the pen-mic to transmit their voice sounds directly into your hearing aids.
Rechargeable hearing aids: Rechargeable Phonak hearing aids include lithium-ion batteries that are quick to charge and power all-day-long hearing and sound streaming.
Phonak Hearing Aid Models
In this section, you'll find reviews of Phonak's most popular hearing aid models. When applicable, we provided information for the "Marvel" version of these hearing aids because Marvel technology is Phonak's more recent 2020 release. According to HearingHealthMatters: "Marvel connectivity remains unique in the industry as it allows hands-free calls as well as audio streaming to/from virtually any Bluetooth enabled devices like smartphones, tablets, computers, or TVs."
Phonak Audéo Marvel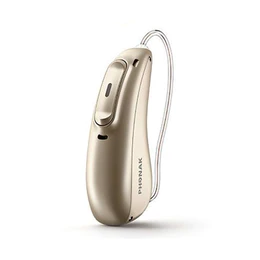 The Audéo Marvel is Phonak's most advanced receiver-in-canal (RIC) hearing aid, which means that most of the hearing aid body rests behind your ear and a thin wire connects the device to a small speaker (receiver) inserted in your ear. The Audéo features all of the latest 2020 tech from Phonak. This hearing aid has stereo Bluetooth streaming, hands-free calling, rechargeability, remote at-home adjustments, and advanced digital background noise reduction. The Audéo is suitable for patients with mild to profound hearing loss.
Here's a Phonak Audéo Marvel user review that honestly addresses some of the Audéo's disadvantages:
This is my second set of Phonak hearing aids, and the features have greatly improved. My only frustration is with the moisture blocking. I have only had these hearing aids for 6 months, and the seals seem to be fading already. I no longer use them for very sweaty activities, but yesterday after a hilly bike ride for a couple of hours, both aids had visible moisture drops on the batteries when I opened the battery doors. I'm wondering if others are having similar problems?"
Considering that the Audéo Marvel price can be as high as $4,000 to $8,000 per pair (prices vary), it's important to consider whether you truly need the latest hearing aid tech for your condition, or if you can treat your hearing loss with a less expensive model.
Phonak Bolero Marvel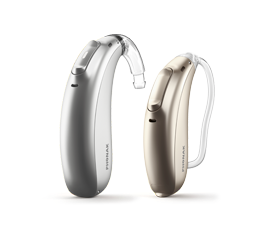 The Bolero Marvel is a behind-the-ear (BTE) hearing aid, so all of the components rest behind the ear. A clear plastic air tube directs sound waves from the device into your ear. According to Phonak, this is a "reliable" hearing aid that provides clear, rich sound quality. Depending on the tech level you select, the Bolero Marvel fits individuals with mild, moderate, and severe hearing loss.
The Phonak Bolero Marvel price is approximately $5,000 to $7,100 per pair (prices vary).
Phonak Sky Marvel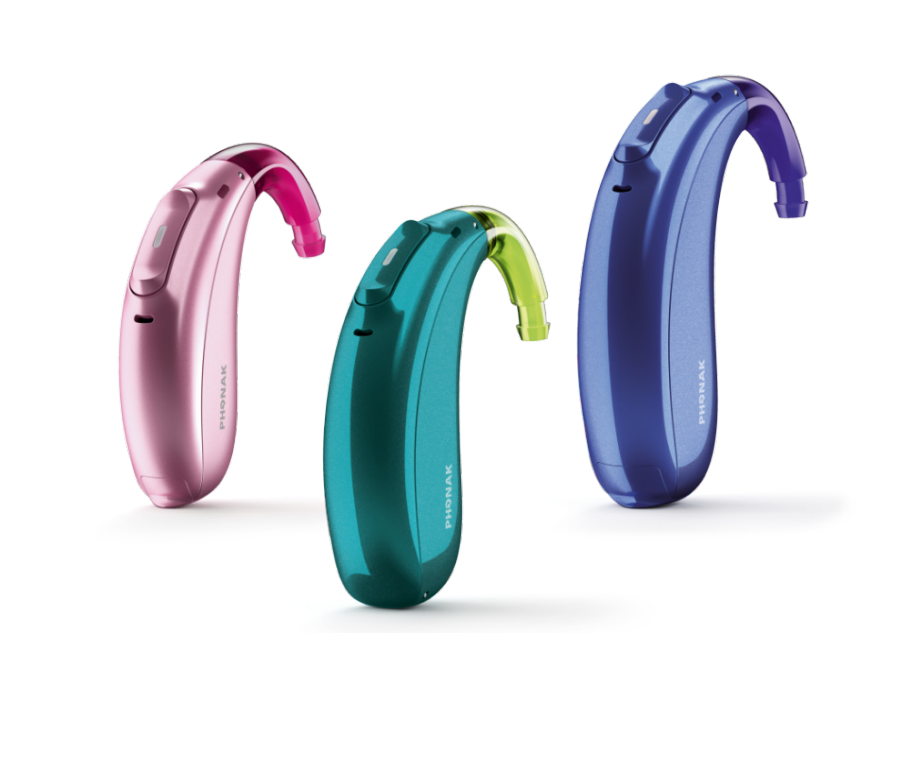 The Sky Marvel offers advanced hearing aid technology in fun color schemes that children love. This hearing aid features extra-durable housing, water resistance, and dust protection. Depending on the power of the model you buy, this hearing aid can fit children with mild, moderate, severe, and profound hearing loss. The Sky is also tamper-resistant, so your kids can't inadvertently take the hearing aid apart, remove the batteries, or lose different pieces.
HearingHealthMatters adds the following about Sky Marvel hearing aids:
Given that 78% of elementary students report they regularly use a tablet or smartphone and almost 80% of schools report using tablets in the classroom, the connectivity available in Sky M helps allow children with hearing loss in the classroom have equal access to all these technologies."
The Phonak Sky Marvel price is approximately $3,700 per pair (prices vary).
Phonak Naída Marvel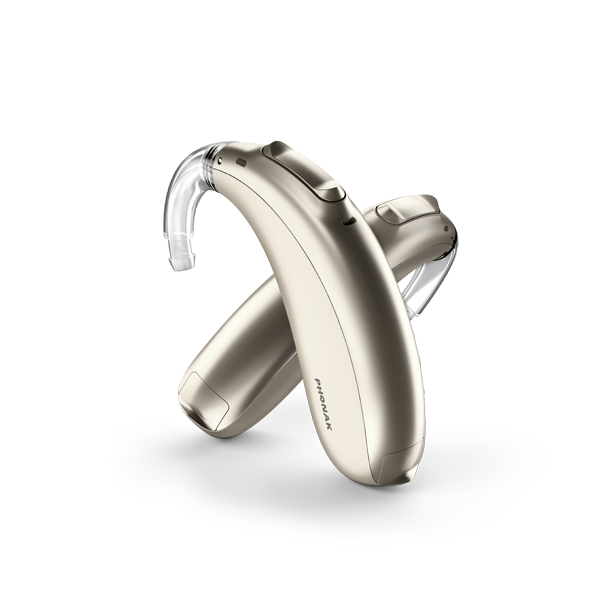 The Naída Marvel offers hands-free calls with high-quality Rogers streaming and Bluetooth connectivity technology. Phonak refers to this model as a "power" hearing aid, because – depending on the tech level of the device – it can fit individuals with mild, moderate, severe, and profound hearing loss.
Here's what HearingHealthMatters says about the Naída Marvel:
Naída M's combination of power and wireless connectivity was specifically engineered to address the unique communication needs of people with severe forms of hearing loss. According to the company, the StereoZoom feature found in the Naída M helps reduce listening effort in noise by 24% versus a non-directional program and even enhances memory recall with 10% more words recalled in noise.7 Naída Marvel also directly connects to Roger microphones to help improve speech understanding in noise and over distance1 while remaining 15% smaller and 14% lighter than previous versions that required an external receiver."
The Phonak Nadia Marvel price is approximately $7,360 per pair (prices vary).
Phonak Virto Marvel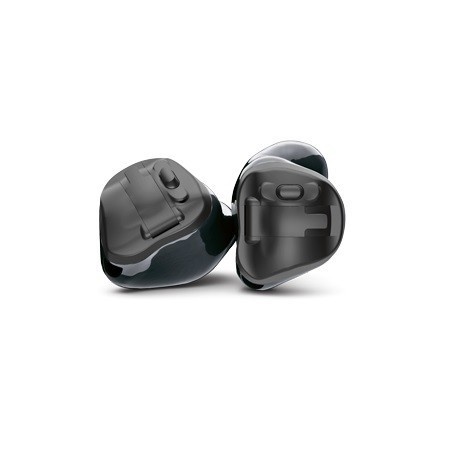 The Virto Marvel (above) is an in-the-ear (ITE) design that is custom-molded to insert into your ear canal. The Virto is designed for mild to severe hearing loss. It uses "Biometric Calibration," which optimizes the hearing aid sound settings in a way that considers the acoustic anatomy of your ear for clearer sound. The hearing aid automatically changes its settings based on the sounds in your environment, and it can fit individuals with mild, moderate, and severe hearing loss.
The Virto includes Bluetooth connectivity for streaming high-quality sound from your phone and other devices – in addition to advanced features for clearer sound in noisy environments. According to Phonak, users "enjoy better speech understanding and less listening effort in noise."
Here's an excerpt from the most recent Virto Marvel review on HearingTracker:
While I can stream a Mahler Symphony into my Phonak, that's a pale shadow of what I can hear with Bose Quiet Connect noise reduction headphones - or now, with the remarkable noise reduction of my Apple AirPods Pro. Can you predict when hearing aids will be able to do THAT (including the noise reduction that makes air travel so much more tolerable when I'm wearing the Bose headphones?"
Here's another user's Virto Marvel review:
My audiologist added small vents on these Virtos, which I guess means I can hear more of the low-end tones. It definitely helps with the volume and fullness, but one downside is I can hear myself loudly when I speak, and I'm trying to adjust to that. I do also feel more blocked up than I did with the previous set. But, it's worth it for me to hear better."
The Phonak Virto Marvel price is approximately $5,000 to $7,100 per pair (prices vary).
Virto M-Titanium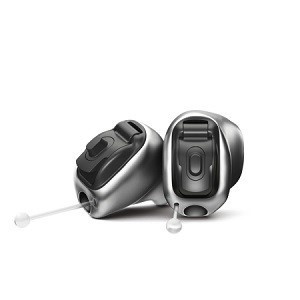 The Virto M-Titanium features the same technology as the Virto Marvel, but it's housed in a rugged, titanium frame. As an in-the-canal (ITC) design, this discreet hearing aid is custom-molded to your ear canal and nearly invisible to the eye. The hearing aid auto-adjusts to the sound conditions that surround you, and it can fit individuals with mild, moderate, and severe hearing loss.
According to Phonak, the Virto Marvel and Virto M-Titanium analyze "over 1,600 biometric data points to precisely calibrate the device to a patient's individual ear anatomy."
The Phonak Virto M-Titanium price is approximately $5,000 to $7,100 per pair (prices vary).
Phonak Lyric 3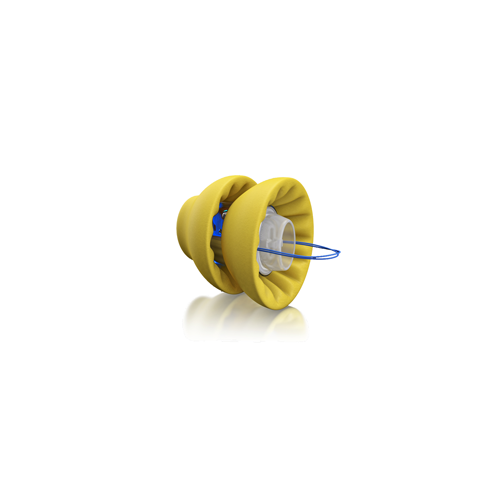 The Lyric 3 is the most recent model of the Lyric line. This hearing aid is an analog hearing aid so the sound quality will be different than a digital hearing aid. The Lyric is unique among other hearing aids on the market right now because it fits deep into the ear canal and stays in the ear for months at a time. You also wear the Lyric 24-hours a day, even while sleeping, 7-days a week.
Offered via a subscription payment model, patients need to have an audiologist remove and replace their Lyric hearing aids periodically – after several months – because they do not have a removable or rechargeable battery. Also, an audiologist is required to perform the removal/replacement procedure, as you won't be able to remove them yourself.
Patients with mild hearing loss will experience the best results with Lyric 3. An advantage of Lyric in terms of sound quality is that your hearing care provider inserts the device deeply into your ear canal, so there is less space between the eardrum and the hearing aid – which means there is less sound distortion for a clearer, more natural hearing experience.
While the Lyric is a one-of-a-kind hearing solution, it could be problematic for certain patients with sensitive skin and other health issues. According to HearingReview:
Although our patients average 70 days of wearing time per device, the range of wear time is large. There are patients we schedule for replacement every 30-45 days, because that is what their ear/skin health can tolerate; other patients can wear Lyric for 60, 75, 90 days, or longer. The lifestyle of the patient and the climate can also affect the ear health and longevity of Lyric. Wet climates and activities can negatively affect service life."
The Lyric 3 price follows a monthly subscription model of approximately $100 per month (prices vary). Phonak claims that the monthly subscription adds up to about the same average price of their other hearing aids.
MDHearing: An Affordable Phonak Alternative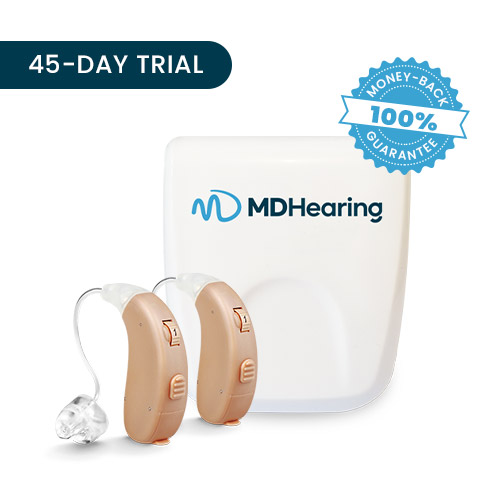 If you're considering Phonak hearing aids, you might want to look at MDHearing as a high-quality – and very affordable – alternative. Something we like to mention to our customers at MDHearing is that when you visit a hearing clinic, your hearing care professional is often trying to sell you the most "high-tech" and expensive hearing aids that exist. However, the vast majority of hearing care patients are on limited budgets and they don't actually need all of the bells-and-whistles and fancy, shiny gadgets.
What most hearing loss patients need is a medical-grade hearing aid that allows them to clearly hear what their loved ones are saying (without costing and arm and a leg!). This is exactly what MDHearing can provide for patients with mild to moderately-severe hearing loss: An affordable and effective hearing loss solution.
Here are some of the best features of MDHearing:
Affordable prices: MDHearing prices start as low as $299/pair

. That's thousands of dollars more affordable than the least expensive Phonak!

FDA-registered:

MDHearing models are medical-grade, FDA-registered hearing aids that can assist patients with mild to moderately-severe hearing loss.

Order hearing aids online during the pandemic:

As a direct-to-consumer hearing aid manufacturer, MDHearing allows you to bypass the hearing clinic, purchase your hearing aids from the privacy of your home, and have them shipped directly to your door. This is especially convenient during the COVID-19 pandemic when many hearing loss patients don't want to risk their health by going to a public hearing clinic.

At-home hearing testing and adjustments via the MDHearing app:

Even if you haven't had your hearing tested, the MDHearing app can help with its at-home hearing test feature. The MDHearing app will check your hearing and, if you purchase the VOLT MAX model, it will custom-adjust your hearing aids according to the results – all from the privacy of your home.

Remote tuning from the MDHearing team:

If you also have the results of a professional hearing exam, the MDHearing team can remotely tune your VOLT MAX hearing aids via the MDHearing app, and you never have to leave the house!

100% money-back satisfaction guarantee:

If you don't like your MDHearing product, send it back for a complete refund.
If you've been looking at Phonak's, we recommend MDHearing's most advanced model – the MDHearing VOLT MAX These hearing aids are under $1,000 a pair and it features the latest hearing aid technology like dual-directional microphones, digital background noise reduction, feedback reduction, automatic adjustments based on your listening environment, and smartphone app control via the MDHearing app.
Final Thoughts on Phonak Hearing Aids
At the end of the day, Phonak boasts one of the longest-standing histories in the hearing aid industry and it produces high-quality hearing aids with cutting-edge technology. However, as is the case with all of the expensive, Big Six hearing aid brands sold in hearing clinics, Phonak user reviews indicate that – even with all of the latest tech features – there is no guarantee that you'll be satisfied with this brand. Many customers spend thousands of dollars on these hearing aids in good faith, believing that the more they spend, the better hearing aid experience they'll get. Unfortunately, that's not always the case.
Considering Phonak's average price is between $4,000 to $8,000 a pair, before you cash out your IRA and give your savings to this brand, you might want to try a pair of MDHearings risk-free. Priced as low as $299 a pair, all MDHearing models come with a 100% money-back satisfaction guarantee, so you don't have anything to lose by giving them a try!
Want to see if MDHearing hearing aids will work for you? Take our quick and easy online hearing test and get your results instantly.
TAKE ONLINE HEARING TEST