Signia is known for being a German hearing aid manufacturer—with a stellar reputation for quality and dependability. However, it's important to know that Signia is currently owned by the global hearing aid corporation, WSAudiology, which is based out of Denmark. In addition to Signia, WSAudiology also owns a large portfolio of hearing aid brands, including Widex, Rexton, Sivantos, Audibene, Hear.com, HearUSA, and more.
As for the Signia arm of WSAudiology, the brand has a reputation for innovative technology, stylish designs, and long-lasting dependability. But how does this reputation measure up to scrutiny? And, what are real customers saying about the brand?
In this guide, we help you judge the quality of Signia for yourself by taking a deep dive into everything we know about this brand—so you can decide if Signia hearing aids are right for your hearing loss, preferences, and needs.
This guide includes information on the following:
Please use the above links to navigate the guide.
Signia Technology
Signia hearing aids offer the standard technology features you would expect from a traditional hearing aid brand—in addition to distinctive features that are unique to Signia. Signia technology also comes with a reputation for quality construction and dependability.
Are German Hearing Aids Better?
For the most part, German hearing aids are highly respected in the industry for their precision engineering and exceptional sound quality. This has led to a reputation for being some of the best hearing aids on the market.
However, this respect for German hearing aids could be unfounded. Despite their advanced technology, German-made hearing aids are also some of the most expensive devices on the market. Critics argue that the reputation of German hearing aids is only based on the perception that "German engineering" is better, not on real-world performance. Critics also argue that the advanced technology and "bells-and-whistles" found in German aids aren't necessary or beneficial for the majority of users.
In this respect, German hearing aids might be better for some individuals, but are they the right match for your budget, and your healthcare needs?
Signia Hearing Aid Features
Depending on the model, Signia hearing aids may include the following tech features. Be sure to check with your hearing clinic to see if your selected hearing aids include these features, as many are only included in Signia's most expensive models.
Rechargeable Lithium-Ion Batteries:

Although rechargeable batteries are not a requirement for excellent hearing aids, they do offer a number of benefits—such as not needing to constantly buy replacement batteries. Rechargeable hearing aids also save you from needing to fiddle with battery replacements every few days—a task that can be quite difficult for people with painful or arthritic fingers.

Signia Smartphone Apps (the Signia App, myControl App, myHearing App, touchControl App, and easyTek App):

Signia hearing aids connect to your smartphone through an app. These apps increase the functionality of your hearing aids, providing basic features like battery level warnings and the ability to adjust your hearing aid settings. Depending on the Signia model, its compatible smartphone app could add features such as:

Motion Sensor Data:

Analyzes motion sensor data from your smartphone to make automatic adjustments to the hearing aid sound settings.

Subtle Adjustments:

Allows you to make subtle adjustments to settings like bass, treble, and volume.

Mic Steering:

Virtually "steers" the hearing aid microphones to improve the clarity of sounds coming from different directions.

Airplane Mode:

Allows you to continue controlling the settings on your hearing aids when your smartphone is in airplane mode.

Battery Warning:

Sends alerts through your smartphone when your hearing aid batteries are ready for a charge.

TeleCare:

Allows a hearing aid technician to adjust the settings on your hearing aid via a remote internet connection—while you remain in the privacy of your home.

CareChat:

Improves the Signia support experience by offering live video, voice, and text support directly through the app.

Virtual Follow-Ups:

Empowers you to follow up with your hearing aid technician from your home without needing to visit the hearing aid clinic for an in-person appointment.

Video Tutorials:

Provides a complete library of how-to videos that teach you how to use the various features included with your hearing aids.

Free Hearing Test App:

This free app from Signia allows you to evaluate whether you have hearing loss and if you could benefit from hearing aids.

StreamLine TV:

An additional piece of hardware that allows you to stream high-quality Dolby Digital sound from your television to your hearing aids.

Streamline Mic:

An additional device that provides sound streaming from your smartphone into your hearing aids, so you can enjoy hands-free phone calls and music listening.

MiniPocket:

A compact device that allows you to adjust settings on your hearing aids using simple buttons.

Acoustic Motion Sensors (Signia Experience Technology):

Uses sound and motion sensor data to automatically adjust for different speech environments.

Dynamic Soundscape Processing (DSP):

Improves sound quality and speech clarity in various settings.

Directional Microphones:

Utilizes multiple microphones to accurately locate the direction of sounds while focusing on the person speaking to you.

TwinPhone:

Streams audio from your phone to both hearing aids for stereo sound.

Exchangeable Housing:

Allows you to change the appearance of your hearing aids with different colors and designs.

Tinnitus Therapy:

Plays white noise and other soothing sounds through your hearing aids to mask tinnitus symptoms.

Ultra HD e2e Sound:

High-definition sound quality technology for hearing aids.

Own Voice Processing (OVN):

Improves the sound of your own voice through your hearing aids while you are speaking.

Own Voice Processing 2.0 (OVPTM):

Available for most AX models, this technology leverages separate signal processing for the user's voice versus ambient sounds to enhance overall listening comfort and make your amplified voice sound more natural.

Signia Assistant:

Allows you to customize your hearing aid settings through the Signia smartphone app. As a part of the Signia Assistant, an embedded Artificial Intelligence (AI) system will learn your preferences and hearing capabilities to automatically optimize your listening experience.

My WellBeing:

Provides fitness tracking through the Signia smartphone app. The app keeps track of statistics related to steps taken, overall activity level, hearing aid wearing time, and time spent engaged in conversations.
Please note: Not all of Signia's hearing aid models come equipped with the above-mentioned technology. Many of Signia's more advanced features—like Smartphone App Control, Bluetooth capabilities, HD sound streaming, and rechargeable batteries—are only available in the brand's most expensive models.
Signia AX Technology Platform
Released in September 2022, AX is Signia's newest technology platform. As Signia's latest technology stack, most Signia buyers will find themselves purchasing an AX-equipped device. Here are the latest features that come with the AX line:
Reduced audio latency:

According to Signia, the new chip platform from Signia offers reduced audio latency between hearing aids, faster audio transfer rate, and improved battery life compared to the previous X platform.

Improved understanding:

Signia claims that the signal processing method the AX platform uses can provide an improved understanding in noisy conditions compared to other methods of signal processing.

Augmented Focus:

Signia says that the dual stream signal processing technology in the Signia AX can boost the hearing aid user's capacity to focus on specific sounds with greater clarity. The Augmented Focus feature is available in all the technology tiers (7AX, 5AX, and 3AX), allowing you to choose a tier that best fits your listening needs and your budget.

CallControl:

According to Signia, CallControl is a feature that works through a smartphone app, so users can operate the Signia HandsFree feature with their iPhone or iPad. This gives you the freedom to participate in other activities while taking phone calls over a Bluetooth connection. The feature also uses patented dual-processing technology to reduce background noise during phone conversations while providing better clarity and intelligibility in noisy scenarios.

Rechargeable batteries:

According to Signia, AX hearing aid users can enjoy approximately 20 hours of hearing aid use on a single charge when they don't use sound streaming features. Use of sound and music streaming features can significantly reduce this battery life. The charging time for the device is around 4 hours, but if you're pressed for time, a 30-minute charge should provide enough power for 5 hours without streaming.
Does Signia Verify Its Claims About the AX Technology Platform?
Signia says it conducted its own lab studies to determine whether the AX technology platform offers clear improvements over leading Signia competitors. According to Signia, their study suggests that in a noisy restaurant setting, the Signia AX performed better than the two leading competitors—however, we read through the report and haven't been able to find which competitors those are. Additionally, Signia's report suggested that the Augmented Focus feature offered a statistically significant advantage for speech understanding in noise.
Please note that Signia conducted its study in a controlled lab environment. Also, some of the participants were hearing-impaired and some were not. In this respect, the results of the study can't guarantee that the performance of the hearing aids will be the same under natural, non-laboratory sound conditions. In our opinion, the best way to judge the quality of the Signia AX platform is for each hearing aid wearer to try them out for themselves. Just be careful that your Signia dealer has a refund policy.
All of the hearing aids we offer at MDHearing come with a full money-back guarantee. If you don't like your hearing aids, just send them back to us within 45 days, and we'll give you a complete refund.
Known Criticisms of Signia AX Hearing Aids
Three known criticisms of Signia AX hearing aids could cause some shoppers to look for alternatives:
No option for controlling the hearing aids without a smartphone:

Although they are fully automatic hearing aids, AX technology can present a challenge for some—because you can only control the devices through a smartphone app or remote control. This presents a challenge for some hearing aid wearers who may have trouble using a smartphone. Other users may prefer to have the option of being able to change volume and program settings without the use of the app. Also, when your smartphone battery dies, you won't be able to control your hearing aids.

No option for using a disposable battery:

Another potential drawback is that the Styletto AX product line does not offer disposable battery options. Some users may prefer disposable batteries. Additionally, those who travel or go camping in remote locations may find it challenging to charge the device.

Exorbitantly expensive price tag:

This is the most unfortunate point about all of the Signia hearing aids mentioned in this guide. They are too expensive for most Americans to afford without going into debt. With food and energy prices skyrocketing in the United States—and with most hearing aid wearers on a fixed income budget—it doesn't matter how good Signia's marketing material sounds. Spending

$5,000 or more on a pair

of Signias just isn't possible for most hearing loss patients.
At MDHearing, we offer high-quality, affordable hearing aids that any budget can afford. Even better, you can operate our smart devices with or without a smartphone. Skip to the last section to learn more.
Signia Hearing Aid Models
In this section, we take a close look at the most popular Signia hearing aid models. Please reference the previous section (Signia Hearing Aid Technology) for definitions of the different tech features listed for each hearing aid model below.
Signia Styletto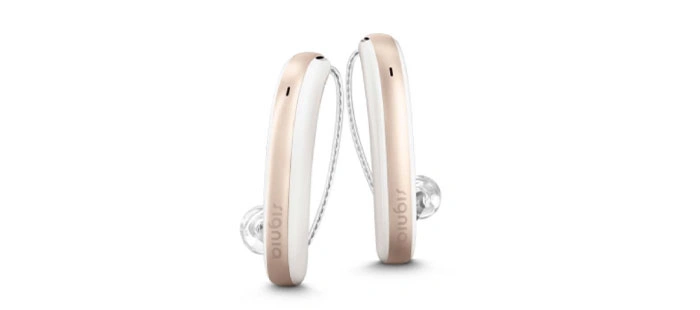 The Styletto line of hearing aids from Signia offers a sleek and fashionable design for those who want a premium look and feel. Created for individuals with mild to moderate hearing loss, Styletto is a Receiver-in-Canal (RIC) hearing aid, which sits behind the ear while the hearing aid receiver is inserted in the ear canal.
The Styletto's "designer" look comes at a premium cost. Depending on the model and selected tech features, Stylettos usually cost between $3,600 a pair and $7,500 a pair.
Signia Styletto Technology
Signia Styletto technology may include the following features depending on the model:
Signia App

touchControl App

myHearing App

Own Voice Processing (OVP)

Own Voice Processing 2.0 (OVPTM)

Ultra HD e2e Sound Technology

Directional Microphones

TwinPhone

Bluetooth

miniPocket

Rechargeable batteries

Augmented Focus (AX feature)

Signia Assistant (AX feature)

My WellBeing (AX feature)

Moisture, Sweat, and Dust Resistance
Signia Pure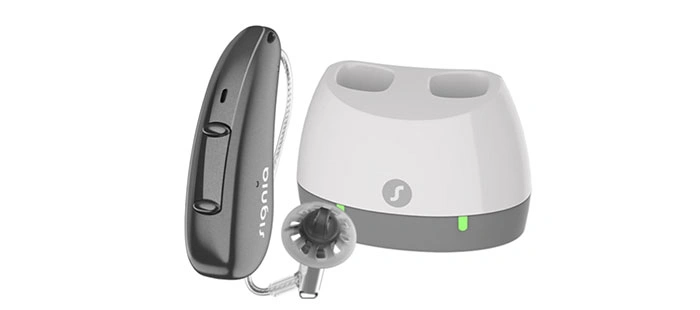 The Signia Pure line of hearing aids may not have the same slim and sleek design as the Styletto, but it offers hearing care for patients with mild, moderate, severe, and profound hearing loss. These Receiver-in-Canal (RIC) hearing aids sit behind the ear, but have a slightly bulkier appearance compared to the Styletto.
The Pure line includes advanced technology features, which is why it is more expensive than Styletto. Depending on the model and selected tech features, Pure models typically cost between $4,900 and $7,300 a pair.
The Pure Charge&Go X, Pure Charge&Go Nx, Pure 312 X, Pure 321 Nx, Pure 10 Nx, and Pure 13 Nx models have some similarities, but they differ in housing, recharging capabilities, and the Nx models have slightly older technology.
Signia Pure Technology
Signia Pure technology may include the following features depending on the model:
Bluetooth

Signia App

myControl App

myHearing App

Signia Experience

Own Voice Processing (OVP)

Dynamic Soundscape Processing (DSP)

Ultra HD e2e Sound Technology

Acoustic Motion Sensor Tech

Directional Microphones

TwinPhone

Moisture, Sweat, Dust Resistant

Rocker Switch to Make Program and Volume Adjustments

Exchangeable Housing

Tinnitus Therapy

miniPocket Compatible

StreamLine Mic and StreamLine TV Compatible

Rechargeable with Travel Charger

Augmented Focus (AX feature)

Signia Assistant (AX feature)

My WellBeing (AX feature)
Signia Insio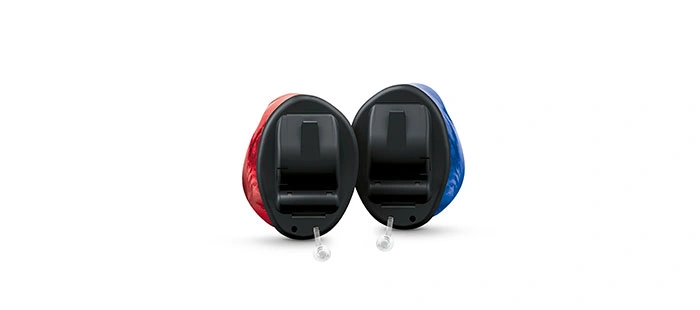 The Signia Insio lineup is noteworthy for its unique design, which is inserted into the ear canal instead of sitting behind the ear. The Insio is suitable for treating mild, moderate, and severe hearing loss conditions. Many patients prefer this design because it allows them to treat their hearing loss discreetly and, in the case of the Insio Nx (IIC/CIC), invisibly.
Although these models do not offer the same level of technology as other Signia models, they still come at a premium cost due to their small size. They are usually priced between $3,600 a pair and $7,300 a pair.
The Insio Nx comes in two main variations: ITE/ITC (In the Ear) and IIC/CIC (Invisible in the Canal). Both are small and fit entirely in the ear—the distinction being that the ITE/ITC version is visible, whereas the IIC/CIC version is so tiny that it is completely hidden in the canal.
Signia Insio Technology
Signia Insio technology may include the following features depending on the model:
Bluetooth Streaming

myControl App

myHearing App

Signia App

Ultra HD e2e Sound Technology

One Forward Directional Microphone

TwinPhone

MiniPocket Compatible

StreamLine TV and StreamLine Mic Compatible

Tinnitus Therapy

Removable Battery

Push Button Control

Waxguard to Protect Hearing Aid

(CIC Only) Ultra HD e2e Sound Technology

(CIC Only) Binaural One-Mic Directionality

(CIC Only) Push Button Control

Augmented Focus (AX feature)

Signia Assistant (AX feature)

My WellBeing (AX feature)
Signia Motion X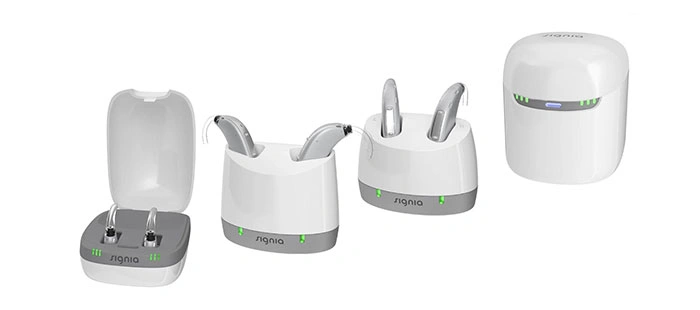 The Signia Motion X hearing aid is intended for individuals with severe to profound hearing loss, making it the preferred choice for individuals with elevated hearing needs. It includes features to automatically adjust to different listening environments as you move throughout the day. Like many Signia models, it also features Own Voice Processing (OVP). This technology lessens the "own voice effect," where your voice can sound too loud while speaking.
Motion X is also a Bluetooth-compatible device, which allows you to stream phone conversations, music, and other sounds from Bluetooth-equipped smartphones, tablets, and televisions. Motion X also allows you to adjust settings and control your hearing aids through an app on your smartphone. Lastly, the device includes a rechargeable battery that offers up to 61 hours of listening per charge. With extra protection against water and dust, this hearing aid provides additional durability.
Motion X devices come in three main styles. The Charge&Go X offers advanced technology. The Charge&Go P X offers superpower sound amplification. The Charge&Go SP X offers both superpower sound amplification and advanced aid technology in a single package. The average price of Motion X hearing aids ranges from $4,400 a pair to $7,700 a pair.
Signia Motion X Technology
Signia Motion X technology may include the following features depending on the model:
Bluetooth Streaming

Recharge on-the-go

AI Digital Assistant

Automatic Situation Detection

Signia App

StreamLine TV and StreamLine Mic Compatible

Tinnitus relief

myControl App

myHearing App

Own Voice Processing (OVP)

Dynamic Soundscape Processing (DSP)

Ultra HD e2e Sound Technology

Acoustic Motion Sensor Tech

Directional Microphones

TwinPhone
Signia Pricing
The cost of Signia hearing aids can vary widely. For example, prices for Signias usually range between $3,000 to $8,000 per ear. However, it's worth noting that most patients purchase their Signias through a hearing clinic, which can significantly increase the total cost. As a result, the typical cost for a pair of Signia hearing aids is often at least $5,000 or more a pair.
It's also worth noting that even when purchasing online, a fitting with a professional is required by Signia's policy: "Our products and the support of our products require professional face-to-face in-person fitting and follow-up." Therefore, Signia customers do not have the option of bypassing hearing clinic markups by ordering Signias from home. These hearing aids just don't work without going to an expensive professional for in-person fittings and adjustments.
If you find Signia's prices to be steep, you're not alone. Many people can't spend thousands of dollars on hearing aids. MDHearing is an alternative that offers high-quality hearing aids at a fraction of the cost by cutting out the middleman. Check out MDHearing products here.
Signia Customer Reviews
To gain a better understanding of the Signia brand, it's helpful to read online reviews, specifically those on Facebook. These provide an honest and candid look at the real experience of using Signia hearing aids on a daily basis.
According to real customer reviews of Signia on Facebook, some customers report very positive experiences while others are extremely dissatisfied with the brand:
Bought for my father. It dropped on the floor and both ear pods disappeared, lost. The cover protector design is very bad. The cover protector does not protect the hearing aid inside. If it falls on the ground, both aids will come out of the cover instantly and will be lost. Very easy to lose your $5000. Very poor design and it will never hold the aids strong enough. Regret buying it in Malaysia. Loss of $5000 is not appreciated." – Sunny Ali, Nov. 2, 2022
I have looked after mine very carefully but every time they come back from annual service there is an excuse and cost attached. You will pay a lot for these devices and then you will keep paying for them as long as you have them." – John Shuttleworth, March 10, 2020
I selected a BTE Signia Cross system of hearing aids that have worked so perfectly. I went to an audiologist group in my neighborhood in NYC, and explained my situation in detail. I also did my own online research into the many options, and we selected a state-of-the-art system! I now enjoy perfect sound on my professional and social phone calls from both my cell phone and semi-normal hearing from both ears, which is actually a first in my entire life!" – Robert Janncelli, Aug. 11, 2021
Great product. Life-changing. A year later and I'm still happy. Make sure you have a good service provider. They will make or break the experience." – Sean Van Der Merwe, March 30, 2021
An Affordable Alternative to Signia Hearing Aids: MDHearing
Given the high price of Signia hearing aids, some patients may want to explore less costly options. That's precisely why we created MDHearing—to offer high-quality, affordable hearing care to budget-conscious patients. Here's how we keep hearing aid prices low without sacrificing quality:
Quality, effective technology (without the frills):

We focus on the most important hearing aid technology with an eye toward quality, efficient, and effective hearing loss treatment.

No hearing clinic middleman:

We cut out the hearing clinic middleman which allows us to reduce the retail cost of hearing aids by thousands.

Direct-to-consumer sales:

We sell our hearing aids directly to consumers. This eliminates the high expense of maintaining a brick-and-mortar store, and we pass the savings down to you.
Remote Hearing Care Smart Technology From MDHearing
Our remote hearing care smart technology is another way we save a tremendous amount of money for our customers. When you buy from MDHearing, there's no need to visit a hearing aid technician to test your hearing, and you don't have to go to a hearing clinic for custom adjustments. We use remote hearing technology to do everything from the privacy of your own home.
Here is how MDHearing achieves clinic-quality hearing care without the clinic:
App-based "hearing check" and automatic programming:

The MDHearing VOLT MAX model comes with the MDHearing smartphone app, which creates a unique sound profile based on your response to a series of tones, and automatically adjusts the settings of your hearing aid to match your profile. It's like having an audiologist in your own home!

Remote fine-tuning assistance:

The MDHearing App includes sophisticated features that permit the hearing specialists at MDHearing to adjust your hearing aids remotely. To begin, users initiate a request for support through the MDHearing App. Afterward, one of our hearing specialists will reach out to you and remotely fine-tune your hearing aid settings over the internet.

Custom adjustments based on a professional audiogram (hearing test):

VOLT MAX customers can send the results of a professional audiogram to MDHearing and, when appropriate, an MDHearing hearing specialist will remotely customize your hearing aids based on those results. These are professional hearing aid adjustments, similar to what you would receive at a hearing clinic, but performed remotely.
Why Try MDHearing?
Here's why customers choose MDHearing:
Prompt Patient Support from Audiologist-Trained Staff:

Our U.S.-based customer support team has a quick response time of 5-10 minutes. Each member of our support staff has undergone training from licensed audiologists. These professionals will guide you through the setup process of your hearing aid and address any queries you may have.

Full Refund Policy: Many of our satisfied customers chose MDHearing over other brands due to the cost savings and our 100% money-back guarantee policy. If you find that MDHearing is not the right fit for you, return the product within 45 days for a full refund

. This means you can try MDHearing risk-free.

Top-Quality Components from Leading Manufacturers:

The microphones and receivers used in MDHearing devices are sourced from

Knowles

and

Sonion

. These are the same manufacturers utilized by high-end hearing aid companies.

No Hearing Test or Prescription Necessary:

All of our hearing aids were designed by audiologists to cater to the hearing loss profile of 94% of patients. This means that all of our hearing aids will be effective for most people right out of the box.

Assistance With Product Selection:

If you've taken a professional hearing test with a clinic or local audiologist—or if you took our

free online hearing test

—you can send your audiogram to our in-house hearing professionals and they will recommend the best MDHearing device for your condition.

Video support with customer care:

MDHearing offers one-on-one video conferencing with our licensed hearing specialists so that you can experience a more personalized telecare experience.
MDHearing Products
At MDHearing, we believe in creating high-quality, affordable products—while keeping the shopping process as simple as possible. That is why we offer a limited range of FDA-registered hearing aid models on our website. This eliminates the stress of choosing the right hearing aid for you. Even better, our in-house hearing professional team is available to assist you in understanding our products and determining the best option for your needs.
Whether you're looking for an affordable price point, personalized hearing aids, or advanced technology features for the best in telehealth hearing care, we have the model for you. Our product lineup starts at just $299 per pair and includes behind-the-ear and in-the-ear devices, rechargeable hearing aids, and a smart Bluetooth-compatible option.
Final Thoughts on Signia: Is It a Good Hearing Aid?
Let's summarize everything we know about German hearing aids from Signia. As for the prices, they are not out of sync with other hearing aid brands that you will find at hearing clinics. For the price of $3,000 to $8,000 per ear, Signia offers the latest technology, in addition to some "bells-and-whistles" that Signia claims make its hearing aids better than others.
As for quality, we believe that Signia is a quality manufacturer that builds good hearing aids. Based on the negative internet reviews that we have found, a lot of Signia customers won't agree with our judgment that Signia is a good hearing aid company. However, the buyers of extremely expensive hearing aids tend to have high standards that are difficult for manufacturers to please. We can't fault them for being critical. Some paid $8,000 for hearing aids that we believe shouldn't cost more than $1,500 a pair.

Here is our humble suggestion. Before you invest $5,000 or more on a pair of Signia's, consider giving a more affordable hearing aid manufacturer a try. At MDHearing, we will save you thousands of dollars an ear on hearing aids—and still provide you with the highest quality hearing care and dependability.
Best of all, MDHearing includes a 100% money-back guarantee, so there's nothing to lose by giving our products a try!
Browse MDHearing's line of FDA-registered, OTC hearing aids.
COMPARE HEARING AIDS