Hearing loss can make it harder to listen to music and watch TV—so how can you make sure that you maintain clear and consistent sound quality while enjoying these activities?
According to a 2018 NIH study, people with hearing aids watch TV or video for an average of 370 minutes per day, 57 minutes longer than the general population. Despite consuming more TV shows and videos, people with hearing aids can face challenges when watching TV that mirror the difficulties they experience in daily life.
To help overcome these difficulties, audio technology companies offer a variety of assistive listening devices specially designed for TV watching, and many companies offer wireless headphones for tv. Yet not all of these assistive listening devices are created equal: they differ in terms of technology, features, price, benefits, and more.
TV Ears are the top-selling brand in the U.S. for TV listening devices—but are they the right product for you? This article will discuss everything you need to know about TV Ears: what they are, how they work, and the best product for your needs.
Why Do You Need TV Ears?
Even mild hearing loss can create issues when watching TV. The obstacles for people with hearing aids while watching TV include:
TV shows feature a variety of different voices, accents, and speaking rates, including speech that may be mumbled, whispered, or in a foreign accent.
Speech during TV shows is often accompanied by music and sound effects that makes it harder to understand.
Many TV sets have compressed audio and loudspeakers that are oriented in a different direction than would be expected in a natural live conversation.
Simply turning up the TV volume may be effective in the short term for people with hearing loss, but it has several drawbacks. First, TV sound quality degrades as the volume increases, making it more difficult to understand speech. Second, having the TV at a high volume may disturb other people who are nearby or also watching the TV.
Using closed captions is another possible solution, but it too comes with disadvantages. Closed captions may not be available for live events. When they are available, they may be poor quality or on a delay that affects viewers' enjoyment. In addition, simply reading closed captions doesn't allow viewers with partial hearing loss to fully appreciate the music, sound effects, and other audio.
What are TV Ears? Definition and More
Several companies have designed TV amplifiers that help people with hearing disabilities watch TV shows or videos. These devices are sometimes collectively referred to as "TV Ears." In this article, however, we'll be discussing the original TV Ears company and brand.
The company TV Ears is an audio technology business that produces assistive listening devices for people with hearing impairments. These products are sound amplifiers that bring sound from the TV directly into the user's ear, helping to separate speech from background noise.
Founded in 1998, the company is currently headquartered in San Diego, California and has sold more than 2 million devices. George Dennis, founder and president of the company, built the original TV Ears device for his father, who was listening to the television so loud that his neighbors complained to the building's management. Dennis' father had tried using hearing aids to pick up the TV audio, but found they didn't work well enough—leading Dennis to create the TV Ears product out of his living room.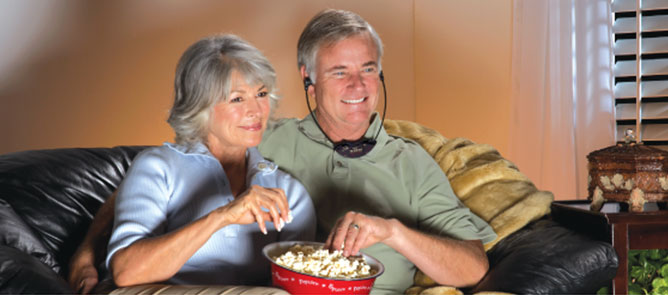 How Do TV Ears Work?
TV Ears look and function differently than "standard" hearing aids. In fact, they're not classified as hearing aids at all.
The TV Ears headset is a wireless system with two earbuds, much like typical headphones, that users place into their ears. These earbuds are connected by a lightweight headset that hangs below the user's chin, similar to a stethoscope.
A transmitter plugged into the TV sends the audio from the TV directly to the TV Ears headset, allowing users to receive the amplified audio directly in their ears. Additionally, a microchip within the device extracts and amplifies speech frequencies, making it easier for users to understand dialogue.
Wireless 2.3MHz infrared technology, built into the TV Ears headset, transmits audio over a coverage area of 600 square feet at a maximum volume of 120 decibels. This means that users must be within the TV's line of sight in order to receive audio.
Users are able to adjust the volume by rotating a knob on the TV Ears headset, which works independently from the TV's volume. This means users can watch television together with family and friends, and everyone can listen at a comfortable volume. Two or more people can also use TV Ears headsets at the same time with a single transmitter.
According to the company, TV Ears work with any television set. They're compatible with regular TV, cable TV, satellite TV, VCRs, DVDs, and stereo systems.
Note that TV Ears require a rechargeable battery with a life of up to 4-6 hours. This battery will last between 1 to 2 years, depending on frequency of use. Users can purchase replacement batteries from the TV Ears website.
TV Ears Pros and Cons
Now that we've discussed the ins and outs of TV Ears devices, what are the pros and cons of TV Ears?
Pros
Comfortable for daily use: Lightweight and hangs discreetly below the user's chin. Users can comfortably recline or lie down while wearing TV Ears, letting them enjoy their TV watching unbothered and uninterrupted.
Ease of use and convenience: A major selling point of TV Ears is the device's simplicity and convenience, helping improve users' quality of life. TV Ears users can listen to the TV at the volume of their choosing, without disturbing others around them.
Cons
Limited infrared connectivity: Maximum coverage area of 600 square feet and the headset must have a clear line of sight to the transmitter. This may cause issues for certain users, depending on the layout of their home and TV.
Not for use outside the home: TV Ears are a specialized type of assistive listening device for exclusive use with television sets in a home environment. The TV Ears manufacturer cautions that these devices will likely not work well outside of this limited use case.
TV Ears Products: Which TV Ears Should You Buy?
TV Ears actually manufactures multiple versions of the device, based on the different needs of the user and the television set. The TV Ears product lineup and pricing is current as of this writing, based on the TV Ears website.
Seeing these prices, you might wonder "Are TV Ears worth it?" The answer depends on how much you plan to use TV Ears and how much you think you'll get out of them.
If you watch a lot of TV shows and videos, but your enjoyment has been hindered by hearing loss, TV Ears or other assisted listening devices may be the solution you've been looking for. On the other hand, if you're largely satisfied with your TV viewing experience, you may not find that the price of TV Ears is worth it.
TV Ears Reviews
The TV Ears Digital headset currently has an average rating of 4.2 out of 5 stars on Amazon, based on 2,297 reviews. 67 percent of users rated TV Ears 5 stars, while 14 percent rated them 1 or 2 stars.
In a positive TV Ears review, Debra Lucas writes:
I LOVE THESE THINGS! I am a night owl and my husband goes to bed at 10… These TV Ears work so well, I never want to be without them. The sound is so clear and I barely have to turn the volume up at all. The longest I have worn them was when I first got them. I watched TV for 7 hours straight from 10 p.m. to 5 a.m. when I was binge-watching a series and the battery didn't run out, nor did the sound quality diminish."
In general, customers' frustrations with TV Ears focus on technical issues, comfort, and customer support. Bill Frederic writes in a negative TV Ears review:
I have been using TV ears for at least 12 years, replacing sets as they break (4). They really work well and this version seems to be even clearer than the last version, which was excellent. In the 12 years, I have had the earpiece arms break on all 10 headsets. The warranty is for 12 months and 8 of the headsets lasted that long and the company replaced the 2 that didn't. I have discovered that you can repair the headset arms by using epoxy to 'weld' a piece of snipped tin (canned food) around the arm at the broken spot. I use J-B Weld, Cold-weld formula Steel Reinforced Epoxy."
However, a large majority of TV Ears users report a positive experience with the device, such as lisa83's rave review:
I bought this for my elderly mom who has trouble hearing TV. I have tried several other headsets, sound bars, etc. and these TV EARS ARE AMAZING! Mom can hear MUCH better than all the rest of the items that I purchased, and I don't have to hear the TV on so loud anymore!"
TV Ears Alternatives: Reviews, Pricing, and More
TV Ears have helped many people with hearing loss get more from their TV viewing experience—but there are also a number of viable TV Ears alternatives. In this section, we'll go over two alternatives to TV Ears: one from Sennheiser and one from MDHearing.
1. Sennheiser RS 5000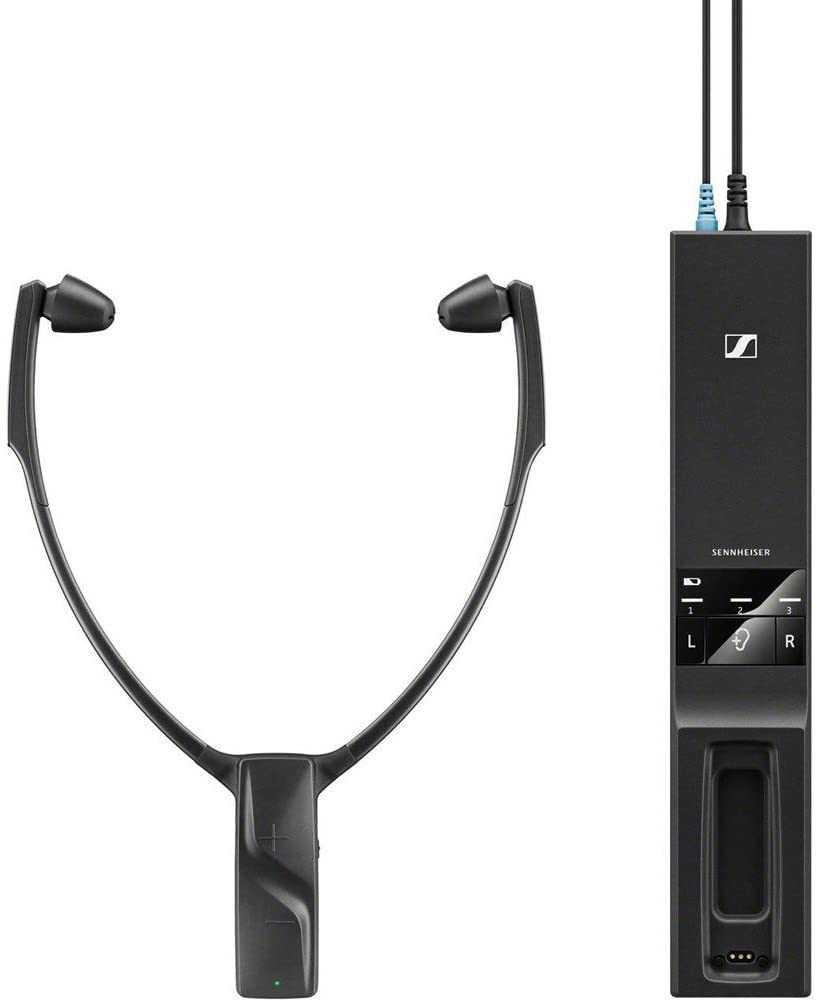 The Sennheiser RS 5000, which is billed as "digital wireless headphones for TV listening," is a new version of the company's previous SET840 assistive listening device.
At first glance, the Sennheiser RS 5000 seems very similar to TV Ears. Both devices consist of headphones worn in the ears that are attached to a headset beneath the user's chin, giving them a stethoscope-like appearance. In turn, this headset connects to a TV transmitter, capturing the sound and relaying it to the user.
However, these two devices have some important differences in terms of functionality. Whereas TV Ears uses infrared frequencies, the Sennheiser RS 5000 uses wireless radio frequencies, which the company claims can travel up to 200 feet (and even through walls).
Additionally, the Sennheiser RS 5000 offers three different audio profiles for different TV watching experiences, including optimizing for speech or music. Users can adjust the volume of the left and right ears independently, and the device comes with a lithium-ion battery that can run for up to 12 hours on a single charge.
The Sennheiser website currently gives the price of the Sennheiser RS 5000 as $249.95, somewhat higher than TV Ears. As of writing, the Sennheiser RS 5000 currently has an average rating of 4.2 out of 5 stars on the Amazon website, based on 212 user reviews. In a positive Sennheiser RS 5000 review, Amazon user Sam writes:
Works better than advertised. I purchased this to supplement my hearing aids. I don't hear lower volume speaking from typical cable TV shows and movies. These wireless headphones definitely improved my hearing experience on most shows and movies. Depending on what I am hearing, I adjust my sound bar for treble and bass and I adjust the headphones for the type of sound. The headphones fit well with or without my hearing aids, although sometimes I get a slight echo which I can pretty much adjust out by increasing the headphone volume."
Meanwhile, Amazon user W. R. Wakefield complains about a number of product deficiencies in a negative Sennheiser RS 5000 review:
As someone with a hearing disability, AND after owning a good-performing Sennheiser Tr120 set, I expected this RS 5000 at a premium price to be able to overcome the few deficiencies the Tr120s had. Alas, when only evaluating sound quality, they are excellent. However, there are other issues: no mute button on the units; no on-off switch other than removing units from your ears, then waiting 5-10 seconds for them to re-boot; much shorter range when moving about, slow and balky to re-connect to transmitter; and… lousy customer service to help one through those issues."
In general, users have favorable opinions about the Sennheiser RS 5000's good sound quality and its ability to help people with hearing loss. However, some common complaints are that the RS 5000 is uncomfortable to wear, difficult to set up, and suffers from poor customer service.
2. MDHearing QuietTV Wireless Headphones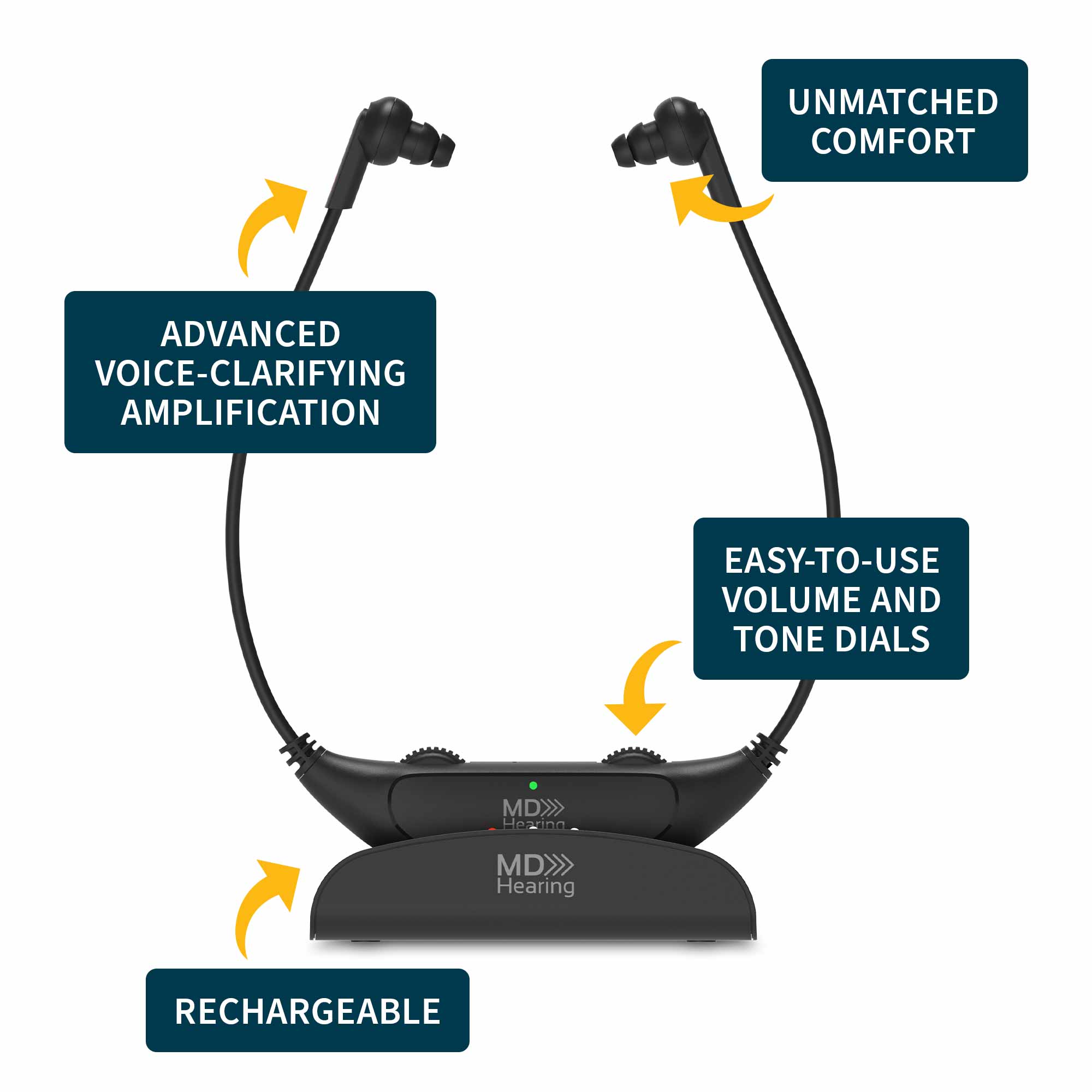 As a top-tier hearing aid provider with more than 500,000 happy customers and over a decade in business, MDHearing is excited to now offer our own TV listening solution for people with hearing loss.
The MDHearing QuietTV Wireless Headphones provide crystal-clear sound quality with easy-to-use controls, all at an affordable price. Designed by doctors and backed by free lifetime support from our team of hearing specialists and audiologists, the QuietTV headphones use advanced voice-enhancing amplification technology, making TV sound crisper and more intelligible than ever before.
QuietTV operates on wireless radio frequency (RF), and is compatible with 99 percent of TVs on the market. Any TV with audio output can work with QuietTV—the headphones include Optical, 3.5 to 3.5, and 3.5 to RCA audio cables, so that your QuietTV will start working right out of the box, regardless of your TV setup.
With the QuietTV headphones, people with hearing loss can enjoy a TV experience like never before. Because QuietTV works independently of the TV's own audio, you can set separate volume levels that work for everyone watching—or even mute the TV and listen on your headphones without disturbing others in the room.
QuietTV was built from the ground up to emphasize simplicity and user comfort. The QuietTV earbuds are made of a flexible material that easily conforms to the shape of your ear—you might even forget you're wearing them! In addition, the QuietTV headphones use a long-lasting rechargeable battery that lets you easily binge on your favorite TV show, without worrying about replacing the battery when it runs low.
At a price point of $149.99, the QuietTV headphones are significantly cheaper than the Sennheiser RS 5000, and competitive with TV Ears. What's more, a pair of QuietTV devices (for you and a loved one or friend) costs just $199.99, which makes it even less expensive than the equivalent TV Ears purchase. This is especially convenient because the QuietTV transmitter can work with two or more wireless headphones at the same time.
As with all of MDHearing's products, QuietTV customers enjoy benefits such as free shipping, a 45-day 100% money-back guarantee, and excellent U.S.-based customer support. There's absolutely no risk in trying out QuietTV for yourself to see what you've been missing all this time.
Conclusion
With the right TV listening device, there's no reason why people with hearing loss can't keep enjoying the shows and movies that they've always loved to watch. Whether you go with TV Ears, Sennheiser, or MDHearing's QuietTV, a TV listening device can greatly enhance the experience of people with hearing loss—so which one is right for you?
To learn more about the QuietTV Wireless Headphones, check out the QuietTV product page. If you're still thinking that TV Ears or another option may be the right choice for you, we encourage you to research all your options and compare them to our QuietTV Wireless Headphones. We believe the simplicity, quality, and affordability of our TV Headphones combined with our expert, US-based customer care team gives you the best solution to a loud TV.
People who use wireless TV headphones often find the device so helpful that they look into using hearing aids in their daily lives as well. Wondering if you could be a good candidate for hearing aids? We encourage you to take our free online hearing test and get your results in just 8 minutes. You can also schedule an appointment at a hearing clinic near you.
Here at MDHearing, our mission is to help restore the quality of life for people with hearing loss—whether they need a little assistance while watching TV, or they're looking for a rechargeable hearing aid that fits their active lifestyle. MDHearing offers high-quality, easy-to-use, FDA-registered hearing aid devices with a variety of features and functionality, all at a price point that's dramatically lower than the top hearing aid brands.
MDHearing's products make for an excellent complement to QuietTV and other assistive listening devices. We invite you to see why thousands of delighted customers have given MDHearing top marks.
Interested in starting a risk-free trial with MDHearing?
BROWSE TV HEADPHONES BROWSE HEARING AIDS