Roughly 15 percent of the U.S. population—tens of millions of people—have some form of hearing loss. However, less than 30 percent of people who could benefit from hearing aids have actually used them.
Two major barriers to the greater adoption of hearing aids are cost and accessibility. Many hearing aids cost hundreds or thousands of dollars for a single device—and twice that for a pair. In addition, consumers have traditionally needed to get a medical evaluation from a licensed physician before they can obtain a hearing aid prescription.
Fortunately, the U.S. Food and Drug Administration's recent announcement about over-the-counter hearing aids will help address both of these issues. In August 2022, the FDA issued a ruling establishing the necessary regulations for retailers and manufacturers to sell OTC hearing aids. This ruling will allow customers to buy hearing aids in stores without first getting a prescription from a medical doctor.
Walgreens is one of the largest chains of pharmacy stores in the United States, second only to CVS. In October 2022—soon after the FDA's ruling—Walgreens announced that it would begin offering over-the-counter hearing aids at its more than 8,000 retail outlets nationwide.
This statement followed a previous announcement in May 2021, when Walgreens revealed that it would roll out OTC hearing aids in the states of Arizona, Colorado, North Carolina, Tennessee and Texas. With retailers such as Walgreens getting in on the action, access to OTC affordable hearing aids will only improve in the near future.
But with stores such as Walgreens rolling out OTC hearing aids, customers are now faced with an important question: which is the best over-the-counter hearing aid? This article will go over everything you need to know about Walgreens hearing aids—cost, reviews, and more—so that you can make the right choice for your situation.
Walgreens Hearing Aid Products
In its October 2022 announcement, Walgreens revealed that it would be partnering with Lexie Hearing, a low-cost hearing aid provider, to bring OTC hearing aids into its stores. As of writing, the Walgreens website currently features two Lexie hearing aids products: the Lexie Lumen and the Lexie B2.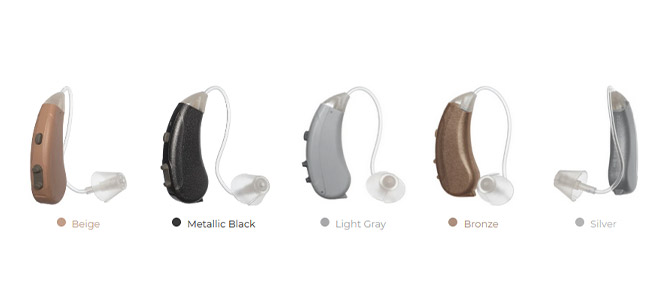 Lexie Lumen
The Lexie Lumen is the company's flagship hearing aid product: a behind-the-ear (BTE) hearing aid that comes in five different colors, from beige to metallic black. According to the Lexie Hearing website, the Lumen hearing aid includes features such as:
Directional microphones

Adaptive noise reduction

Bluetooth connectivity

6 different hearing settings

Up to 36 hours of battery life

Mobile app to adjust device volume and settings
Buyers of Lexie hearing aids have access to real-time customer support via phone or video call. The devices also come with a 45-day money-back guarantee.
On the Walgreens website, a pair of Lexie Lumen hearing aids currently retails for a one-time payment of $799. Customers can also purchase them through the Walgreens Find Care program, paying $39 per month for 24 months plus a $50 "start-up payment" (which is a total of $986).
Lexie B2
The Lexie B2 is a self-fitting, rechargeable OTC hearing aid powered by Bose technology. The B2 is also slightly different from the Lumen in that it is a receiver-in-canal (RIC) hearing aid: the receiver is connected to the body via a thin wire and sits inside the ear canal.
Features of the Lexie B2 include World Volume, which helps amplify quiet sounds more than loud ones, and treble and bass settings to make voices more natural. The B2 also includes environmental settings so users can save their configurations and adjust them in different locations (e.g. a noisy restaurant or watching TV). As with the Lexie Lumen, the Lexie B2 comes with a 45-day money-back guarantee, a mobile app to quickly adjust the device's volume and settings, and customer support via phone and video call.
A pair of Lexie B2 hearing aids can be purchased on the Walgreens website for a one-time payment of $999. Customers can also buy them with a monthly installment program that costs $39 per month for 24 months plus a $249 "start-up payment" (which is a total of $1185).
Other Products
Besides Lexie hearing aids, the Walgreens website also features various products labeled "hearing devices" or "hearing amplifiers" when users search for hearing aids online. However, these are not true hearing aids, but personal sound amplification products (PSAPs).
Importantly, PSAPs are not hearing aids: they lack the ability to amplify specific sounds in the environment, as hearing aids do. Rather, PSAPs amplify all sounds around you, like a megaphone in your ear. PSAPs are not intended to treat hearing loss, which makes them the wrong choice for shoppers looking for Walgreen hearing aids.
Walgreens Hearing Aid Reviews
Walgreens hearing aids are now available over-the-counter—but what are real customers saying in Walgreens hearing aid reviews?
As of writing, the Lexie Lumen and the Lexie B2 both have average ratings of 4.8 out of 5 stars on the Walgreens website, based on dozens of user reviews. However, these reviews have been imported from the Lexie website itself, which means they aren't entirely unbiased.
Reviews of Lexie hearing aids are also available on third-party websites such as RetirementLiving.com, where they receive positive to mixed reviews. Lexie hearing aid user Carolann M. compliments the devices' sound quality and customer service:
I have had my Lexie hearing aids for over a year and they are amazing! I can hear perfectly in most situations… Not only are Lexie's hearing aids the best, the customer service and mobile app are the best ever. If I could change anything, I wish they were a little smaller."
On the other hand, Lexie hearing aid user Martin W. gave his devices a mixed review, complaining about the product quality:
Pros: Comfortable to wear. Like the app. Low price. Cons: The main problem is they are not remotely moisture-proof. Just my day-to-day body oils would seep into the battery pocket and create a short. I would have to take the battery out and dry it and the battery pocket 6 times a day on average. The customer service answer was to put them in a drying jar for 48 to72 hours. What good are hearing aids that you have to keep in a jar 5 or 6 days a week? After a few months the sound quality deteriorated and became tinny."
MDHearing: A Great Alternative to Walgreens Hearing Aids
Walgreens has significantly expanded access to over-the-counter hearing aids, which is certainly a commendable goal. But are Walgreens hearing aids the right choice for your needs? The benefits of Walgreens hearing aids include:
Ease of access: Walgreens hearing aids are available in stores across the country. You can also purchase them online and have them delivered right to your doorstep.

Features and functionality: Walgreens offers Lexie hearing aids, which come with valuable features such as directional hearing, reducing noise, and a variety of hearing environments.

Multiple payment options: Walgreens allows customers to buy Lexie hearing aids either in a single lump sum or in monthly installments over the course of two years. However, note that the monthly option will cost roughly $200 more in the long run.
The disadvantages of Walgreens hearing aids include:
Lack of variety: Walgreens currently only offers Lexie hearing aids. If you decide to go with a different affordable hearing aid provider, then Walgreens isn't the right place to buy.

No options for single aids: Lexie hearing aids are only available for purchase as a pair. If you have hearing loss in only one ear, then you'll be paying twice as much as you need if you buy Lexie hearing aids.

Mixed reviews: While many customers are enthusiastic about Lexie hearing aids, other reviews have noted issues with product quality and customer service.
If you decide not to buy Walgreens hearing aids, then where else can you buy hearing aids online?
MDHearing can help. We have provided affordable hearing aids to more than 750,000 customers since we were founded by a Chicago ENT (ear, nose, throat) doctor more than a decade ago. Our products are high-quality, FDA-registered, and significantly less expensive than many other hearing aid brands.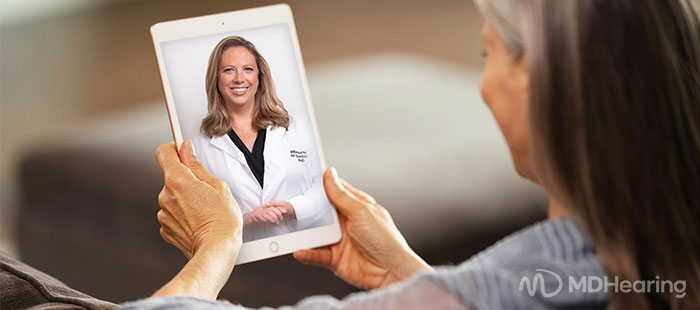 Like Walgreens hearing aids, MDHearing cuts out the middleman, selling directly to customers without the need for a hearing aid prescription. The benefits of MDHearing include:
Ease of purchase: MDHearing prices are competitive with Lexie and other online hearing aid providers, with entry-level models significantly less expensive than the Lexie Lumen. After you order hearing aids online, the product will arrive at your doorstep assembled and ready for use.

Diverse product range: MDHearing offers a greater selection of hearing aids than Walgreens. Our product lineup includes behind-the-ear and in-the-ear options, rechargeable models, and a smart, Bluetooth-compatible option. Additionally, customers can purchase either a single aid or a pair according to their needs.

Top-notch customer service: MDHearing offers a 45-day risk-free trial for all hearing aids, just as long as Walgreens hearing aids. Our U.S.-based customer support team of audiologists and licensed hearing aid specialists are available via phone, email, and video call.
Ready to see if MDHearing's affordable hearing aids are the right fit for you? Start by taking our quick and easy online hearing test now.
TAKE ONLINE HEARING TEST