Hearing problems can make it difficult to watch TV with your friends and family. What other people think is a "comfortable volume" might be too soft for you to hear crucial dialogue. On the other hand, if you turn up the TV to compensate for your hearing loss, it might be too loud for everyone else.
To help people with hearing loss enjoy TV without disturbing others, several companies have developed wireless headphones for TV. These gadgets provide convenience, comfort, and quality sound by delivering the TV audio directly to your ears, while still making use of the TV's speakers for other viewers.
In this guide, we'll look at some of the top wireless headphones on the market right now. We'll go over the features, capabilities, and price of each headset, so that you can make an informed decision when purchasing the headphones of your choice.
Best Wireless Headphones for TV Watching
There are a wide range of wireless headphones to help hearing-impaired individuals enjoy TV, movies, and other forms of entertainment to the fullest. But which device is best for you? In this section, we'll discuss 4 of the best wireless headphones for TV watching.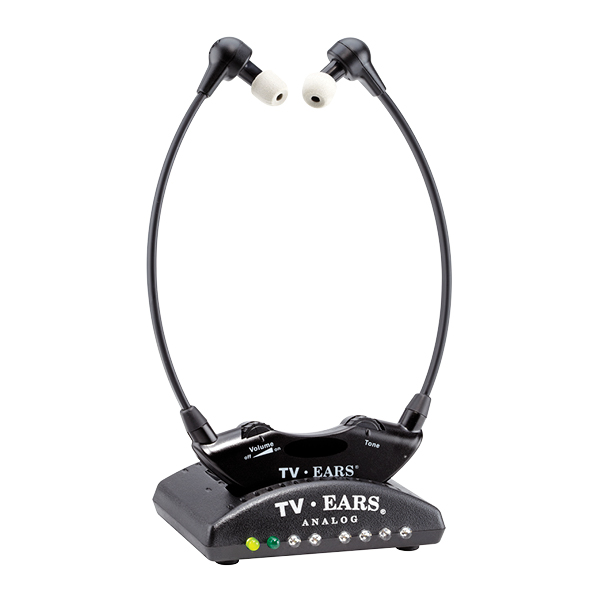 Price: $169.95
TV Ears has revolutionized how people with hearing loss watch TV, and is the top-selling brand in the U.S. for TV listening devices.
The TV Ears device allows you to adjust the volume on the headset, which operates independently from the TV's volume. This means you can watch television together with family and friends, and everyone can listen at a comfortable volume. Another exciting TV Ears feature is the device's Voice Clarifying Circuitry®, which instantaneously eliminates background noise and clarifies dialog on the television.
TV Ears use infrared technology to transmit audio from the TV to the headset, instead of radio or Bluetooth, so that it won't interfere with your telephone or pacemakers. The headset works with a wide range of televisions and has both digital (PCM, Dolby, and SRS) and analog (RCA, optical, and coaxial audio out) connectivity.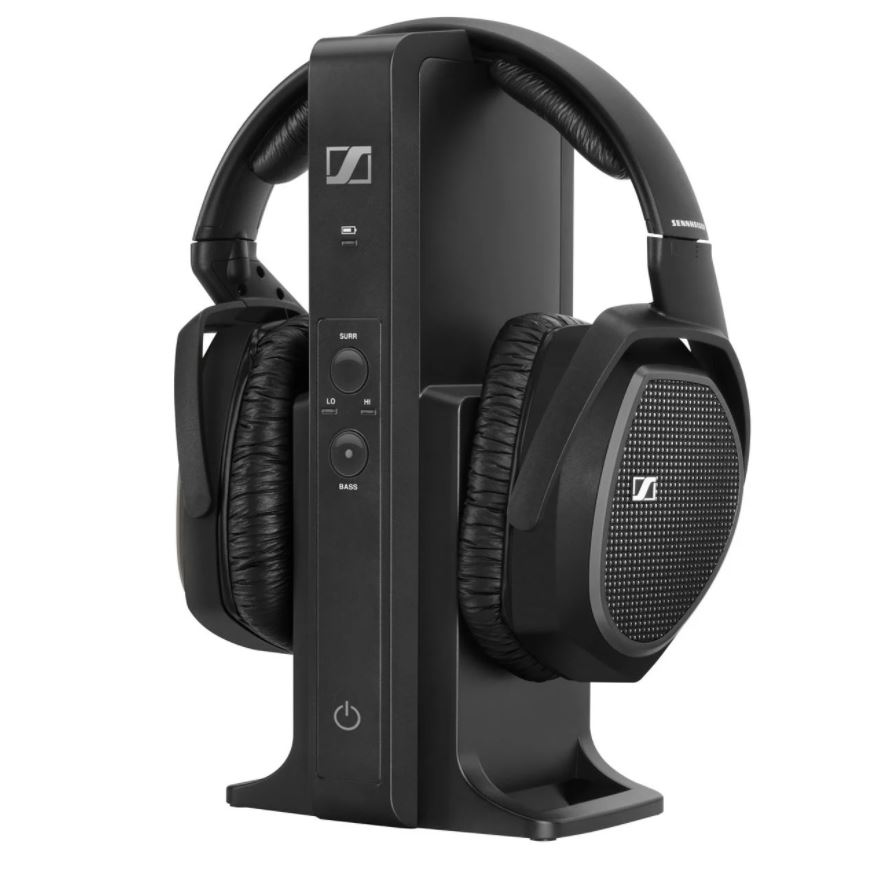 Price: $199.95
Sennheiser is a respected name in the field of audio equipment, from headphones to microphones. The Sennheiser RS 175-U wireless headphones are the result of a collaboration between Sennheiser and Fraunhofer Institute for Digital Media Technology (IDMT), which performs applied research in electroacoustics and audio engineering.
For the best experience, the RS 175-U comes with high-quality transducers that produce rich sound. It also allows you to adjust your settings and listening modes: you can choose from 7 sound profiles and left/right ear volume adjustments. The "music mode" offers the best preserved sound, while "speech mode" reduces background noise. Prolonged listening won't hurt your ears, thanks to the headphones' ergonomic design.
While it is possible to get sound from both the TV and the RS 175-U headphones at the same time, it's not quite as easy as TV Ears. To do so, you must have a set top box (e.g. a cable box, DVR, etc.) or a TV that allows the speakers and audio output jacks to work independently.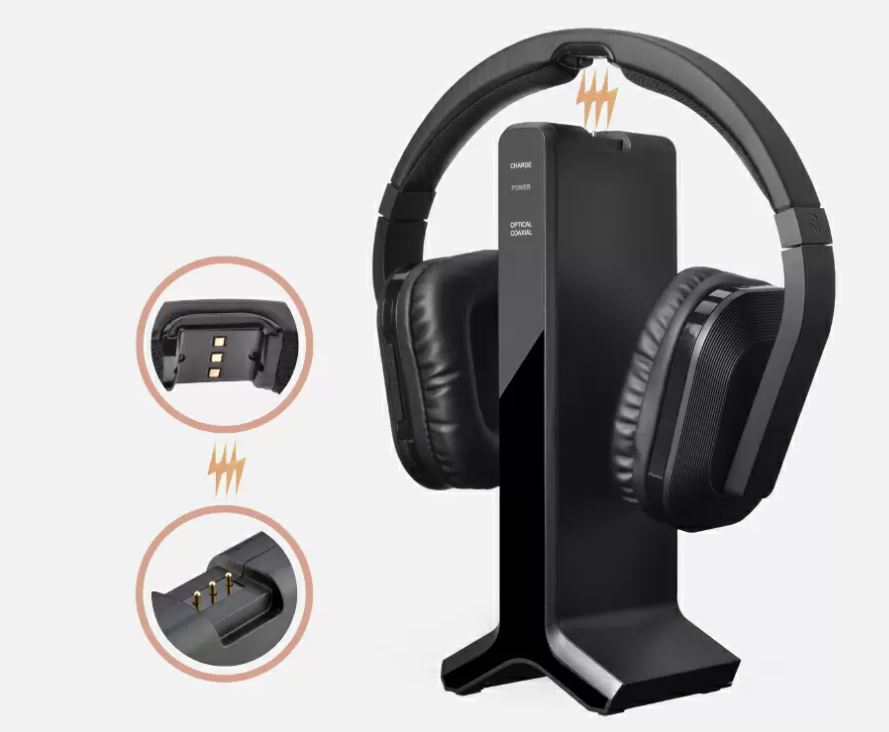 Price: $99.99
The Avantree HT280 wireless headphones are an excellent choice for the average user, but without compromising on quality. What makes the HT280 stand out is the high volume: the device allows for sounds up to 30 percent higher than other TV headphones alternatives.
The HT280's auto-connect feature lets anyone, even the most technologically illiterate, start using it quickly. It also allows for connections with computers and other devices through the RCA, AUX, and optical cables.
Other features of the HT280 include a 12-hour battery life, a listening range of 100 feet, and 2.4 GHz wireless technology.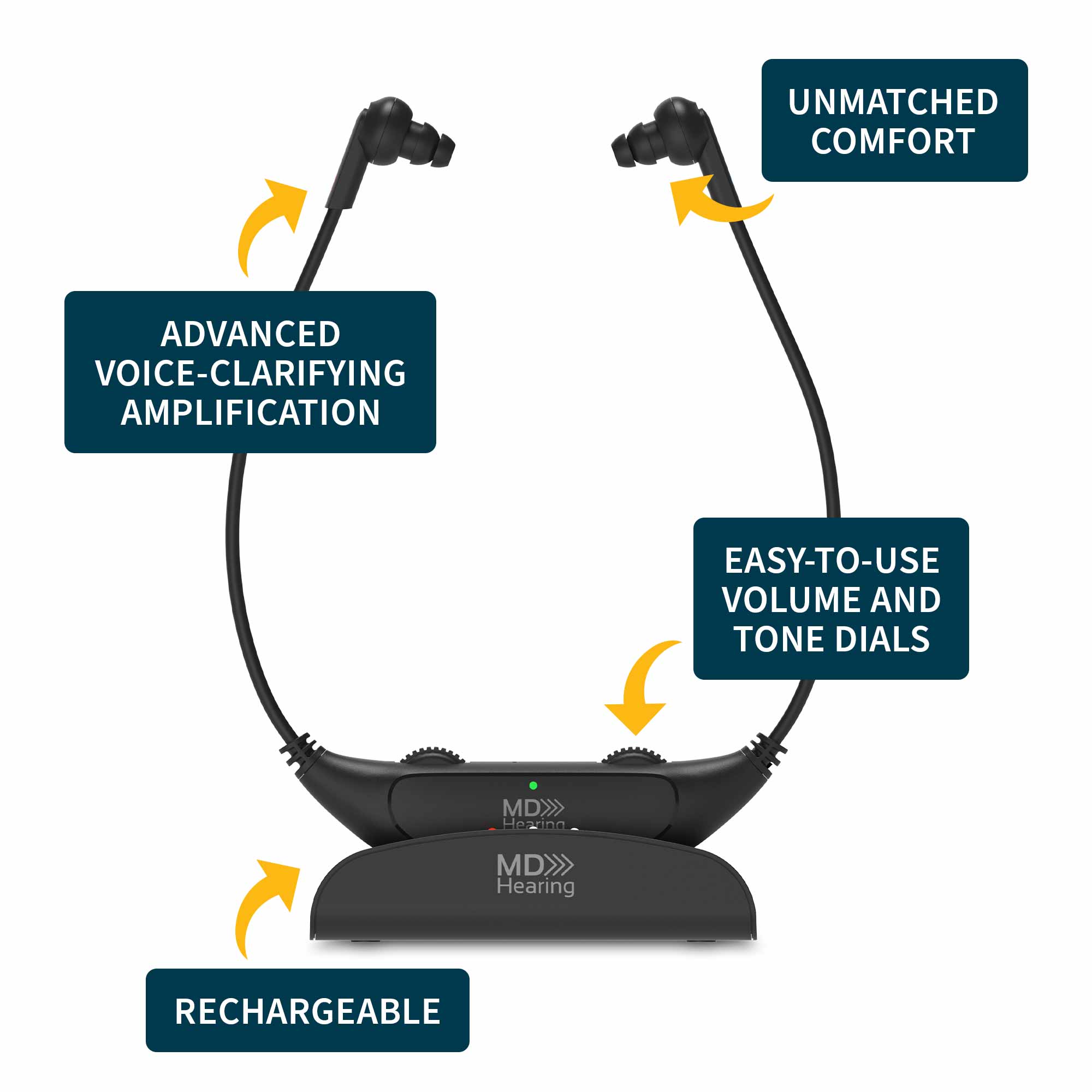 Price: $149.99
Unlike the other companies in this list, MDHearing is a hearing aid provider first. Founded by an ENT (ear, nose, throat) doctor and with more than a decade in business, MDHearing has helped more than 500,000 people with hearing loss regain their quality of life with its FDA-registered, affordable hearing aids.
Backed by a team of audiologists and hearing specialists, MDHearing has now brought its expertise to the field of wireless headphones for TV. Designed by doctors, MDHearing's QuietTV Wireless Headphones offer crisp, clear sound with advanced voice-enhancing amplification technology. The QuietTV device's volume can be set independently of the TV audio, giving you the ultimate power to customize your TV watching experience.
QuietTV uses wireless radio technology and is compatible with any TV with audio output. In addition, the QuietTV's rechargeable battery allows you to enjoy hours of TV watching without worrying about replacing the battery in the middle of a show or movie.
At just $149.99, QuietTV headphones offer competitive pricing with the other wireless headphones on this list. Deep discounts are available by purchasing a pair of QuietTV devices (for you and a loved one or friend) at just $199.99.
QuietTV has been designed to prioritize user-friendliness and comfort, with included audio cables and flexible earbuds that easily fit inside your ear. Users who need assistance can benefit from MDHearing's 45-day money-back guarantee and free U.S.-based lifetime support.
Wireless Headphones for TV FAQ
Q. Who are wireless TV headphones for?
A. Wireless TV headphones can be used by anybody who owns a television and needs to be considerate about the volume—gamers, parents with sleeping babies, students with noisy roommates. However, TV headphones are exceptionally useful for the elderly or hard of hearing who have problems understanding their favorite shows and movies.
Wireless headphones allow you to watch your TV programs and movies at a louder volume without increasing the volume on your TV speakers. In addition, because wireless headphones transmit sound with technologies such as Bluetooth or radio (instead of connecting with a wire), you can watch from anywhere in the room.
Q. Can I get sound from the headset and TV at the same time?
A. Hearing impairments should not isolate you from spending time with the people you love. However, you and your friends and family may prefer different TV volumes from the headphones and TV speakers.
The good news is that wireless headsets allow sound transmission from both the headset and the TV. While you control your headset volume, other people can listen to the TV sound at a comfortable volume. However, some devices are easier to set up than others, so make sure to do your homework when buying wireless headphones.
Q. What do I do when the headset sound is slightly behind that of the TV?
A. The sound from your wireless headphones may sometimes be slightly behind the TV sound. The cause of the latency may depend on the technology used to transmit the signal:
If you are using

infrared

technology, try removing any obstacles between the devices.

With Bluetooth

, you can try connecting the headset to components such as the DVD player, instead of directly to the TV.
Q. What do I do when my wireless headphones suddenly stop working?
A. Your wireless headphones can, at times, experience internal glitches causing them to stop working. Try disconnecting the transmitter and then removing the batteries. Let the device sit for about 15 minutes, then reconnect and set it up again. If this doesn't work, contact customer support.
Conclusion
When selecting the best wireless headphones for TV, there are multiple factors to consider. Think about the following details (and evaluate which ones are most important to you) before making your final decision:
Support for your TV type

Wireless technology (infrared, Bluetooth, radio, etc.)

Range

Sound quality

Comfort

Advanced features

Battery life

Price

Warranty

Customer support
Many people who use wireless headphones for TV also find that they can benefit from wearing hearing aids in daily life. Are you wondering if hearing aids could be right for you? We encourage you to take our free online hearing test, designed by professional audio engineers, and get your personalized results in just 8 minutes. You can also schedule an appointment at a hearing clinic near you.
Here at MDHearing, we're proud to offer high-quality, FDA-registered, affordable hearing aids. We've helped restore the quality of life for more than 500,000 people with hearing loss—all at a price point that's significantly less than the other top hearing aid brands.
Ready to see why thousands of happy customers have given MDHearing top marks? We're here to help.
Interested in starting a risk-free trial with MDHearing?
BROWSE TV HEADPHONES BROWSE HEARING AIDS