Costco is famous for its sealed concrete flooring, bargain-basement prices, and 64 oz. jars of jelly beans. However, the discount retailer also sells hearing aids. In fact, Costco sells 11% of all hearing aids in the United States, making it the second-largest provider of hearing aids—just after the Department of Veterans Affairs.
With prices ranging from $1,400 to $3,200 a pair, Costco hearing aids are certainly less expensive than the ones you'll buy in a traditional hearing aid clinic (which average $4,600 a pair). But several questions remain: Are Costco hearing aids any good? How does Costco compare to other hearing aid providers? And, is there a more affordable alternative?
To answer these questions, we've collaborated with hearing aid engineers and audiologists to create the best resource for Costco hearing aid information on the internet. After reading this guide, you'll have all the facts you need to evaluate whether Costco hearing aids are the right match for your budget and needs.
Please use the following links to navigate this guide:
Costco's Hearing Screening and Clinic Services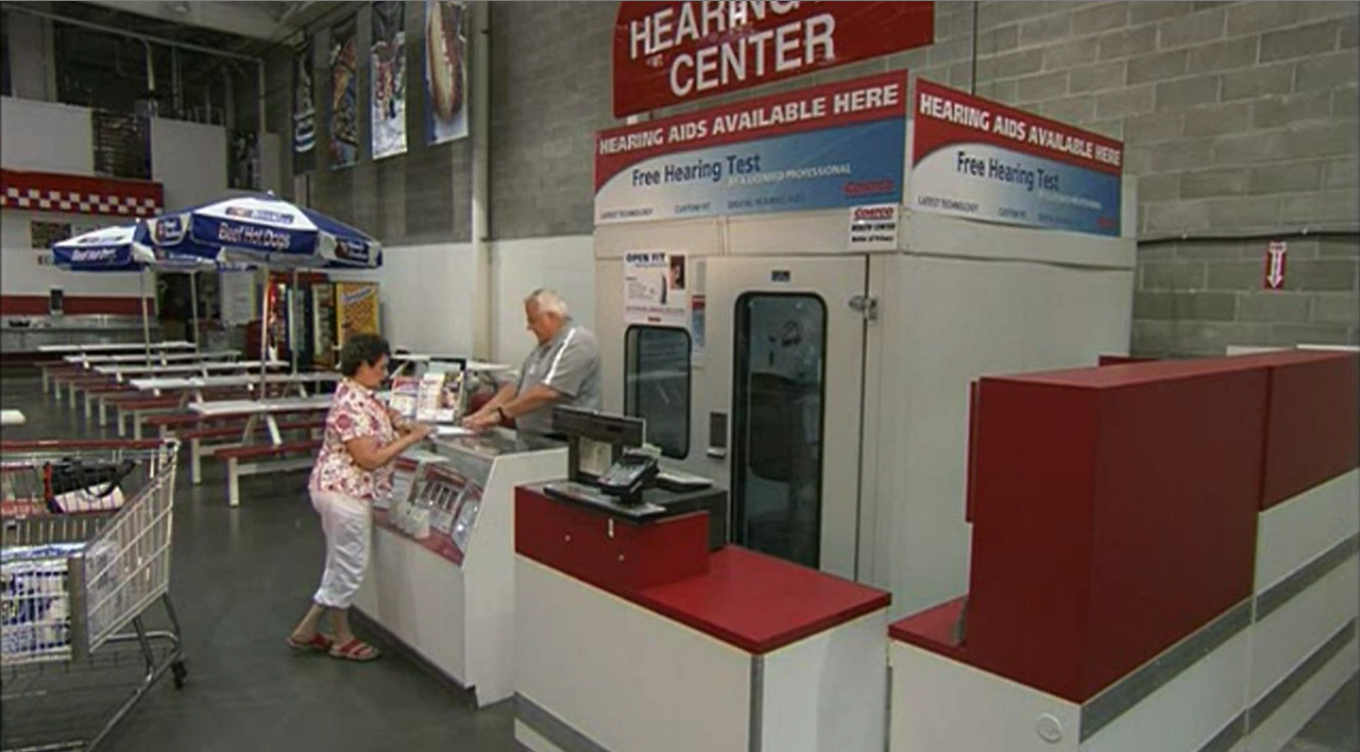 Costco hearing centers offer free hearing screenings to all Costco members. Although the facilities are set against a backdrop of cinder blocks, don't be fooled by the spartan appearance. Costco gets the job done. They provide medical-grade, professional hearing tests to reveal the extent of your hearing loss. Best of all, you can finish up your grocery shopping after the test is done.
Costco hearing aid centers have trained hearing specialists to guide you through the hearing test. These employees offer treatment recommendations, suggest hearing aids, and fit/adjust hearing aids according to your preference and needs. In some Costco locations, an audiologist is available, but usually only a hearing specialist will be present.
It's important to remember that many Costco locations don't have a hearing center. To find the hearing center nearest to your location, look up your city on the Costco website by clicking on this link. Enter the name of your city, check the "Hearing Aids" box, and click "search."
Here's what we found in the Chicago area: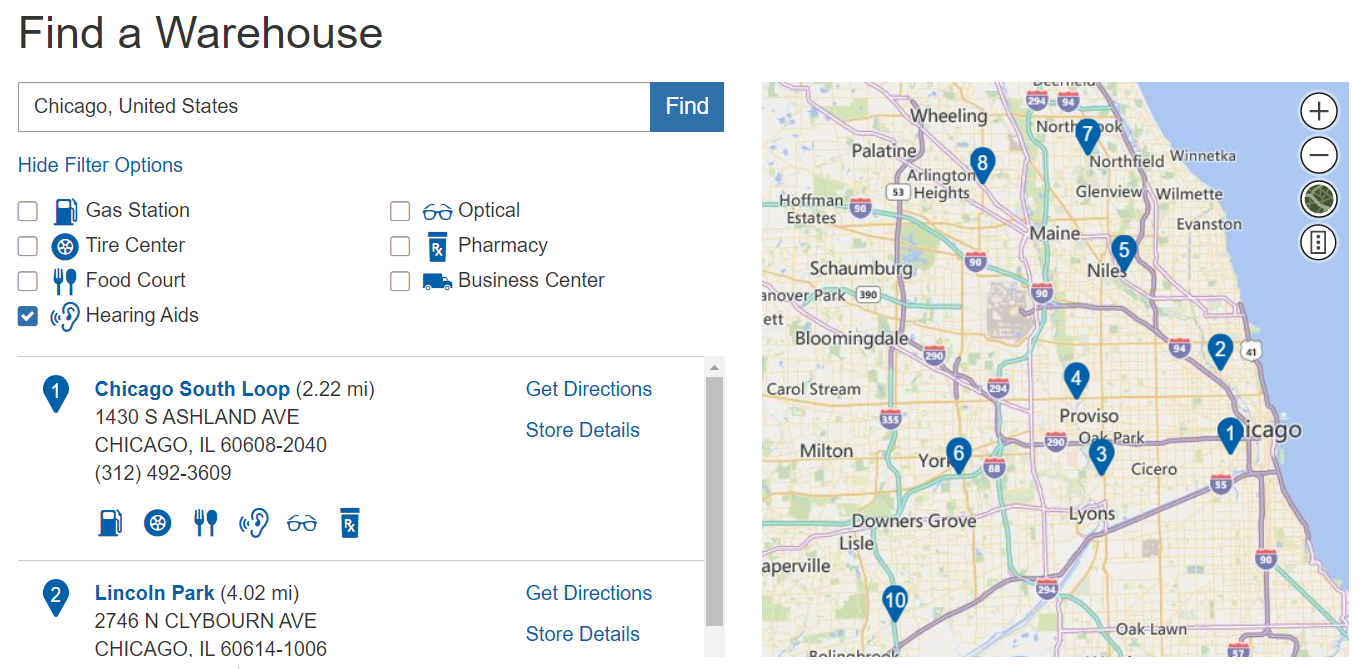 Finally, patients who buy Costco hearing aids also benefit from free follow-up appointments, regular check-ups, and hearing aid cleanings as needed. Costco hearing aid purchases also include loss and damage coverage, a 90-day trial period, and a warranty period that varies depending on the hearing aid.
Please note that the hearing screenings and other hearing aid services at Costco are not exactly "free." They're only available to Costco members. If you don't have a membership, you'll have to pay $60 for an annual membership. However, if you want to test your hearing for free right now via the internet (without paying a fee), click this link to try MDHearing's free online hearing test. It only takes 8 minutes, and you'll receive detailed results immediately. We also recommend this free telephone-based hearing test that offers clinically proven accuracy.
Money-saving tip: There's absolutely no obligation to buy a hearing aid after getting a Costco hearing test. That means you can use your free Costco test results to buy a more affordable hearing aid somewhere else. For example, MDHearing can use your Costco hearing test results to custom-tune the MDHearing VOLT MAX to your unique hearing loss profile (saving you nearly $700 in the process).
Comparing Costco Hearing Aids to Other Options
Depending on whether you go to a traditional hearing clinic, Costco, or purchase direct-to-consumer hearing aids via the internet, the prices and shopping experience vary dramatically. Here's how each of these options compare:
Traditional Hearing Clinic
Cost: Consumers who buy hearing aids from a traditional hearing aid clinic or audiologist will pay approximately $4,600 a pair (U.S. national average). Costs may go much higher, even exceeding $8,000 per ear if you select a top-of-the-line model with all the bells and whistles. Meanwhile, bargain shoppers might be able to purchase an entry-level hearing aid for $2,500 a pair at a hearing clinic.
Process: The process of buying hearing aids at a hearing clinic requires an in-person hearing test, consultations, fittings, and adjustments. Many hearing aid clinics try to upsell their customers by convincing them that they need the newest, most expensive hearing aid model available (even when a more affordable model will suffice). Don't be fooled into paying more than you need when visiting a hearing clinic!
Costco Hearing Centers
Cost: A set of Costco's Kirkland Signature hearing aids costs $1,399.99 a pair. Costco has other options from name-brand hearing aid manufacturers that cost anywhere from $3,000 to $4,000 and up per ear (prices may vary).
Process: At Costco, you'll complete an in-person hearing test that takes about 20 minutes. Then you'll receive a consultation. If you need a hearing aid, the Costco hearing specialist will recommend an appropriate hearing aid. Costco hearing specialists won't try to upsell you. They're generally happy to recommend the most affordable hearing aid you need.
Direct-to-Consumer Hearing Aids
What are they? You can order direct-to-consumer hearing aids by phone or over the internet and they are shipped directly to your home. MDHearing is a direct-to-consumer hearing aid manufacturer that has pioneered the selling of high-quality, affordable hearing aids directly to consumers for over a decade. All MDHearing products are FDA-registered, and they offer world-class, highly effective hearing loss treatment.
Cost: A set of MDHearing's best-selling hearing aids costs $299.98 a pair. MDHearing sells other models with more advanced features, such as rechargeable batteries, directional microphones, smartphone app connectivity, and remote support services that allow MDHearing staff to adjust your hearing aids over the internet. MDHearing's more advanced models are priced from $299.98 to $699.98 a pair.
Process: Customers order direct-to-consumer hearing aids online or by phone and receive them in several days. MDHearing VOLT MAX customers can check their hearing using the MDHearing app, and then the hearing aids automatically tune themselves based on the hearing check results. Other models offer pre-programmed settings that fit approximately 94% of individuals with hearing loss.
| | Cost per Pair | Steps to Buy |
| --- | --- | --- |
| Traditional Hearing Aid Provider | $4,600 avg | In-person hearing test followed by recommendations from an audiologist or hearing aid specialist |
| Costco Hearing Aids | $1,399.99 | In-person hearing test followed by recommendations from an audiologist or Costco hearing aid specialist |
| MDHearing.com | $299.98 | Order online or over the phone and receive hearing aids in a few days. Choose one of the pre-programmed hearing aid settings that fit the vast majority of hearing loss profiles. With the MDHearing VOLT MAX, take the MDHearing app hearing check and the hearing aids will automatically adjust themselves according to your results. Alternatively, send your professional hearing test results to MDHearing, and their team of hearing aid specialists will remotely custom-tune your VOLT MAX hearing aids according to the audiogram. |
Popular Costco Hearing Aids (with Customer Reviews)
Costco offers a variety of quality hearing aids. The most affordable ones are labeled under Costco's Kirkland Signature brand. Others are from Philips, Rexton, Phonak, and GN ReSound. In many cases, these brands have created less expensive models—with fewer bells and whistles—exclusively for Costco.
As we like to say at MDHearing, the bells and whistles aren't always worth the high price tags when it comes to hearing aids. In most cases, hearing loss patients only need a medically viable product that effectively treats mild to moderate hearing loss. This is exactly what Costco provides at a more affordable price.
Money-saving tip: MDHearing sells quality, affordable hearing aids that effectively treat mild to moderately-severe hearing loss—and they're a lot less expensive than Costco.
Let's look at the most popular hearing aids that Costco offers:
Kirkland Signature 10.0