Eargo is a direct-to-consumer hearing aid manufacturer that shipped its first hearing aids in 2015. Although it's a newcomer to the hearing aid industry, Eargo has already established itself as an innovator of tiny hearing aid tech.
The ear, nose, and throat surgeon who founded Eargo – Florent Michel – launched the company with the goal of developing discreet, functional, rechargeable hearing aids that consumers can purchase over the internet without visiting a clinic.
Eargo also claims to be affordable, but with prices ranging from $1,850 to $2,950 per pair, these hearing aids are far from "inexpensive" and more in line with the prices you'll find when visiting an audiologist for custom-fitted hearing aids.
So the question is:
Is the high price of Eargo hearing aids worth it when more affordable, high-quality alternatives are available?
In this guide, we'll look at Eargo hearing aid technology and styles – and some telling customer reviews – to provide a complete picture of this hearing aid brand. Finally, we'll compare Eargo to its primary direct-to-consumer competitor, MDHearing.
Please use the following links to navigate this guide:
Eargo Design and Technology Features
Eargo's approach toward hearing aid technology centers around "discreetness." All three of the brand's models (the Neo HiFi, Neo, and Max) are invisible in-the-ear designs:

Three features stand out about Eargo visually:
Black in Color:

Eargos are black in color to mimic the natural shadow of the ear canal. This makes Eargos less noticeable.

"Fishing Lure" Design:

Eargo designers used the look of a fishing lure for inspiration. The most noticeable feature is the "prickly" silicone ear insert, which Eargo calls either "Flexi Fibers" or "Flexi Palms" depending on the device style. This design suspends the hearing aid in the center of the ear canal without forming an airtight seal – which lets the ears breathe and helps prevent your own voice from sounding strange as you speak.

Pull-Cord for Removal: You'll also notice a clear pull-cord for easy removal of the device from your ear.
These physical design elements not only make Eargo look unique compared to invisible-in-the-ear models from other brands, but they are well-thought-out improvements that (1) make the hearing aid less visible, (2) reduce the problem of own-voice distortion; and (3) make the hearing aid easier to remove.
Eargo Sound Amplification Profiles:
Eargo takes a simplistic, one-size-fits-all approach to sound amplification. You cannot fine-tune Eargo hearing aids beyond making simple adjustments to bass and treble. You cannot customize Eargo program settings to fit your unique hearing loss profile.
Instead of allowing you to customize your hearing aid settings, Eargos come with four preset "sound amplification programs" to choose from. These amplification programs are really just volume control, i.e., each one turns up the volume a little bit more. Once you decide which volume settings you plan to use, you can delete the programs you're not using.
In the place of your deleted amplification programs, Eargo support can remotely install several alternative sound profiles. These include:
Feedback reduction setting:

This setting reduces the problem of high-pitched squealing noises. Eargo's method for feedback reduction could reduce the amount of sound amplification the hearing aid provides.

Flat response setting:

Flat response amplification in hearing aids typically amplifies all sound frequencies equally.

Background noise reduction setting:

This helps reduce background noise to focus on voice sounds in noisy environments.

Mute setting:

This turns the hearing aid amplification off.
Cycling through the sound amplification profiles while using your hearing aids requires you to tap the side of your ear. While this might sound convenient, smacking the side of your ear each time you want to change a setting can be tiresome for some users.
Due to their limited customization capabilities, Eargo hearing aids are only suitable for people with mild to severe hearing loss. Eargo hearing aids are not suitable for those with profound hearing loss.
Eargo Smartphone App:
Eargo hearing aids come with a smartphone app that offers access to frequently asked questions, how-to videos, user guides, and a store to purchase Eargo products, parts, and accessories. The app also lets you remove up to three of the four sound amplification profiles from your hearing aids, so you have fewer profiles to cycle through when using the hearing aids. Finally, you can call Eargo customer support from inside the app and ask them to help you make remote adjustments to your hearing aids.
Unfortunately, Eargo customer support cannot make fine-tuning adjustments based on your unique hearing loss profile. They can simply help you by replacing some of your deleted sound profiles with the alternative profiles listed in the last section.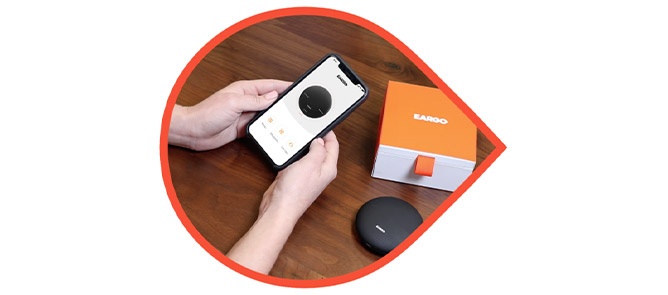 Compared to hearing aid apps from other brands, there are some common features that the Eargo app is lacking:
You

cannot

connect to the app while the hearing aids are in your ears. The app only connects to the hearing aids when they're in the charging station.

You

cannot

use the app to make settings changes while wearing and using the hearing aids.

You cannot stream sounds from your phone or from any other device into Eargo hearing aids.
Eargo Rechargeable Batteries:
All Eargo hearing aid models are rechargeable. According to the Eargo website, a single battery charge lasts approximately 16 hours. Also, Eargo hearing aids come with a portable charging case, which can provide life to your hearing aids for up to five days. Finally, the Eargo Neo models have a "quick-charge" feature, which gives users approximately 2 to 3 hours of use after charging the hearing aids for just 30 minutes.
Eargo Models and Pricing
Eargo features three models for sale on its website. All three models are "invisible-in-the-ear" hearing aids, which means they insert completely in the ear canal. As a direct-to-consumer brand, users order these hearing aids over the internet, and they don't have to visit an audiologist or hearing clinic to do so.
Here is an overview of each model:
Eargo Max: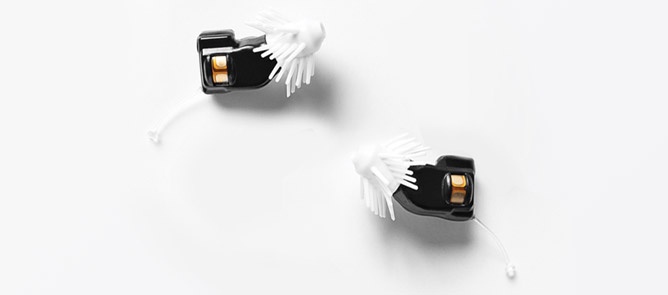 The Max is Eargo's entry-model hearing aid. According to Eargo, the Max includes "advanced sound quality and noise reduction for more gain and volume." Eargo also says that these hearing aids "amplify speech while reducing background noise, making it easier and more comfortable to hear in noisy settings."
Due to the rougher angles of this base-level Eargo model, the battery charging points are more susceptible to getting clogged up with earwax. Careful and regular cleaning is important to keep the battery connection points operational.
The Max features silicon "Flexi Fibers" to fix the hearing aid in your ear while still allowing base sounds and own-voice sounds to enter. Flexi Fibers are not as comfortable as the "Flexi Palms" that appear in the Neo models. It also includes four "sound profiles," which are really just volume settings that adjust the volume to four different levels.
The Eargo Max sells for $1,850.00 per pair.
Eargo Neo: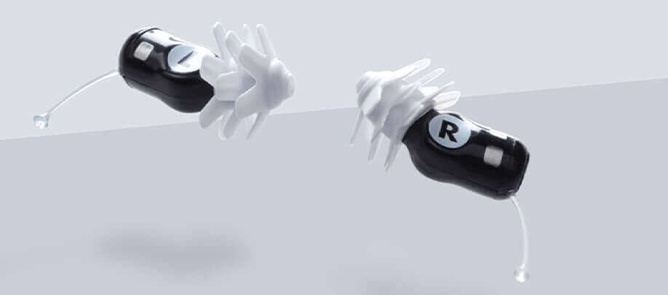 The Eargo Neo is the next level up from the Max in terms of technology. According to the manufacturer, the "Eargo Neo features better noise reduction, better feedback cancellation, and more added stable gain." Like the Max, the Neo includes four different "sound profiles," which are really just volume adjustments that amplify the volume to four different levels.
The Neo has a smoother finish, which means it's easier to clean and there's less chance of earwax build-up interfering with the battery contacts. The Neo also uses silicon "Flexi Palms" to stabilize the hearing aid in your ear more comfortably than the previous "Flexi Fiber" design. Like the Flexi Fibers, Flexi Palms don't form an airtight seal, so base sounds and own-voice sounds can still enter your ears.
The Eargo Neo sells for $2,350 per pair.
Eargo Neo HiFi: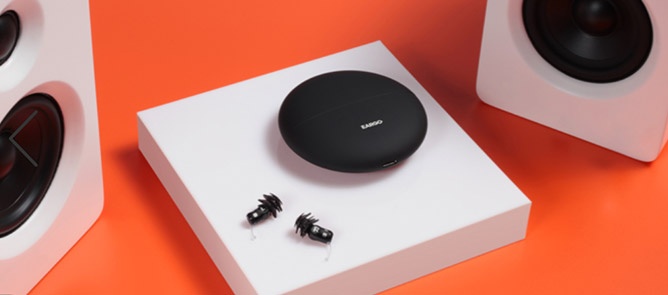 The Eargo Neo HiFi is the most advanced hearing aid that Eargo sells in terms of sound technology. According to the manufacturer, the Eargo Neo HiFi offers "surround sound" listening experience to "please even the pickiest of audiophiles."
Eargo claims that the Neo HiFi includes its best noise reduction and feedback cancellation tech, along with additional stable gain. The HiFi has the same smooth-finish body design as the Eargo Neo, which makes it easier to clean to prevent earwax buildup from affecting the rechargeable battery contacts. The HiFi also uses "Flexi Palms," which are more comfortable in the ear than "Flexi Fibers," while still allowing base and own-voice sounds to enter.
The Eargo Neo HiFi sells for $2,950 per pair.
Eargo Customer Reviews
We scoured the web to learn how real Eargo customers feel about Eargo hearing aids. Here are some of the most telling customer experiences we found:
Critical User Reviews
I've had my Eargo hearing aids for over a year. Worked great early on, but they started losing the ability to hold a charge. Went from the initial 16 hours to a current level of 11 hours. Now despite following all the maintenance guidelines, I can't get them to charge at all. Lights just keep sequencing. Very frustrating, since I really need them. I have significant hearing loss due to chemotherapy for lymphoma." – Reviewer on Facebook
I like the Eargos but I was put off by the cost. It was not a great time for us to be entering into something like this but we'll probably be committed to seeing it through, as far as the payment schedule. That goes on for some time. As far as the devices themselves, I'm not totally sold that they're anything more than amplifiers... It's more targeted to people with high-frequency loss and I think that's primarily what mine is, from the ones I had before. That's what we were working on correcting with the audiologist...

In terms of the four different levels, two seemed to be a pretty good fit. But I felt like I continued to have problems. It's not so much being loud enough but it's like it's not altogether clear that I'm having problems still with understanding what someone said. Ladies' voices on TV dialogue will seem really overly loud. Then with the men's, I still can't quite distinguish what they're saying as well as I'd like..." –Ken on ConsumerAffairs (Read the full review here)
Positive User Reviews
Although my brain was adjusting to my hearing loss and I wasn't that aware of it, it was annoying to everyone around me. Now that I've gotten the Eargo devices, an amazing amount of sound is back and it has been exciting to hear it. My first episode was when I was putting the hearing aids in, adjusting them, studying my manual, and going over everything. Then I walked outside and there was this huge oak tree in my front yard. For a second, at the top of the tree, the wind was rustling the leaves and I could hear it clearly. It was amazing because I hadn't noticed it before I used Eargo. It was one of those, "Aha," moments and it was really cool…

Overall, Eargo has been giving me excellent service. My wife has also commended the follow-up. Their attention to customer service has been very impressive. Good quality service is very hard to find these days. And I really appreciate the way that they operate and the quality of their product. I would recommend Eargo. I'm pleased with the product and it has been very good for me." – Ed on ConsumerAffairs (Read the full review here)
I had seen advertisements online for Eargo and the award that they had won … When the time became right for me to monetarily afford them, I bought them and I'm extremely happy. I've noticed the big difference in my hearing. I went with the Eargo Neo for a couple of reasons. I'm retired military so they gave me a discount. That was very nice. And I thought it would probably be in my best interest to get whatever is the newest model if I'm gonna spend the money." – Sheldon on ConsumerAffairs (Read the full review here)
An Affordable Eargo Alternative: MDHearing
Because MDHearing is a fellow direct-to-consumer hearing aid brand – as well as the leading competitor of Eargo – the MDHearing team was particularly interested in seeing how Eargo and MDHearing compare.
Similarities of Eargo vs. MDHearing:
Here's what Eargo and MDHearing have in common:
FDA-Registered:

Both MDHearing and Eargo are FDA-registered hearing aids, which means they are medical-grade hearing aids designed to effectively treat hearing loss conditions.

No Office Visit Required:

Both hearing aid brands empower hearing loss patients to treat their hearing loss conditions without visiting an audiologist or hearing clinic. Both manufacturers allow you to order hearing aids from home over the internet and set them up with assistance from a phone-based hearing aid specialist.

Smartphone App Compatible: Both manufacturers sell hearing aid models with smartphone app features.
Differences Between Eargo vs. MDHearing:
Here's what we found makes MDHearing and Eargo different:
Fine-Tuning and Customization Capabilities:
Eargo hearing aids only feature four preset volume level settings and the ability to adjust bass and treble. These generic programs mean that Eargo users cannot customize the hearing aids to their unique needs. This is a low-tech approach to hearing loss treatment compared to the customization features available in the MDHearing VOLT MAX.
The MDHearing VOLT MAX includes advanced fine-tuning and customization features, so hearing aid users can tweak their hearing aids to fit their specific hearing loss needs. The MDHearing smartphone app that comes with the VOLT MAX also includes a hearing check. Users can check their hearing and precisely adjust their hearing aids to reflect the result.
MDHearing users can even send their professional hearing tests, and the results of their in-app tests, to one of MDHearing's professionals, who will adjust their hearing aids remotely. You don't have to leave your home to custom-adjust the MDHearing VOLT MAX to your exact hearing loss profile. In this respect, the MDHearing VOLT MAX empowers users to accurately treat their hearing loss conditions. This is not something that Eargo hearing aids can do.
Volume Control:
Eargo hearing aids do not give users the ability to adjust the volume more precisely than four preset volume levels. In our opinion, this is a weakness of Eargo. If you're in a noisy restaurant, you might want to lower the volume more than the presets allow. If the volume is still too loud, your only option is to remove the hearing aids and put them in your pocket. The same is true if you are starting to feel fatigued at the end of the day, and would like conversations to be a little louder; you just can't do it.
All MDHearing products give you complete control to adjust volume to the precise levels that suit you. Changing volume throughout the day depending on the situation and need is easy with MDHearing.
In-the-Ear vs. Behind-the-Ear:
All Eargo models are "in-the-ear" hearing aids, so the entire hearing aid goes into your ear canal. This is great for the "invisibility" factor, but it exposes Eargo hearing aids – including their sensitive microphone ports and battery charging points – to earwax and moisture. As a result, Eargos require thorough and regular cleaning to keep them working properly. You will also have to send them in for service when the microphone ports get plugged with wax.
All MDHearing models are "behind-the-ear" hearing aids, so the receiver and digital components rest safely behind the ear where they aren't exposed to any destructive earwax or moisture. Even if the clear, thin tubing gets plugged with wax, it's easy to clean or replace. In fact, replacement tubing, tips, and other MDHearing accessories are inexpensive, and you don't need to pay a technician to fix them.
Smartphone App Adjustments:
Eargo models rely on an "ear tap" feature to cycle through its pre-set volume levels while you're wearing them. The Eargo smartphone app does NOT allow you to change settings while you're wearing and using your hearing aids. To access your Eargo hearing aids with the smartphone app, you have to physically insert the hearing aids into the charging station. There is no direct communication between Eargo hearing aids and the app; it all happens through the charging station.
In comparison, the MDHearing VOLT MAX features a smartphone app that allows you to connect directly to the hearing aids and change their settings while you're wearing and using them. In this respect, the VOLT MAX lets you change settings "on the fly" from within the app.
In addition, the VOLT MAX and all other MDHearing models have buttons on the hearing aid so you can easily adjust the volume and cycle through different listening environments on the go to suit the widest variety of sound conditions.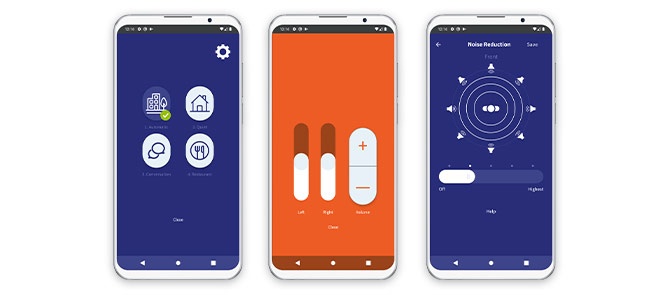 Price:
This last category is a big one. Eargo hearing aids range in price from $1,850 to $2,950 a pair. This is the same price range as going to some hearing clinics buying a pair of custom-fitted hearing aids – fit to your exact hearing loss profile. Perhaps the "tiny tech" and "invisibility" of Eargo is a selling point for many hearing loss patients. However, it's important to consider the reason you're buying hearing aids in the first place: You want the best treatment for your hearing loss possible!
With MDHearing, you pay dramatically less money, yet you receive more specific hearing loss treatment, precise and customizable volume control, and on-the-go sound environment and microphone directionality adjustments. Even better, the MDHearing's models start at just $299 per pair. MDHearing's highest-tech model – the VOLT MAX – is also inexpensive, priced at less than $1,000 pair. Moreover, the VOLT MAX offers advanced fine-tuning capabilities so you can adjust it to your exact hearing loss situation based on professional hearing test results if you have them.
The MDHearing VOLT MAX offers medical-grade hearing loss treatment for your specific hearing loss profile – which Eargo cannot do. Moreover, the VOLT MAX is thousands of dollars less expensive than Eargo.
Final Thoughts on Eargo and MDHearing
By now you should have a clear understanding of the Eargo hearing aid brand and what they offer in terms of style and technology. You should also have an idea for how Eargo and MDHearing compare.
If it were up to us, you know which hearing aid brand we think you should choose! But you don't have to take our word for it. Both Eargo and MDHearing come with a 100% money-back satisfaction guarantee. So why not order a pair of each? You can decide which is better for your needs and send back the other pair for a complete refund.
Interested in starting a risk-free trial with MDHearing?
BROWSE HEARING AIDS