Over 4 million coronavirus cases have been documented in the United States, and some claim the real numbers are 10 times higher. To make matters worse, the U.S. Centers for Disease Control and Prevention says that coronavirus could become a leading cause of death in our country.
While opinions about COVID-19 differ from person to person, everyone agrees that the quarantines have negatively impacted our lives and prevented us from getting the non-emergency services we need – like hearing care and hearing aid services. In fact, many hearing clinics have shut their doors entirely.
Even if you can find an open hearing clinic, going there could expose you to the virus, so how are you supposed to get the quality hearing aids you need? In this article, we'll answer your questions about buying medical-grade hearing aids online during the COVID-19 pandemic.
Use these links to read the sections that interest you most:
Why Are Hearing Clinics Risky During COVID-19 and How Can You Stay Safe While Visiting One?
A hearing clinic is a public space where you'll encounter other patients and audiology staff. During the COVID-19 pandemic, this elevates your risk of contracting the virus. To make matters worse, most hearing loss patients are over the age of 60 – and you might be too – so they are more at risk of suffering from life-threatening coronavirus complications.
Aside from the time you'll spend in the waiting room around other people, hearing clinics also have small, sound-proof chambers where patients sit for hearing tests and use shared headphones and other equipment. Even when there isn't a pandemic, these booths must have good ventilation systems and clinic staff need to sanitize shared surfaces after each use. During COVID-19, many clinics use disposable ear covers for headphones and have patients raise their hands instead of pressing a button for hearing test signaling.
If you must go to a hearing clinic during COVID-19, here some tips to stay safe:
Avoid person-to-person contact:

Experts agree that coronavirus spreads through person-to-person contact. At a hearing clinic, you'll be in contact with other patients in the waiting room and with audiology staff when they examine you and test your hearing. If there is a wait for services, ask the front desk if you can sit in your car until they are ready for your appointment.

Avoid droplets, aerosols, and airborne transmissions:

When people cough, sneeze, talk, and breathe, they release small droplets and aerosols into the air. This transports the virus into your nose, mouth, and lungs if you share space with them. Research indicates that COVID-19 can survive for up to three hours in the air. Exposing yourself to a confined space where other people have been – like a waiting room or soundproof examination chamber at a hearing clinic – could be dangerous. During a hearing evaluation, ask the audiologist to place sanitary covers over the earphones. Instead of pressing buttons during the test, ask to raise your hand for signaling.

Try not to touch shared surfaces and don't touch your face with your hands:

If someone with coronavirus touches, coughs, or sneezes on a surface that you later touch, a COVID-19 transmission can occur up to three days after an infected person is close to the surface. This is worrisome at a hearing clinic where you'll use headphones, testing equipment, and make contact with doorknobs and countertops that other people have touched before you. Consider wearing gloves during your visit, avoid touching shared surfaces, don't touch your face with your hands, use alcohol-based cleansing gel, and wash your hands often.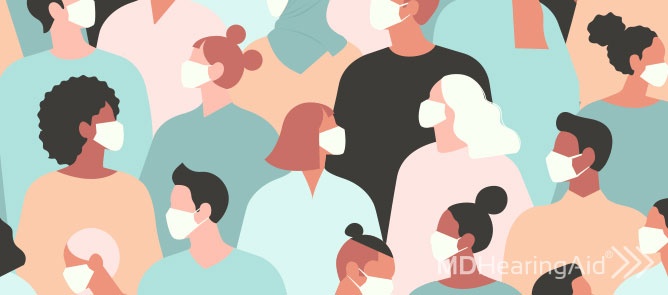 To keep their hearing patients safe from the virus, many U.S. hearing clinics have complied with the following recommendations from the Academy of Doctors of Audiology: "The only way to flatten the curve is to stop people from interacting in person and one way to cut down on person-to-person contact is to close the doors of non-essential businesses." Also, hearing clinics that remain open are required to adhere to special hygiene protocols during COVID-19. Failure to adhere to these guidelines could expose patients to the most common causes of virus transmission.
Aren't Hearing Clinics Necessary to Get Quality Hearing Aids?
The need for social distancing has been economically difficult for hearing clinics, but it doesn't have to be difficult for hearing loss patients – especially when you can bypass the hearing clinic and order quality, direct-to-consumer hearing aids online.
In fact, the hearing aid industry is changing. The FDA has recognized these changes and is in the process of introducing new legislation. When it goes into effect, this legislation will support direct-to-consumer hearing aid manufacturers in their efforts to provide affordable treatment options to hearing loss patients. As a result, the last decade has seen the emergence of a new class of high-quality, direct-to-consumer hearing aid manufacturers.
Some direct to consumer manufacturers – like MDHearing – sell FDA-registered, medical-grade hearing aids, and they send them directly to your door without a single appointment at a clinic.
The hearing aids from MDHearing can assist 94% of hearing loss patients right out of the box. That's because our hearing aids were designed and tested by doctors and audiologists to ensure they assist patients with mild to moderately-severe hearing loss. According to statistics published in The American Journal of Public Health, 94% of hearing loss patients fall under the mild to moderately-severe spectrum.
The manufacturers of quality, direct-to-consumer hearing aids are more important than ever during a pandemic. They allow you to receive your hearing aids without leaving your home while you're complying with social-distancing recommendations.
Do I Need to Get My Hearing Tested by an Audiologist?
We've mentioned in previous blog posts:
MDHearing and the U.S. FDA recommend that all people with suspected hearing loss see a physician, such as an ear, nose, and throat physician or an audiologist and get a hearing test prior to wearing hearing aids. This is a recommendation and it's not a requirement. So if you've had a hearing test in the past or you know you have hearing loss, you certainly can try an MDHearing product in your home to see if it's an adequate solution for your situation."
The pandemic forces us to add an important caveat to this recommendation: You should only visit a hearing clinic when it's safe to do so. During COVID-19, consider taking MDHearing's online hearing test instead of going to the clinic. This test is not a professional evaluation, but it will help to confirm whether MDHearing can assist you.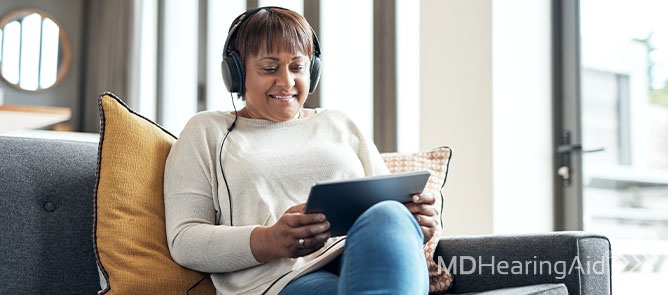 Even if you don't take our hearing test, MDHearings can safely assist 94% of hearing loss patients – and it's a lot safer than going to a hearing clinic.
Ordering by mail is safer during a pandemic: Since you can order MDHearings with or without taking a hearing test, it's a safe, effective alternative to visiting a clinic. The US Centers for Disease Control and Prevention also recommends ordering products by mail when possible at this time. According to the CDC, "Although the virus can survive for a short period on some surfaces, it is unlikely to be spread from domestic or international mail, products or packaging."
Finally, MDHearing's satisfaction guarantee means that you can try our hearing aids risk-free. If they're not the right match, return them to us for a full refund.
Are Custom-Adjustments Available When You Buy Hearing Aids Online?
Most patients assume that direct-to-consumer hearing aids cannot offer custom-fitted adjustments. However, the most advanced model in the MDHearing lineup – the MDHearing CORE – offers two types of custom-adjustments:
Automatic adjustments:

The CORE connects to the MDHearing app for additional features. Among these features is an automated air conduction hearing test that evaluates your unique hearing loss profile. This provides the MDHearing app with enough information to automatically adjust the settings of your CORE hearing aid to better fit your unique hearing needs.

Remote adjustments by MDHearing staff:

If you have the results of a professional hearing test, you can send them to MDHearing. Our staff will remotely tune your hearing aids to reflect your hearing loss test results.
Priced at just $999.99 per pair, the MDHearing CORE is far more affordable than what you'll find at most hearing clinics. Plus, its custom-adjustment features provide hearing care that reflects your unique hearing loss situation.
MDHearing: A Safe, Affordable, and Effective Way to Order Hearing Aids Online During COVID-19
If you've delayed getting hearing treatment because of the pandemic, MDHearing can help. Priced from just $399.99 to $999.99 a pair, our hearing aids are affordable for most budgets, they assist with 94% of hearing loss conditions, and you don't have to risk your health in order to get them!
Best of all, MDHearing products come with a 100% money-back satisfaction guarantee. If you're not satisfied, send them back to us during your 45-day trial period for a full refund.
Learn more about MDHearing and our line of affordable, high-quality hearing aids.
BROWSE MDHearing