Are you looking for affordable hearing aids online? The good news is that you have no shortage of options now that the U.S. Food and Drug Administration (FDA) has created a new category of over-the-counter (OTC) hearing aids. From rechargeable hearing aids to Bluetooth hearing aids, it's crucial to evaluate all the alternatives before buying hearing aids online. In particular, watch out for businesses that make bold or implausible claims about their hearing aid devices.
One company that has come under criticism for what many see as misleading and unethical business practices is Nano Hearing Aids. In a previous blog, we've written about the past controversies surrounding Nano, including a high volume of customer complaints and defective items.
In January 2023, the Vermont Attorney General's Office filed a lawsuit against Nano Hearing Aids for misleading consumers about its products. The lawsuit accuses Nano of "unfair and deceptive acts and practices relating to the marketing and sale of certain over-the-counter hearing devices."
So why is Vermont suing Nano Hearing Aids, and how will the Nano Hearing Aids lawsuit affect consumers looking to buy hearing aids online? We'll discuss everything you need to know in this article.
Is Nano Hearing Aids a Scam?
Nano Hearing Aids has received a great deal of negative publicity, regarding both the quality of its products and its customer service. As of writing, Nano Hearing Aid reviews on the Trustpilot website have an average of 2.2 out of 5 stars, indicating a "poor" user experience.
Trustpilot user Candice has provided a 1-star review of Nano Hearing Aids due to problems refunding the product:
One hearing aid did not work and the other made no improvement, so I tried to return for a refund. Called a number of times for an RMA (return merchandise authorization), but no one was there and no one returned any of my calls. Finally, after many rounds of emails, I got a RMA and returned the hearing aids. Waited a month but no refund or communication. Emailed and got a response that one was broken so they won't refund, but for another $79 they can repair and return it to me. An absolute waste of money and terrible service and hard-earned money down the drain."
Unfortunately, Candice's experience is far from unique. Problems with Nano's customer service have even received media attention. The WDAF-TV station in Kansas City, for example, ran a story about Dan Conninghton, a Nano customer who struggled for months to get a refund for his defective hearing aids. Conninghton was only able to get a full refund after WDAF-TV reporters contacted the company.
Evidence suggests that Nano has outsourced its customer service team to the Philippines and other countries. For example, positions for Nano Hearing Aids phone representatives have been posted on JobOceans, an online job board for the Philippines.
Nano Hearing Aids has been criticized not only for poor customer support, but also for product quality issues. Dr. Cliff Olson, audiologist and founder of Applied Hearing Solutions in Anthem, Arizona, has produced several videos about Nano on his YouTube channel Doctor Cliff, AuD, where he discusses various issues regarding hearing care and hearing aids.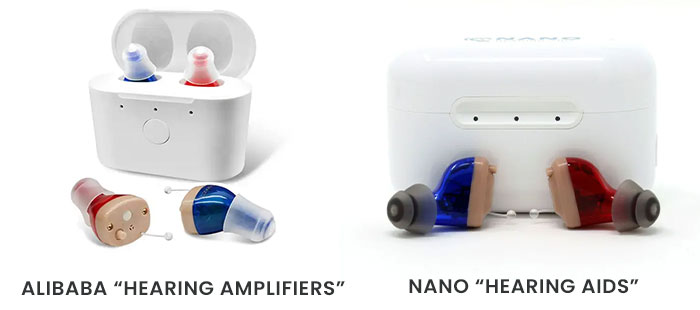 In his video "$400 Nano vs. $20 Alibaba Comparison," Dr. Olson compared the Nano CIC hearing aids to a much cheaper set of "hearing amplifiers" available on the Chinese e-commerce website Alibaba. Dr. Olson found that the two different products had nearly the same appearance, construction, and poor sound quality—"almost as if I was testing the exact same device."
The Nano Hearing Aids Lawsuit: What You Need to Know
After several years of customer complaints about Nano Hearing Aids, the state of Vermont is taking action. On January 3, 2023, the office of Vermont Attorney General Susanne Young announced that it had filed a lawsuit against Nano Hearing Aids for multiple deceptive business practices.
According to Young, Vermont's investigation showed that "Nano left consumers in the dark about the potential and serious health risks associated with their products." Vermont had the power to sue Nano because more than 800 people in Vermont have purchased Nano devices in transactions worth over $200,000.
In this section, we'll break down each of the Vermont lawsuit's allegations about Nano Hearing Aids.
Misleading sales and marketing
The lawsuit alleges that Nano markets its products as high-quality hearing aids when they are actually low-quality hearing aids or even PSAPs (personal sound amplification products). Importantly, PSAPs are not hearing aids. Whereas hearing aids are intended to help people with hearing loss by amplifying specific sounds, PSAPs are designed to amplify all sounds in a user's surroundings, like a megaphone inside your ear.
For example, Nano claims that its Model X2 product is "equivalent to any $5,000 hearing aid on the market." However, the lawsuit claims that the Model X2 is a PSAP rather than a hearing aid, because it lacks technologies such as directional microphones and noise-canceling technology.
The Vermont lawsuit against Nano Hearing Aids also mentions the website besthearingaidreviews.com. This site gives the impression that it's an independent entity offering hearing aid news, information, and reviews. However, Nano owns and uses this website to recommend its products without making the relationship clear to readers. In addition, the lawsuit claims this website is home to "patently fake content," such as an article by an audiologist with a patient whose hearing was dramatically improved by Nano products.
Finally, the Vermont Attorney General alleges that Nano is misleading consumers about the origin of its products. The Nano website claims that its devices are "designed in the USA." According to the lawsuit, however, Nano products are designed and manufactured in China using a business practice called private labeling, where manufacturers allow companies to resell products using their own branding.
OTC hearing aid violations
In August 2022, the U.S. Food and Drug Administration (FDA) announced that hearing aid manufacturers could sell their devices over-the-counter (OTC), without requiring buyers to get hearing exams or prescriptions. However, the FDA's regulations limited OTC hearing aids to those that treat "perceived mild to moderate hearing loss."
The Nano Hearing Aids website claims that its products can "eliminate all the unnecessary background noise at EVERY hearing loss level." This presumably includes not only mild to moderate hearing loss, but also severe hearing loss. Thus, by claiming that its OTC hearing aids can treat severe hearing loss, Nano is in violation of FDA guidelines.
FDA regulations also prevent the sale of OTC hearing aids to consumers under the age of 18. However, the Nano Hearing Aids website contains multiple articles that explicitly recommend Nano products to minors, such as "Teen Hearing Aids: What Are the Best Hearing Aids for Teens?".
Deceptive online hearing test
Users can take an "online hearing test" on the Nano Hearing Aids website that supposedly assesses their level of hearing loss. Nano claims that this is an "accurate hearing test" that "works as a free audiologist consultation."
According to the Vermont lawsuit, however, the Nano hearing test is deceptive for consumers. First, the test results always claim that users should purchase Nano's most expensive product, the Nano Sigma, no matter their level of hearing loss. Second, the test results are not reviewed by an "audiology team," as Nano claims. The results are produced instantly and are not checked by professional audiologists.
Complicated return process
As discussed above, many customers have mentioned the challenges of returning or refunding Nano Hearing Aids products. The Vermont lawsuit against Nano echoes these complaints, claiming that the company tries to trick buyers into keeping their purchases past the 45-day return window.
If customers try to return a Nano product, the lawsuit alleges that Nano sales staff attempt to retain them with a "60-day hearing challenge." Customers are told that if they continue to wear their hearing aids for 60 days, they will receive a $200 credit for future purchases. However, sales staff do not mention that after completing this "challenge," customers will no longer be eligible to return their Nano products.
MDHearing: The Best Nano Alternative
The Vermont lawsuit comes after Michigan Attorney General Dana Nessel issued a notice of intended action to Nano Hearing Aids in October 2021. In this letter, the Michigan Attorney General mentioned many familiar complaints about Nano's misleading business practices, including problems with refunds and deceptive advertising.
The allegations in the Vermont Attorney General's lawsuit against Nano are substantial and should be taken seriously. As of writing, Nano does not appear to have publicly responded to the Vermont lawsuit or the Michigan letter. Regardless of the lawsuit's outcome, we hope that it leads to greater clarity and transparency for consumers when buying hearing aids online.
Fortunately, there are legitimate alternatives to Nano that offer high-quality, medical-grade, affordable hearing aids online—providers like MDHearing.
MDHearing is passionate about getting affordable hearing aids in the hands of people who need them. MDHearing is different from Nano in several crucial ways:
Unlike Nano, MDHearing was founded by a medical professional: an ENT doctor in the Chicagoland area. Our advisory board and customer support team includes credentialed audiologists and licensed hearing professionals with decades of experience in the field.

MDHearing products have been designed by doctors, tested by audiologists, and registered with the FDA. We source our microphones and receivers from the same manufacturers used by high-end hearing aid companies, such as Knowles and Sonion.

Our U.S.-based team of licensed hearing aid specialists and audiologists provides telehealth and customer support via phone, email, and video chat. We offer a 45-day risk-free trial of all devices, letting you return or refund a product if you're unsatisfied for any reason.
Want to learn more about MDHearing's high-quality hearing aids?
COMPARE HEARING AIDS