Hearing loss is one of the most common medical conditions—and if left untreated, it can lead to a host of related problems. The dangers of hearing loss include cognitive decline, depression, social isolation, and more.
Unfortunately, hearing difficulties are also one of the most overlooked medical issues. According to the U.S. National Institutes of Health (NIH), 15 percent of U.S. adults report having some degree of hearing loss. In total, nearly 30 million people in the United States could benefit from using hearing aids. Only a small minority of these people, however, have actually used them.
What's stopping people from actually getting help with their hearing loss? One of the major barriers is the cost of hearing aids.
The average price of a single hearing aid—not a pair—is more than $2,300, according to a White House committee. In addition, Medicare doesn't cover hearing aid costs. Plus, hearing aids typically need replacement every three to seven years. These factors mean that the cost of these devices can be out of reach for too many people.
Fortunately, a number of low-cost hearing aid providers have stepped into the space. These businesses seek to offer affordable hearing aids to millions of people with hearing loss. In particular, we've seen several big-box retailers get into the hearing aid business in recent years, including Costco hearing aids and Walmart hearing aids.
Beyond Costco and Walmart, another option is Sam's Club hearing aids. So what are Sam's Club hearing aid products, and how much do Sam's Club hearing aids cost? Most importantly, is this the right choice for you, or are there alternatives to Sam's Club hearing aids you should know about? We'll answer all of these questions and more in this article.
How to Get Hearing Aids at Sam's Club
Sam's Club is a major chain of membership-only retail stores, with roughly 47 million members and 600 stores across the United States. A subsidiary of Walmart, Sam's Club is the second largest warehouse club in the U.S., behind only Costco.
According to the Sam's Club website, the retailer operates more than 450 "Hearing Aid Centers" at stores across the country. This means that most—but not all—Sam's Club stores offer assistance to people with hearing loss.
To find the center nearest your location, visit the store locator tool on the Sam's Club website. In particular, filter your search by stores with a Hearing Aid Center.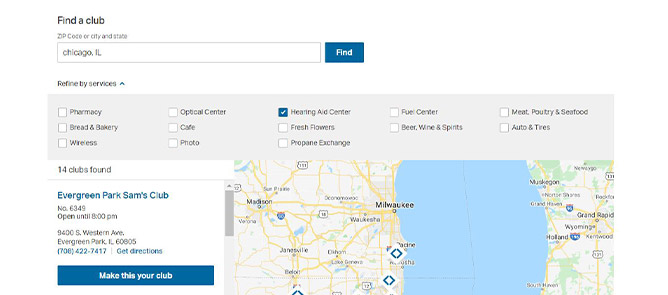 Each of these Sam's Club Hearing Aid Centers has licensed professionals on staff. These specialists help administer hearing loss tests to customers. They also provide advice and assistance to users of hearing aid devices.
Visiting one of these centers is similar to a visit to your local hearing clinic. First, customers take a hearing screening and have their outer ear, ear canal, and eardrum examined. Next, these hearing aid specialists help customers interpret the test results and offer advice on the best products. Sam's Club hearing aid specialists can also refer customers to a physician if they require a medical consultation.
In total, the services offered at Sam's Club Hearing Aid Centers include:
Hearing tests to assess a customer's level of hearing loss

Hearing aid purchasing advice and guidance

Referrals to medical professionals

Training on hearing aid product use and care

Hearing aid support, maintenance, and repairs

Annual follow-up hearing checks
You can schedule an appointment at your local Sam's Club Hearing Aid Center online, by phone, or by visiting in person.
One final note: the good news is that Sam's Club hearing tests are free of charge. However, you do have to be a Sam's Club member (and also 18 years or older) to take the test. This means that the test technically isn't "free." Instead, your annual Sam's Club membership fee covers the cost. The price of a standard Sam's Club membership is $45 per year, as of writing.
However, if you're really determined to buy Sam's Club hearing aids as a non-member, you may have a few options:
As of writing, Sam's Club offers a

90-day free trial

for new members. (The company no longer seems to offer one-day guest membership passes, as they have previously.)

You can also receive an

add-on membership

, for an additional fee, if someone else in your household is already a Sam's Club member.

In the past, Sam's Club has allowed non-members to make purchases on the company's website, subject to an additional 10 percent service fee. However, as of writing this option appears not to be available (at least for buying Sam's Club hearing aids).
Sam's Club Hearing Aid Products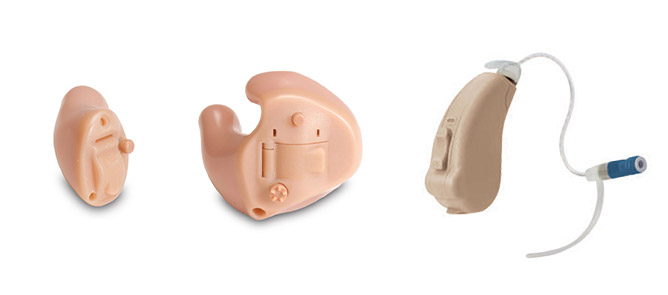 We've discussed how to buy hearing aids at Sam's Club—but what Sam's Club hearing aid products are available to you?
Sam's Club currently sells a single hearing aid brand: Liberty Hearing Aids. These devices use Lucid Hearing digital technology for Bluetooth connectivity and noise suppression. Since July 2019, Sam's Club has partnered with Liberty Hearing Aids and Lucid Hearing to offer affordable hearing aids.
Liberty Hearing Aids come in multiple designs, depending on the customer's preference:
Speaker-in-the-ear (SIE):

SIE hearing aids sit behind the ear and have a thin wire that connects the hearing aid body to a receiver inside the ear canal. They are also called "receiver-in-the-canal" (RIC) hearing aids.

In-the-ear (ITE):

ITE hearing aids fit inside the bowl of your outer ear, often designed for a custom fit to your ear shape.

Completely-in-the-canal (CIC):

CIC hearing aids are very small devices that sit inside the ear canal. The device's smaller size offers a discreet wearing experience.
The name of each Liberty Hearing Aids product contains a clue as to its design. The Liberty CIC 64, for example, is a completely-in-the-canal (CIC) hearing aid. For more information, see our guide on the different types of hearing aids.
The other part of the name indicates the number of channels in the device: for example, the Liberty CIC 64 has 64 channels. Hearing aid technologies break up the audible frequency range into multiple channels. This allows for independent volume adjustments of each channel. The more channels a hearing aid has, the more its settings can be fine-tuned to the individual user's needs. (Naturally, devices with more channels also cost more, as we'll see in a moment.)
Depending on the device, the features of Sam's Club hearing aids may include:
Dynamic feedback management

to reduce or eliminate feedback (i.e. whistles and squeals).

Noise reduction

to offer a better listening experience. This feature automatically removes distracting noises from the background, such as air conditioning units, motors, wind, etc.

Self-adaptive volume control

that "learns" from the user's preferred device settings.

Bluetooth connectivity

for wireless syncing with smartphones and other Bluetooth-enabled devices.

A

"nano technology coating"

that repels moisture, perspiration, and earwax. This helps extend the device's lifetime.
Sam's Club hearing aids come with a one-year general repair warranty that covers any device malfunction. However, the warranty does not cover loss, damage due to misuse, or damage that is beyond a simple repair. Customers can buy extended two- to four-year warranties for up to 90 days after the original purchase. Sam's Club also offers a 90-day free return and refund period for all hearing aids.
Sam's Club also sells "sound amplification" devices that look much like hearing aids. These products are mainly for specialized listening environments. They help amplify certain sounds and frequencies, like during lectures or outdoor activities. However, they are not intended for hearing loss or general use as hearing aids.
How Much Do Sam's Club Hearing Aids Cost?
The cost of Sam's Club hearing aids can range widely, depending on the model and features. As of writing, here are the most up-to-date prices of Sam's Club hearing aids, available on the company website:
Liberty SIE 24:

$624.99

Liberty SIE 48:

$1,174.98

Liberty SIE 64:

$1,424.00

Liberty CIC 64:

$1,799.00

Liberty ITE 64:

$1,799.00

Liberty SIE 128:

$1,924.98
However, note the following caveats:
The prices given here are

per device

, not per pair.

These prices do not account for any extra cost of Sam's Club hearing aids, such as taxes or shipping.

Some products may be out of stock or no longer offered by Sam's Club.
Sam's Club Hearing Aid Reviews
So far, we've talked about how to buy hearing aids at Sam's Club and the various Sam's Club hearing aid products. But what do real users have to say in Sam's Club hearing aid reviews?
The product review website ConsumerAffairs.com contains reviews of Sam's Club Liberty Hearing Aids. These devices currently have 60 user reviews and an average rating of 3.9 out of 5 stars. For example, reviewer Anthony in Pennsylvania gives his Sam's Club hearing aids a five-star review. He praises the company's affordability and excellent customer support:
After a few years of nudging by my wife, I finally stopped in at Sam's in Tarentum, PA to get a hearing test. I left with the top-of-the-line hearing aids and have worn them ever since. Paul, the specialist there, sets up regular visits for cleaning and adjustments to make sure I'm 100% satisfied. Service has been great. Many of my buddies who also have hearing aids scoff at where I bought them. But I ended up with better hearing aids at a lower price than they paid with better customer service."
Unfortunately, not all users have had such a positive experience. Customer William in Florida left a one-star Sam's Club hearing aid review on ConsumerAffairs, writing:
I tried Sam's in Brandon, FL thinking I may save some money. While indeed that may be true, what I also found is you give up quite a bit for just a little savings. The hearing aid technology, although OK for some, is equivalent to most major manufacturers' entry- or moderate-level aid. These manufacturers sell them for the same price as Sam's! They do not offer the higher-end technology that is prevalent at other places. Perhaps most importantly is the competency of the specialist in regards to fitting, service and aftercare. I have far more faith in a store that deals solely with hearing aids and not common household goods."
Many reviewers compliment the excellent support they've received from Sam's Club hearing aid specialists, as well as the lower price tag. Others, however, complain about problems with the products' fit and quality.
Still other negative Sam's Club hearing aid reviews mention various customer service issues. These problems include misleading warranties and lack of timeliness and professionalism. Customers' experience with Sam's Club hearing aids can vary widely, depending on the individual store and Hearing Aid Center.
Are Sam's Club Hearing Aids Right for You?
We've looked at the cost and reviews of Sam's Club hearing aids. There's one question left: are these devices the best choice for you?
Below are what we see as the greatest benefits of Sam's Club hearing aids:
Lower costs:

Sam's Club has a company philosophy of cost savings, which also includes its hearing aids. Sam's Club hearing aids are cheaper than the average cost of hearing aids, as well as many of the top hearing aid providers.

Greater convenience:

Are you a major Sam's Club fan? Buying hearing aids from your local store could be a major convenience. Sam's Club can act as a "one-stop shop" for your needs, letting you buy groceries while you have your hearing aid repaired.
On the other hand, here are some of the disadvantages of Sam's Club hearing aids:
Limited selection:

Sam's Club only sells devices under the Liberty Hearing Aids brand. Options are fewer compared with other hearing aid providers.

Membership required:

To buy Sam's Club hearing aids, you'll need to be a store member. This can be convenient if you already have a membership, or an obstacle if you don't.

Hit-or-miss experience:

Many Sam's Club hearing aid reviews rave about their local Hearing Aid Center. Others, however, have a disappointing experience. Unfortunately, there's little way to know which one will apply to you before you see for yourself.

In-person support only:

Customers must make in-person visits to a Hearing Aid Center to get help with their device. If you don't live near a Sam's Club location, this can be a major time investment. In fact, it could be a dealbreaker for many customers. For example, as of writing Sam's Club does not have any stores in six U.S. states. These states are Alaska, Massachusetts, Oregon, Rhode Island, Vermont, and Washington.
MDHearing: An Excellent Alternative to Sam's Club Hearing Aids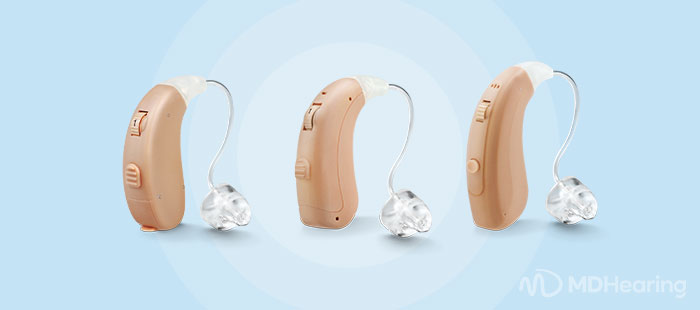 If Sam's Club hearing aids aren't the right solution for your needs, then where else can you get affordable hearing aids?
MDHearing can help. We have offered affordable hearing aids since our founding by a Chicago ENT (ear, nose, and throat) doctor more than a decade ago. MDHearing sells high-quality, FDA-registered hearing aids that you can buy online. We also provide a 45-day risk-free return policy and excellent U.S.-based customer support. We've helped more than 500,000 people address their hearing loss and improve their quality of life. Most importantly, our price point is significantly lower than the other top hearing aid brands.
Ready to find out if MDHearing is right for you? Start by taking our free 8-minute online hearing test and get your results right away.
TAKE ONLINE HEARING TEST