Are you struggling to understand what friends and family are saying? Is it almost impossible to follow conversations at noisy restaurants? You're probably suffering from hearing loss, and it could be having a profound impact on the quality of your life, relationships, and ability to communicate.
Fortunately, most patients can resolve their hearing loss challenges with a hearing aid. The problem is, there are so many hearing aid brands to choose from that it's difficult to fully understand what's available. For example, should you spend $8,000 for a pair of high-tech Signia hearing aids? Or, will a $600 pair of MDHearing smart hearing aids be just as effective?
In this guide, we provide a brief overview of the top hearing aid brands to help you choose the best brand for your hearing loss condition, budget, and needs. We'll also include some telling customer reviews about each brand. But before we begin, we'll look at the general types of hearing aids that these manufacturers sell.
Feel free to use the following links to navigate this guide:
Types of Hearing Aids
Let's begin by defining the three primary types of hearing aids available on the market today:
Behind-the-Ear (BTE)
Behind-the-ear (BTE) hearing aids—and all of the hearing aid components, microphones, and speakers that allow them to function—rest just behind your ear. These hearing aids also feature a piece of thin, clear, nearly invisible tubing that connects to a tip (or a custom-fit ear mold) that inserts snuggly into your ear. This thin tubing provides a tiny air-channel that sends amplified sound from the hearing aid into your ear canal. The nearly invisible tubing and tip (or ear mold) of a BTE hearing aid do not contain any wires or electrical parts. That's how to know you're dealing with a BTE style hearing aid and not a receiver-in-the-canal (RIC) hearing aid. The RIC has a wire that connects the hearing aid to a speaker in the ear.
Receiver-in-the-Canal (RIC)
Receiver-in-the-canal (RIC) hearing aids look a lot like BTE hearing aids because the main housing of the hearing aid rests behind your ear. However, RIC hearing aids do not have a clear, hollow tube that goes to your ear. Instead, they have a wire. This wire connects the hearing aid to a little speaker within the tip that goes into your ear canal. This little speaker is called the "receiver."
In-the-Ear (ITE)
In-the-ear (ITE) hearing aids do not rest behind the ear. Instead, they sit within the "bowl" of the ear. These hearing aids are often big enough to see. However, many manufacturers produce invisible-in-the-ear (IITE) and completely-in-canal (CIC) hearing aids that insert entirely within the ear canal. These are so small that you can't even see them. While larger ITE devices can have the same level of technology as a BTE or RIC hearing aid, the smaller IITE and CIC devices do not always feature the same level of technology as their BTE and RIC counterparts.
Widex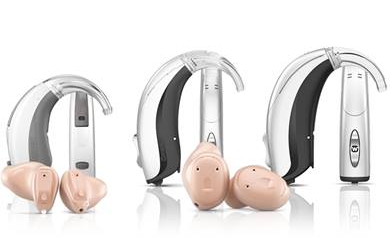 Widex is a Denmark-based hearing aid manufacturer that's been in business since 1956. With its 65-year history manufacturing hearing aids, this global hearing aid company services customers in over 100 different countries. These days—after a 50-50 merger between Widex and Sivantos—the two organizations fall under the ownership of a single conglomerate known as WSAudiology, which is based in Denmark. WSAudiology is one of the largest hearing aid conglomerates in the world and it also owns the Signia hearing aid brand (see the section on Signia below).
Widex has a reputation for being a hearing aid technology innovator. The brand regularly introduces new, cutting-edge features, such as "ZeroDelay technology," which is supposed to improve the sound quality of Widex's more advanced hearing aids. Depending on the Widex model and style you select, Widex hearing aids may offer the following technology features:
Water-resistance:

For greater durability against rain and sweat.

Rechargeable batteries:

So you don't have to worry about changing batteries or having extra batteries on hand.

ZeroDelay technology in the Widex Moment hearing aids:

Processes sound faster for a clearer listening experience. This tech reduces the microscopic delay that most hearing aids have between the actual sound and the sound the hearing aid delivers to your ear.

Smartphone app compatibility:

Allows you to control and fine-tune your hearing aid settings in changing sound environments.

Widex remote care:

Allows Widex hearing aid technicians to remotely tune your hearing aids without the need for an office visit.

Wireless sound streaming:

Streams high-quality sound from your smartphone and other Bluetooth enabled devices to your hearing aids.
One of the most popular features from Widex is only available in its more expensive models. This is the ability to make subtle adjustments to your hearing aids via the Widex smartphone application. Users can fine-tune settings like amplification and sound frequency depending on their surroundings.
As for pricing, Widex offers entry-level models that cost around $2,800 a pair, but these don't tend to include the latest technology like "ZeroDelay," wireless sound streaming, and smartphone app compatibility. Higher-end Widex models that include these features can cost $7,000 a pair or more. Widex customers need to buy their hearing aids from a hearing clinic where they receive their initial hearing tests and fittings. Therefore, Widex prices can vary considerably depending on the clinic.
Widex customers have given a mix of positive and negative reviews on the internet. Here are several noteworthy examples:
I absolutely love my hearing aids. They are extremely comfortable and I can wear them all day… I hear so much better. I am more confident listening either to one person or in a group. Recently, I was in a restaurant and did not experience any difficulty hearing the people at my table."
Have had many problems with the right one cutting out. Sent out for repair. Finally replaced after failed attempts to fix. Now the left one just totally shut down. I will never buy another pair of Widex. Had Phonaks before and never had a problem. Audiologists recommended these."
Purchased the latest/greatest Moment HA and was expecting an amazing experience all around. While I am pleased with my ability to now hear everything around me with great clarity under most conditions, I am less than pleased with the poor streaming of music and podcasts to my HA. Unless my cell phone is less than 24 inches from my HA, audio fades in and out resulting in a terrible experience. My audiologist was able to return my original pair thinking that the antenna was defective. Received a new replacement pair today and there was no improvement. I contacted Widex technical support and was told they have heard from others with this problem and they are working on a software and firmware update. They could not say when the issue would be corrected. Needless to say, I am very disappointed and may return the hearing aids and consider another company. For almost $7,500, I would expect better."
Because Widex customers are having both positive and negative experiences with the brand, we think that you should only buy Widex hearing aids with a risk-free trial period and a 100% money-back guarantee. For more detailed information on Widex, this is an excellent review of Widex from Hearing Health Matters.
Signia

Signia's corporate roots date back more than 140 years to its original owner, Siemens. These days, the brand falls under the ownership of Denmark-based WSAudiology. WSAudiology was formed after a 50-50 merger between Widex and Sivantos (see above section). Like Widex, Signia is known for quality hearing aids and high-tech hearing aid innovation. If they don't have the feature you're looking for, it's likely that other hearing aid manufacturers don't have it either.
Over the last several years, Signia has begun to offer more smartphone application features. This allows users to take a more hands-on approach to controlling and fine-tuning the settings on their hearing aids. Another benefit of Signia's smartphone app compatibility is that Signia technicians can adjust your hearing aids remotely without the need for a hearing clinic appointment.
Depending on the Signia model you select, you could receive the following tech features:
Smartphone app control:

This feature gives you more nuanced control of your hearing aids. Signia offers a wide range of mobile apps with different features for greater control of your hearing aids.

TV connectivity technology:

The most advanced Signia hearing aids include Dolby-Digital TV sound streaming.

Bluetooth connectivity:

Streaming sounds from Bluetooth devices and integrates your hearing aids with smartphones and tablets.

Acoustic-motion sensor technology:

This feature offers more targeted hearing so you can focus on the most important sounds you want to hear.

"Own Voice Processing" (OVN)

: Improves the sound of your own voice so it sounds more natural to you when speaking.

Mic Steering:

Virtually "steers" your hearing aid microphones to zero in on the most important sounds.

TeleCare:

Allows Signia hearing aid technicians to remotely fine-tune your hearing aids without needing an office visit.

"Hands-free" microphone technology:

Lets you pick up sounds with your smartphone microphone and stream them to your phone. This is great for conversations at a table in a noisy restaurant. You can place the device on the other side of the table and pick up your dining partner's voice sounds.
Some of the features that customers like most about Signia are the wide selection of cutting-edge mobile apps, their continual development of new technology, their excellent customer support, and the quality and durability of Signia hearing aids. In addition to these benefits, Signia also offers some stylish designs. The Signia Styletto line even won the 2019 IF Gold Design Award for bringing both beauty and style to the hearing aid industry. Signia offers all three types of hearing aid styles (including BTE, RIC, and ITE models).
Unfortunately, Signia hearing aids do not come cheap. Entry-level models start at around $3,000 to $4,000 a pair. More advanced and stylish models cost about $7,000 a pair or more. Like most traditional hearing aids, Signia customers need to visit a hearing clinic for testing and fitting to purchase their hearing aids, and prices vary depending on the clinic.
It's crucial to note that despite Signia's reputation for quality, we've found both positive and negative reviews of the brand. Here are some compliments and criticisms found in Signia reviews online:
Customer service is excellent and goes beyond the call to help. They are very friendly and knowledgeable in all areas. They fix the problem that you might or might not behave in a very timely manner. The product is the best around. There's no need to go anywhere else because their products are the best. Their products are unique and exactly what you are looking for even if you don't know it. The value their products have brought to my life is far better than I ever imagined it would be. I was recommended their products by a close family friend and thank them all the time for recommending the products to me. The quality of the products is excellent. They make the best products around and you won't be disappointed if you were to purchase from them."
I have owned Signia bi-cross hearing aids for about two years. They were my first hearing aids and recommended by the audiologist. During the last two years, they have been back to Siemens 4 times for service. I brought them to my audiologist again today because they completely stopped working. The same problems recur each time - static, turning on and off by themselves, loss of bi-cross function. They have been replaced by the manufacturer and the problems persist. At a cost of $4000, it is a complete waste of money. I am planning to replace them with another brand."
Signia is my second set of hearing aids and they were much more expensive than my first set. Of course, when the audiologists sold them to me she pointed out all the bells and whistles that my other set didn't have. I have to say they have been very disappointing thus far. I've had them for approximately two years and I've had nothing but issues from the start. The original problem I had was that they would turn on and off several times per day for no reason. The second issue I have is that they cut in and out all the time. Originally they blamed the humidity (even though it wasn't humid). They gave me one of the "dry boxes" to store them in but the issue continued. They finally set them to Signia and supposedly replaced them and the issue is happening again."
Because there is such a mix of positive and negative reviews on Signia, we think that you should only buy Signia hearing aids if they come with a risk-free trial period and a 100% money-back guarantee. For more detailed information on Signia, please read our complete Signia review. There you'll find information on different Signia models, available technology, and a variety of customer reviews.
Oticon
Oticon is another hearing aid manufacturer with a long history in the hearing aid business. Originally founded in 1904, Oticon is based in Denmark and it currently falls under the Demant A/S family of hearing care brands. Oticon is definitely a hearing aid technology innovator. One of its most recent contributions to the hearing aid industry is its Velox platform. The Velox platform includes a number of advanced features, such as "BrainHearing" technology, to make listening clearer and more natural. Oticon offers all three types of hearing aid styles (including BTE, RIC, and ITE models).
Depending on the model and technology level you select, Oticon hearing aids offer the following features:
"BrainHearing" sound processing technology:

According to Oticon, this technology supports your brain's ability to hear sounds more clearly.

OpenSound Navigator technology:

Removes background noise and helps you understand speech during conversations.

Spacial Sound software:

Pinpoints the most important sounds and makes them easier to hear.

Speech Rescue technology:

Changes the frequency of certain speech sounds, making them easier to hear based on your unique hearing loss profile.

Connectivity technology:

Streams sound from different devices, such as iPhones, Bluetooth devices, TV adaptors, etc.

Smartphone app connectivity:

This Lets you control your hearing aids from a smartphone.
Like most of the hearing aids on this list, Oticon's marketing literature describes some exciting tech features. However, these features also come with a hefty price tag. Entry-level Oticon aids cost approximately $3,400 a pair and the more technologically advanced models can cost $7,000 a pair or more. It's important to remember that customers need to purchase Oticon hearing aids from a hearing clinic or audiologist, so you have to endure in-person appointments, testing, and fittings before you can get a pair. Prices can also vary significantly depending on the clinic you choose.
We have found an assortment of both positive and negative Oticon reviews on the internet. Here's what customers are saying about this brand in online Oticon reviews:
I am a professional Spanish interpreter; hearing is crucial. My audiologist recommended them because of her experience with them and the fact that I can link my iPhone to them through Bluetooth. I have had them for nearly two years with no problems. The difference in hearing is amazing. The first several days I walked around with my mouth open at the things I could hear. There is a lot of sound out there… They are easy to use and care for. Routine hygiene and an occasional wiping is about all they require. Every three months or so I replace the domes and wax guards. Early models had reliability issues according to reviews that I've read. I've had none in two years. They work as advertised. Battery life is good. With batteries supplied by my audiologist and Amazon Basics, I get about 4 days."
Problem with Bluetooth connection. Not reliable. Batteries do not last. I was told batteries should last about a week. I go through on average, 3 pairs per week. I really wanted rechargeable but I was told they were unreliable. Aids have been sent in for repair 3X. Now they want to send them in again. They offer nothing for trade-in to an upgrade. I'll be going somewhere else."
I have had the same hearing aids for almost two years. Several times I have jumped in the shower with them in, and a couple of times my right one got pretty wet. So I scramble to get out of the shower, then I pulled out the batteries, grabbed my blow dryer on warm, and dried out the hearing aids. Then the SCARE, do they still work. Well, I'm wearing them now LOL. I wear mine sometimes 24+ hours due to my sleeping patterns, and I'm surprisingly happy with the battery life, for as many hours that I wear them."
Due to the mixed reviews of Oticon, you might not want to purchase a pair of Oticon hearing aids without a rock-solid satisfaction guarantee. For more information on Oticon, we recommend this complete overview of the Oticon brand. There you'll find details on Oticon models, technology, and additional customer reviews.
Unitron

The history of Unitron dates back to 1964 when it began as a hearing aid manufacturer in Newfoundland, Canada. These days, Unitron is owned by one of the largest hearing aid conglomerates in the world, Switzerland-based Sonova Holding AG. Sonova also owns the Phonak hearing aid brand (see Phonak Section below).
Over the course of its history, Unitron has contributed greatly to the advancement of hearing aid technology, especially during the earliest days of digital hearing aid tech. As this history of Unitron notes:
"Unitron was able to focus technology development on tackling specific problems for patients such as protection from sudden intense noises (AntiShockTM); hearing conversations clearly on the phone in both ears (binaural phone); significantly improving speech intelligibility in noise (SmartFocusTM), and 360-degree detection and awareness of speech in all environments (SpeechZoneTM 2)."
Something else to point out regarding Unitron is that the company offers so many hearing aid styles and configurations that it's difficult for the average consumer to fully understand what's available. These offerings include both entry-level models with basic technology and cutting-edge models with the latest hearing aid features. Unitron also sells all three types of hearing aid styles (including BTE, RIC, and ITE models). In most cases, hearing clinics that sell Unitron aids will only have a small section of Unitron styles available.
One way to better understand the confusing array of options from Unitron is to look at Unitron's "Performance Levels." The following performance levels tell you about the different levels of technology available from Unitron:
Level 500:

Improves listening in quiet environments.

Level 600:

Increases speech comprehension under normal listening conditions.

Level 700:

Offers better directional front-facing hearing for better speech understanding in noisy environments, and improves the realism of sounds in quiet environments.

Level 800:

Helps users detect where speech sounds are coming. This tech level offers directional listening in noisy environments and better music listening.

Level Pro:

Offers the latest Unitron technology for clearer sound quality, directional listening, and improved speech comprehension in quiet and noisy environments.
Depending on the hearing aid style and performance level, Unitron hearing aids may come with the following technology:
Antishock features:

Protects against drops and bumps.

Automatic Adaption Manager:

Slowly increases the high-frequency gain of the hearing aid over a period of time to help you get used to the hearing aid gradually.

Binaural phone technology:

Wirelessly streams telephone sounds into both ears for stereo listening to phone calls.

Frequency compression technology:

Converts certain sound frequencies into frequencies that are easier for your ears to hear.

"Log It All Remote Plus App":

Records all of your hearing aid sounds so you can review your hearing experiences at a later time.

Rechargeable batteries:

So you don't have to keep extra batteries on hand or worry about changing batteries.

"SoundCore" technology:

Offers a range of features for clearer speech sounds in noise, better spatial awareness of sounds, and a more natural listening experience.
Unitron includes some more affordable, entry-level hearing aid models that cost around $2,000 a pair, so customers may be able to save a little bit of money by going with this brand. However, if you want the more advanced technology that Unitron offers, your hearing aids could cost as much as $6,000 a pair or more. Of course, Unitron customers need to purchase their aids from a hearing clinic and undergo in-person hearing tests and fittings. Also, Unitron prices can vary depending on the clinic you go to.
We definitely like the fact that Unitron offers some affordable hearing aid options. However, we've seen a number of customer complaints about defective Unitron hearing aids and poor customer service. So this is a potential issue you should be aware of. Here are some typical Unitron customer reviews:
I am on my second set of Unitron hearing aids. ... Looking back over the last 4 years I can count all my problems of any sort on one hand. ... The remote control is outstanding - the best overall I have seen. ... To me the sound is very clean and natural."
Hearing aids cost $5,000. With 2 years left on the warranty, Unitron is telling us they cannot replace a faulty hearing aid. We have been told that the problem is ear wax. The aids were sent to be repaired. We picked them up, on the way home they malfunctioned again. Took them back a few days later and was again told ear wax… Customer service from both Unitron and Foust Audiology has been the worst I have experienced. Biggest waste of $5,000 ever."
I have been using the very expensive Unitron Maxi Yuu for 5 or more years. They are my first hearing aids and have been trouble-free. ... My audiologist also sent each one back for refurbishment near the end of the warranty period. ... I am totally pleased."
Unitron hearing aids are CRAP. I spent the money and got the best they had to offer with all the bells and whistles and they kept cutting out, even a waitress standing 2 ft from me I couldn't hear them, I kept hearing "it's the wax, let's adjust blah blah blah." I've been back to my audiologist umpteen number of times, I even got them sent back and still they keep cutting out and these are cleaner than when I got them, they are actually worse for my hearing than if I didn't have anything in them at all, the app is crap too no features sometimes connects sometimes not... I recommend NOT spending any money or time on these. They are nothing but a pain and not worth the hassle... I wish I could give less than 1 star."
Simply because certain customers have had unfavorable experiences with Unitron does not mean that you should completely disregard this popular brand. However, we do recommend that you only purchase Unitron hearing aids that come with a risk-free trial period and a 100% money-back satisfaction guarantee. For more detailed information about Unitron, please read our complete Unitron review.
Phonak
With a well-established reputation for quality and innovation, Phonak is a Swiss hearing aid manufacturer with its corporate roots stretching back to 1947. T is also the largest hearing aid manufacturer in the world with hearing aid sales in over 90 countries. Phonak currently falls under the ownership of the Sonova Holding AG in Switzerland. Sonova is one of the largest hearing aid conglomerates in the world and it also owns the Unitron brand (see Unitron section above).
As a hearing aid technology innovator, Phonak claims to be the first hearing aid manufacturer to sell Bluetooth-enabled hearing aids.
The Phonak line-up includes a number of hearing aid styles (including BTE, RIC, and ITE models) equipped with different levels of technology. The level of technology you receive depends on whether you select what Phonak refers to as Premium, Advanced, Standard, or Essential technology. Premium is the highest level of tech and it's the most expensive. Essential is the lowest level of tech and it's the least expensive. Depending on the hearing aid and tech level you select, Phonak hearing aids may offer the following features:
SWORD chip technology:

Phonak's Marvel series of hearing aids come equipped with the "SWORD" chip. The SWORD chip offers 2.4 GHz sound streaming for high-quality sound from Bluetooth enabled devices and smartphones. The Marvel line also features lithium-ion batteries for long-lasting battery charges.

Noise-canceling technology:

Phonak's Marvel series offers a combination of advanced digital sound processing technologies that allow the hearing aids to automatically adapt and adjust to different sound environments and cancel distracting background noises for clearer listening.

RogerDirect sound technology:

Phonak's Marvel hearing aids feature RogerDirect sound technology which boosts the clarity and quality of sounds coming through the hearing aid.

Pediatric options:

Phonak's Sky series of hearing aids are intended for children with hearing loss. The Sky series offers a wide variety of colors, increased durability, and more power for children with profound hearing loss.

Semi-permanent hearing aids:

Phonak's Lyric 3 hearing aid is a unique type of invisible-in-the-canal (IITE) hearing aid that stays in your ear 24-hours a day for months at a time—even while you're sleeping and taking showers.

Smartphone apps:

Certain Phonak hearing aids have access to a suite of eSolutions smartphone apps that allow users to give themselves an at-home hearing test, access remote customer service personnel by video chat, and even receive an automatic text transcript of their telephone calls. Some Phonak hearing aids are also compatible with the myPhonak app, which allows you to control and adjust your hearing aids from a smartphone.

Rechargeable hearing aid models:

Phonak also offers a number of rechargeable hearing aids equipped with lithium-ion batteries.
Phonak builds high-quality hearing aids with exciting tech features. Nevertheless, their prices are also extremely high. Ranging between $4,000 and $8,000 a pair, Phonak hearing aids are too expensive for many budget-conscious hearing loss patients. It's important to remember that customers need to purchase Phonak hearing aids from a hearing clinic and hearing clinic prices can vary considerably.
As for customer experiences, here's what we found in Phonak reviews online:
All I have to say is WOW. Even for someone who has worn hearing aids just about their whole life, I am impressed. Technology has stepped up in a huge way in the past decade. The AutoSense 3.0 operating system has been interesting and some time to get used to but it really does a lot of the work on its own for me determining what setting I'm in and adjusting on its own. I will say there have been a few instances where I was in a certain situation that I would've anticipated a different setting for microphone capture and self-adjusted it in the app on my own on my iPhone."
I agree with the earlier reviewers. These aids are a waste of money in noisy environments like restaurants, PA systems in halls, dances, and windy environments. I only get benefit in situations where one person is speaking in an acoustically quiet room and the speaker is looking at me, which covers about 10% of my active hearing time. Phonak makes big claims that don't deliver."
The above reviews show the range of customer experiences from extremely positive and extremely negative. To safeguard against the chance of being an unhappy Phonak customer, we recommend that you only purchase Phonak hearing aids that come with a full money-back customer satisfaction guarantee. For more information about Phonak, please read our complete overview of the Phonak brand.
ReSound
ReSound was originally founded in the mid-1980s by Dr. Rodney Perkins, a physician from Stanford University. Since 1999, ReSound has been under the ownership of Denmark-based hearing aid conglomerate, GN Store Nord, which is now known as GN ReSound.
Like many of the hearing aid brands on this list, ReSound is an innovator. It's most recent claims to fame are:
2.4 GHz Streaming Technology:

ReSound was the first hearing aid manufacturer to introduce high-quality 2.4 GHz sound streaming technology that allows users to listen to better quality music, television, and sound from a variety of devices including Apple and Android devices.

Apple Device Connectivity:

ReSound was also the first hearing aid manufacturer to offer stereo sound streaming for iPhones and other Apple products.

A Host of Auxiliary Devices:

ReSound is also known for its production of auxiliary microphones and other devices that connect with your hearing aids to offer additional features. These devices can help you understand what people are saying from a distance, understand group conversations, and stream sounds from your television.
Depending on the model and technology features you select, ReSound customers can choose between all three types of hearing aid styles (including BTE, RIC, and ITE models). Furthermore, the most technologically advanced ReSound hearing aids may come with the following features:
Surround sound features:

ReSound's surround sound technology offers better quality voice, music, and television sounds. ReSound claims that the technology provides a "360-degree listening experience."

Spatial Sense technology:

ReSound's Spatial Sense technology simulates the directionality of sounds to help understand where different sounds are coming from.

Rechargeable batteries:

ReSound offers rechargeable lithium-ion batteries in certain hearing aids so you can bypass the need to constantly change hearing aid batteries.

Bluetooth connectivity:

Some ReSound aids allow you to stream music, voice, and other sounds from any Bluetooth-enabled digital device.

Bimodal Cochlear™ Implant connectivity:

ReSound offers hearing solutions that aids are compatible with Cochlear® brand cochlear implants. Users who have one Cochlear® brand cochlear implant can use a ReSound hearing aid in the other ear and sync the sounds they are streaming from their devices into both ears.

Find my hearing aid feature:

Resound's "find my hearing aid" feature helps you locate your hearing aids after dropping them or losing them.

Resound Assist Live:

Offers access to remote hearing care including hearing tests from the privacy of your home. This reduces the need for in-office visits during pandemic situations.
With an average price range of $3,500 to $8,200 per pair, most customers will need to go into debt or sign up for a payment plan to benefit from ReSound hearing aids. Nevertheless, if you can afford ReSound hearing aids, you can expect a product with tech offerings on par with the other hearing aids on this list. The price of ReSound hearing aids will vary depending on the clinic where you purchase them.
As for reviews, we have found a mix of positive and negative reviews from ReSound customers online. Here are two examples of ReSound reviews from consumeraffairs.com:
My primary complaint is that it sounds horrible in day-to-day, real-life operations. I can't listen to music with it as it sounds like a wall of garbage noise. Nothing else sounds right. I went into the audiologist 6 times to get it adjusted. It just sounds horrible! Either the hearing-aid cannot be adjusted correctly or the audiologist will not adjust it close to what my old analog hearing aids would sound like. I ended up wearing my old analog hearing-aid for my day-to-day activities. I only wear the ReSound hearing aid when I know I am going to be on the phone, or when I have to wear mouse-ear hearing protection. In summary: Pro - it connects to the iPhone via an app. It has feedback canceling. Con - The app is buggy. It sounds awful compared to an analog hearing aid in normal activities, thus I don't wear it."
I am on my 6th set of these hearing aids. In general, I'm happy with the sound and hearing aspect. My problem is with the rechargeable battery function. I have had the charger replaced 4 times, and the hearing aids replaced or sent back numerous times. I purchased these at Costco, and am under a 6 month "free" trial (have already paid for them). Due to the multiple problems and required visits to Costco to take care of them, the manufacturer has extended the trial to 8 months. I don't know why ReSound advertises 30 hours of charge - more than one full day, they say, when most I get is about 10 hours. Also, the phone app disconnects during the day - and I have to reconnect. Not too smooth!"
Considering these mixed reviews, it's a good idea to ensure that any ReSound hearing aids you purchase come with a risk-free trial period or a 100% money-back satisfaction guarantee. For more details about ReSound, please read our complete overview of ReSound.
Starkey

Starkey is a long-standing, United States-based hearing aid manufacturer with a rich corporate history stretching back to the late 1960s. Originally, Starkey began as a simple, one-man hearing aid repair shop in Minnesota. By the early 1970s, Starkey was designing and selling its own high-tech hearing aids. Now, Starkey sells its devices in over 100 different countries around the world.
Starkey was the first hearing aid manufacturer to introduce several innovative technologies into the market. You will now find these technologies being offered by most hearing aid manufacturers:
Starkey was the first hearing aid manufacturer to develop invisible-in-the-ear (IITE) hearing aids that insert completely into the ear canal. It was also the first manufacturer to develop a digital, customizable, IITE aid.

Starkey was the first manufacturer to incorporate advanced background reduction features into its hearing aids.

Although Siemens created the first waterproof hearing aid (

the Aquarius in 2013

), Starkey was the first hearing aid manufacturer to use nanotechnology to create waterproof hearing aids.
Starkey manufactures and sells all three hearing aid styles (including BTE, RIC, and ITE models). Depending on the device and technology level you select, Starkey hearing aids can come with some unique and interesting features:
Automatic sound adjustments:

Automatic and gradual adjustments to changing sound environments as you move about your day. This technology incorporates artificial intelligence for more accurate sound setting adjustments.

Bluetooth compatibility through the Surflink adaptor:

Bluetooth connectivity to stream sounds and phone calls from your smartphone, television, tablet, and other Bluetooth-enabled devices. This feature is available through the "Surflink" adaptor, an external device that you need to purchase separately.

Multiflex Tinnitus relief:

These features allow tinnitus sufferers to listen to soothing background sounds that can mask some symptoms of tinnitus.

Rechargeable batteries:

Rechargeable lithium-ion batteries eliminate the need to constantly change hearing aid batteries and keep spare batteries on hand.

Wind and machine noise reduction:

Features that reduce interference from wind noise and background machines like refrigerators, air conditioners, and washing machines.

Smartphone App control:

Some Starkey devices are compatible with a smartphone application that allows you to easily adjust volume and other settings while you are wearing your aids.

Thrive App:

The Thrive app tracks how active and engaged you are in terms of different listening and conversational experiences. The app helps hearing aid users and their family members understand conversation and listening engagement, which is essential for optimum cognitive and psychological health.

Telehealth Service:

Some Starkey aids feature in-app hearing treatment and emergency medical features. You can use the app to connect remotely with a Starkey hearing care specialist. The app can also detect if the hearing aid wearer has fallen down, and it will automatically call for emergency assistance.

Note-taking and translation services:

Starkey smartphone app technology can record your conversations and convert them into a readable text file. It can also translate conversations sounds from 27 different languages and convert them into English text in real-time.

Find my hearing aid feature:

The "find your hearing aid" feature from Starkey helps you locate your hearing aids after misplacing them.
As for its range of products, Starkey offers low-tech models that start at around $2,150 a pair and high-tech models that cost as much as $9,000 a pair (prices will vary depending on the hearing clinic that is selling the device). In this respect, the Starkey brand offers a generous selection of hearing aids to fit different budgets and hearing care needs.
Here's what customers are saying in Starkey hearing aid reviews:
The devices seem to focus on ambient noises to the exclusion of voices nearby when in busy environments. They nicely amplify the TV but I can just turn it up when not wearing them. Crinkle sounds like chip bags are so loud they hurt."
I'm very pleased with my Starkey hearing aids. My audiologist sequenced the full programming during three visits over a span of 5 weeks. I experienced no feelings of discomfort or negative sensation. I am surprised at the light weight of the units. I don't feel them at all; neither the speaker in the ear nor the microphone unit behind the ear. A completely positive and productive experience all around."
All in all, there are many examples of both positive and negative Starkey reviews online. To safeguard against having a negative experience, we recommend that you only purchase a set of Starkey hearing aids if they come with a complete 100% satisfaction guarantee. For more details about Starkey, please read our complete Starkey review. There you'll learn more information about Starkey, its range of products, and some additional customer experiences.
Eargo

Eargo is a hearing aid manufacturer that has been around since 2015. As a direct-to-consumer manufacturer, Eargo customers can purchase hearing aids online and have them shipped directly to their homes. In other words, Eargo does not require you to visit an actual hearing clinic for testing and fitting. This is particularly advantageous for homebound hearing loss patients and for patients who do not want to leave their homes during pandemic conditions.
The most noteworthy characteristic of Eargo hearing aids is their small, discreet design. All Eargo hearing aids are invisible ITE devices (including the Neo HiFi, Neo, and Max). That means Eargo hearing aids hide completely within your ear canal. They are also black in color, which makes Eargo aids almost impossible to detect when worn.
Another Eargo design element involves the use of a prickly silicone ear insert. The design of the insert holds the hearing aid snuggly in the ear without creating an airtight seal. Eargo claims that the lack of an airtight seal helps you hear your own voice better while speaking. However, the success of this strategy also depends on how well you insert the hearing aid into your ear and other factors, such as the size and shape of your ear canal. For example, there will not be any additional benefit to hearing the sound of your own voice if you do not insert the hearing aid deep enough into the ear canal. Moreover, if you have an unusually small or large ear canal, the way the hearing aid fits could change the quality of the sound you hear.
Unfortunately, the "invisibility" of Eargo hearing aids is their most exciting characteristic. From a hearing aid technology perspective, Eargo hearing aids are pretty simple. You can't fine-tune Eargo aids to your unique hearing loss profile, and you can't make any real adjustments to them beyond bass and treble adjustments.
Instead of permitting custom adjustments, Eargo offers what it calls "sound amplification programs." However, these sound amplification programs are nothing more than four preset volume adjustments. Each turns up the volume a little bit more. In addition, Eargo allows you to install one or more of the following alternative sound profiles:
Feedback reduction:

To reduce high-pitched whistling noises.

Flat response:

To amplify all sounds equally.

Background noise reduction:

To help focus on voice sounds in noisy environments.

Mute setting:

To completely turn off all kinds of sound amplification.
Eargo hearing aid wearers can cycle through the different sound amplification settings by tapping the side of their ears. Although this sounds convenient, some users find that needing to tap their ears is agitating.
Considering the low level of technology in Eargo hearing aids and the inability to fine-tune Eargo hearing aids to your unique hearing loss profile, Eargo devices are expensive. Even though they are "one-size-fits-all" hearing aids, they still cost between $1,850 to $2,350 a pair. That's the just under the amount you would spend for a pair of technologically advanced, custom-fitted aids at a hearing clinic, and even more than Costco hearing aids.
As for customer reviews, we've seen a mix of positive and negative reviews. Most of the negative reviews talk about Eargo hearing aids breaking after purchase. The positive reviews generally say that Eargo aids are an excellent and effective product. Here's what Eargo users are saying online:
I heard a lot of things about Eargo that were really good, and when somebody saw one of their television commercials and thought it was really funny, they told me about it. I had some very nice email interactions with a list of somebody who had reached out to me, so we had some back and forth, and that was very lovely. I got Eargo and the packaging was great. I've been happy with the hearing aids as well. They're not perfect, and they're different than going to the doctor and getting a hearing aid, but I've been hearing really well with them. I have them only on level three, so I could go higher, but then, all of the other sounds get louder too."
Great packaging and great customer support in the beginning but one failed shortly after the warranty expired. They don't repair them, but they offered to sell me a replacement at a discounted rate. The second device failed a few months later. I just paid off the $2100 credit account I used to finance the purchase. Very frustrating experience."
After a few months of owning a pair of their hearing aids, I had the left hearing aid crap out, which they did replace. Now I'm having trouble with the right hearing aid. I've contacted them once and I had to go through the routine cleaning that they make you go through and after a couple of days it quit completely. I've sent a request for someone to contact me. It's now been 4 days and no one has contacted me "soon" as stated when creating a trouble ticket. What is up with this company? Boy, you all need to find some customer service or you will be out of business SOON. I find it hard to recommend to you all if your service doesn't improve."
At the end of the day, it seems that the Eargo business model relies heavily on the idea that consumers are willing to pay a lot of extra money for invisible, in-the-ear designs, even when the hearing aids do not offer much in terms of customization and performance. We are also concerned about complaints that say the hearing aids stopped working. If having "invisible" hearing aids is important to you, you might want to look at a pair of custom-fitted, custom-tuned, in-the-ear hearing aids from other manufacturers while considering this product. At the very least, do not buy Eargo hearing aids without a risk-free trial period. That way, you're not stuck with an expensive product that doesn't serve your hearing care needs. For more details about Eargo, please read our complete Eargo review.
TruHearing

As you've seen in all the brands so far, hearing aids are expensive. With typical hearing aid prices ranging between $2,000 and $7,000 a pair, many people with hearing loss can't afford them. This is a problem that TruHearing attempts to solve by reducing the typical price of hearing aids by several hundred or a thousand dollars.
TruHearing doesn't manufacture hearing aids itself. Instead, it's a United States-based healthcare provider that works with insurance companies, hearing aid manufacturers, audiologists, and other organizations to help patients save money on traditional hearing aids. In most cases, individuals receive benefits from TruHearing through their employer's healthcare plan.
TruHearing offers two coverage plans. The more expensive plan (TruHearing Choice) offers additional benefits to pay for higher-tech hearing aids, while the less expensive plan (TruHearing Select) offers a lower level of coverage to pay for lower-tech hearing aids. Both the Choice and Select plans offer additional benefits like inexpensive battery reorders, three free office visits for adjustments, and a hearing aid damage/loss policy.
You will find that most providers in the TruHearing network can equip you with BTE, RIC, or ITE hearing aids from a variety of brands. Hearing aid brands available through TruHearing include:
Signia

Oticon

Phonak

ReSound

Starkey

Widex
Although TruHearing can provide a small discount on these expensive brands, buying aids through a TruHearing clinic is still expensive—averaging between $1,390 to $4,500 a pair. In this respect, TruHearing does not offer more affordable prices than MDHearing (see MDHearing section).
Another thing to note about TruHearing is that, depending on your level of coverage, you might not be able to select the highest levels of technology without paying additional money. Moreover, some TruHearing customers have complained that hearing clinics inside the TruHearing network do not always offer the same quality of care and customer service as hearing clinics outside the TruHearing network. Also, after the three free clinic visits that come with TruHearing aids, you will have to pay for each visit. This typically costs $35 per visit, but it may vary depending on the clinic.
Here's what customers are saying about TruHearing on Facebook:
The TruHearing person I spoke to on 9/6/2019 was very good in explaining how the Humana TruHearing Select works, he gave me information about several Hearing Consultants and scheduled an appointment with San Antonio Custom Hearing on 9/18/2019. My ENT doctor had scheduled me to see a Hearing Consultant located at her office on 9/11/2019. I kept that appointment. During that visit, Hearing Consultant called TruHearing to have Humana TruHearing benefits explained. She said the person she spoke with was extremely good at answering her questions. Got my TruHearing 19 RIC Advanced hearing aids on 9/23/2019 and am so happy to hear what I had been missing." (source)
I have had my Flyte 900 for about 3 months, and I really like them, but the hearing center they sent me to is not one I would recommend. I got no instructions on cleaning and am very frustrated that they want to charge me $120 to come in and get shown how to take care of them. I also want to know how to use them to listen to my smart tv but do not want to be just rushed through an appointment without getting to ask questions. I would like to find someone else for support with my hearing aids that I like but do not know how to use as I should." (source)
For more details about TruHearing, please read our complete TruHearing review. There you'll find additional information on the process of purchasing your hearing aids through a TruHearing provider.
MDHearing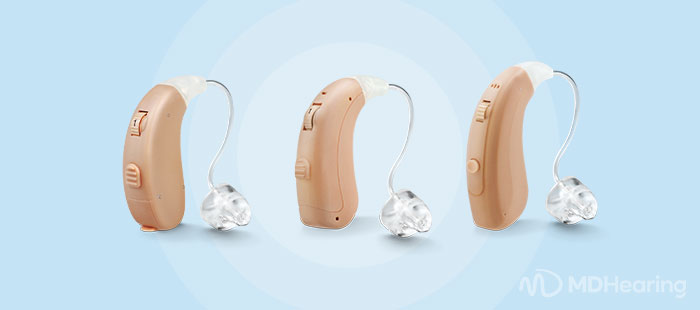 MDHearing is a direct-to-consumer hearing aid manufacturer based in the United States that focuses on selling quality hearing aids for less money. As a direct-to-consumer manufacturer, MDHearing sells hearing aids directly to patients without the need to visit an audiologist for testing, fitting, and adjustments. All MDHearing products are FDA-registered, medical-grade hearing aids. The difference is that hearing aids from MDHearing are thousands of dollars less expensive than hearing aids from traditional manufacturers.
MDHearing reduces hearing aid prices by eliminating the high markups associated with traditional hearing aid manufacturers and hearing clinics. MDHearing also keeps prices affordable by focusing only on the essential technology you need for effective hearing loss treatment—no more, no less. Finally, MDHearing keeps prices low by focusing solely on BTE hearing aid styles. BTE hearing aid styles are easier to manufacture, they have more room to fit advanced hearing aid components. Moreover, BTE hearing aids are easier to clean and more durable than other hearing aid varieties.
Entry-level hearing aids from MDHearing that fit 94% of hearing loss patients are only $299 a pair. More technologically advanced hearing aids that offer smartphone app compatibility and more custom adjustments—such as the MDHearing VOLT MAX—are only $699 a pair.
Depending on the hearing aid style you select, MDHearing offers the following benefits:
Smartphone app control of hearing aids through the MDHearing app.

Remote fine-tuning of your hearing aids by the MDHearing team.

Dual directional microphones for a clearer understanding of speech sounds in noisy environments.

Four sound environment settings for different listening situations.

Automatic sound adjustments in the

MDHearing VOLT MAX

based on your changing listening environment for the clearest hearing in different circumstances.

Rechargeable batteries in the

MDHearing VOLT and MDHearing VOLT MAX so you don't have to fumble with tiny batteries or keep extras on hand.

Feedback reduction technology to reduce bothersome whistling sounds.

A 45-day, 100% money-back satisfaction guarantee.
While MDHearing always encourages customers to visit a professional hearing clinic for a medical-grade test, it's not a requirement. Cost-conscious customers—and those who are concerned about leaving their homes during pandemic conditions—can take MDHearing's free online hearing test to determine if MDHearing products can fit their condition. Even better, for the MDHearing VOLT MAX model, use the included app to check your hearing and personalize hearing aids for your specific needs.
Here's what customers are saying in MDHearing reviews:
Best day in church. Thanks to a second [left ear MD] my church experience on Sunday was the best in so many years. My first pair of professional hearing aids, [$4000.00] seems, could never be adjusted to suit. My wife and I tried MD in our right ears, which was better, but for myself, adding the left ear MD, on Sunday, what a difference."
First time user. I've been wearing my Air hearing aids for one full week now. Very excited and extremely satisfied with the results. My last audiology revealed mild to moderate hearing loss and hearing aids were recommended. However, the cost was outrageous! After Googling and researching different companies I decided to try MD Hearing. Glad I did."
For more details on MDHearing products and offerings, browse the complete MDHearing family here.
Final Thoughts on Top Hearing Aid Brands
At the end of the day, most of the hearing aid brands on this list are expensive except for MDHearing. Even if you opt for an entry-level model, most hearing aid manufacturers make it difficult to spend less than $3,000 for a pair of quality hearing aids.
Plus, unless you purchase from a direct-to-consumer manufacturer like MDHearing or Eargo, you will have to buy your hearing aids from an audiology clinic, where you will need to undergo in-person hearing tests, fittings, and adjustments. At the hearing clinic, you'll also be subjected to sales pitches that try to convince you to spend even more money on your hearing aids.
So what are your options? While many hearing clinics offer payment plans and encourage their customers to go into debt, MDHearing offers a dramatically different solution. With MDHearing, you can affordably treat your hearing loss with a pair of high-quality, FDA-registered hearing aids for thousands of dollars less. Our entry-level hearing aids are only $299 a pair and they fit 94% of hearing loss patients!
Last but not least, there's another important consideration that becomes clear when you read online reviews for the most expensive hearing aid manufacturers. Paying more for your hearing aids doesn't seem to offer any amount of assurance that you will be happy with the product. This is why we reiterated in each section that you should not purchase hearing aids without a risk-free trial period and money-back satisfaction guarantee. It's just good common sense. Fortunately, all MDHearing products come with a 45-day 100% money-back guarantee. If you're not completely satisfied with your hearing aids, send them back to us for a full refund!
Want to see if affordable, MDHearing hearing aids will work for you? Take our quick and easy online hearing test and get your results instantly.
TAKE ONLINE HEARING TEST