Hearing loss is a common condition among people of all ages and from all walks of life. The U.S. National Institutes of Health (NIH) has found that 37.5 million U.S. adults have some form of hearing loss.

A large majority of this population, 28.8 million U.S. adults, have types of hearing loss that could benefit from using hearing aids. Yet among these 28.8 million people, only 30 percent of those 70 and older actually use hearing aids—a figure which drops to just 16 percent for those between 20 and 69.

There are many reasons why people who could benefit from hearing aids choose not to do so. Some people prefer not to admit their hearing loss, while others find hearing aids bothersome and difficult for daily use. Hearing aids can also make users feel "old," and in many cases the cost of hearing aids remains a strong deterrent—typically between $2,000 and $7,000 for each ear.
In order to change the stigma around hearing aids and make them less expensive, companies such as TruHearing are offering low-cost plans for affordable hearing aids. But is TruHearing the best hearing aid solution on the market, or are there better alternatives to TruHearing available? This article will discuss everything you need to know about TruHearing:
What is TruHearing?
TruHearing is a managed care administrator and hearing aid provider that aims to offer affordable hearing aids by working with a variety of health plans. Founded in 2003, TruHearing is currently headquartered in Draper, Utah. The hearing aid manufacturer Sivantos Group acquired TruHearing in April 2018.
The goal of TruHearing is to provide customers with affordable hearing aids. However, it's important to note that TruHearing does not manufacture any hearing aids itself, and it is not a health insurance provider either.
Instead, TruHearing is an independent company that offers discounts and savings on hearing aids. TruHearing purchases hearing aids from manufacturers, and then resells them to end users. The company acts as a middleman between you, your healthcare providers, and hearing aid manufacturers.
To use TruHearing, customers first need to have a phone conversation with a TruHearing "hearing consultant." The TruHearing representative answers customers' questions and then schedules an appointment with a local audiologist or hearing aid specialist who is affiliated with TruHearing.
During this appointment, the TruHearing-affiliated provider will perform a brief exam and make a diagnosis. The provider will then order the appropriate hearing aids from TruHearing, which will be ready for pickup a few days to a few weeks later. Throughout this process, TruHearing handles paperwork such as insurance policies and claims submissions.
Comparing Options When Purchasing Hearing Aids – Direct, Over The Counter (OTC), and from a Hearing Professional
Consumers now have multiple options for where to purchase hearing aids. Depending on the method chosen, the price and convenience can differ dramatically.
Traditional hearing aid providers
Over-the-counter hearing aids
Process:

The U.S. Food and Drug Administration (FDA) has published its

draft guidelines

for over-the-counter hearing aids. Once this draft is finalized, users will be able to buy hearing aids in stores without a prescription from a medical doctor.

Cost:

Over-the-counter hearing aids are not yet available, which means that the cost of OTC hearing aids is unknown. However, because they cut out much of the medical red tape and barriers, over-the-counter hearing aids will likely cost less than those bought from traditional hearing aid providers.
Direct-to-consumer hearing aids
Process:

For more than a decade, MDHearing has pioneered the practice of selling affordable hearing aids directly to consumers. Founded by a doctor frustrated with the high price of hearing aids, MDHearing provides high-quality, FDA-registered hearing aids while cutting out the middleman. Consumers

can order online

or over the phone and receive their hearing aids in just a few days.

Cost:

As low as $299.98 per pair.
TruHearing Pricing: How Much Does TruHearing Cost?
The out-of-pocket cost for hearing aids varies widely, from a lower end of roughly $2,000 to an upper end of $7,000 for the most premium models. With prices for hearing aids so high, how much can you save using TruHearing?
TruHearing claims that customers can save an average of $3,400 per hearing aid pair, as compared to retail prices, by using its services. However, the accurate price of TruHearing hearing aids depends both on the hearing aid model you select, as well as your health insurance benefits. TruHearing works with more than 5,000 providers across the country and is compatible with a variety of healthcare plans, including certain Medicare plans.
There are two main programs that TruHearing customers have access to:
TruHearing Choice:

This option is the most widely available of TruHearing's services. According to the company, TruHearing Choice customers have options priced between $695 and $2,250 per hearing aid. There are three tiers of TruHearing Choice products: standard, advanced, and premium.

TruHearing Select:

This option requires customers to pay small copayments in exchange for receiving digital, smartphone-compatible hearing aids. The company claims that TruHearing Select customers can see a "significant" reduction in their out-of-pocket expenses. There are two tiers of TruHearing Select products: advanced (starting at $1,195 per hearing aid) and premium (starting at $1,495 per hearing aid).
Regardless of which plan you use, all TruHearing products come equipped with a 60-day trial and a 3-year warranty that protects against loss, damage, or manufacturer defects. TruHearing also provides 48 free batteries for non-rechargeable hearing aids.
Finally, the cost of TruHearing hearing aids includes up to three provider visits for hearing aid fittings and consultations. The customer will need to pay for any further visits out of pocket.
How Does TruHearing Work With Hearing Clinics?
TruHearing partners with hearing clinics across the country to offer hearing aids to their customers. The details of the process are as follows:
TruHearing signs a contract with a hearing clinic.

The clinic receives a certain amount of money for each hearing test and hearing aid selection appointment it performs.

After the hearing aid fitting appointment, TruHearing pays clinics a contracted fitting fee.

Patients pay TruHearing directly for the hearing aids. The devices are ordered only after 50 percent of the balance is paid, with the remainder due to TruHearing at the time of pickup.

Clinics are encouraged to keep patients in their plan (i.e. not moving a patient with a TruHearing Select plan to a Choice plan instead).
TruHearing Products
With that said, what are the hearing aids available through TruHearing?
TruHearing offers a wide selection of hearing aid products through its catalog. The hearing aid manufacturers available through TruHearing include Signia, Starkey, Widex, Oticon, Phonak, and ReSound.
As mentioned above, TruHearing offers hearing aids in three price tiers: standard, advanced, and premium.
The ReSound Enya 2 is an example of a TruHearing standard hearing aid. It includes features such as Digital Feedback Suppression (DFS) technology, adaptive and fixed directionality, and a ReSound smartphone app for fine-tuning performance.
The Widex Evoke 330 is an example of a TruHearing advanced hearing aid. It includes features such as noise reduction for wind and soft noises and a "zen" mode to help with tinnitus.
The Phonak Naida B 70 is an example of a TruHearing premium hearing aid. It includes advanced features such as "UltraZoom," which helps "zoom in" on people's voices during a noisy conversation, and "SNR-Boost," a high-tech algorithm to improve the signal-to-noise ratio.
TruHearing Reviews
TruHearing claims that you can save money on hearing aids by using their services. But what do TruHearing users have to say for themselves?
It's always a risk when you use a new medical provider, so naturally, you might have questions like "Is TruHearing a scam?" The good news is that most TruHearing reviews report largely positive experiences with the company.
TruHearing has an average rating of 4.4 out of 5 stars on Facebook, based on 191 user opinions. Reviewer Sharon Loar says:
I love TruHearing. I have worn hearing aids for 10 years and TruHearing aids are the best I have had. I am amazed at how much better I can hear. I purchased mine in the Mooresville, NC office and the staff was friendly and knowledgeable. The audiologist knows just how to adjust my hearing aids to give me quality hearing. Excellent pricing and quality product. I am so happy I found this company."
Another 5-star review for TruHearing on Facebook comes from Pam Welker Stuckey, who writes:
My experience with TruHearing was wonderful. My sister told me about them and I gave them a call. They set up my actual first visit with the provider I wanted and even followed up on a problem I had. It was resolved within minutes. I totally recommend them to anyone who is having trouble paying for your hearing aids."
Despite the generally positive reception, not all customers are happy with TruHearing products. For example, TruHearing has only an average review of 2 out of 5 stars on Yelp, based on 24 user opinions.
Reviewer Will J. on Yelp says:
I bought new hearing aids from TruHearing 5 weeks ago. The first week they were so loud and distorted I could not stand to wear them. I called back the next day. It took a week to get back in to see the technician. He told me that when using digital aids like mine, one could not tell that you were wearing them. For the next several days I could not hear anything and didn't hear the aids beep when turned on. I called for another appointment and it took a week to set that date. I did not wear them for this last week because they didn't work. I plan on going back at the appointment date and taking them back for a refund."
Yelp reviewer Jo C. is also dissatisfied with the quality of TruHearing customer service, writing:
TruHearing provided adequate hearing aids, but it has been a nightmare dealing with their local provider, and the TruHearing customer service is no help. My health insurance (Humana) recommends only TruHearing, so I used them vs. Costco. I wanted a reputable local audiologist but TruHearing sent me to Revolution Hearing (Virginia Beach), which appears to be one tiny and mostly empty room in a locked hallway, a phone answering service, and not even a sign on the door… The aids were delivered without a battery charger, so I took a "loaner" intended for another customer. A month later, the charger (and a mobile charger I paid an extra $250 for) have not been delivered, and I am getting the runaround from everyone involved. This company is obviously cutting corners in every way possible and shortchanging their customers."
To date, TruHearing has received 10 user complaints on the Better Business Bureau website in the past three years. All three complaints have been answered or resolved by the business, giving TruHearing an A+ BBB rating.
However, the BBB website also contains 4 negative customer reviews of TruHearing, resulting in an average rating of 1 out of 5 stars. Customer Duwaine S. writes:
This is my fourth set of hearing aids and by far the worst. Thought I would take advantage of my insurance and get a deal on these aids. Like they say, you get what you pay for. I can hardly understand anybody I talk to on a daily basis. Had an adjustment done, but nothing seems to help."
TruHearing Alternative: MDHearing
Whether you purchase a TruHearing hearing aid or not, you owe it to your hearing (and your pocketbook) to investigate some of the highly dependable (and far less expensive) TruHearing alternatives on the market. MDHearing offers a compelling option.
What if you could get a pair of hearing aids for $299 (instead of $3000)?
Born of a manufacturing philosophy that asks, "Do hearing aids really need to be so expensive?" MDHearing offers superior-quality hearing aids at a fraction of the price of competing manufacturers. MDHearing's doctor-designed, audiologist-tested, and FDA-registered hearing aids provide everything you need for better hearing.
MDHearing keeps your costs down by cutting out the middleman and eliminating the need to buy hearing aids from a specialist or hearing clinic. Order your hearing aids directly from MDHearing, and they'll be delivered to your door in just a few days. Your hearing aids will be ready to use, right out of the box. Plus, MDHearing comes with a 45-day trial and 100% money-back guarantee, so trying a pair is absolutely risk-free.
We'd particularly like to emphasize our excellent U.S.-based customer support and telehealth services. Worried that you can't set up your hearing aids yourself, or have a question about how hearing aids work? MDHearing's on-staff audiologists and licensed hearing professionals can walk you through every step of the process—without any office visits or appointment fees. Our free lifetime care and support is available for you by email, phone, and video chat.
Here are some other noteworthy advantages of MDHearing:
The same components as "expensive" hearing aids:

MDHearing sources its microphones and receivers from the same manufacturers (Knowles and Sonion) that high-end hearing aid companies use. We also source the computer chips in our hearing aids from a U.S.-based manufacturer with decades of experience.

Customized fit (without a specialist):

MDHearing offers different sizes of clear tubing, tips, and ear domes to accommodate nearly all ear sizes comfortably. You don't have to pay extra for a professional to customize them to your ears.

U.S.-based company with more than a decade of experience:

MDHearing isn't a scam or a fly-by-night operation. We were founded in 2009 by a Chicago ENT (ear, nose, throat) doctor who was fed up with the high price of hearing aids. Since then, we've helped more than 500,000 people with hearing loss.

Affordable models designed for the majority of consumers:

Our on-staff audiologists have designed our hearing aids to fit the hearing loss profile of 94 percent of consumers. This means our hearing aids work right out of the box for the majority of people—and if not, you can return them for a full refund. Consumers can take MDHearing's free

online hearing test

or send previous results to our audiologists and get a personalized recommendation on which hearing aid will best fit their needs.

Advanced model with a hearing check included:

Our

VOLT MAX rechargeable hearing aid model

comes with an app that creates a customized sound profile and programs the hearing aids based on your specific hearing needs. It's like having an audiologist in your pocket!
MDHearing Product Offerings
The first thing that stands out on the MDHearing website is its simplicity. Unlike navigating TruHearing's website—which can leave you dizzy with hundreds of options—MDHearing has three basic hearing aid models to choose from.
In the interest of transparency, here are the MDHearing models with their prices. Whether it be low pricing or cutting-edge hearing aid technology, each MDHearing model offers distinct advantages:
The MDHearing AIR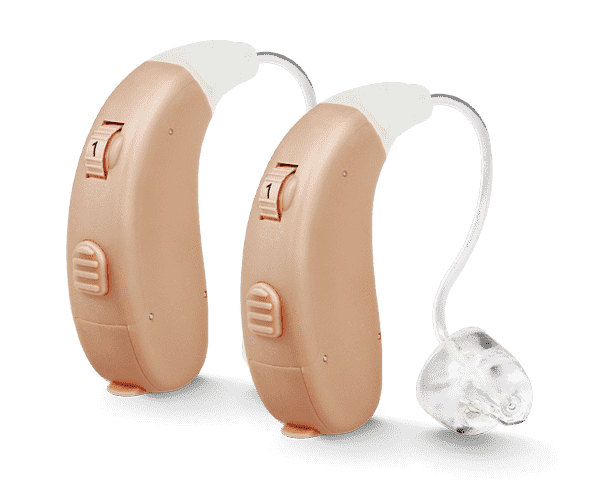 The MDHearing AIR is our entry-level model, with the essential hearing loss features required to fit 94 percent of individuals with hearing loss. Excellent for budget-conscious individuals with mild to moderately severe hearing loss, the MDHearing AIR offers:
Feedback reduction technology to prevent loud whistling noises

Digital sound processing technology

Four sound environment settings

Improved background noise cancelation to help you hear more clearly in noisy environments

Unlimited access to MDHearing's licensed audiologists and hearing aid specialists by phone or email
The MDHearing AIR sells for only $299.98 a pair, and it's the perfect choice for anyone who needs hearing loss treatment without the exorbitant price tag that usually comes along with it.
The MDHearing VOLT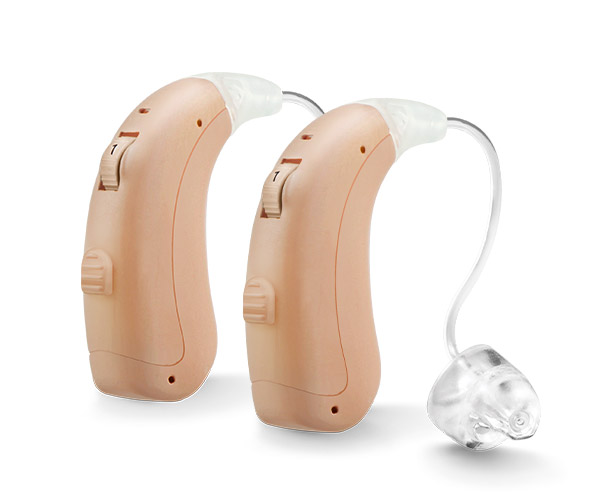 The MDHearing VOLT is a long-lasting rechargeable hearing aid with state-of-the-art audio quality and noise management that sells for only $299.98 a pair. Here are the features you'll find in the MDHearing VOLT:
Rechargeable hearing aid (a full charge lasts about 20 hours)

Digital sound processing technology

Advanced noise reduction technology

Four sound environment settings

Feedback reduction technology to prevent loud whistling noises

Dual directional microphones to clarify and focus on the conversations in front of you in noisy environments

Unlimited access to MDHearing's licensed audiologists and hearing aid specialists by phone and email
The VOLT features all of the advanced technology you'll need for effective hearing loss treatment.
The MDHearing VOLT MAX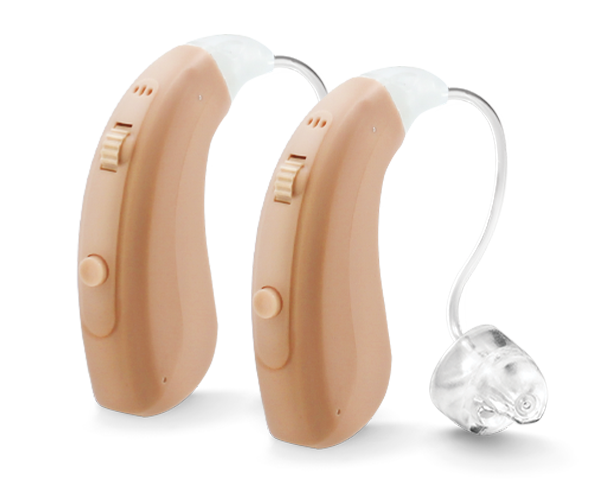 The MDHearing VOLT MAX is the most technologically advanced, smart hearing aid model offered by MDHearing, for only $699.98 per pair. As a cutting-edge digital hearing aid, the VOLT MAX puts all the control in your hands, allowing you to adjust and optimize your hearing aid without ever setting foot in a clinic. Here are the benefits offered by the VOLT MAX:
Rechargeable hearing aid (a full charge lasts about 15 hours)

Portable charging case that holds 3 full charges

Personalized for your unique hearing needs via the MDHearing smartphone app

Smartphone app lets you quickly and easily adjust the volume and sound settings

Automatically adapts to your environment as listening conditions change to focus on the sounds and voices that you want to hear

Dual directional microphones to clarify and focus on the conversations in front of you in noisy environments

Feedback reduction technology to prevent loud whistling noises

Unlimited access to MDHearing's licensed audiologists and hearing aid specialists by phone and email
Don't just take our word for it—MDHearing has received a rating of 4.6 out of 5 stars from Consumers Advocate. MDHearing customer Brad writes:
"This is my second pair of hearing aids and if I could go back in time, I would have been much happier with the hearing aids I purchased from your company. The old ones were 4 years old and I originally paid $3,000. In that time, they needed to be repaired 4 times. I have had these VOLT hearing aids for 4 days and I cannot believe the wonderful sound quality. My old ones always caused me to hear things that hindered me from hearing the sounds I wanted to or needed to hear… Thank you for all your hard work to make listening a real pleasure again."
Users on the online review platform Sitejabber have given MDHearing an average rating of 4.6 out of 5 stars, based on 38 reviews. Richard M. writes:
"My wife and I tried hearing aids from $2500 each to $500 each. Then we found MDHearing online and ordered the VOLT. They work as good, if not better, than the $2500 ones. We had questions on the fit and charging. We called twice and got knowledgeable agents (they're all in the USA) who listened and answered to our complete satisfaction. Wow: great hearing, great customer service, and great prices. 5 stars all the way!"
Conclusion
Most TruHearing customers seem to be satisfied with the service, giving the company high marks. TruHearing provides hearing aids in standard, advanced, and premium models, and offers two different programs (TruHearing Choice and TruHearing Select) for customers to choose from. TruHearing devices come with a risk-free trial period and a 3-year warranty to cover any defects.
However, a minority of TruHearing reviewers complain about issues such as poor-quality products and deficient customer service. For these reasons, would-be TruHearing customers should also investigate TruHearing alternatives such as MDHearing to find the solution that best meets their needs and budget. MDHearing offers a variety of affordable, high-quality hearing aids, paired with top-notch support and a 100% money-back guarantee.
Are you looking for affordable, high-quality hearing aids that won't break the bank? MDHearing can help. Get in touch with us today so we can help you decide which products are the right fit for your situation.
Want to see if MDHearing hearing aids will work for you? Take our quick and easy online hearing test and get your results instantly.
TAKE ONLINE HEARING TEST