Hearing loss is a common condition among people of all ages and from all walks of life. The U.S. National Institutes of Health (NIH) has found that 37.5 million U.S. adults have some form of hearing loss.
A large majority of this population, 28.8 million U.S. adults, have types of hearing loss that could benefit from using hearing aids. Yet among these 28.8 million people, only 30 percent of those 70 and older actually use hearing aids—a figure which drops to just 16 percent for those between 20 and 69.
There are many reasons why people who could benefit from hearing aids choose not to do so. Some people prefer not to admit their hearing loss, while others find hearing aids bothersome and difficult for daily use. Hearing aids can also make users feel "old," and in many cases the cost of hearing aids remains a strong deterrent—typically between $2,000 and $7,000 for each ear.
In order to change the stigma around hearing aids and make them less expensive, companies such as TruHearing are offering low-cost plans for affordable hearing aids. But is TruHearing the best hearing aid solution on the market, or are there better alternatives to TruHearing available? This article will discuss everything you need to know about TruHearing:
What is TruHearing?
TruHearing is a managed care administrator and hearing aid provider that aims to offer affordable hearing aids by working with a variety of health plans. Founded in 2003, TruHearing is currently headquartered in Draper, Utah. The hearing aid manufacturer Sivantos Group acquired TruHearing in April 2018.
The goal of TruHearing is to provide customers with affordable hearing aids. However, it's important to note that TruHearing does not manufacture any hearing aids itself, and it is not a health insurance provider either.
Instead, TruHearing is an independent company that offers discounts and savings on hearing aids. TruHearing purchases hearing aids from manufacturers, and then resells them to end users. The company acts as a middleman between you, your healthcare providers, and hearing aid manufacturers.
To use TruHearing, customers first need to have a phone conversation with a TruHearing "hearing consultant." The TruHearing representative answers customers' questions and then schedules an appointment with a local audiologist or hearing aid specialist who is affiliated with TruHearing.
During this appointment, the TruHearing-affiliated provider will perform a brief exam and make a diagnosis. The provider will then order the appropriate hearing aids from TruHearing, which will be ready for pickup a few days to a few weeks later. Throughout this process, TruHearing handles paperwork such as insurance policies and claims submissions.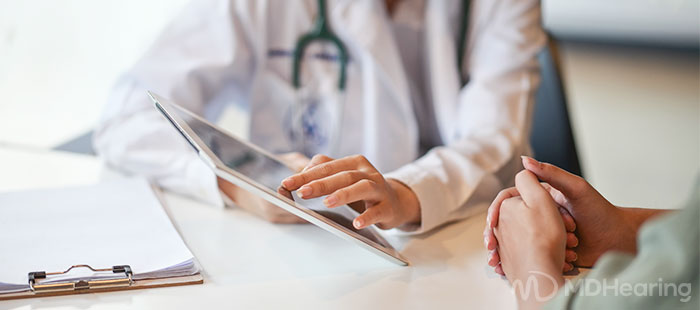 Comparing Options When Purchasing Hearing Aids: Over-The-Counter (OTC) vs. from a Hearing Clinic
Consumers now have multiple options for where to purchase hearing aids. Depending on the method chosen, the price and convenience can differ dramatically.
Traditional hearing aid providers
Over-the-counter hearing aids
Process: In August 2022, the U.S. Food and Drug Administration (FDA) created a new category of over-the-counter (OTC) hearing aids. This has enabled millions of customers to buy hearing aids in stores or online without a prescription from a medical doctor.

Cost: Because they cut out much of the medical red tape and barriers, over-the-counter hearing aids typically cost less than those bought from traditional hearing aid providers. According to the American Speech-Language-Hearing Association (ASHA), the average cost of OTC hearing aids is less than $1,500 per pair.
Process: For more than a decade, MDHearing has pioneered the practice of selling affordable hearing aids directly to consumers. Founded by a doctor frustrated with the high price of hearing aids, MDHearing provides high-quality, FDA-registered hearing aids while cutting out the middleman. Consumers can order online or over the phone and receive their hearing aids in just a few days.

Cost: As low as $299.98 per pair.
TruHearing Pricing: How Much Does TruHearing Cost?
The out-of-pocket cost for hearing aids from a clinic varies widely, from a lower end of roughly $2,000 to an upper end of $7,000 for the most premium models. With prices for hearing aids so high, how much can you save using TruHearing?
As of writing, the TruHearing website claims that customers can save an average of $2,642 per hearing aid pair versus retail prices by using its services. However, the accurate price of TruHearing hearing aids depends both on the hearing aid model you select, as well as your health insurance benefits. TruHearing works with more than 5,000 providers across the country and is compatible with a variety of healthcare plans, including certain Medicare plans.
There are two main programs that TruHearing customers have access to:
TruHearing Choice: This option is the most widely available of TruHearing's services. According to the company, TruHearing Choice customers have options priced between $695 and $2,250 per hearing aid, with products from multiple hearing aid manufacturers. There are four tiers of TruHearing Choice products: basic, standard, advanced, and premium.

TruHearing Select: This option requires customers to pay small copayments in exchange for receiving digital, smartphone-compatible hearing aids. The company claims that TruHearing Select customers can see a "significant" reduction in their out-of-pocket expenses. There are two tiers of TruHearing Select products: advanced (starting at $1,195 per hearing aid) and premium (starting at $1,495 per hearing aid). Customers that choose this option only have access to TruHearing brand hearing aids (manufactured by Sivantos/Signia).
Regardless of which plan you use, all TruHearing products come equipped with a 60-day trial and a 3-year warranty that protects against loss, damage, or manufacturer defects. TruHearing also provides 80 free batteries for non-rechargeable hearing aids.
Finally, the cost of TruHearing hearing aids includes a year of follow-up visits to hearing aid providers for fittings and consultations. After that, the customer will need to pay for any further visits out of pocket.
How Does TruHearing Work With Hearing Clinics?
TruHearing partners with hearing clinics across the country to offer hearing aids to their customers. The details of the process are as follows:
TruHearing signs a contract with a hearing clinic.

The clinic receives a certain amount of money for each hearing test and hearing aid selection appointment it performs.

After the hearing aid fitting appointment, TruHearing pays clinics a contracted fitting fee.

Patients pay TruHearing directly for the hearing aids. The devices are ordered only after 50 percent of the balance is paid, with the remainder due to TruHearing at the time of pickup.

Clinics are encouraged to keep patients in their plan (i.e., not moving a patient with a TruHearing Select plan to a Choice plan instead).
TruHearing Products
With that said, what are the hearing aids available through TruHearing?
TruHearing offers a wide selection of hearing aid products through its catalog. The hearing aid manufacturers available through TruHearing include Signia, Starkey, Widex, Oticon, Phonak, and ReSound. The company also offers its own TruHearing brand hearing aids, which are manufactured by Sivantos/Signia and available in a variety of models and colors.
As mentioned above, TruHearing offers hearing aids in four price tiers: basic, standard, advanced, and premium.
The ReSound Enya 2 is an example of a TruHearing standard hearing aid. It includes features such as Digital Feedback Suppression (DFS) technology, adaptive and fixed directionality, and a ReSound smartphone app for fine-tuning performance.
The Widex Evoke 330 is an example of a TruHearing advanced hearing aid. It includes features such as noise reduction for wind and soft noises and a "zen" mode to help with tinnitus.