Let's explore the average cost of hearing aids in 2023, and how you can "beat the system" to get a high-quality set of hearing aids for thousands of dollars less.
So… you're having trouble hearing, and you need a pair of hearing aids. But there's a very big problem: They cost $4,600 a pair!? How are you going to afford those prices?
Fortunately, as Bob Dylan might say, "the times they are a-changin'." In 2023, there are plenty of high-quality, affordable hearing aids available (if you know where to look). In many cases, these affordable hearing aids are priced as low as $299 a pair, and they do an absolutely excellent job of treating mild to moderate hearing loss.
But seriously, can a $299 pair of hearing aids really offer a quality hearing care experience?
To answer this question, you need to understand the secret reason why hearing aids are so expensive at hearing clinics. Then, we'll show you how to literally save thousands of dollars per ear on high-quality, medical-grade aids.
Please use the following links to navigate the article:
The Secret Reason Why Hearing Aids Are So Expensive
The secret reason why hearing aids are so expensive is not because of manufacturing costs; it's the result of unnecessary markups. In fact, hearing aid manufacturers and hearing clinics add thousands of dollars to the actual manufacturing cost of most hearing aids.
Manufacturer Markups
In 2012, the New York Times published an article exposing the price-gouging tactics of hearing aid manufacturers. According to the article (The Hunt for an Affordable Hearing Aid):
The microphones, speakers, and processing chips [in hearing aids] aren't that expensive. Those devices in small volumes cost $10 to $15."
Including assembly, even the most cutting-edge and state-of-the-art hearing aid costs approximately $300 to make at the factory. However, manufacturers usually add another $1,000 to $2,000 to the base cost of each hearing aid before selling it to a hearing clinic.
If these markups sound unreasonable, that's because they are. But the "Big Five" hearing aid brands (WS Audiology, Oticon, Resound, Starkey, and Phonak) have dominated the global hearing aid markets and artificially inflated the prices of hearing aids for decades—essentially because they can. It used to be that the Big Five hearing aid brands were the only ones who created quality hearing aids. To get them, customers needed to visit an expensive hearing clinic to get their hearing tested and receive a custom-fitted pair of aids.
There are many examples of businesses in the healthcare industry that dominate markets and artificially inflate prices like this. One example is Turing Pharmaceuticals (now known as Vyera Pharmaceuticals). Turing bought the rights to a 62-year-old drug, Daraprim, which is the standard for treating a life-threatening parasitic infection. Next, the CEO of Turing, Martin Shkreli, gouged the price of Daraprim from $13.50 to $750 a pill overnight—simply because he could. This left patients unable to afford the price of treating their deadly medical conditions. Aside from Turing's decision to exploit its monopoly on the pill, there was no reason for the price hike. The move brought widespread criticism by revealing the problem of price extortion in the healthcare and pharmaceutical industries.
Until recently, the hearing aid industry wasn't very different. For many decades, the Big Five hearing aid brands either owned—or had financial relationships and partnerships with—virtually every hearing aid manufacturer and hearing aid clinic available. As a result, hearing loss patients didn't have a choice in the matter; they had to spend thousands of dollars on hearing aids or leave their hearing loss untreated.
Fortunately, the hearing aid market of 2023 is different than it was 20 years ago. Today, affordable, over-the-counter hearing aid options—like MDHearing—are growing incredibly popular with savvy consumers, and they have also received FDA registration. Even better, over-the-counter hearing aids are bringing an end to exorbitant markups at hearing clinics.
Hearing Clinic Markups
Similar to the Big Five manufacturers, traditional hearing clinics pile markups onto the final price of hearing aids too. Consumer Reports exposed this in a report that showed hearing clinic markups more than double the final consumer cost of hearing aids (resulting in a 117% increase in price on average).
One of the ways hearing clinics try to conceal these markups is through "bundling strategies." These package deals provide a number of hearing care products and services for a single lump-sum price. A package deal like this might include:
Hearing exam, diagnosis, and consultation (usually offered for free to get new customers in the door)

Hearing aids

Professional fittings

Fine-tuning and adjustments

One or two follow-up appointments and checkups
According to Audiology Online, the price of hearing aid bundling strategies may not be grounded in reality:
The bundled pricing strategy is typically based on nothing tangible. When looking at pricing, 80% of the time it is typically a rudimentary calculation of the invoice times something. It does not take into account overhead or account expenses. It is typically just a calculation above invoice."
Another way that hearing clinics hide their exorbitant markups is through payment plans that sound like this: "Pay over time with payments of $100 a month over 36 months."
Bundling strategies and payment plans reduce the initial sting of the price and help you feel like you're getting more value. But try not to be fooled by these "tricks of the trade." Your hearing clinic aids will still cost a lot of money!
Here's a quick and easy tip to save money: Clinics tend to vary their prices dramatically, even by hundreds or as much as a thousand dollars for the same hearing aids. By checking prices at different hearing clinics around town, you could save a lot of money. Clinics in affluent neighborhoods tend to charge the most.
Are Hearing Clinics Worth the Extra Money?
When you go to a hearing clinic, you will usually receive a quality, name-brand product. The in-person customer service is also nice if that's the type of care you need or prefer. The problem is, you will pay $2,500 to $8,000 for hearing aids that cost about $250 to $600 to make.
To put these prices into perspective, consider the cost of a typical smartphone. These devices are packed with advanced technology and state-of-the-art capabilities—and they sell for an average price of $299 apiece. If a feature-packed smartphone costs $299, is it fair to charge $8,000 for a pair of hearing aids?
Now that you know the secret reason why hearing aids from a hearing clinic are so expensive (exaggerated markups by manufacturers and clinics), is it really worth paying thousands of dollars extra for in-person service? Hearing loss patients can save thousands of dollars by skipping the hearing clinic altogether. In a moment, we'll provide a list of high-quality hearing aid manufacturers that will deliver affordable hearing aids directly to your home.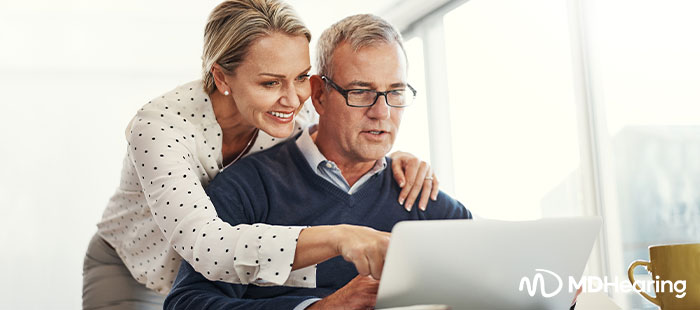 What About Medicare? Will Medicare Pay for Hearing Aids?
Sadly, Original Medicare will not pay for any part of your hearing aid costs. Nor will it pay for a hearing exam for hearing aids. According to Medicare, "Original Medicare doesn't cover hearing aids or exams for fitting hearing aids. You pay 100% for hearing aids and exams."
Hopefully, this will change. In early 2023, bipartisan legislation was reintroduced to secure hearing aid benefits for Medicare recipients. According to Representative Debbie Dingell, "Congressional Representatives Debbie Dingell (D-MI) and Brian Fitzpatrick (R-PA) reintroduced the bipartisan Medicare Hearing Aid Coverage Act to expand Medicare to cover hearing aids for beneficiaries."
In the meantime, those with a Medicare Medical Advantage Plan (Part C) may be able to receive partial hearing care benefits. Make sure to check with the plan provider for more information about this if you have an Advantage Plan.
Does the VA Provide Hearing Care Benefits?
U.S. Veterans can apply for hearing aid benefits from the VA (Veterans Affairs). In fact, the VA is the largest provider of hearing aids in the United States. Just remember that it can take months (or as much as a year) to get your hearing aids from the VA.
Aside from the VA and the Plan C of the Medicare Advantage Plan, most Americans do not have any hearing aid benefits. However, just to be sure, check with your healthcare insurance provider and ask. Finally, some may be able to get help with hearing aid costs from a nonprofit program such as Easter Seals, but most won't qualify for this assistance.
Save Thousands of Dollars on Hearing Aids From These High-Quality Hearing Care Brands
Even if you don't qualify for hearing aid benefits, there's a light at the end of the tunnel. High-quality and affordable hearing aid options are available to fit any size budget. Below, we'll explore the options from quality, direct-to-consumer hearing aid manufacturers.
Thanks to new legislation and updated FDA guidelines, hearing loss patients now have more options than ever to purchase affordable hearing aids. Here are some hearing aid brands that will literally save you thousands of dollars on your next pair:
MDHearing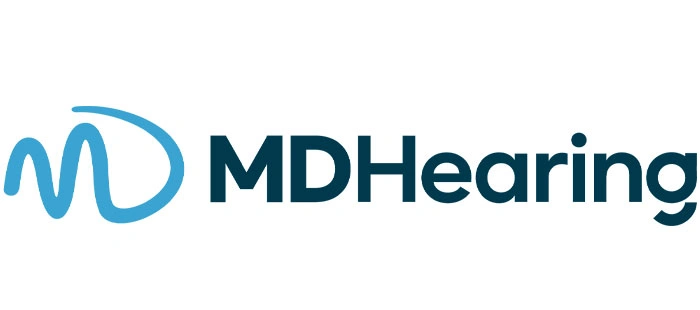 At MDHearing, we manufacture our own proprietary hearing aids and sell them directly to consumers online or over the phone. Founded by an ear, nose, and throat doctor nearly 15 years ago, our company was specifically created to provide high-quality, budget-friendly hearing aids to cost-conscious patients.
In addition to selling affordable hearing aids, we also provide remote hearing care. Our on-staff audiologists and licensed hearing specialists will discuss the results of your hearing test, recommend your best hearing care options, and support you throughout the lifetime of your hearing aids. Our professionals are available via telephone, email, video chat, or web chat.
At MDHearing, we're proud to sell our FDA-registered hearing aids—which fit approximately 94% of people with hearing loss—for thousands of dollars less than traditional hearing aids. We achieve these low low prices by (1) designing and manufacturing our own hearing aids, and (2) removing the hearing clinic middleman and all of the unnecessary markups and costs associated with traditional hearing aids.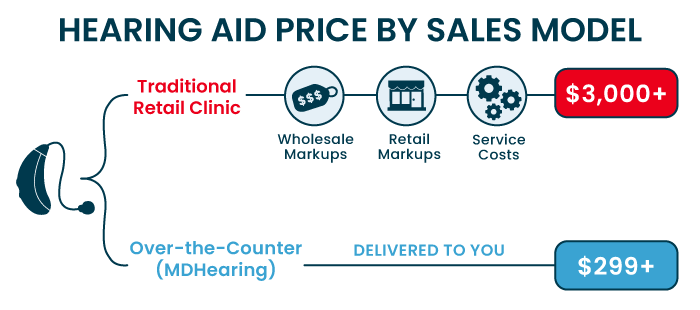 With standard models starting at just $299 a pair, every MDHearing hearing aid comes with a 100% money-back guarantee and unlimited free support from our licensed hearing specialists and audiologists. If you don't like your hearing aids, send them back within 45 days for a full refund.
If you have the results of an in-clinic hearing test (also called an audiogram), you can email the results to us, and our audiologists will provide advice for your hearing care. If a hearing aid is appropriate, we'll also help you select the best hearing aid to match your needs. If one of our hearing aids is not appropriate for your hearing loss, we will tell you that, too.
For those who choose the MDHearing VOLT MAX hearing aid, we can use your audiogram or online hearing test results to remotely adjust your hearing aids using the same fine-tuning technology that hearing clinics use. The VOLT MAX also includes smart technology to automatically adjust itself to fit your specific hearing profile.
Want to get a professional hearing exam for free? Skip to the next section of this article!
Costco Hearing Aid Center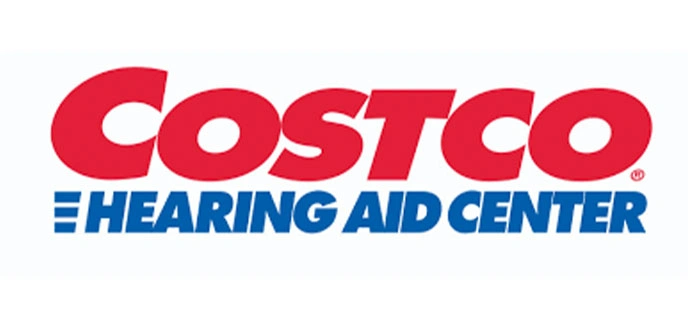 Certain Costco stores include a full-service hearing clinic known as Costco Hearing Aid Center. Open to Costco members, Costco Hearing Aid Centers provide in-person testing and consultations with a hearing specialist, along with a wide range of high-quality hearing aid options. Second only to the VA, Costco is the largest private seller of hearing aids in the United States.
The reason for Costco's popularity is because their prices are much lower than the typical hearing clinic. Patients will often be able to find a pair of hearing aids at Costco for between $1,500 and $2,000 a pair.
Although these hearing aid prices are higher than the prices at MDHearing, Costco Hearing Aid Center is definitely taking a step in the right direction to make hearing aids more affordable to American patients.
Read our in-depth overview of Costco Hearing Aids here.
TruHearing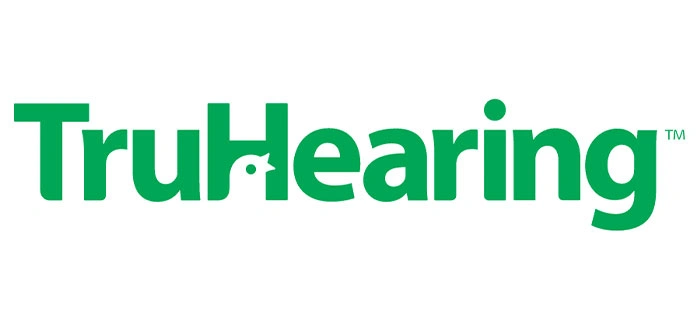 TruHearing isn't a hearing aid manufacturer. It's a third-party managed care provider created to make hearing aids more affordable. Available from 80 different health insurance companies including Humana and Blue Cross Blue Shield, some patients and American workers will have a TruHearing benefit. Contact your insurance company to see if you're covered.
Although TruHearing doesn't pay for the full cost of hearing aids, it can make conventional hearing aids from hearing clinics more affordable by paying part of the expense. For example, patients with an entry-level TruHearing plan will be able to purchase a TruHearing brand hearing aid (made by WS Audiology). Customers with higher-level plans will have other hearing aid brands to choose from, such as Oticon, ReSound, Starkey, or Phonak—with hearing aid prices ranging between $1,390 to $4,500 a pair (significantly lower than the average).
It's important to keep in mind that TruHearing will only give you a discount on certain hearing aids depending on the level of your plan. Also, the hearing aids you can select from will have lower levels of technology than the latest hearing aids on the market. All that said, TruHearing is a good way to save some money on name-brand hearing aids if it's included in your insurance.
Read our in-depth overview of TruHearing here.
How to Get a Hearing Test for Free
Did you know that 1 in 5 Americans have hearing loss, but most of them don't even know it? Over-the-counter manufacturers like MDHearing can sell you highly effective hearing aids without a hearing test. However, evaluating your hearing helps in several different ways:
Find out if you have hearing loss and could benefit from hearing aids.

Give MDHearing more information to match you with the best hearing aids.

Help MDHearing provide more accurate remote hearing aid adjustments if you purchase the MDHearing VOLT MAX.

Help determine whether additional hearing tests are needed to rule out a more serious health condition.
Going to a medical professional for a hearing examination can be expensive, but here are several ways you can evaluate your hearing for free.
Free Online Hearing Test from MDHearing
We encourage everyone to take the free online hearing test from MDHearing here. Our test was designed with the help of audiologists, ENT doctors, and sound engineers to maximize accuracy, and it only takes minutes to get instant results. Plus, when someone takes the online hearing test from MDHearing, they will receive a link to schedule a free phone consultation with an MDHearing audiologist, who will provide recommendations for whether a hearing aid can help—or recommend next steps in cases where a more in-depth medical evaluation is required.
Free Telephone-Based Hearing Test
We also recommend that everyone take this additional, telephone-based hearing screening for additional feedback on their hearing health. This telephone-based screening evaluates your ability to hear in noise, and it was scientifically proven to accurately determine whether someone has hearing loss.
Just call 833-635-0016 to start the free hearing test now—or visit this link to learn more about the test.
Free In-Person Test at a Local Hearing Clinic
Some patients may want to receive an in-person hearing assessment for a more thorough evaluation of their hearing. Fortunately, most hearing clinics around the United States will give you a hearing assessment for free.
Just call a few hearing clinics near your home and ask if they do a no-obligation screening for hearing loss. You'll be surprised to find that most hearing clinics provide these tests for free. After the test is complete, you should receive the results in the form of an audiogram, with some advice about whether you would benefit from hearing aids.
Best of all, if you send your results to MDHearing, our licensed hearing professionals will review your audiogram closely, speak with you over the phone, and provide recommendations for your hearing care—and whether a specific MDHearing product is a good match for your needs. For those who purchase the MDHearing VOLT MAX, our hearing specialists can remotely customize the hearing aid settings based on the results of your audiogram. This allows you to receive a professionally-adjusted pair of hearing aids for a fraction of the usual cost.
Don't Fall for High-Pressure Sales Tactics: Strategies For Dealing With Hearing Clinics
If you're visiting a hearing clinic for a free hearing test, you might face some pushy sales tactics. After all, this is how they make their money. It helps to consider ahead of time how you will respond to the most common high-pressure sales strategies. Usually, it's enough to say, "I'm not ready to buy a hearing aid yet. I just wanted to check my hearing."
Just in case that line isn't enough, here are the most common hearing clinic sales tactics and how to respond to them:
Sales Tactic #1: "The total cost is $3,285, but it's designed to last for 6 years. That adds up to just $1.50 a day for better hearing. Isn't having better hearing worth $1.50 a day?"

Response: "That certainly does sound better, but it's a lot of money and I need to talk it over with my family before making a big purchase like this."
Sales Tactic #2: "This is an excellent deal, way below the average price for most hearing aids."

Response: "It might be reasonable for some patients, but I'm on a strict budget and I never make a same-day purchase decision when it's over $1,000. I'll get back to you if I decide to buy."
Sales Tactic #3: "With our monthly payment plan, you're paying less than you pay for the internet. Isn't that affordable for better hearing?"

Response: "It does sound affordable when you put it that way, but I want to get a hearing aid and afford my cable TV. I'm going to keep checking prices and see what else is available before I make a decision."
Sales Tactic #4: "Don't you want to hear your loved ones again?

Response: "Yes, this is the reason I'm shopping for hearing aids. But I don't want to cause financial problems for my family. I will keep shopping for a better deal and get back to you if I don't find one."
Sales Tactic #5: "Untreated hearing loss increases the chances of you getting Alzheimer's and getting into an accident."

Response: "I know, I read an article about it, but you're not going to frighten me into spending thousands of dollars."
Sales Tactic #6: "Affordable hearing aids are a scam! Over-the-counter aids aren't really hearing aids, they're just expensive sound amplifiers!"

Response: "Actually that's not true. Didn't you hear about the FDA's August 2022 ruling on Over-the-Counter hearing aids, which made more affordable hearing aid options available to consumers? Yes, some devices are not real aids, but patients can find incredible deals on quality aids if they check for the FDA-registration status of the product."

Response: "That's not accurate. The over-the-counter hearing aid company MDHearing recently received FDA 510(k) approval for its self-fitting smart hearing aids.

Response: Clinical studies have shown that self-adjusting, over-the-counter aids can provide the same or better hearing experience as professionally-adjusted aids for thousands of dollars less. A clinical study from Central Michigan University (CMU) showed that the performance of MDHearing "smart" hearing aids offers a similar quality of treatment as professionally-adjusted conventional aids.

Sales Tactic #7: The average cost of hearing aids is $4,600 a pair, and these hearing aids are only $2,999. Plus, you're getting a lot of exciting bells and whistles!

Response: "I don't need any 'bells and whistles.' I just need to hear my loved ones better. I'll get back to you later after I do some more price comparisons."
Facing high-pressure hearing aid sales tactics isn't easy, but it's important to remember that you have no obligation to spend money at a hearing clinic. Even if they give you a free hearing test, you have the right to shop for a better deal, and you should exercise that right!
A Final Thought From the MDHearing Team
At MDHearing, we firmly believe that quality, effective hearing care should not cost patients thousands of dollars. That's why we created our company—to make hearing care and real, FDA-registered hearing aids economical enough for every budget to afford.
Your local hearing clinic might try to tell you that $1,800 or $2,500 hearing aids are the best that prices can get, but we can do better. With our special deals ranging from just $299.98 to $699.98 a pair, MDHearing doesn't just provide you with quality and affordable hearing aids. Our state-of-the-art telehealth services, professional audiologists, and licensed hearing aid specialists are always just a phone call or email away.
Last but not least, every MDHearing product comes with a 45-day trial and 100% money-back guarantee. Consider taking the next step to better hearing with us by trying one of our affordable, FDA-registered hearing aids now.
Want to see if MDHearing hearing aids are a good match for your needs? Take our free online hearing test now.
TAKE ONLINE HEARING TEST
Concerned that you can't afford a quality pair of hearing aids? Browse our affordable, doctor-designed, FDA-registered hearing aids now. You'll be surprised how reasonable our prices are!
COMPARE HEARING AIDS