So, you got your hearing checked by an audiologist, and they confirmed what you suspected… You have hearing loss, and you need to get a pair of hearing aids.
But after the audiologist suggests some devices to correct your hearing, the sticker shock hits you square in the face. How are you going to afford to treat your condition at $4,600 a pair!?
The truth is: Hearing clinics are charging anywhere from $2,500 to $7,000 for a pair of hearing aids in 2022. However, the times are rapidly changing. High-quality hearing aids are also available for as low as $299 (if you know where to look).
In this article, we'll take a deep dive into the cost of hearing aids in 2022, why hearing aids are so expensive at hearing clinics, and how to save thousands of dollars per ear on high-quality, medical-grade hearing aids.
Please use the following links to navigate the article:
The Secret Reason Why Hearing Aids Are So Expensive
The secret reason why hearing aids are expensive has a lot more to do with unfair markups and monopolies than it does with the actual cost of designing and building hearing aids. In fact, both hearing aid manufacturers and hearing clinics are adding thousands of dollars (per ear) to the price of your hearing aids.
1. Markups on Hearing Aids by Manufacturers
The "Big Six" hearing aid manufacturers (Widex, Signia, Oticon, Resound, Starkey, Phonak) have dominated the hearing aid market—and controlled the prices—for decades. Without any real price competition, these hearing aid manufacturers have been able to mark up prices as high as they want.
In fact, the current situation with inflated hearing aid prices is similar to the following description of Luxottica's monopoly on the eyeglasses industry (here's another resource on Luxottica):
What do Oakley, Ray-Ban, and Persol have in common? They are all owned by the same brand. That's right, Luxottica, an Italian-based eyewear company, produces about 70% of all name-brand eyewear. This is fairly close to a monopoly, as with that high of a market share, Luxottica dominates the market price. Notice that Luxottica is not a single price monopoly, as it practices a form of price discrimination by having multiple brands aimed at different consumers. Let's consider what would happen if Luxottica only sold one kind of sunglasses at the same price to all consumers, and if they owned 100% of the market."
Here's how it works in the hearing aid industry: If the hearing aid costs around $300 to make at the factory, manufacturers will add another $1,000 to $2,000 to the price before selling it to a hearing clinic. Just like Luxottica, hearing aid makers are taking a product that's relatively inexpensive to build, and unnaturally driving up the price—just because they can.
Back in 2012, the New York Times exposed the price-gouging tactics of hearing aid manufacturers with an article on why hearing aids are getting more expensive. According to an expert quoted in the piece:
The microphones, speakers, and processing chips [in hearing aids] aren't that expensive. 'Those devices in small volumes cost $10 to $15.'"
The fact that Big Six manufacturers are selling hearing aids that should be relatively affordable for sometimes $7,000 a pair (or more) is the primary reason why affordable alternatives like MDHearing are rising in popularity. Simply put, consumers instinctively know when something costs too much—and now, hearing aid customers finally have affordable options.
But before we talk about affordable hearing aids, let's look at the exorbitant retail markups on hearing aids at hearing clinics.
2. Markups on Hearing Aids by Clinics
In addition to manufacturer markups, audiologists and hearing clinics also add hundreds to thousands of dollars to the price of your aids. Consumer Reports once pointed out that hearing clinics more than doubled the price of hearing aids with retail markups of 117% on average.
To take some of the sting off of these high prices, most hearing clinics offer "bundling strategies." These are package deals that bundle a number of products and services together, but consumers should not be fooled. They are definitely paying for everything received and more. For example, you might receive the following when you buy from a clinic:
A hearing exam and diagnosis

Hearing aids

Extra batteries or other accessories

Fittings

Fine-tunings and adjustments

One or two follow-up appointments
Although hearing clinic bundling strategies help customers feel like they're getting more bang for their buck, Audiology Online makes the sobering point that the price of hearing aid package deals are not exactly grounded in reality:
The bundled pricing strategy is typically based on nothing tangible. When looking at pricing, 80% of the time it is typically a rudimentary calculation of the invoice times something. It does not take into account overhead or account expenses. It is typically just a calculation above invoice."
At the end of the day, the final retail price of hearing aids can vary significantly—sometimes by a thousand dollars or more—for the exact same products and services depending on where you look. Therefore, it can really benefit your pocketbook to check the prices at multiple clinics before making a purchase.
Even better, it's a good idea to look at the hearing aids being sold by direct-to-consumer manufacturers. You'll be surprised to find that you can buy a high-quality pair of hearing aids for a lot less money (more on this in a moment).
Does Medicare or the VA Offer Hearing Care Benefits?
Unfortunately, Original Medicare does not cover any of the cost of hearing aids. As the Medicare website indicates: "Original Medicare doesn't cover hearing aids or exams for fitting hearing aids. You pay 100% for hearing aids and exams."
That being said, some Medicare Advantage Plans (Part C) provide partial benefits for hearing care expenses. So if you have a Medicare Advantage Plan, please contact the plan to find out what they cover.
Fortunately, veterans may qualify for VA hearing aid benefits, and the VA is currently the largest provider of hearing aids in the United States. However, the VA process can be extremely slow, taking months to sometimes even a year to receive aids, so be prepared for a long wait. Some lucky individuals might be able to qualify for hearing care assistance from a nonprofit program like Easter Seals.
For everyone else, you may find it difficult—if not impossible—to get financial help with your hearing care, but fortunately, you still have some excellent options to save thousands of dollars on a pair of quality aids.
How to Save Thousands of Dollars on Quality, Medical-Grade Hearing Aids
In 2022, hearing loss patients have a lot more options to save money when purchasing hearing aids. Here are several that we recommend:
MDHearing
At MDHearing, we're both a hearing care provider and a hearing aid manufacturer. Founded by an ear, nose, and throat doctor who wanted to create a budget-friendly option for hearing aids, MDHearing has now been in business for well over a decade.
During the course of our business, we've succeeded in dramatically reducing the price of high-quality, FDA-registered hearing aids by (1) designing and manufacturing our own medical-grade hearing aids; and (2) cutting out the hearing clinic middleman and selling directly to our customers over the internet.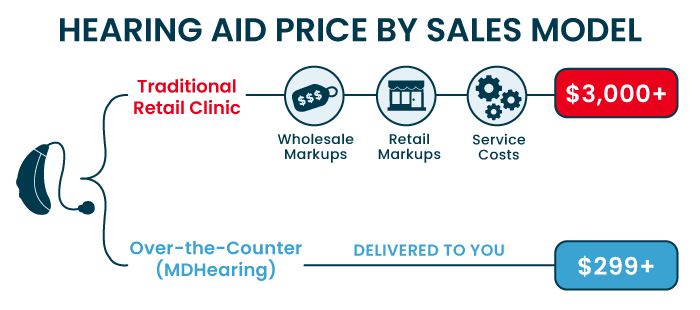 Starting at just $299 a pair for our base model—and less than $1,000 a pair for our most advanced hearing aids—all MDHearing products come with a 100% money-back guarantee, and unlimited free support from MDHearing's in-house audiologists and hearing aid specialists.
If you don't know whether you have a hearing problem, MDHearing's free online hearing test can help. By taking the five-minute test, you can pinpoint the nature of your hearing loss,and then have a free phone or video consultation with an audiologist for hearing care recommendations. We also recommend this free and easy telephone-based test as another option to evaluate your hearing.
Finally, with our "smart" hearing aid option—the MDHearing VOLT MAX—we can remotely fine-tune your hearing aids to reflect either the results of your online hearing test or a professional audiogram from an audiologist-administered hearing test. Check out the last section of this article to find out how you can get a professional hearing test for free at almost any hearing clinic.
Costco Hearing Aid Center

After seeing the growing demand for affordable hearing aids, Costco launched its own line of hearing aids under the Kirkland Signature brand and opened Costco Hearing Aid Centers in select Costco locations around the United States. Since opening its Costco Hearing Aid Center, Costco has become the largest private provider of hearing devices in the United States—second only to the Veterans Administration.
Instead of designing and manufacturing its own hearing aids, Costco currently partners with the hearing aid company Sonova to produce its Kirkland aids. Sonova is one of the Big Six hearing aid manufacturers. It owns the Phonak and Unitron brands and has a solid reputation for quality.
As a full-service clinic, Costco Hearing Aid Center provides a number of hearing clinic services, including in-person testing, audiology consultations, and the fine-tuning and maintenance of hearing aids. With Costco's Kirkland 10.0 hearing aids starting at $1399.99 a pair—and discounts on other hearing aid brands—Costco Hearing Aid Center is a reasonably affordable option for treating your hearing for less.
Read our comprehensive review of Costco Hearing Aids here.
TruHearing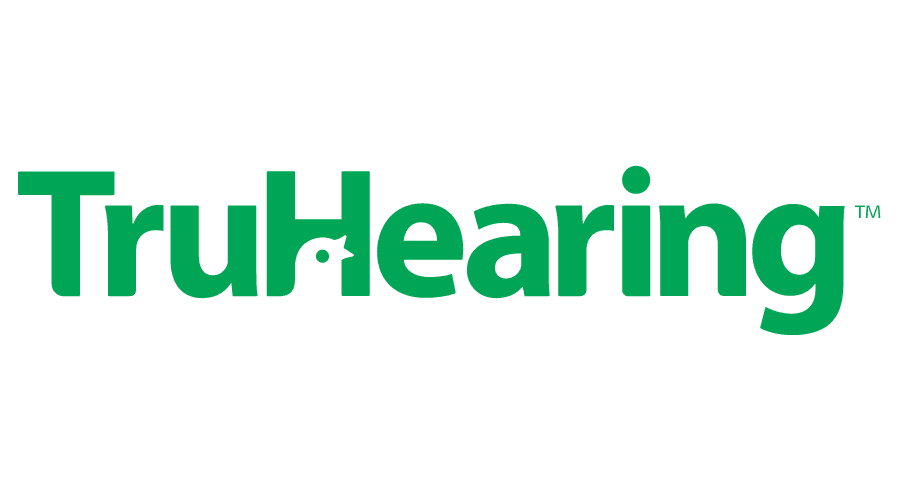 TruHearing is a third-party managed care provider that offers affordable hearing treatment plans through approximately 80 health insurance companies, such as Humana and Blue Cross Blue Shield. Many American workers have the TruHearing benefit, so you might want to check with your insurance company to find out whether you're covered.
While the TruHearing benefit doesn't make your hearing aids free, it will allow you to purchase hearing aids from well-known manufacturers at deep discounts. For example, TruHearing offers hearing aids from Widex, Oticon, ReSound, Signia, Starkey, and Phonak. That being said, the level of technology you can choose from will be limited based on the specific terms of your TruHearing plan.
With prices ranging between $1,390 and $4,500—which includes a hearing test, pair of hearing aids, fittings, and adjustments—TruHearing is a great way to save money on hearing aids for those who have the benefit as a part of their health insurance.
Read our comprehensive review of TruHearing here.
Bose Hearing SoundControl Hearing Aids

Bose Corporation recently released an affordable direct-to-consumer hearing aid. As a widely recognized brand, the entry of Bose into the affordable hearing aid market is definitely an exciting development, and the affordable price of these aids is an indicator of where the hearing aid industry is headed—toward convenient solutions that everyday people can afford.
Priced at just $850 a pair, the Bose SoundControl hearing aid is certainly an attractive option. However, it's important to point out that—from a hearing aid technology perspective—it doesn't offer much in the way of groundbreaking, revolutionary, or new technology. Nevertheless, it does come with the Bose Corporation name.
In fact, hearing loss patients can receive more advanced, medical-grade technology from MDHearing for a similar price. Moreover, MDHearing customers can consult for free with one of MDHearing's on-staff audiologists, and that's not possible when you buy from Bose.
Read our comprehensive review of Bose hearing aids here.
How to Get a Professional Hearing Test for Free at a Hearing Clinic
In the previous section, we talked about how you can save thousands of dollars by skipping the hearing clinic and ordering a direct-to-consumer hearing aid from MDHearing. But what if you want to get a professional, in-person hearing assessment before going with a direct-to-consumer brand?
Most hearing clinics offer free hearing tests, also known as audiograms, and they will give you the audiogram without any obligation to buy their hearing aids. That means you can save more money by getting a professional audiogram for free. Then, you can send the test results to MDHearing and our audiologists will advise you of your hearing care options.
Even better—if you buy the MDHearing VOLT MAX—our hearing specialists can remotely custom-tune your hearing aids according to the results of your audiogram in the same way that a hearing clinic would adjust them.
Strategies to Deal With High-Pressure Sales Tactics at Hearing Clinics
Please keep in mind that some—but not all—hearing clinics and audiologists will use elaborate sales tactics while you're getting your free hearing test. Therefore, you might want to be prepared to say, "No, I don't want to buy a hearing aid, I just wanted to check how bad my hearing loss is."
Here are some strategies for responding to high-pressure sales tactics at hearing clinics:
"The hearing aid costs $6,800, but it has an 8-year lifespan. That's $850 a year, $71 a month, and $2.30 a day. Doesn't that sound better?"

Yes, it does sound better, but isn't this one of the oldest sales tactics in the book?
"Being able to hear for $2.30 a day is reasonable right?"

No, it's not reasonable. I know that more affordable options exist.
"Isn't your hearing worth the price of a cable bill?"

Of course, but I want to treat my hearing loss

and

afford my cable TV, so I'm going to look for more affordable options.
"Don't you want to be able to connect with your loved ones?

Yes, but I don't want to break my piggy bank to do it!
"Didn't you know that untreated hearing loss increases your chance of getting Alzheimer's?"

Yes, I read

an article all about this topic

, but you're not going to scare me into spending more than I have to.
"Affordable hearing aids don't exist. The ones you buy direct-to-consumer aren't really hearing aids!"

Actually,

a case study by the Better Hearing Institute

showed that direct-to-consumer (i.e., mail-order or online) hearing aids are just as beneficial as traditional, more expensive hearing aids. And many of them

are

real, FDA-registered hearing aids.
At the end of the day, remember that you have zero obligation to buy hearing aids from a clinic that offers free hearing screenings. You always have the right to shop around for a better hearing aid price, and you owe it to yourself to weigh your options.
Final Thoughts from the MDHearing Team
As a final note, you don't need a hearing test in order to buy a pair of hearing aids from MDHearing, but we always recommend that our customers get a professional evaluation of their hearing loss. A hearing test will determine how serious your hearing loss is—and it will tell you whether it's a simple matter of earwax blockage or a case of permanent damage.
You can also opt to take a hearing test online with MDHearing. Our test was designed with the help of audiologists, ENT doctors, and sound engineers to maximize accuracy, and it only takes minutes to get instant results.
Once your hearing test is complete, our audiologists at MDHearing will be happy to review your test results and provide advice on whether our affordable hearing aid options are a good match for your needs.
At MDHearing, we strongly believe that quality, effective hearing loss treatment can and should be affordable for everyone, regardless of their budget. Take the next step, and experience better hearing with an affordable, medical-grade, FDA-registered hearing aid from MDHearing.
Want to see if MDHearing hearing aids will work for you? Take our quick and easy online hearing test and get your results instantly.
TAKE ONLINE HEARING TEST
Don't let sticker shock stop you from getting the hearing aids you need. Take the next step to better hearing with our affordable, FDA-registered hearing aids.
COMPARE HEARING AIDS