The largest eyewear maker in the world, EssilorLuxottica, recently announced they're getting into the hearing aid business with a new concept for OTC (over-the-counter) "hearing aid glasses." As OTC aids, patients will be able to buy the devices without a hearing exam or prescription.
EssilorLuxottica's hearing aid glasses are big news, but this isn't just because they come from a world-renowned company. It's also because of the novel way the glasses treat hearing loss. These hearing aid glasses use "acoustic beamforming technology" to make the hearing aid component completely undetectable—so it looks like you're wearing a normal pair of eyeglasses.
Quality hearing aids that look like stylish eyeglasses and you can purchase them over the counter without visiting an audiologist? Could this innovative design shake up the hearing aid industry? How do these hearing aid glasses work? And, more importantly, how well do they work?
In this quick overview, we'll tell you everything you want to know about the exciting new hearing aid glasses from EssilorLuxottica.
Who Is EssilorLuxottica?
EssilorLuxottica is the largest eyewear company in the world. In fact, every pair of glasses you own—whether they're sunglasses or eyeglasses—likely came from companies owned or supplied by EssilorLuxottica.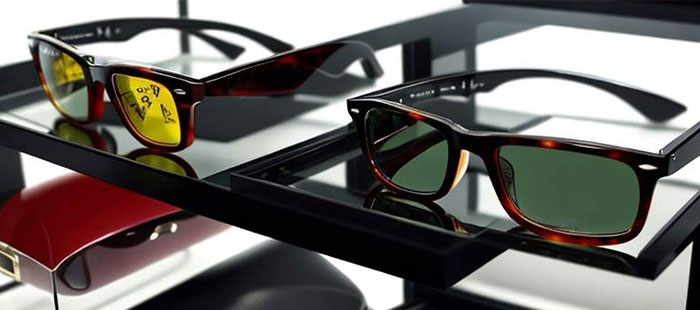 This Italian eyewear giant provides prescription and non-prescription eyeglasses to numerous high-end and designer brands—like Chanel, Prada, Giorgio Armani, Burberry, Versace, Dolce and Gabbana, Michael Kors, Coach, Miu Miu, and Tory Burch.
Which Global Eyewear Companies Does EssilorLuxottica Own?
EssilorLuxottica outright owns the following global eyewear companies:
Ray-Ban: Perhaps the most famous sunglasses brand in the world. It was acquired by Luxottica in 1999.

Oakley: A sports and lifestyle brand, it was acquired by Luxottica in 2007.

Persol: An Italian eyewear brand that Luxottica acquired in 1995.

Oliver Peoples: A high-end eyewear brand acquired by Luxottica in 2007.

Vogue Eyewear: A brand focused on fashion-forward eyewear.

Alain Mikli: A brand known for its innovative and unique designs.

Arnette: A brand focused on youth and counter-culture.
Which Global Eyeglasses Stores Does EssilorLuxottica Own?
EssilorLuxottica also owns the following global eyeglasses stores:
Sunglass Hut: Stores selling sunglasses and sunglass accessories.

LensCrafters: Optical stores operating in North America.

Pearle Vision: Optical stores operating mainly in North America.

Opsm: Optical stores operating in Australia and New Zealand.

Laubman & Pank: Optical retailer in Australia.

GMO: Optical stores operating in South America.

Salmoiraghi & Viganò: Optical retailer in Italy.

David Clulow: UK-based optical retailer.

Óticas Carol: Optical stores operating in Brazil.

Ilori: High-end sunglasses boutique.
As a large global corporation, EssilorLuxottica's entry into the hearing aid market represents a significant challenge to the five leading hearing aid manufacturers. The move is likely to shake up the long-standing market dominance of these "Big 5" hearing aid giants (GN Resound, WS Audiology, Oticon, Starkey, and Sonova).
How and Why Is EssilorLuxottica Shaking Up the Hearing Aid Business?
EssilorLuxottica's decision to shake up the hearing aid market makes sense. The firm is providing a revolutionary design concept—treating hearing loss without the traditional look of wearing hearing aids. The technology provides a unique and stylish hearing care solution to the growing number of aging baby boomers now in need of hearing aids.
How Does an Eyewear Company Like EssilorLuxottica Enter the Hearing Aid Market?
In late 2022, EssilorLuxottica purchased an Israeli audio-technology start-up, Nuance Hearing. Nuance Hearing was launched in 2015 with the specific goal of creating technology that would help people hear voices and important sounds better in noisy environments. Nuance Hearing has already proven itself by creating some of the most advanced technology available on the market today.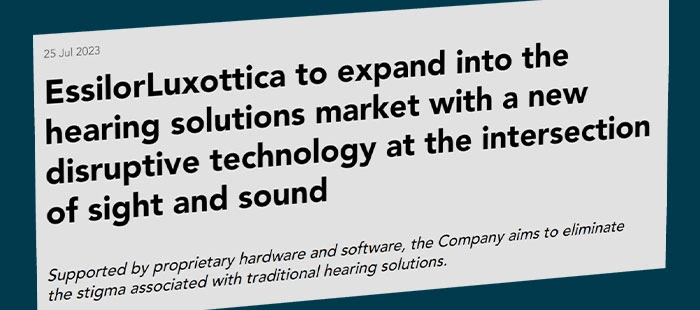 With the acquisition of Nuance Hearing, EssilorLuxottica has created a new division devoted to hearing care and hearing aids. In July 2023, the firm announced that it is now leveraging its newly purchased Nuance Hearing technology and team to create and globally distribute "hearing aid glasses." These glasses filter background noise and sharpen audio clarity without needing to insert traditional hearing aids into the ear—which is an absolute game-changer in the hearing aid space.
How EssilorLuxottica's Entry Into the Hearing Aid Market Could Challenge the Market Dominance of the "Big 5" Hearing Aid Companies
The potential hearing aid market available to EssilorLuxottica is enormous. First, it's important to remember that EssilorLuxottica has a massive global distribution network of brick-and-mortar optical stores around the globe. EssilorLuxottica could use this network to distribute hearing aid glasses to people purchasing eyewear in these stores. Imagine if an optometrist says, "It looks like you need bifocals, and by the way, have you heard of our hearing aid glasses?"
In fact, selling hearing aids in optical stores is already common in Europe. Specsavers, a large optical chain in Europe, sold 530,000 hearing aids in 2022 alone. Fielmann, a large German optical retailer, sold over 106,000 hearing aids in 2021.
Fielmann is already expanding into the U.S. market with its recent purchase of U.S. optical companies, SVS Vision and Befitting.com. With new U.S. laws allowing non-audiologists and non-doctors to sell hearing aids over the counter (see OTC hearing aid section below), it's likely that Americans will also be seeing hearing aids in their local optical stores—just like Europeans have been seeing them for years.
Of course, as the baby boomer generation grows older, they're going to need more hearing aids. According to the World Health Organization (WHO), "By 2050 nearly 2.5 billion people are projected to have some degree of hearing loss and at least 700 million will require hearing rehabilitation." Also, according to the National Institute on Aging, "About one-third of older adults have hearing loss, and the chance of developing hearing loss increases with age."
Considering these points, EssilorLuxottica's entry into the hearing aid market is not only well timed, but the company has all of the resources and infrastructure required for success. Simply by comparing its market capitalization to the most dominant "Big 5" hearing aid companies, we can see that EssilorLuxottica is a Goliath. Its $86 billion value rivals the current market capitalization of these hearing aid giants:
GN Resound is a brand of GN Store Nord, which also owns Jabra and Betone and has a market capitalization of $21 billion.

WS Audiology does not have an available market cap or net assets figure.

Oticon is a brand of Demant, which has a market capitalization of $65 billion

Starkey claimed net assets of $3.8 billion.

Sonova has a market capitalization of $15.6 billion.
EssilorLuxottica's substantial global distribution network spanning 150 countries—and its immense financial resources—position the company to rapidly gain market share and present a credible challenge to the "Big 5." Together with its game-changing "hearing glasses technology," the firm brings the resources, experience, and innovation that could permanently destabilize the entire hearing care industry.
What Are "Hearing Aid Glasses" and How Do They Work?
The "hearing aid glasses" from EssilorLuxottica are not publicly available yet. However, we have gathered a few details about this hearing loss solution and how it works. Essentially, hearing aid glasses resemble ordinary glasses, yet they cater to those who require hearing aids—especially patients who prefer to use a virtually "invisible" solution.
By appealing to patients who don't want the stigma that comes with wearing hearing aids, hearing aid glasses offer the best of both worlds—better vision and better hearing from a single pair of stylish eyeglasses.
According to the Chairman and CEO of EssilorLuxotica, Francesco Milleri:
Our proprietary hardware and software, combined with our design and manufacturing capabilities, will enable us to pair hearing solutions and prescription glasses into one groundbreaking product, and to bring it to market everywhere through our open network model. As we did in the vision space, we will be the first to remove the stigma of traditional hearing solutions, replacing it with comfort and style."
While the MDHearing team hasn't had the opportunity to try a pair of hearing aid glasses for ourselves, we have learned the glasses incorporate technology that picks up sound directionally, while adding more clarity and reducing background noise, so you can hear the most important sounds and voices in a room—even in noisy and chaotic sound conditions.
As for getting the sound to your ears, we haven't received confirmation of the exact delivery method. However, rumor has it that the hearing aid glasses use tiny speakers strategically placed in the arms of the glasses. In this way, they can invisibly send the corrected sound directly into your ears—without the need for an actual earpiece.
EssilorLuxottica Hearing Aids Use Nuance Hearing Directional Hearing Aid Technology: What Is It?
The specific directional hearing aid technology that the hearing aid glasses deploy is from Nuance Hearing, the firm now owned by EssilorLuxottica. This technology uses special "Sound Selector" algorithms that the firm calls "acoustic beamforming technology" to isolate and boost the volume of important voices and sounds while reducing background noise.
The global hearing aid company Starkey is already using Nuance Hearing's Sound Selector technology in its Table Microphone. The microphone helps Starkey hearing aid wearers clarify the voices in a room or a meeting. Nuance Hearing claims the technology provides "a direction coefficient of 15dB." Nuance also says that this is significantly better than the world's most advanced 'real-time' products, which only offer a 4-5 dB directional coefficient.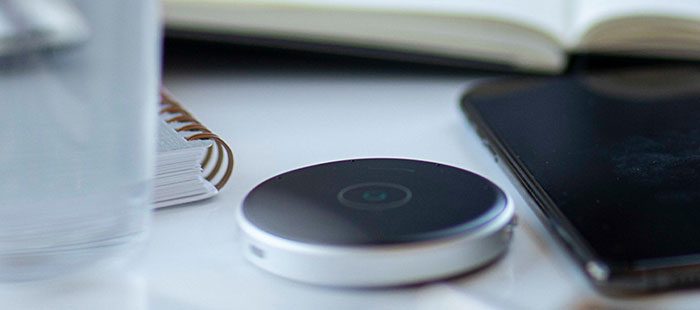 In simpler terms, Nuance says their technology "makes listening effortless and conversation easy by automatically sharpening the sounds that matter and tuning out everything else."
What Does This Technology Mean for the Larger Hearing Aid Market?
This technology means that EssilorLuxottica isn't just planning to compete with the Big 5 hearing aid giants on looks, style, and design. It's implementing groundbreaking sound technology on par with (or potentially better than) leading manufacturers.
The Problematic History of Hearing Aid Glasses
It's never been easy to wear hearing aids and eyeglasses at the same time. The arms of the glasses can get tangled in the hearing aid tubes, which can make it hard to take your glasses off—sending your expensive hearing aids crashing to the floor. Wearing hearing aids with glasses may also irritate your ears. Add a COVID mask into the mix and you've just created a bird's nest of wires and strings around your ears!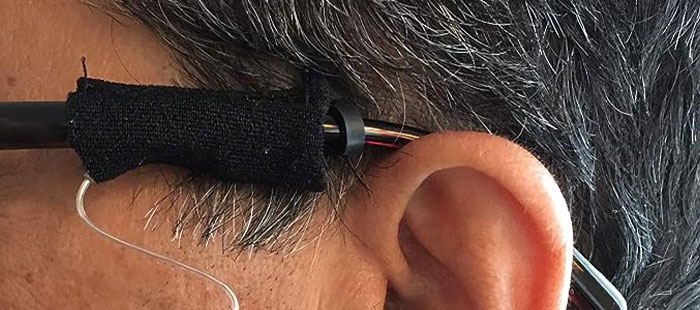 There have been many attempts to solve this problem. In some cases, people use an elastic product that ties the hearing aids to the arms of the glasses so they don't fall to the ground (or a soft sleeve to prevent irritation), but these are awkward and annoying to use. They can also cover up the microphones of your hearing aid making it more difficult to hear.
In other attempts, hearing aid manufacturers have merged both devices into one—as hearing aid glasses. The idea has been around for a long time, and many brands have tried to create hearing aid glasses in the past. But historically, hearing aid glasses have been bulky, ugly, and/or they just don't work as well as conventional hearing aids.
This is why the hearing aid glasses announcement from EssilorLuxottica is so exciting. EssilorLuxottica's hearing aid glasses utilize cutting-edge directional sound technology from Nuance Hearing packaged into what looks like a conventional and stylish pair of eyeglasses. In other words, EssilorLuxottica's version is quite different from the old-fashioned hearing aid glasses you may have seen in the past.
If these glasses are everything EssilorLuxottica claims they are, then they could be the two-birds-with-one-stone solution the market has been waiting for.
EssilorLuxottica Hearing Aid Glasses Review: How Well Do They Actually Work?
EssilorLuxottica hasn't released its hearing aid glasses to the market yet, but they have allowed a few experts to try them. For example, Abram Bailey, an audiologist from HearingTracker.com, and fellow hearing aid expert, Andrew Bellavia, recently tried an early prototype of the devices in Italy. They claim the listening experience was excellent.
According to Bailey, "Wherever I looked, I could hear. It was really like some kind of weird eavesdropping superpower—the kind you always expect hearing aids to give you (spoiler: they never do). In all my hearing aid testing over the years as an expert reviewer of hearing aids, I'd really never experienced anything quite like this. It was cool… but a little disorienting at first."
According to Bellavia, "The result was nothing short of remarkable. Trying to ignore context and not looking at the lips of the person speaking to me, I estimate word recognition to be about 60% unaided and essentially 100% when wearing the glasses."
As for listening during a dinner conversation, Bellavia wrote, "My understanding of the first person's speech was 100%, and nearly so for the second. Only occasionally did I miss a word, a vast improvement over unaided listening. I put the glasses on and off several times to make sure of what I was hearing. The result was nothing short of remarkable."
Coming from two hearing aid experts, these reviews are impressive. They hint at the likelihood of radical changes coming to the entire hearing aid landscape—leading to competitive pressure that inspires other manufacturers to innovate a wider range of corrective hearing devices and styles.
OTC Hearing Aid Glasses: Could Over-the-Counter Purchases Be the Biggest Game-Changer of All?
The fact that hearing loss patients will be able to purchase EssilorLuxottica hearing aid glasses without visiting an audiologist or hearing clinic is an absolute game-changer for the hearing care industry.
Not only will these devices give consumers the latest advancements in noise cancellation technology, but the OTC nature of the hearing aids will remove a lot of overhead and costs from the process of distribution. This brings the potential of allowing EssilorLuxottica to sell their hearing aid glasses at an extremely competitive price point—just like MDHearing does with its line of affordable, high-quality hearing aids.
What Are OTC Hearing Aids?
Over-the-counter (OTC) hearing aids are a newly established class of hearing devices made possible as a result of the FDA's August 2022 ruling on OTC aids. Designed for adults with mild to moderate hearing loss, OTC aids allow customers to address their hearing loss from home without any special in-person appointments. To qualify as OTC hearing aids according to the FDA, devices must:
Be safe and effective for adult users with mild to moderate hearing impairment as perceived by themselves.

Comply with FDA labeling regulations, such as including warnings and other essential information that consumers must understand before using the devices.
In fact, in-depth clinical tests from Bose, MDHearing, and other OTC hearing aid manufacturers have helped pave the way for the approval of this new class of hearing aid by the FDA.
These clinical tests have shown that modern OTC hearing aids—which consumers select and fit for themselves without a doctor or audiologist—offer the same or better hearing experiences as conventional aids fitted by audiologists. The tests have shown that OTC hearing aids can successfully treat over 94% of individuals with hearing loss over the age of 65.
Quality Customer Service Will Be the Key to EssilorLuxottica's Success
At MDHearing, we are a customer service-oriented company that prides itself on providing the best remote hearing care and hearing aid support in the world. In this respect, we know that offering quality products to our customers is only half of the success equation for OTC hearing aids and quality hearing loss treatment.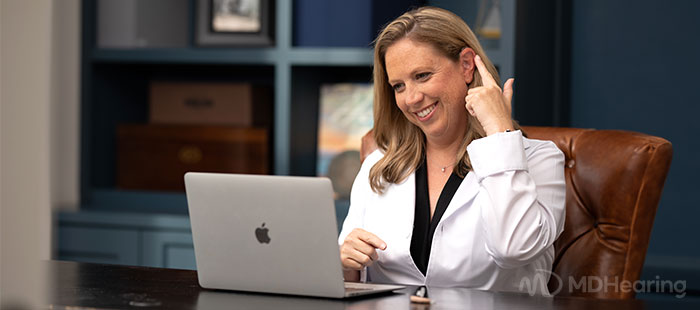 At MDHearing, we offer lifetime phone, video chat, text message, and email support. We also provide a wide range of remote hearing care services to provide hearing clinic quality care without the clinic. This includes our online hearing tests and free consultations with our team of on-staff audiologists and licensed hearing specialists to make sure you get the best hearing treatment for your unique hearing loss.
If EssilorLuxottica can combine its innovative hearing aid glasses technology with stellar customer support, this new product could change the hearing care industry—and destabilize the "Big 5" dominance of hearing aids—forever.
Conclusion
The potential impact of EssilorLuxottica's OTC hearing aid glasses on the hearing aid industry can't be underestimated. Their unique approach of combining eyewear with hearing aids in a stylish and comfortable format doesn't just pose a direct threat to the established players in the industry. It could also inspire affordable OTC hearing manufacturers like MDHearing to innovate and sell comparable and affordable hearing aid glasses of their own.
Finally, EssilorLuxottica's ability to tap into its global distribution network, vast financial and marketing resources—and its existing eyewear customer base in 150 countries—gives it a significant competitive edge over existing hearing aid manufacturers.
At MDHearing, we love all innovation and change that brings new life—and more affordable options—to hearing loss patients around the world. In this respect, we're excited to see how EssilorLuxottica's hearing aid glasses perform in the months and years ahead.
Learn more about MDHearing's affordable OTC hearing aids.
BROWSE HEARING AIDS