Are you looking for effective ways to treat your hearing loss? The good news is that it's never been easier to find high-quality and affordable hearing aids.
In August 2022, the U.S. Food and Drug Administration (FDA) announced that it would allow the sale of over-the-counter (OTC) hearing aids. Customers can now purchase OTC hearing aids in many retail stores without the need to consult an audiologist or go to a hearing clinic. The FDA expects that OTC hearing aids will help improve access to these devices while lowering costs for the tens of millions of people in the U.S. with hearing loss.
Soon after the FDA's announcement, the electronics retailer Best Buy revealed that it planned to offer OTC hearing devices in hundreds of its stores. Best Buy joins other retailers that have recently added OTC hearing aids to their list of products, such as CVS and Walgreens hearing aids.
With companies like Best Buy rolling out their own hearing aid offerings, customers have questions such as: Are Best Buy hearing aids worth it? How does Best Buy compare to other hearing aid providers? What are the best alternatives to Best Buy hearing aids?
This all-in-one guide will give you a comprehensive look at Best Buy hearing aids—including cost, reviews, and more—so that you can make the choice that's right for you.
Best Buy Hearing Aid Products
Best Buy has partnered with a number of hearing providers to bring OTC hearing aids to its stores. According to the Best Buy website, the full list of hearing aid manufacturers with products available at Best Buy is:
Ear Technology Corporation

Eargo

Go Hearing

Hearing Assist

HP

Jabra

Lexie

Lucid Hearing

Nuheara

Sony
Here at MDHearing, we've written in detail about a number of these products, including Eargo hearing aids and Lexie hearing aids. If you're curious about a specific brand, we encourage you to check out these pieces for more information.
To get started buying hearing aids at Best Buy, the company recommends taking an online hearing assessment that identifies the user's level of hearing loss. Customers can also go in-person to one of the nearly 300 Best Buy stores offering hearing aids and get help from employees who have been trained on topics in hearing loss and audiology.
According to Best Buy's announcement, the company will sell "nearly 20 OTC hearing aids" that are intended for customers with mild to moderate hearing loss. As of writing, Best Buy has 43 products available for sale online under the "Hearing Aid" category. However, not all of these items are actually hearing aids—for example, many are parts and pieces such as hearing aid tubes and domes. Below, we'll go over a few of the hearing aids for sale at Best Buy.
Lexie B1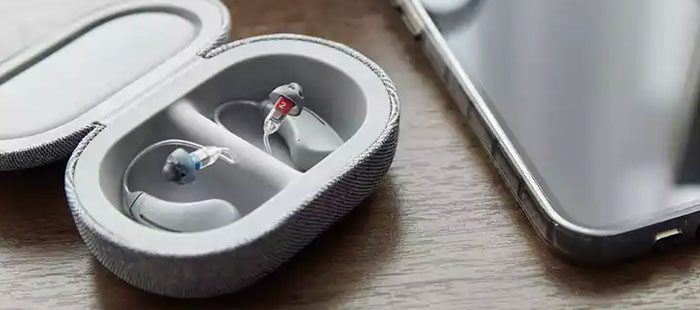 The Lexie B1 is a self-fitting, receiver-in-the-canal (RIC) hearing aid. Best Buy currently sells a pair of Lexie B1 hearing aids for $849, or $70.75 per month in 12 monthly installments. Lexie B1 product features include:
Self-fitting and self-tuning (using the Lexie mobile app)

World Volume feature to amplify specific sounds

Adjusting treble and bass for more natural voices

Settings for conversations, general listening, and specific environments
Eargo 7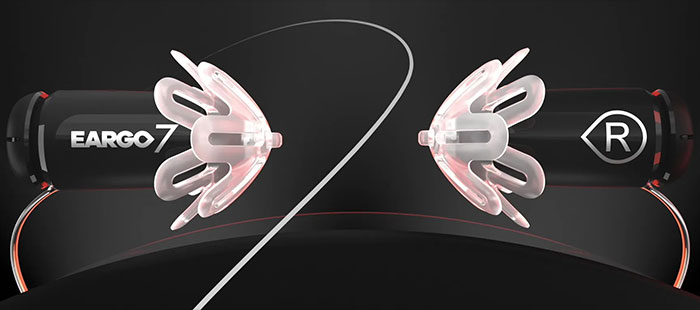 The Eargo 7 is a self-fitting rechargeable hearing aid. Best Buy currently sells a pair of Eargo 7 hearing aids for $2,650, or $220.84 per month in 12 monthly installments. Eargo 7 product features include:
Self-fitting and self-tuning (using the Eargo mobile app's Sound Match feature)

Rechargeable hearing aids with up to 16 hours of battery life

Completely in-the-canal (CIC) design with "petals" to keep the device in place

Two-year warranty with protection for repairs, loss, and damage
Go Prime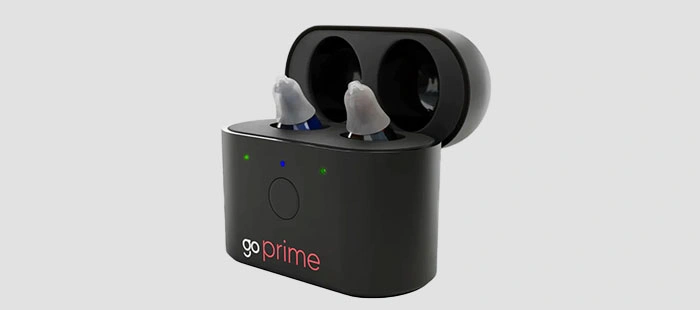 The Go Prime is a rechargeable in-the-ear (ITE) hearing aid. Best Buy currently sells a pair of Go Prime hearing aids for $299, or $24.92 per month in 12 monthly installments. Go Prime product features include:
Three preset programs for different listening environments

Volume control and noise reduction settings

Up to 30 hours of battery life with rechargeable batteries
Other products
In addition to hearing aids, Best Buy sells other products for people with hearing loss. These include hearing amplifiers, also known as PSAPs (personal sound amplification products). However, it's important to note that PSAPs are not hearing aids and not considered medical devices. Rather, PSAPs function like a megaphone inside the ear, amplifying all sounds equally instead of focusing on important sounds (such as human speech).
Best Buy also sells a number of accessories for customers who purchase hearing aids. These include TV amplifiers, headphones, and hearing aid dryers and sanitizers.
Best Buy Hearing Aid Reviews
Reviews of Best Buy hearing aids are decidedly mixed, depending on which products you're looking for. On the Best Buy website, for example, Lexie B1 hearing aids have received an average rating of 4.5 out of 5 stars, based on 28 user reviews. Reviewer Damian writes:
I have been thoroughly impressed with the product and its features. The self-fitting process was incredibly easy and straightforward. The package comes with multiple hearing aid dome sizes and an ear measuring tool, making it simple to ensure a proper fit. I was also pleasantly surprised by how discreet and comfortable the hearing aids are to wear."
On the other hand, reviewer BHTurnow cautions about some of the limitations of Lexie hearing aids in a three-star review:
These are NOT Bluetooth in the way that most think. The Lexie App is the ONLY thing that works via Bluetooth. You CANNOT stream music, radio, and more importantly, hearing apps… The other thing I do not like is there is no on/off switch. The only way to turn them off is by opening the battery compartment. For people with poor fine motor skills or large fingers, that does not make it easy to power them on and off… Lastly, these are NOT for very large ears. I'm 6'2" and these are a very tight fit."
Meanwhile, Hearing Assist's CONNECT OTC hearing aids have an average rating of 1 out of 5 stars. Reviewer DonHeb complains about the devices' short battery life, writing:
They only hold a charge for one hour. Two hours to charge for one hour of use! Don't waste your time."
MDHearing: A Great Alternative to Best Buy Hearing Aids
Are Best Buy hearing aids the right choice for you? The answer will depend on what you're looking for. The advantages of Best Buy hearing aids include:
Significant convenience: Best Buy hearing aids are available for purchase online, as well as in roughly 300 stores across the country.

Wide range of products: Best Buy sells OTC hearing devices from nine different hearing aid manufacturers, giving customers a variety of options to choose from.

Features and functionality: The hearing aids available at Best Buy include valuable features such as noise cancellation, Bluetooth wireless connectivity, and moisture protection.
The disadvantages of Best Buy hearing aids include:
Mixed reviews: Some Best Buy hearing aid products have been more well-received by customers than others. Certain reviews have noted issues with battery life and product quality.

High costs: While some Best Buy hearing aids are more affordable, others sell for over $1,000 or even $2,000, which is out of reach for many consumers.

Limited range: Best Buy hearing aids are intended only for individuals with mild to moderate hearing loss. This means that these products are not suitable for people with severe and profound hearing loss.
While Best Buy hearing aids might be a good choice for some customers, they're not the right fit for everyone. So what's the best Best Buy hearing aids alternative?
MDHearing can help. Since our founding by a Chicago ENT (ear, nose, throat) doctor more than a decade ago, we have provided affordable hearing aids to over 750,000 customers in need of hearing loss solutions. Our FDA-registered hearing aid products are high-quality and significantly less expensive than many other brands, including Best Buy hearing aids.
Like Best Buy and other OTC hearing aid retailers, MDHearing cuts out the middleman, putting our products directly in your hands without the need for a hearing aid prescription. MDHearing's affordable hearing aids are suitable for individuals with mild to moderate hearing loss. The benefits of MDHearing include:
Easy to get started: Customers can buy affordable hearing aids online directly from the MDHearing website. The product will arrive on your doorstep assembled and ready for use immediately.

Diverse range of products: Like Best Buy, MDHearing offers a number of different hearing aid options for customers with different needs. Our product lineup includes behind-the-ear and in-the-ear devices, rechargeable hearing aids, and a smart Bluetooth-compatible option—all for prices that are equal to or less than Best Buy hearing aids.

Excellent customer service: MDHearing offers a 45-day risk-free trial for all of our hearing aid products. Our U.S.-based team of audiologists and licensed hearing aid specialists are available via phone, email, and video call.
Ready to see if MDHearing's affordable hearing aids are the right fit for you? Start by taking our free 8-minute hearing test now.
TAKE ONLINE HEARING TEST
Concerned that you can't afford a quality pair of hearing aids? Browse our affordable, doctor-designed, FDA-registered hearing aids now.
COMPARE HEARING AIDS