With the average hearing aid costs running up to thousands of dollars per ear and the cost of living getting more expensive by the day, American consumers are desperate for hearing care options they can actually afford. This is why we get excited whenever a new company—like CVS—joins the effort to reduce the price of hearing aids.
The main reason CVS leapt into the hearing aid business is because they finally can. Last August, New FDA guidelines made it possible for pharmacies and retail stores—like CVS, Walmart, Best Buy, and Walgreens—to sell hearing aids without a prescription. Now we're beginning to see these retailers sell over-the-counter (OTC) aids, but when it comes to CVS devices, there are a lot to choose from. So how do you know which ones are good? And how do they stand up to the competition?
In this guide to CVS hearing aids, we review four CVS hearing aids and how these devices compare to similarly-priced hearing aids from MDHearing.
Who Makes CVS Hearing Aids?
The most important thing to know about CVS hearing aids is the fact that CVS doesn't actually make hearing aids. Nor do they sell them out of their physical stores. Instead, customers need to buy CVS hearing aids from the CVS website and have them delivered to their homes.
CVS doesn't even fulfill the orders for these hearing aids. Instead, it relies on the manufacturer of the devices to deliver them directly to customers. The hearing aids never pass through the hands of CVS, and it does not appear that you receive any special advantages when you order from CVS instead of the websites of the manufacturer.
As for the devices themselves, CVS is selling A LOT of hearing aids from different manufacturers, which makes it extremely difficult to choose the best hearing aid for your needs. Of the many options available, we are going to focus on the devices from Lexie and Go Hearing in this review. Both the Lexie and Go Hearing brands are owned by the larger hearing aid conglomerate, "hearX." Although hearX is a recognized name in the hearing care industry, we feel their products are a little overpriced for what you receive.
Key takeaways: CVS isn't selling its own hearing aids. It's merely an affiliate or agent for a variety of hearing aid manufacturers. You can't buy CVS hearing aids in the physical store, but need to order them from the CVS website.
Read our in-depth review of Lexie hearing aids here.
Read our review of Bose hearing aids here.
Who Are CVS Hearing Aids Good For?
As an affordable alternative to more expensive hearing aids found at hearing clinics, the Lexie and Go Hearing devices at CVS could be a good match for the following customers:
Budget-conscious shoppers: When CVS started selling over-the-counter (OTC) hearing aids in October 2022, it meant that budget-conscious Americans could access affordable hearing aids through their local drug stores.

Patients on a fixed income: Many hearing loss patients are on a tight, fixed income, and they simply don't have the money to afford hearing aids without sacrificing other necessities. Since CVS aids cost less than $1,000 a pair—and sometimes just $200-$300 a pair—these hearing aids are a blessing for anyone on a strict financial budget who couldn't normally afford to treat their hearing conditions.

Those with mild to moderate hearing loss: The OTC hearing aids at CVS are generally a good fit for patients with mild to moderate hearing loss. Those with higher levels of hearing loss should visit a doctor or hearing clinic for their care. If you're not sure what level of hearing loss you have, click this link to take our free online hearing test.

People who don't need or want the bells and whistles: CVS aids are an excellent match for patients who don't care about the fancy features and custom tunings that come with modern aids from a hearing clinic. In other words, you don't want to pay for all the bells and whistles but you still want to understand your family and friends at the dinner table.

Patients who don't have time for doctor's appointments: CVS customers don't need to go to a doctor's appointment to get their hearing aids, so buying them through CVS is a convenient solution for those with busy schedules.

Patients who don't care about receiving free telehealth care benefits: None of the hearing aids from CVS offer free remote telehealth care consultations with a licensed audiologist. Read more about MDHearing's remote hearing care telehealth services below.
Key takeaways: CVS hearing aids are an interesting option for budget-conscious hearing loss patients who have mild to moderate hearing loss. However, these devices do not offer licensed telehealth care benefits, which come free with all MDHearing devices.
Understanding Your CVS Hearing Aid Options and How They Compare to MDHearing
Let's explore the Lexie and Go Hearing hearing aid options available from the CVS website and how they compare to similarly-priced hearing aids at MDHearing.
CVS Go Hearing Devices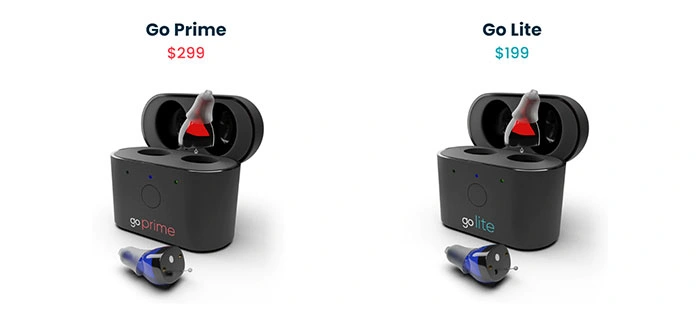 CVS sells Go Hearing aids at two different price points of $199 a pair and $299 a pair. Both of these hearing aids are rechargeable. As in-the-ear (ITE) hearing aids, they insert directly into the ear canal and they're fairly difficult to see when looking at someone head-on.
The $199-a-pair GoLite hearing aid uses older analog hearing technology and it doesn't include any background noise cancelation features, which can make it highly ineffective in noisy situations. The only adjustment this hearing aid offers is volume. These have no feedback reduction so there's a much higher chance you'll experience high-pitched whistling sounds.

The $299-a-pair GoPrime hearing aid includes rudimentary digital processing technology, which allows it to remove some level of background noise to clarify voices in complex listening scenarios. You can manually cycle through three different sound settings and adjust the volume in different listening environments.
Please note that neither device offers Bluetooth sound streaming. You cannot customize these hearing aids to fit your unique hearing loss. Finally, neither the GoLite nor the GoPrime comes with any kind of telehealth support from an audiologist or hearing care professional.
Here's what customers are saying about Go Hearing products:
They are not for everyone: These were unsatisfactory for my specific needs. I found that even the lowest volume setting was, at times, too much for me. Snapping and clacking noises were very sharp. Noise reduction suppresses all sound, including the foreground I want to hear. Applause on TV, crowd noise, etc. brings the total volume down and then it remains down for about three seconds after the noise is gone. So I miss some of the foreground speech. None of the three ear "domes" was a good fit. They fell out a few times even with the best fit. They do amplify the sound and in some cases were good for my hearing profile, and the price is good. They are just not for me." –John T., March 18, 2023 (Amazon Reviews for GoPrime Devices)
Amplifies Sound, Does Little Else: This is more of a sound amplifier than a strict hearing aid. It makes everything louder which isn't ideal. My father has a hearing aid and we got him this just in case his hearing aid broke. He's had to use it a few times and he mentioned that it's worse than his usual hearing aid. Every time he has had to adjust it, he says that it squeals and sounds like feedback. The only way to reduce the feedback is to lower the volume, which makes them slightly useless. Overall, we're not huge fans of this." –Registered Vine Customer Reviewer of GoLite Device (Amazon Program to Get Reviews from Most Insightful Reviewers)
They're not as small as the photo shows: Received the order on time. After close inspection, it appeared that the left earpiece had been used, as it wasn't as clean as the right. If it hadn't been an almost emergency to get them as fast as possible, as one of my other pair died on me, so I was without, I would have sent them back. The sound control system is easy to use, but you need to use caution inserting them in your ears as it's easy to accidentally touch the operation button. I don't notice any noise cancellation nor do they give you any relief from the ringing in your ears. Once you chose the correct plastic earpiece, they'll fit pretty good, however, they're larger than the photo shows. I gave them 4 stars overall, having used less expensive sound amplifiers, they are a little better." –Ron H., March 30, 2023 (Amazon Reviews for GoPrime)
How do they compare to MDHearing?
The GoLite and GoPrime hearing aids from Go Hearing are priced closely to MDHearing's behind-the-ear (BTE) and in-the-ear (ITE) devices. Like the GoLite and GoPrime, MDHearing's models are rechargeable. However, the MDHearing aids offer some additional features that the GoLite and GoPrime don't have, such as background noise reduction and feedback (whistling noise) reduction. Most importantly, these hearing aids come with a 45-day money-back guarantee and lifetime support from MDHearing's telehealth care staff including a team of licensed audiologists and hearing professionals.
Key takeaways: GoLite Hearing aids work well for quiet situations, like watching TV or speaking to one person at home, and the GoPrime model offers some rudimentary background noise reduction features. However, if you want hearing aids that allow you to navigate complex sound environments, multi-person conversations, and dinners in restaurants, these are probably not the hearing aids for you. Make sure to check out the affordable options from MDHearing. MDHearing offers more advanced hearing aid technology plus telehealth care from our team of professionals at a comparable price point of $299 a pair.
CVS Lexie Hearing Aids With Bose Technology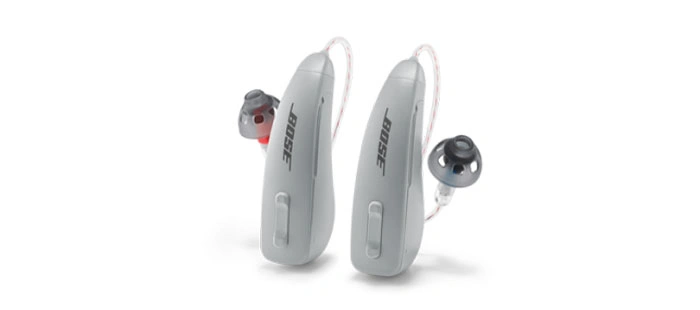 CVS Lexie hearing aids cost $849 a pair for the B1 non-rechargeable model and $999 a pair for the B2 rechargeable model. Although these devices will hit you hard in the pocketbook, they do offer better technology than the Go Hearing models. For example, these hearing aids include Bose hearing aid technology because of a partnership that Lexie made with Bose in 2022.
As receiver-in-the-canal (RIC) hearing aids, these devices sit behind the ear. A thin wire passes over your ear to connect to a small speaker that inserts in the ear canal. They are also "self-fitting" hearing aids. According to Lexie, the hearing aids connect to a self-fitting mobile app that "provides audiologist-quality customization for individuals 18 or older with perceived mild-to-moderate hearing loss."
It's important to note that these hearing aids do not function as Bluetooth headphones, nor do they offer sound streaming from your devices. Nevertheless, they do connect to a smartphone application so you can adjust the hearing aid settings. Essentially, the Lexie Bose hearing aids let you adjust their settings to your unique level of hearing loss without an audiologist.
According to the National Council on Aging, "Lexie devices, like all OTC hearing aids, are meant for adults over the age of 17 with mild to moderate hearing loss. We also think they're the best fit for someone who is comfortable with technology, as they're designed to be used with the Lexie Hearing app to get the full benefit."
Here's what real customers say about Lexie B1 & B2 hearing aids:
A real hearing aid, not some sound amplifier! Small, comfortable and easy to use. The only thing I would add is the ability to adjust the sound via a graphic equalizer on the app. Volume, treble, bass, and microphone direction are all easy to adjust and understand and the 4 preprogrammed environments are great but maybe a hearing test with automatic adjustments would be a great addition to a near-perfect reasonably-priced product. You will not go wrong buying these. Update. One of the RIC tubes failed after less than 40 days. Since I bought it through Amazon I had to request a refund through Amazon. I would hope that the RIC earpieces don't fail that frequently as they cost $50 from Lexi and are supposed to last a year." –Dondo123, December 13, 2022 (Review from Verified Amazon Purchaser of Lexie B1)
I waited 2 months to write this review: I have been using this product for 2 months now. You might see in other reviews that connection to the phone app is a problem. Well, it is a pain and can take a few tries but I have never not connected. Be patient. Sound is good to excellent even in crowded groups like Christmas parties. Tone control seems to be my best adjustment but volume can be important to control squealing when items are near the ears […] Yes, I do recommend these, a bit pricey but I think it is a reasonable value." –Doug Wilson, December 26, 2022 (Review from Verified Purchaser of Lexie B1)
How do they compare to MDHearing?
At MDHearing, we like the Lexie Bose device for treating individuals with mild to moderate hearing loss. However, there are several areas where MDHearing proves itself as the better choice:
MDHearing is less expensive for the same level of technology: The MDHearing VOLT MAX offers similar hearing aid technology and features to the Lexie B2 device, but the VOLT MAX is currently selling for just $699.98 a pair (versus Lexie's devices at $849 or $999 a pair).

MDHearing offers licensed telehealth care but Lexie does not: A potential problem with Lexie Bose hearing aids is the fact they don't come with any kind of licensed hearing care support. This is an important distinction between MDHearing and Lexie. All MDHearing products include free telehealth care from licensed audiologists and hearing instrument specialists. Also, if you purchase the MDHearing VOLT MAX, you'll receive a hearing aid with a similar level of technology as the Lexie B2 Bose for hundreds of dollars less. Moreover, VOLT MAX customers can send their audiogram (hearing test) to MDHearing and a licensed specialist will remotely tune their hearing aids based on those results. These are professional hearing aid adjustments, similar to what you would receive at a hearing clinic, but performed remotely.

MDHearing replacement parts are more affordable than Lexie: Another potential problem with Lexie B1 & B2 hearing aids is the fact replacement parts are expensive. The first point of failure on RIC hearing aids is the wire that passes over the ear. The Lexie accessories page charges $50 a piece to replace one of these wires. By contrast, MDHearing's behind-the-ear (BTE) devices use a thin, clear tube to channel sound to the earpiece. For a double-set of 2 tubes and 2 ComfortTIP earpieces, MDHearing users only pay $35.
Key takeaways: At approximately $1,000 a pair, the Lexie B1 and B2 hearing aids are cheaper than conventional hearing aids. They are also quality devices. Nevertheless, when you compare Lexie hearing aids to the MDHearing VOLT MAX, it's clear that the VOLT MAX offers more for a lower price. With a similar level of technology and personalized telehealth care from our on-staff audiologists and hearing specialists, we feel that the MDHearing VOLT MAX offers a lot more bang for your buck!
A Final Thought: Not All OTC Hearing Aids Are the Same
After reading this guide, we hope you'll find it easier to navigate the new world of CVS hearing aids. While CVS hearing aids might be a good choice for some customers, they do lack some advanced hearing technology and therefore may not offer the best sound quality or the right fit for everyone.
We hope you'll consider giving MDHearing a try before settling on a CVS hearing aid. At MDHearing, it's our mission to provide high-quality, affordable hearing aids paired with clinic-level support (but without the hearing clinic appointments and high prices)! Moreover, in addition to giving you better technology for less, we pride ourselves on offering personalized remote hearing care to all of our customers.
Browse our hearing aid options and try MDHearing risk-free!
BROWSE HEARING AIDS