Since the U.S. Food and Drug Administration (FDA) approved the sale of over-the-counter hearing aids in 2022, various major retailers have rushed to sell these devices in their stores. Consumers with hearing loss now have a range of OTC options, including CVS hearing aids, Best Buy hearing aids, and Walgreens hearing aids.
Target is the latest big chain to offer OTC hearing aids for sale. So what models are sold in Target stores, how much do Target hearing aids cost, and what are customers saying in reviews of Target hearing aids? We'll answer all of these questions and more below so that you can make the most informed decision.
What are Target Hearing Aids?
As of writing, there are 11 products listed under the category of "Over-the-Counter Hearing Aids" at Target.com. Target.com also sells hearing aid battery replacements and other accessories.
However, it's important to note that all Target hearing aids come with a disclaimer on the product page: "This item isn't sold in stores." So far, customers can only purchase Target hearing aids online, not in person.
As with all OTC hearing aids, customers are empowered to buy the Target hearing aids that they believe best fit their needs. There's no need to take a hearing test or consult a medical professional before making the purchase.
Target Hearing Aid Models
The 11 hearing aid products for sale at Target.com come from four sellers: Lucid Hearing, HP, Audicus, and Dartwood. Of these, Lucid Hearing is by far the majority with eight products, while the other sellers only have a single product each. The Lucid Hearing products for sale at Target.com come in four models: Enrich, Enlite, Engage, and Fio Premium (in order from least to most expensive).
The true number of Target hearing aid models, however, is more like nine. This is because Target.com lists the Lucid Hearing Engage and Lucid Hearing Engage Rechargeable products twice: once for the version with iPhone support, and another for the version with support for Android smartphones.
Most Target hearing aids are behind-the-ear (BTE). However, a few of them (Lucid Hearing Enlite, Lucid Hearing Fio Premium, and HP Hearing PRO) are in-the-ear (ITE) instead, for users who prefer a more discreet look.
Lucid Hearing Aid Models
The Enrich is the most basic Lucid Hearing model available at Target.com. It includes features such as digital sound processing, multiple listening profiles, volume control, advanced noise reduction, and dynamic feedback cancellation. It also comes in a more advanced version, the Enrich Pro, for $100 extra. However, it's not clear from the Target website what the additional benefits of the Enrich Pro are, as the two products' listings are nearly identical.
Target customers who want more advanced hearing aid technology can choose from options such as the Lucid Hearing Engage and the Lucid Hearing Fio Premium. The Engage model allows users to customize their hearing profile using their iPhone or Android smartphone, and also comes in a rechargeable version with up to 16 hours of battery life. Like the Engage, the Fio Premium is rechargeable and links to your smartphone, but the Fio Premium is a smaller and more discreet ITE hearing aid.
One concern with Lucid hearing aids is the question of customer support. Lucid operates more than 500 in-person "hearing centers" across the country, mainly at Sam's Club outlets. Customers are required to have a Sam's Club membership in order to buy Lucid products at a hearing center, and potentially in order to receive in-person support as well. This could be inconvenient for customers who don't live near a Sam's Club location, or who don't want to make appointments and fork out extra cash to receive in-person support.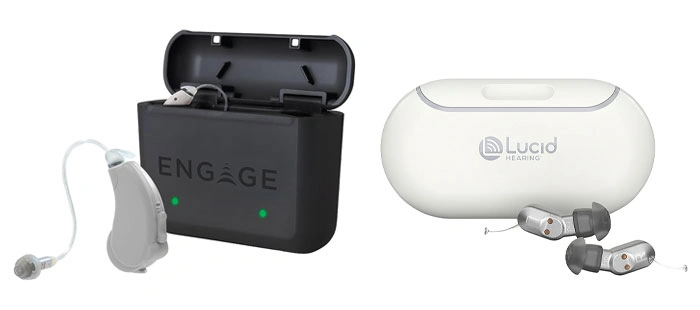 Self-Fitting Hearing Aids
On the Target website, Lucid's Engage and Fio Premium models allow users to adjust the device settings with a smartphone app, letting them choose the most appropriate listening profile for every situation.
However, Lucid has not received 510(k) approval from the FDA to be a self-fitting hearing aid. MDHearing is one of the few companies to have received 510(k) approval to sell FDA-cleared self-fitting hearing aids, verifying that our products are safe and just as effective as professionally fit hearing aids.
How Much Do Target Hearing Aids Cost?
With the average cost of traditional hearing aids roughly $4,600, OTC hearing aids are expected to dramatically improve access to hearing solutions for budget-conscious consumers. Although Target hearing aids have a range of prices, most of them are on the affordable end of the spectrum.
As of writing, below are the prices of Target hearing aids, from least to most expensive:
Dartwood Premium Hearing Aids: $49.99 (on sale from $79.99)

Lucid Hearing Enrich OTC Behind the Ear: $199.99

Lucid Hearing Enrich Pro OTC Behind The Ear: $299.99

Lucid Hearing Enlite Deluxe OTC In The Ear: $299.99

Lucid Hearing Engage OTC Behind The Ear: $599.99

HP Hearing PRO Self-Fitting OTC Hearing Aids: $699.99

Icon by Audicus Beige Hearing Aids: $699.99

Lucid Hearing Engage Rechargeable OTC Behind The Ear: $799.99

Lucid Hearing Fio Premium In Ear Rechargeable: $999.99
Consumers should treat the prices above with caution when buying Target hearing aids. Based on the product listings, the prices for Lucid Hearing products appear to be for a single device, while the other products (Dartwood, HP, and Audicus) are sold as a pair. Therefore, customers should roughly double the cost if they are interested in Lucid hearing aids.
Target Hearing Aids Reviews
On first glance, reviews of Target hearing aids appear to be very positive. For example, as of writing the Lucid Hearing Engage Rechargeable OTC Behind The Ear devices have an average rating of 4.6 out of 5 stars on Target.com, based on 27 reviews. One user gives a five-star review, writing:
I've tried other hearing aids, but these are the best yet. I love that I can control my volume, program and other settings. The Bluetooth and streaming are also awesome."
However, looking closer will reveal that all reviews of Lucid hearing aids on Target.com were originally posted on the Lucid Hearing website itself. This is problematic because it raises questions about the authenticity and objectivity of the reviews. Lucid Hearing likely exercises some degree of control over the reviews that are posted on its own website or on Target.com, potentially cherry-picking the most positive ones to showcase while excluding legitimate negative feedback.
In fact, looking on third-party websites offers a more realistic look at Lucid Hearing products. The same Engage rechargeable model has an average rating of 3.4 out of 5 stars on Amazon.com, based on 173 user reviews. Lucid Hearing customer William W. West Jr. complains about issues with the company's product quality and customer support, writing:
During the course of the day, the right died faster than the left… I tried messaging customer support and never got a reply. I'm not even sure the messages were delivered. I also tried calling customer support and waited on hold until the phone disconnected on their end; I was on hold for nearly an hour… Even after trying to charge the aid just like they said, it still wouldn't take a complete charge. Trying to get in touch with support takes much more effort than I have time for, and their solution to this problem didn't work. $800 is a lot of money to pay for something to have problems right out of the box and not to get a resolution to the problem within a reasonable amount of time, so I sent them back asking for a refund."
Other hearing aid models also suffer from suspiciously positive reviews on the Target website. For example, the "Dartwood Premium Hearing Aids" have a series of extremely similar and repetitive reviews all in a row—seemingly from different customers—that all praise features such as the noise cancellation, comfort, and sound quality:
"The noise cancellation is remarkable, and the rechargeable batteries provide long-lasting power. They are incredibly comfortable, making them a joy to wear."

"The noise-cancelling feature is amazing, and the all-day comfort ensures I can wear them for extended periods. The rechargeable batteries are eco-friendly and save me money on replacements."

"The noise cancellation is top-notch, and the rechargeable batteries last all day long. They fit perfectly and are so comfortable that I forget I'm wearing them."

"The noise cancellation is exceptional, and the all-day comfort is a bonus. With these devices, I can enjoy conversations and music with clarity and ease."

"The noise-cancelling technology is remarkable, and the rechargeable batteries make them hassle-free. They fit securely behind the ear and provide clear, crisp sound quality."

"The noise cancellation is superb, and the rechargeable batteries are so convenient. I love how lightweight and comfortable they are, allowing me to wear them effortlessly throughout the day."

"The noise-canceling feature is outstanding, and the all-day comfort ensures I can wear them without any irritation. They have truly enhanced my hearing experience."
MDHearing: The Best Alternative to Target Hearing Aids
Perhaps the greatest benefit of Target hearing aids is their convenience: consumers can buy hearing aids online and have them delivered right to their doorstep. However, they also suffer from disadvantages such as a limited selection and questionable reviews surrounding the products' quality and customer support.
If you're looking to buy OTC hearing aids online, you should also investigate Target hearing aid alternatives such as MDHearing. Founded more than a decade ago by a Chicago ear-nose-throat (ENT) doctor, MDHearing has sold more than 1 million high-quality, FDA-registered hearing aids in our quest to make hearing loss solutions more affordable and accessible to everyone.
MDHearing offers a 45-day money-back guarantee, so you can try the hearing aids in your daily life and ensure that you're completely satisfied with your purchase. We also provide free U.S.-based customer support and telehealth services. Our team of licensed hearing specialists and audiologists is available via phone, email, and video chat if you have any questions or need any assistance.
Ready to get started? Take our free 8-minute online hearing test and get your results right away
TAKE ONLINE HEARING TEST